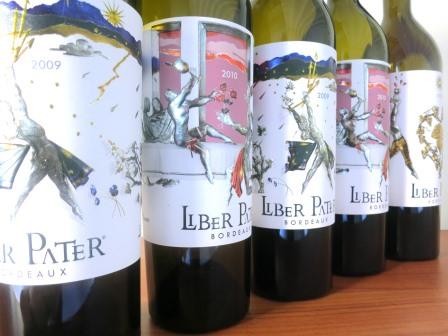 Learn everything about Liber Pater Graves, Bordeaux with wine tasting notes and wine with food pairing tips. Learn all the best vintages, a history of the property and information on the vineyards and winemaking. If you want to read about other important, Bordeaux Chateaux: Links to all Bordeaux Wine Producer Profiles
Liber Pater History, Overview
A lot has been written about Liber Pater and its owner Loic Pasquet. To explain this succinctly, Loic Pasquet wants to show what Bordeaux wine tasted like at the time of the original classification and pre Phylloxera. To do this, he using old vines and ungrafted rootstock in sand with gravel soils.
At Liber Pater, they also use grape varieties in small amounts that were in use in Bordeaux in those days but are not currently allowed by INAO rules. The vineyard is planted in some places at a high vine density of up to 20,000 vines per hectare and the yields are kept low.
The entire vineyard is farmed by the owner and a mule. Loic Pasquet also uses a plow that is more than 150 years old. I have been there and seen it used in the vineyards.
So, while many things are different, including the use of 100% new, French oak barrels, selection, malolactic fermentation in barrels, and other modern techniques when you taste the wine of Liber Pater, this is about as close as you are going to get to wines produced in the 19th century, albeit with a modern twist.
Liber Pater takes its name from an ancient Roman God that was associated with Bacchus. Liber Pater was considered the God of vines, wine, abundance, and even fertility. The estate produces three wines, a red wine, a white wine, and a sweet, white dessert wine.
Loic Pasquet purchased Liber Pater in 2005. His first vintage that was under his control was 2006. Loic Pasquet has a spare no expense attitude to producing the best wine possible from his tiny Bordeaux wine vineyard in the Graves appellation.
Within a few years, Loic Pasquet was clearly producing a wine that far exceeded what anyone was doing in the appellation.
The wine of Liber Pater began to be in such high demand that single bottles were selling for as much as 2,000 Euros per bottle. In January 2016 Loic Pasquet ended a long-running dispute with the French Administration and the European Community over monies provided for agricultural promotion.
The monies were returned along with a small fine. The only other change was that as of 2015, the wines were only allowed to be sold as a VDP, instead of the Graves appellation. That is not going to change the ability of Liber Pater to sell in the marketplace.
Liber Pater Vineyards, Terroir, Grapes, Winemaking
The vineyard of Liber Pater is planted to 60% Cabernet Sauvignon and 40% Merlot for the red wines and 80% Semillon and 20% Sauvignon Blanc for their white, Bordeaux wine. Liber Pater owns 7 hectares of vines, with 2 hectares of vines planted for red wine grapes and 1 hectare of vines planted for white wine grapes.
But today, you also find small percentages of Petit Verdot, Malbec, and older, largely forgotten grape varietals, Castets, Tarney Coulant, and St. Macaire.
The white wine grapes are old, at an average age of 85 years. The red wine grapes are on average, 40 years old.
The vineyard actually dates to ancient Roman times. It is planted at a high vine density of 20,000 vines per hectare. The vines are old, with an average age of 40 years.
The vines of Liber Pater are propagated from a selection massale of the property's own pre-phylloxera, ungrafted rootstock. Liber Pater is one of the first estates in Bordeaux to begin planting grapes that were popular in the pre-phylloxera era, Castet, Marselan, and Tarney Coulant. Those ancient varieties were added to the red blend starting with the 2015 vintage.
The terroir of Liber Pater is mostly gravel with mineral deposits. The Liber Pater vineyard is organically farmed with all mechanical plowing done exclusively with horses. Harvesting is manual. The net yields are often the lowest in the entire Bordeaux appellation. In 2009, they were just 15 hectoliters per hectare. In 2010 and 2011, the yields were even lower at only 10 hectoliters per hectare! In 2015, it was even less!
Liber Pater Winemaking
Previously, to produce the wine Liber Pater they used micro vinification techniques. Fermentation took place in 100% new, French oak barrels from Cadus (50%) and Remond (50%). The maceration time is usually long. As an example, with the 2009 vintage, the maceration ran 60 days. That is no longer the case today.
With the 2018 vintage, Loic Pasquet, in an effort to present the fruit as naturally as possible stopped aging the wine in oak. Instead, Liber Pater shifted to using the only amphora to age the wine. Due to climatic conditions and the search for producing the best wine possible, about 100 bottles were produced of their 2018 wine.
Malolactic fermentation takes place in barrels where the new wine spends an estimated 18 months on its lees that will be stirred regularly. Only 2,400 bottles are produced per vintage of the red wine of Liber Pater. As you can see, much of the work in their Bordeaux vineyard work is done by hand, by the owner, Loic Pasquet, with the help of a Spanish mule.
Prices increased with the sudden drop in volume, making Liber Pater the most expensive in the world on release. Single bottles will set you back about 30,000 Euros if you want to own them! But it is not easy to find as only 200 bottles were produced.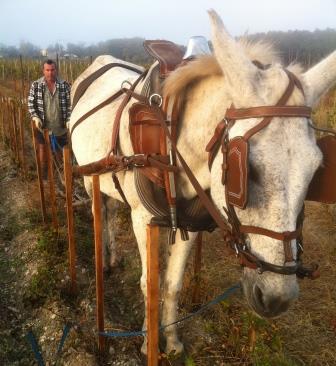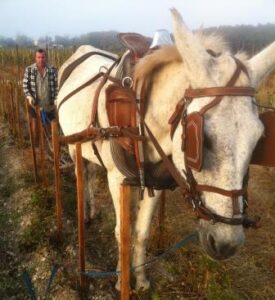 Like what they did with the red grapevines, all the vines are propagated from a selection massal of the property's own pre-phylloxera, ungrafted rootstock. The yields for the white wine of Liber Pater are insanely low.
To give you an example, for the 2009 vintage, the yields were only 2.25 hectoliters per hectare! 2010 was massive in comparison at a whopping 5 hectoliters per hectare.
Liber Pater Blanc is a very labor-intensive wine to produce. Previously, the fruit was pressed under the protection of a blanket of CO2. Fermentation took place exclusively in 100% new, French oak barrels from Remond. But things at Liber Pater are always changing.
The wine is aged on its lees for an average of 16 months with regular stirring. Only 300 bottles of this hard-to-find, white Bordeaux wine are produced in an average vintage.
At Liber Pater, Loic Pasquet is always experimenting. You can expect to see 2 new wines added to their portfolio in the years to come when they release wines under the name of Liberi Bellaria from 100% Castets and Mancin.
When to Drink Liber Pater, Anticipated Maturity, Decanting Time
Liber Pater is much better with age and decanting. Young vintages can be decanted for an average of 1-3 hours, give or take. This allows the wine to soften and open its perfume. Older vintages might need very little decanting, just enough to remove the sediment.
Liber Pater is usually better with at least 7-10 years of bottle age. Of course, that can vary slightly, depending on the vintage character. Liber Pater offers its best drinking and should reach peak maturity between 9-25 years of age after the vintage.
Serving Liber Pater, with Wine, Food, Pairing Tips
Liber Pater is best served at 15.5 degrees Celsius, 60 degrees Fahrenheit. The cool, almost cellar temperature gives the wine more freshness and lift. The red wine of Liber Pater is best served with all types of classic meat dishes, veal, pork, beef, lamb, duck, game, roast chicken, roasted, braised, and grilled dishes.
Liber Pater is a perfect match with Asian dishes, hearty fish courses like tuna, mushrooms, and pasta as well as cheese. The white wine of Liber Pater is a perfect wine to serve with shellfish, sashimi, sushi, all types of seafood, chicken, veal, and cheese.
Loic Pasquet and Liber Pater have a commitment to producing the best Bordeaux wine possible. That commitment is so strong, for the 2012 vintage, Liber Pater declassified their entire harvest! They produced no red, white, or dessert wine that year. For a chateau of this size to declassify an entire year's crop is unheard of.
Proving even more of a commitment to only making and selling wine they feel deserves to be called Liber Pater, they once again declassified their entire crop in 2013 and 2017.
To further illustrate their commitment to quality, even with their tiny production, Liber Pater produces a second wine in select vintages, Clos de Landiras. Liber Pater also produces an entry-level wine, Denarius. Liber Pater Denarius is available in both red and white wines.
Liber Pater takes everything seriously, including their label art, which they change every year. Liber Pater is one of the most expensive wines in all of Bordeaux. Single bottles sell for over $3,500 per bottle in some markets.
Liber Pater Wine Tasting Notes
20 Vintages 53,583 Views Sort by Vintage-Rating
2019
Liber Pater (Graves)

Showing more volume and roundness than the 2018, the wine focuses on the purity in the fruits. Flowers, cherries and plums resonate along with earthy, spicy nuances. There is nothing between you and the fruit. Soft, fresh, lively and nuanced, this is really an interesting wine, focusing on the purity and textures in the fruits.. Liber Pater is a unique expression of Bordeaux you will not find in other vineyards. In part, it is due to the blend, no oak in the aging and the thought process of the "Go His Own Way" owner of Liber Pater, Loic Pasquet. The wine was produced from a unique blending of mostly Cabernet Sauvignon, (Petite Vidure, the original name for CS) Castet Tarnay, Saint Macaire and Petit Verdot. The wine reached 12.3% ABV. The blend represents what you could have found in Bordeaux at the time of the 1855 Classification. The wine is made from some of the lowest yields in Bordeaux at close to 15 hectoliters per hectare. The wine reached 12.3% ABV. The wine is not aged in barrel. 100% of the wine is aged in clay amphora for about 30 months before bottling. The purpose for not using oak is to allow for a pure expression of the soil, according to the owner, Loic Pasquet. All of this makes for a truly unique wine tasting experience. The only issue is finding a bottle, as perhaps as little as 1,000 bottles are produced this year. 94-96 Pts

3,253 Views

Tasted

Jun 8, 2020

2018
Liber Pater (Graves)

The first thing you notice is the distinctive floral character, before you move to the smoke, herb and wet forest aromatics. Medium bodied, fresh, elegant, long and refined, the cocoa dusted, dried red pit fruit character is truly a unique expression of Bordeaux and the vineyard. The wine was produced from a unique blending of 70% Cabernet Sauvignon, 15% Petit Verdot, 11% Castet, 2% Tarnay Coulant and 2% Saint Macaire. The blend represents what you could have found in Bordeaux at the time of the 1855 Classification. The wine is made from some of the lowest yields in Bordeaux at 15 hectoliters per hectare. The wine reached 13.5% ABV. The wine is not aged in barrel. 100% of the wine is aged in clay amphora for about 30 months before bottling. The purpose for not using oak is to allow for a pure expression of the soil, according to the owner, Loic Pasquet. All of this makes for a truly unique wine tasting experience. The only issue is finding a bottle, as perhaps as little as 1,000 bottles are produced this year. 93-95 Pts

3,553 Views

Tasted

Apr 19, 2019

2016
Liber Pater (Graves)

Deep ruby in color, flowers, smoke, earth, tobacco, espresso and ripe, dark plum scents find you easily. Elegant, fresh and less dense than previous vintages, but in exchange, the wine has more lift and finesse that really shows a fine, Graves character. Ripe, fruits, refined, sandy tannins and a long, fresh, plummy finish. This should age quite well. The wine was produced from a unique blending of 98% Cabernet Sauvignon, 1.5% Tarnay Coulant and .5% Castet. The Tarnay Coulant and Castet were used in pre phylloxera Bordeaux. Due to these non AOC allowed grape varietals, the wine will be sold as a Vin de France. The wine is made from the lowest yields in all of Bordeaux at 10 hectoliters per hectare. Aged on its lees in 100% new, French, oak barrels for between 28 to 30 months before bottling, the extended aging time is due to the fact the grapes all come from 100% ungrafted vines, meaning that in theory, this is about as close as you are going to get to wines produced in the 19th century, albeit with a lot more selection, and probably more new oak barrels, which have a longer aging time. Because of severe frost damage, only Liber Pater was produced this year, they did not make any white wine, Denarius of Clos de Landrias.

3,184 Views

Tasted

Apr 29, 2017

2015
Liber Pater Blanc (Graves)

Fresh squeezed yellow and orange citrus fruits with overtones of honey suckle. Rich, lush and concentrated, the wine is the product of ripe fruits with freshness. This is one of the few dry white Bordeaux wines made from 100% Semillon.

1,513 Views

Tasted

Jul 7, 2017

Using 100% Semillon, this wine opens with fresh lemon peel, honeysuckle, orange and vanilla notes. The wine is full-bodied, concentrated and loaded with minerality along with sweet, fresh, honeyed, yellow and orange citrus fruits.

1,134 Views

Tasted

Apr 23, 2016

2015
Liber Pater (Graves)

Inky dark in color, this wine is thick, rich, dense and intense. The weight takes up a lot of volume on your palate, though due to its freshness, it is not at all flabby. The finish is packed with lush, dark, chocolate covered blackberries and jam. Produced from a blend of 80% Cabernet Sauvignon, 15% Petit Verdot and 5% assorted rare, grape varieties that were used pre phylloxera, including: Castet, Marselan and Tarney Coulant. Due to these non-Bordeaux varietals, the wine will be sold as a Vin de France. Aged in 100% new, French, oak barrels, this wine was made for the first time with 100% ungrafted vines, meaning that in theory, this is about as close as you are going to get to wines produced in the 19th century, albeit with a lot more selection, new oak and low yields. Still, it's fascinating to consider what is taking place at Liber Pater. 93 - 95 Pts

3,482 Views

Tasted

Apr 23, 2016

2015
Denarius (Graves)

Deep in color with polished, chocolate covered cherries and licorice as a main part of its theme, this wine was fashioned from a blend of 75% Cabernet Sauvignon and 25% Merlot. The vines used for this wine are an average of 40 years old and the production is quite tiny, only 250 cases are produced in an average year. Micro vinified, meaning that it was made entirely in barrels, this wine is aged on its lees in 100% new, French oak barrels for up to 24 months before bottling. 90-92

1,579 Views

Tasted

Apr 23, 2016

2015
Clos de Landiras (Graves)

From an even split of 50% Cabernet Sauvignon and 50% Merlot, this wine offers dark, black cherries and smoky cigar fragrances. Easy to drink, round and forward with a sweet, dark, red berry note and thyme in the finish. it makes quite a statement that with such a tiny production, Loic Pasquet is willing to make a second wine. 87 - 89 Pts

1,514 Views

Tasted

Apr 23, 2016

2014
Liber Pater (Graves)

This is a big, fat, lusty baroness of a wine, plump and lavish with sweet, dark fruits. The essence of tobacco, anise and chocolate fill your glass. Full bodied and curvy, there is quite a bit of density to the fruit in this vintage. This is one of the most concentrated wines of the vintage. 92-93 Pts

1,490 Views

Tasted

Apr 24, 2015

2013
Liber Pater (Graves)

Liber Pater was not in produced for the second year in a row as the wine was not up the exacting standards of Loic Pasquet.

2,243 Views

Tasted

Jun 3, 2022

2012
Clos de Landiras (Graves)

Smoke, earth, herbs and tart red berries in a light finish. 86-88 Pts

1,274 Views

Tasted

May 8, 2016

2012
Liber Pater (Graves)

The entire Liber Pater harvest was declassified, as the crop was not up to the standards of Loic Pasquet.

1,704 Views

Tasted

Jun 3, 2016

2011
Liber Pater (Graves)

Clearly the most concentrated wine of the vintage, the wine is inky in color. Liber Pater waited until October 10 begin their harvest. In part, that explains the licorice, tobacco, cocoa, and ripe dark fruits. The wine is full bodied, concentrated and leaves with you fresh, black cherries, dark chocolate and cassis in the finish.

2,205 Views

Tasted

May 25, 2016

From 70% Cabernet Sauvignon and 30% Merlot, the wine reached 14.2% ABV. Deep ruby in color with purple in the rim, the complex perfume is comprised of licorice, mineral, smoke, black raspberry jam and truffle scents. In the mouth, the wine is soft, opulent and round with a fresh, ripe black cherry and espresso finish. The wine has taken on legendary status in some Asian countries selling for well over $1,000 a bottle! 91-94 Pts

2,251 Views

Tasted

Apr 25, 2012

2010
Liber Pater (Graves)

Charcoal, wet earth, forest floor and smoked fruit create the nose. On the palate, the wine is silky, fresh, polished and lush, with loads of ripe, dark red berries and tobacco in the finish.

2,164 Views

Tasted

Jul 7, 2017

Smoke, cigar box, earth, burning wood, espresso bean, licorice and dark berry aromas open to silky, plush, sensuous textures. The wine is dense, rich and polished, finishing with fresh, ripe, sweet plums and blackberries.

2,434 Views

Tasted

May 8, 2013

Liber Pater – Produced from a blend of 60% Cabernet Sauvignon and 35% Merlot, 3% Petit Verdot and 2% Cabernet Franc, from vines planted on deep gravelly soils, this will be aged in 100% new oak. Deep ruby with purple accents in color, the wine is filled with stone, black and blue fruit, jam, coffee and licorice scents. Fat, lush and richly textured, this opulent, fleshy wine finishes with chocolate covered sweet berries and licorice. Production is limited to 1,500 bottles. 92-95 Pts,

2,462 Views

Tasted

Apr 21, 2011

2010
Liber Pater Blanc (Graves)

From yields of only 5 hectoliters per hectare, (making it a candidate for a wine produced from the lowest yields in all of Bordeaux,) this rich, full bodied, deep, concentrated wine is packed with notes of flowers, citrus, tropical fruits, vanilla, spice and minerality. Intense and long, this complex, concentrated, rich wine is long, fresh, clean and mouth filling.

1,572 Views

Tasted

May 19, 2013

2010
Clos de Landiras (Graves)

With fresh, ripe, blackberry and cigar box notes, the wine is soft, round, and slightly dry in the finish. This is the second wine of Liber Pater. With such a tiny production, this truly shows a commitment to quality.

1,838 Views

Tasted

May 8, 2013

2009
Liber Pater (Graves)

Complex notes of earth, smoke, tobacco, licorice, coffee ban and cigar box, with fresh dark berries, refined, sexy, silky textures and an opulent, rich, concentrated, elegant, sensual, ripe, fruit filled finish are found in this wine.

2,480 Views

Tasted

May 19, 2013

2009
Liber Pater Blanc (Graves)

From 100% Semillon produced from incredibly low yields of 6 hectoliters per hectare, this marks the debut vintage of the dry white wine for the new owner, Loic Pasquet. With an evolved color, the wine pops with pineapple, flowers, honeysuckle and spice. On the palate the wine is rich, fleshy and filled with vibrant, slightly honeyed fruits, nuts, and pears. This is an exotic, fleshy, sweet, complex expression of dry, white Bordeaux wine.

1,272 Views

Tasted

May 19, 2013

2008
Clos de Landiras (Graves)

With a smoke filled, herbal, black cherry filled set of aromatics, the wine is polished, soft and round, ending with an open, earthy, spice filled, red cherry finish.

1,335 Views

Tasted

May 19, 2013

2008
Liber Pater (Graves)

The entire crop was declassified, as the harvest was not up to the standards of Loic Pasquet and Liber Pater.

1,766 Views

Tasted

Apr 19, 2014

2007
Liber Pater (Graves)

Truffle, smoked meat black cherry and burning campfire ember aromatics are the first thing you notice, as your glass fills your nose. Medium/full bodied, with round textures and sweetness, there is freshness and a smoked, cherry note in the finish. Very solid for the vintage.

2,053 Views

Tasted

Jul 7, 2017

Cigar box, earth, truffle, porcini mushroom and blackberry notes lead to an impressive wine for the vintage with black cherries, soft textures, which is marred by a hint of fresh herbs and leaf notes in the plush textured finish.

2,029 Views

Tasted

May 19, 2013

Blackberry, tobacco, earth, cocoa and black cherry scents, supple textures, forward style and a plummy, chocoalte covered cherry sensation in the finish are found in this wine.

1,799 Views

Tasted

Aug 5, 2012