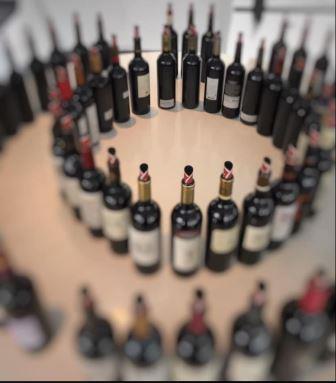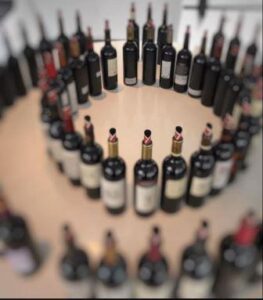 With 2018 Bordeaux, in the Left Bank, clearly the success stories of the vintage are found in the northern part of the Medoc, and in the better terroirs. While it appears obvious, there are several reasons for this. The properties located in the better terroir had the financial ability to react quickly when it came to defending against the strong, rapid mildew attacks.
The growing season was also difficult for many estates. The vintage can be divided into two parts. The winter and spring brought a torrent of almost non—stop rain. Following one of the wettest initial growing seasons, 2018 Bordeaux was next in the middle of a long, warm, sunny drought, with temperatures that have not been seen since 2003!
These are difficult conditions for soils not able to retain ample water resources, as the vines can shut down and the grapes are unable to achieve full maturity. If that wasn't enough to contend with, in the southern part of the Haut Medoc, they also experienced violent hail storms, which completely decimated Chateau La Lagune, who was unable to produce any for the second vintage in a row.
With all that in mind, quality levels, character and style vary widely with 2018 Haut Medoc wines. That being said, there are some very nice 2018 Cru Bourgeois wines and others from the Haut Medoc in 2018. You just need to know where to look.
This is a good thing because all of these wines sell for very consumer friendly prices and most will be ready to drink on release, or with just a year of two of aging. Savvy wine drinkers seeking value that are not concerned with buying big names should take a look at the better wines in the report.
With close to 600 wines tasted, you can expect more 2018 Bordeaux reports for every major appellation to be published almost daily. This report completes the Left Bank. We will wrap things up next week with Pomerol, St. Emilion, and of course all the great small Right Bank wines from the Cotes de Bordeaux, Bordeaux Superieur and Bordeaux.
The following wines were tasted between late March and early April 2019 in non-blind conditions. Several wines were tasted more than once, with consistent results. This report looks at the wines from the following appellations: Haut Medoc, Listrac, Moulis and the Medoc. White Bordeaux wines from any of the estates in this report will appear in the article focused on 2018 Bordeaux Blanc.
2018 Agassac – Round, forward, earthy and fruity, the tannins are soft, the character is open and the floral sensation in the nose, along with the red fruits, thyme and espresso come through nicely. 87 – 89 Pts
2018 Beaumont – With a blast of dark cocoa, black cherry, herbs and tobacco, this medium bodied, forward, fresh Medoc wine will be great for early drinking pleasure. 86 – 88 Pts
2018 Belgrave – Inky in color, the nose pops with flowers, spice, black currant, tobacco leaf and espresso. Forward in style, the wine is medium bodied, supple, fresh and shows generosity in the ripe fruit filled finish. The wine was made from a blend of 68% Cabernet Sauvignon, 30% Merlot and 2% Petit Verdot. You should age this for at least 5-7 years and enjoy it over the next 15-20 years with ease. 91 – 93 Pts
2018 Belle-Vue – Floral, polished, sweet and spicy, the wine is elegant, juicy, medium-bodied and lusty on the palate. One of the few Bordeaux produced using all 5 allowable grape varieties, the wine was made blending 48% Cabernet Sauvignon, 30% Merlot and 20% Petit Verdo, 1% Cabernet Franc and 1% Carmenere. 90 – 92 Pts
2018 Le Petit Verdot Belle-Vue – Don't plan a trip to the dentist after tasting this wine. It's inky, it's going to stain your teeth. Massive, powerful, rich, fleshy, dark and spicy, it reminds me of a Napa wine. Some tasters are going to like this more than others. This is a rarity in Bordeaux as it is one of the few wines made from 100% Petit Verdot. 87-89 Pts
2018 Bernadotte – Medium bodied, tobacco tinged, crisp, red berries, with an earthy, bright finish. 86 – 88 Pts
2018 Branas-Grand-Poujeaux – Filled to the brim with licorice, espresso, plum and black currant, the wine is soft, polished, sweet, fresh and juicy. The fruity finish comes with espresso, licorice and wet earth as well as a mouthful of dark red fruits. 92 – 94 Pts
2018 Cambon La Pelouse – Medium bodied, soft, round, forward, earthy charmer with the character of ripe, red fruits, tobacco, espresso and currants in the finish. This is not for long-term aging. So give it a few years and enjoy it over the next 10-12 years or perhaps longer. The wine is made from a blend of 50% Merlot, 47% Cabernet Sauvignon and 3% Petit Verdot. 89 – 91 Pts
2018 Camensac – Medium bodied, bright, lean and simple with more cranberry than cassis, this classically styled wine is best to drink early in life. 84 – 86 Pts
2018 Cantemerle – Ruby in color, flowery, and tobacco edged, the spicy red fruits come through nicely. Medium bodied, elegant and with freshness to the red fruits, this classically styled vintage should age well. 90 – 92 Pts
2018 Caronne Ste. Gemme – Fresh, crisp, crunchy, bright red fruits are easy to find in this classic, medium bodied, lean, earthy wine. Lovers of old school, classic Bordeaux will like this a lot more than I did. 85 – 87 Pts
2018 Charmail – Opaque in color, the wine is powerful, concentrated, lush and juicy. There is some noticeable oak, but there is so much fruit, the oak should integrate into the wine by the time it is bottled. The wine is made from blending 39% Merlot, 37% Cabernet Sauvignon, 36% Merlot, 13% Cabernet Franc and 11% Petit Verdot. Charmail remains one of the most popular Haut Medoc wines for price and quality. 90 – 92 Pts
2018 Chasse Spleen – Cranberry and cassis in a bright, medium-bodied, lean format with a dried red berry finish. 87 – 89 Pts
2018 Cissac – Medium-bodied, with a piquant red cherry edge to the fruit, the wine is juicy, fresh, bright and classically styled. 86 – 88 Pts
2018 Citran – Tobacco and cherry fruit in the front end, and crisp bright, red fruit on the back end is what you will find here in this medium- bodied, lean wine. 85 – 87 Pts
2018 Clarke – Ripe, round, medium-bodied, sweet and with plenty of dark red berries and thyme to go around, you can drink this early in life. Chateau Clarke is one very few wines in the Medoc planted to mostly Merlot. 86 – 88 Pts
2018 Clement Pichon – Medium bodied, ripe, earthy dark red red fruits with tobacco leaf are easy to find. The wine focuses on its freshness in an open, forward style. 87 – 89 Pts
2018 Clos Manou – Inky dark, dense and full-bodied, the wine shows lots of sweet, juicy red fruits on the palate and in the long, earthy, fresh finish. 89 – 91 Pts
2018 Coufran – Forward, direct, simple, Merlot dominated Medoc that will be easy to drink on release.. 85 – 87 Pts
2018 Ducluzeau – The peppery spice adds to the red fruits in the early drinking, correct, red berry filled charmer. 86 – 88 Pts
2018 Fleur la Mothe – Medium bodied, with a nose of flowers and black currants, in this vintage you also find a bright, spicy, energetic blast of red fruits. You can enjoy this young, but it will be nicer after a few years in the bottle. The wine was produced from blending 40% Merlot, 40% Cabernet Sauvignon, 20% Petit Verdot. 87 – 89 Pts
2018 Fourcas Borie – A solid Bordeaux value year after year, here you find a nice gulp of ripe, dark, cherries, round textures, hints of licorice and a splash of cocoa. The wine is soft, medium bodied and can be enjoyed on release. 89 – 91 Pts
2018 Goulee – Big, round, juicy and fat, with density, ripe, dark fruits, a kiss of oak, black cherry and licorice. Not refined, but it is so full of fruit, flavor and it's going to be fun to drink on release, that more than makes up for it. 90 – 92 Pts
2018 Les Grands Chenes – Deep in color, the wine resonates with dark black cherries in the nose and mouth. Full-bodied, round, forward and richly textured, the finishes with dark, red fruits, licorice, espresso and bitter chocolate in the end note. The wine was made from 60% Merlot and 40% Cabernet Sauvignon. 90 – 92 Pts
2018 Greysac – Medium bodied, with a tobacco and floral accent to accompany the soft, textured, ripe, cherry and currants, you can enjoy this on release, or age it for a few more, to gain more of its Left Bank character. 87 – 89 Pts
2018 Haut Condissas – Forward with a strong jolt of espresso, licorice and smoke, on top of the ripe dark red fruits, the wine is round, fleshy and should provide pleasure early with its modern approach. 87 – 89 Pts
2018 Haut-Madrac – Easy drinking, round, forward Medocian wine with a slant to the earthy, red fruit side of the style range, it is perfect for early drinking pleasure. 83 – 85 Pts
2018 Gironville – Medium-bodied, juicy, sweet black cherry and plum filled wine, in a forward, soft, round, open style, finishing with dark red fruits and cocoa in the finish. 89 – 91 Pts
2018 Lamarque – Earthy, forest floor, tobacco and red fruits in a medium- bodied classic style. 87 – 89 Pts
2018 Lanessan – Smoky, dark red fruits, tobacco and black currants on the nose and you also find the same on the medium-full/bodied palate as it hits the right notes. The wine is bright, crisp and fruity, with loads of juicy currants in the finish. The wine was made from 60% Cabernet Sauvignon, 35% Merlot and 5% Petit Verdot. 91 – 93 Pts
2018 Larose-Trintaudon – Forward, easy to like, and easy to drink, the wine focuses on its fresh, red fruit, earth and tobacco charms in an open style. 87 – 89 Pts
2018 Maison-Blanche – Packed with ripe, round, earthy, spicy, dark berries, tobacco and forest, leaf, you have nice volume and loads of fruit, soft tannins and ample fruit in the finish. This is a solid Bordeaux value wine with great Medoc character deserving a look from savvy wine buyers, not looking for big names. 89 – 91 Pts
2018 Malescasse – How did they make a wine this good here is what I asked myself. Inky in color, the wine is lush, rich, deep and fruity, The tannins are polished and the dark red berries, earthy tobacco and espresso carry through to the long plummy finish. This should be easy to drink on release or with just a year or two of age. Value seekers should take note of this wine. 91 – 93 Pts
2018 Maucaillou – Ripe, round, forward, fresh and fun, the wine is soft, on the sweet side with licorice, earth, tobacco and spice to flesh things out. This is a solid example of a Bordeaux value wine from the Medoc. 88 – 90 Pts
2018 Mauvesin Barton – Medium-bodied with a real juiciness to the red fruits. There is a fresh, crisp jolt of red pit fruits and spice in the finish. The wine was made from a blend of 54% Merlot, 39.5% Cabernet Sauvignon and 6.5% Petit Vedot. 88 – 90 Pts
2018 Paloumey – Medium bodied, you already find the tobacco and currant character, along with bright, crisp red fruits, earth, spice and olives in the finish. 89 – 91 Pts
2018 Patache dAux – Medium bodied, forward, nice Left Bank character filled wine that delivers its soft cherry pipe tobacco profile for early drinking pleasure. 88 – 90 Pts
2018 Peyrabon – Medium bodied, easy drinking, correct Medoc wine for early drinking, uncomplicated pleasure. 85 – 87 Pts
2018 Potensac – Tobacco, cedar and smoke are paired with ripe, red berries that have a roundness in them this year. The wine is full-bodied and continues with its classic spirit. But with the 2018, you find more generosity than normal. Still, I would wait at least a decade before opening a bottle. The wine was produced from blending 45% Merlot, 36% Cabernet Sauvignon, 18% Cabernet Franc and 1% Petit Verdot. 90 – 92 Pts
2018 Poujeaux – Opening up with black raspberries, espresso bean and tobacco leaf, the wine is full-bodied, round and ripe. The fruit is rich, juicy and deep, giving the wine structure and backbone, along with sweet, earthy fruits, bitter chocolate and anise in the finish. 92 – 94 Pts
2018 Preuillac – The red fruits here, pair perfectly with the earth cigar box and leafy accents. Medium bodied, forward and with espresso and dark red fruits in the finish, you can enjoy this early, or give it a few years to develop. 88 – 87 Pts
2018 Reysson – Medium-bodied, fresh, ripe, juicy red fruits with a touch of stone on the palate, the wine will be easy to drink on release. 88 – 90 Pts
2018 Rollan de By – Lush, round and forward, with ripe, dark red fruits, licorice, cocoa, espresso, vanilla and smoke, this is perfect for early drinking. 87 – 89 Pts
2018 Senejac – The ripe dark fruit found in the 2018 vintage really shines here. The cedar, tobacco and dark berries comes through nicely on the nose and on the medium/full-bodied, round, soft palate. The finish offers upfront, forward and easy to like already. This is the first vintage for Jean-Michel Laporte who consults at the property. The wine was made from 59% Cabernet Sauvignon, 29% Merlot, 7% Cabernet Franc and 5% Petit Verdot. 90 – 92 Pts
2018 Sociando Mallet – Tobacco leaf, cigar wrapper, fresh herbs and black currant create the core of the wine. Full bodied, powerful, tannic and juicy, the fruit and tannins are ripe, there is a roundness to the texture coupled with density and flesh to the fruit that really shines this year. 92 – 94 Pts
2018 Tour-Haut-Caussan – Medium-bodied, forward and fruity, with accents of tobacco leaf and bright, soft, polished, red fruits. This is a nice Bordeaux value wine from the Left Bank that savvy consumers on a budget should look out for. 88 – 90 Pts
2018 Tour-du-Haut-Moulin – With a lean to the floral side on the nose, the wine is medium-bodied, fresh and offers ample juicy, bright, crisp red fruits. This will drink well young, with just a year or two of age. 88 – 90 Pts
2018 La Tour Carnet – The oak feels dialed back, which is a good thing as now, you can enjoy all the ripe, round, fresh, juicy, dark red berries, soft tannins and ripe, red berry, smoke, coffee bean and earthy finish. 91-93 Pts
2018 La-Tour-de-By – Medium bodied, round, forward, ripe and fruity, with an earthy, spicy, deep red berry finish. 88-90 Pts