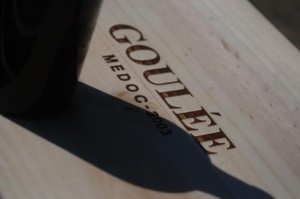 Learn everything about Goulee by Cos d'Estournel Medoc with wine tasting notes and wine with food pairing tips. Learn the best vintages, information on vineyards and winemaking. If you want to read about other important, Bordeaux Chateaux: Links to all Bordeaux Wine Producer Profiles
Goulee by Cos d'Estournel History, Overview
Goulee made its debut with the 2003 vintage. At first, the wine was sold under the name of Goulee. That was later changed to Goulee by Cos d'Estournel. The wine takes its name from a small, local port, le Port de-Goulee, which is located in the northern area of the Medoc.
The property can be difficult to find. To get there, you follow the D2 past Pauillac and continue heading due north, until you are a bit past St. Estephe to get there.
Goulee by Cos d'Estournel Vineyards, Terroir, Grapes, Winemaking
The vineyards of Goulee are located on gravelly hills that face the Gironde river. Goulee, which was at one time an island surrounded by the waters of the Gironde river, enjoys a terroir of deep layers of gravel in their cool soils. The vines are planted to a density of 5,700 vines per hectare. They use high trellising and high canopy management in their vineyards.
The vineyard of Goulee is planted to 80% Cabernet Sauvignon and 20% Merlot for the red wine. Goulee also produces a small amount of white Bordeaux wine from a blend of 80% Sauvignon Blanc and 20% Semillon. The vines for the white wine come from different terroir.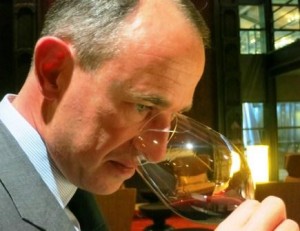 The wine of Goulee by Cos d'Estournel is vinifed at Marbuzet. The choice to vinify Goulee at Marbuzet, (a Cru Bourgeois Exceptionnel,) which is located close by in the Saint Estephe appellation was reasonable, as Marbuzet is also owned by Michel Reybier, the owner of Goulee and of course, Chateau Cos d'Estournel.
To produce the red wine of Goulee by Cos d'Estournel, vinification takes place in temperature-controlled, small, conical truncated shaped, stainless steel vats. The wine is aged in 50% new, French oak barrels. The production is close to 6,000 cases per year.
Goulee Blanc, which is in essence, the second wine of Cos d'Estournel Blanc, is vinified entirely in barrels. There is no malolactic fermentation or skin contact. The wine is aged on its fine lees. Because white wine grapes are not allowed by AOC law in this part of the Medoc, Goulee Blanc is sold as a generic. Bordeaux Blanc.
Goulee Blanc was renamed Pagodes de Cos Blanc starting with the 2017 vintage.
The best vintages of Chateau Goulee are: 2020, 2019, 2018, 2017, 2016, 2015, 2010, 2009 and 2005.
Goulee by Cos d'Estournel is a ripe, forward, rich, fleshy style of Bordeaux wine that offers one of the better price to quality ratios in value-priced Bordeaux. Goulee is produced by much of the same technical team that makes Chateau Cos d'Estournel.
When to Drink Goulee by Cos d'Estournel, Anticipated Maturity, Decanting Time
Goulee can be decanted for an average of 1 hour or so. This allows the wine to soften and open its perfume. Older vintages might need very little decanting, just enough to remove the sediment. Goulee by Cos d'Estournel is usually better with at least 1-3 years of bottle age.
Of course, that can vary slightly, depending on the vintage character. Chateau Citran offers its best drinking and should reach peak maturity between 3-10 years of age after the vintage.
Serving Goulee with Wine, Food, Pairing Tips
Goulee is best served at 15.5 degrees Celsius, 60 degrees Fahrenheit. The cool, almost cellar temperature gives the wine more freshness and lift. The wine of Chateau Goulee is best served with all types of classic meat dishes, veal, pork, beef, lamb, duck, game, roast chicken, roasted, braised, and grilled dishes.
Chateau Goulee is a perfect match with Asian dishes, hearty fish courses like tuna, mushrooms, and pasta as well as a diverse array of hard and soft cheese.
The white wine of Goulee is perfect with all types of fish, seafood, shellfish, chicken, pork, veal, and cheese dishes.
Goulée Wine Tasting Notes
19 Vintages 79,536 Views Sort by Vintage-Rating
2020
Goulée (Médoc)

Medium-bodied, forward and fruity, the wine blends flowers, tobacco leaf and plums on the nose and palate. Soft, juicy and already a pleasure to drink, you can enjoy this on release and in a casual bistro or cafe with ease. 89-91 Pts

1,507 Views

Tasted

May 20, 2021

2019
Goulée (Médoc)

A more elegant style of Goulee starts with notes of flowers, spice, black raspberry and blackberry aromatics. Medium-bodied, forward, soft and silky with a sweet, spicy, red fruit finish, one can enjoy this with minimal aging. The wine is a blend of 86% Merlot, 13% Cabernet Sauvignon and 1% Cabernet Franc. 88-90 Pts

3,034 Views

Tasted

Jun 8, 2020

2018
Goulée (Médoc)

Medium/full-bodied, with notes of sweet cherries, licorice, cocoa and plums on the nose. Soft, round, forward and fruity, this is ready to go and will drink great for at least a decade. 90 Points

1,197 Views

Tasted

Mar 9, 2021

Big, round, juicy and fat, with density, ripe, dark fruits, a kiss of oak, black cherry and licorice. Not refined, but it is so full of fruit, flavor and it\'s going to be fun to drink on release, that more than makes up for it. 90-92 Pts

2,061 Views

Tasted

Apr 19, 2019

2017
Goulée (Médoc)

Forward and round, the wine is all about the fruity entry and the sweetness harmonizing with a touch of olives and thyme on the back end. A blend of 72% Merlot, 24% Cabernet Sauvignon and 4% Cabernet Franc, this wine reached 12.8% alcohol. 88 Points

1,669 Views

Tasted

Apr 26, 2018

2016
Goulée (Médoc)

With a touch of smoke, flint, mint, espresso and black cherries, the nose is quite nice. Open, round, sweet and fruity, with a nice kick of chocolate-covered cherries in the finish is what you find here. You can enjoy this now, or give it a few more years of age. 90 Points

1,894 Views

Tasted

Aug 22, 2020

Forward, easy to like, plush, ripe, round, luscious and open, the licorice coated red fruits in the finish taste and feel great. Drink this now and over the next decade or so. 90 Points

1,495 Views

Tasted

Feb 8, 2019

Spicy, medium-bodied, fresh, forward with crisp, crunchy, sweet red fruits that will be ready to drink well on release, this wine was produced from a blend of 77% Merlot, 18% Cabernet Sauvignon and 5% Cabernet Franc, reaching 12.92% alcohol. 89 Points

1,768 Views

Tasted

Apr 29, 2017

2016
Goulée Blanc (Bordeaux)

Forward, easy drinking, fresh, yellow citrus filled, summer drinking charmer that will be best in its first few years of life. 87 Points

1,562 Views

Tasted

Feb 13, 2019

2015
Goulée (Médoc)

This is showing really well today. The ripe black cherries, cocoa, licorice and smoke on the nose and palate coupled with round, soft, polished textures hits the spot. If you are seeking a forward, delicious wine for drinking over the near term, this is a nice choice and it sells for peanuts. 89 Points

1,811 Views

Tasted

Aug 9, 2020

Forward, medium bodied, early drinking Merlot based wine, with round, textures and an open, red plum and cherry profile. 88 Points

3,324 Views

Tasted

Mar 12, 2018

An earthy style of Goulee by Cos, with a forward, discreet, medium bodied, bright, fresh, dark, red berry character. Produced from a blend of 77% Merlot, 19% Cabernet Sauvignon and 4% Cabernet Franc. The wine reached 12.5% alcohol. 87 - 89 Pts

3,149 Views

Tasted

Apr 26, 2016

2015
Goulée Blanc (Bordeaux)

Light in color, with a crisp, early drinking profile of bright lemon and citrus flavors. Medium bodied, refreshing and uncomplicated, this is a good summer quaffer. 87 Points

1,616 Views

Tasted

Mar 12, 2018

2014
Goulée (Médoc)

Forward, ripe, sweet and fresh, medium/full bodied, with sweet, dark chocolate covered blackberries and thyme from start to finish. This is already quite tasty, and it should be even better with time. 90 Points

3,021 Views

Tasted

Jul 18, 2017

Goulee by Cos d'Estournel was produced from a blend of 78% Merlot, 18% Cabernet Sauvignon and 4% Cabernet Franc. With licorice and black cherry notes, the forward yet approachable wine is soft, sweet and already surprisingly earthy. It will be best young. 88-89 Pts

2,701 Views

Tasted

Apr 21, 2015

2014
Goulée Blanc (Bordeaux)

Easy drinking, forward styled, fresh, juicy, white Bordeaux wine for early drinking pleasure. The wine is made from a blend of 80% Sauvignon Blanc and 20% Semillon. 87 Points

2,384 Views

Tasted

Jul 18, 2017

2013
Goulée (Médoc)

Produced using a blend of 61% Merlot, 32% Cabernet Sauvignon and 7% Cabernet Franc, the wine is focused on its fresh, smoky, black raspberry-filled profile. Textures are soft before the tangy, citrus and raspberry finish. 87-89 Pts

1,896 Views

Tasted

Apr 23, 2014

2012
Goulée (Médoc)

Licorice, coffee, toast, spice and blackberry in the nose. On the mouth, the wine is soft, fresh, sweet and tart, with licorice on the back end. 89 Points

2,454 Views

Tasted

Jul 29, 2015

Blending 60% Cabernet Sauvigon and 40% Merlot, the wine reached 13.38% alcohol. Light aromas of earth, black raspberry, jam and licorice open to a light wine with soft textures, light spicy cherry fruits and an easy-to-like personality. 87-89 Pts

1,850 Views

Tasted

Apr 28, 2013

2011
Goulée (Médoc)

Medium bodied, and easy to like, the black cherry notes and forward, soft, round textures make this an easy wine to taste. 88 Points

3,435 Views

Tasted

May 20, 2014

From a blend of 45% Merlot, 45% Cabernet Sauvignon and 10% Petit Verdot, the wine reached 13% alcohol. Fermented in stainless steel and aged in 20% new oak with licorice, cherry, medium body and a dry cherry finish. 89-90 Pts

2,876 Views

Tasted

Apr 8, 2012

2010
Goulée (Médoc)

Dark in color and packed with licorice, blackberry and chocolate covered cherries, this forward, flashy wine already delivers pleasure. This is probably best enjoyed in its first decade of life. 90 Points

4,474 Views

Tasted

May 7, 2013

Goulee 80% Cabernet Sauvignon and 20% Merlot combine to produce a wine that opens with a spicy profile filled with coffee, fresh, ripe dark berries and licorice. Concentrated ripe, round berries, fresh cassis and bitter chocolate are found in the finish of this lush, styled wine from the team at Chateau Cos d'Estournel. 90-92 Pts

4,824 Views

Tasted

Apr 22, 2011

2009
Goulée (Médoc)

Ripe, easy to like, fat, juicy, lush and round, the vanilla tinged espresso, black cherry and licorice scented wine is already serving a lot of pleasure. 91 Points

3,850 Views

Tasted

Sep 23, 2014

From a blend of 80% Cabernet Sauvignon and 20% Merlot, the wine offers licorice, cassis, blackberries and earth notes. Sweet, ripe, round and open, this fun, easy to like, affordable Bordeaux wine will drink well on release. 90 Points

3,844 Views

Tasted

Jul 9, 2011

2009
Goulée Blanc (Bordeaux)

Light in color, with refreshing, lemon and citrus flavors. Medium bodied with good acidity, it's a wine I'd drink on the young side. 87 Points

3,573 Views

Tasted

Mar 18, 2012

2008
Goulée (Médoc)

Full mature, medium bodied, soft. fruity wine with licorice, tobacco and earthy accents to the red fruits. Drink this over the next few years, before the fruit fades. The wine was produced from blending 80% Cabernet Sauvignon and 20% Merlot. 87 Points

2,453 Views

Tasted

Oct 16, 2017

2005
Goulée (Médoc)

With a dark color and aromas of licorice, cassis, blackberry and smoke, this sweet, ripe, juicy and fun to taste wine should drink well early. 90 Points

4,670 Views

Tasted

Jul 2, 2010

2003
Goulée (Médoc)

Still showing some its licorice, black cherry, coffee bean and earthy personality, this wine has lost some of its vibrancy and juicy fruits with time. However, the round textures are still present in the finish. 89 Points

5,144 Views

Tasted

Dec 18, 2013