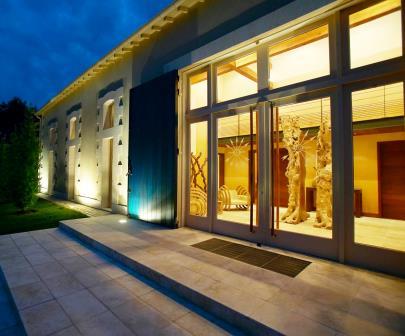 Learn everything about Chateau Clarke Haut Medoc with wine tasting notes and wine with food pairing tips. Learn the best vintages, the history of the property, and information on the vineyards and winemaking. If you want to read about other important, Bordeaux Chateaux: Links to all Bordeaux Wine Producer Profiles
Chateau Clarke History, Overview
Chateau Clarke dates back to the late 1700s when it was founded by Tony Clarke, which following the custom of the time, took its name from the estate's founder, or current owner.
The vineyard has only changed hands two more times over the centuries. In 1820, the St. Guirons family bought the property and it remained in their hands until 1973 when Chateau Clarke was purchased by Baron Edmond de Rothschild.
At the time of the sale, the estate had become quite dilapidated. The vineyards needed replanting, the chateau, cellars, and wine-making facilities required extensive renovations.
The vineyard demanded a new drainage system and if that was not enough, it was determined that entire sections of the vineyard needed to be ripped out and replaced.
Purchasing Chateau Clarke seemed like an odd choice for Baron Edmond de Rothschild. Forget all the work and expenses that needed to be done.
You need to keep in mind that Edmond de Rothschild was probably the wealthiest member of the famous Rothschild family and he was also one of the majority owners of Chateau Lafite Rothschild.
So with all that money, the question remains as to why he bought Chateau Clarke, instead of any number of better Left Bank estates with great terroir, remains a mystery. He definitely had his work cut out for him.
It was at that point in time that the Listrac vineyard was completely changed, and for the better. Previously, the Medoc vineyard was planted to a higher percentage of Cabernet Sauvignon. With the clay-rich soils and cooler terroir, Merlot was a much better fit.
Baron Edmond de Rothschild brought in Emile Peynaud to consult, who was replaced by Michel Rolland who continues to advise on the vineyard management and winemaking for Chateau Clarke.
After the Baron died in 1997, control of the estate was passed to his son, Benjamin Rothschild. Benjamin Rothschild is also the largest shareholder in Chateau Lafite Rothschild. In 2021, Benjamin Rothschild passed away. Today, the estate is managed by Ariane Rothschild. In 2023, Chateau Clarke finished a multi-year renovation of the entire estate and a modernization of their cellars.
Chateau Clarke Vineyards, Terroir, Grapes, Winemaking
The 58-hectare Listrac vineyard of Chateau Clarke is planted to 70% Merlot and 30% Cabernet Sauvignon. The terroir is clay, limestone, and gravel soils. As you find more clay than gravel in the soil here, it was natural for the vineyard to have more Merlot plantings.
The best part of the vineyard is close to the peak of the appellation at 35 meters, with its clay and limestone soils. The vineyard is planted to a vine density of 6,000 vines per hectare. On average, the vines are 30 years of age.
To produce the wine of Chateau Clarke, vinification takes place in a combination of oak tanks and stainless steel vats. Malolactic fermentation takes place in French oak barrels. The red wine of Chateau Clarke is aged in up to 80% new, French oak barrels for 16 to 18 months before bottling.
In 1982, under the advice of Emile Peynaud, they produced a wine using 100% Merlot! There is a second wine, Les Granges des Domaines Edmond de Rothschild. Chateau Clarke produces on average close to 25,000 cases of wine per vintage.
Chateau Clarke also utilizes 3 hectares of vines for white Bordeaux wine grapes which are planted to 70% Sauvignon Blanc, 10% Semillon, 10% Sauvignon Gris and 10% Muscadelle used to produce a small amount of white Bordeaux wine, Le Merle Blanc de Chateau Clarke. The white wine is aged in 35% new, French oak barrels for up to 6 months before bottling.
The best vintages of Chateau Clarke are: 2022, 2021, 2020, 2019, 2018, 2016, 2015, 2010, 2009 and 2005.
In addition to wine, the estate also produces agricultural products including cheese, Bries de Meaux and Bries de Melun, which are both soft, rind cheeses, and even better, Brie de Meaux Fermier, which is stuffed with black truffles and a soft rind cheeses filled with walnuts and honey.
When to Drink Chateau Clarke, Anticipated Maturity, Decanting Time
Chateau Clarke needs some time before it can be enjoyed. Young vintages can be decanted for an average of 1 hour or so. This allows the wine to soften and open its perfume. Older vintages might need very little decanting, just enough to remove the sediment.
Chateau Clarke is usually better with at least 4-7 years of bottle age. Of course, that can vary slightly, depending on the vintage character. Chateau Clarke offers its best drinking and should reach peak maturity between 6-14 years of age after the vintage.
Serving and Decanting Chateau Clarke with Wine, Food, Pairing Tips
Chateau Clarke is best served at 15.5 degrees Celsius, 60 degrees Fahrenheit. The cool, almost cellar temperature gives the wine more freshness and lift. The wine of Chateau Clarke is best served with all types of classic meat dishes, veal, pork, beef, lamb, duck, game, roast chicken, roasted, braised, and grilled dishes.
Chateau Clarke is a perfect match with Asian dishes, hearty fish courses like tuna, mushrooms and pasta as well as cheese.
The Benjamin Rothschild side of the Rothschild family owns 2 other estates in the Haut Medoc appellation, Chateau Malmaison and Chateau Peyre-Lebade.
The same branch of the Rothschild family also owns vines in other Bordeaux appellations in the Right Bank: Chateau des Laurets in Puisseguin, St. Emilion, Chateau Malengin in Montagne St. Emilion, and vineyards in New Zealand and South Africa.
In Mendoza Argentina, they own numerous estates including Flechas de Los Andes in a partnership with Laurent Dassault from Chateau Dassault in Saint Emilion.
Château Clarke Wine Tasting Notes
14 Vintages 40,366 Views Sort by Vintage-Rating
2022
Château Clarke (Listrac-Médoc)

Floral, fruity, and fresh, with blackberries, and chocolate-accented black currants and cherries, the wine is medium-bodied, creamy, and fruity from start to finish. Chateau Clarke is one of the very few wines in the Medoc that is planted to 100% Merlot. Drink from 2025-2038. 89-91 Pts.

1,102 Views

Tasted

May 8, 2023

2020
Château Clarke (Listrac-Médoc)

Chewy, leafy, savory, earthy, chalky currants with leafy accents and a hint of spice is what you will find in the nose and on the medium-bodied, fresh, earthy, classic, slightly rustic palate. Drink from 2023-2038.

425 Views

Tasted

Mar 21, 2023

Sweet, ripe black cherries and earth form the core of this wine. Medium-bodied, with a dusty textured finish, this will be fine to drink and enjoy in its youth. 87-89 Pts

1,018 Views

Tasted

May 20, 2021

2020
Château Clarke Le Merle Blanc (Bordeaux)

The nose is on the floral and orange side of the style range, with a round-textured, core of tropical-accented orange and yellow citrus. This is ready to go and should be consumed over the next few years. Drink from 2023-2026.

69 Views

Tasted

Sep 10, 2023

2019
Château Clarke (Listrac-Médoc)

Fresh, bright, soft and savory, with a tangy, crisp, red pit fruit-focused, medium-bodied palate and a tangy finish. The wine is a blend of 70% Merlot and 30% Cabernet Sauvignon and will be best in its fruit-forward, exuberant youth. Drink from 2022-2032.

2,018 Views

Tasted

Apr 10, 2022

2018
Château Clarke (Listrac-Médoc)

Medicinal cherries, spice and tobacco leaf aromas mesh with ripe, sweet lush cherries, dusty tannins and black raspberries with olives in the medium-bodied finish. Chateau Clarke is one very few wines in the Medoc planted with a preponderance of Merlot.

1,549 Views

Tasted

Mar 9, 2021

Ripe, round, medium-bodied, sweet and with plenty of dark red berries and thyme to go around, you can drink this early in life. Chateau Clarke is one very few wines in the Medoc planted to 100% Merlot. 86-88 Pts

2,309 Views

Tasted

Apr 19, 2019

2017
Château Clarke (Listrac-Médoc)

Fresh, bright, crisp, medium-bodied wine in a classic style, focused on its red currants, herb, cedar and earthy character.

1,738 Views

Tasted

Aug 30, 2020

2017
Château Clarke Le Merle Blanc (Bordeaux)

Bright, fresh, crisp, light yellow citrus with a touch of flowers and honey on the nose and palate make this perfect for easy summer quaffing. This is fully developed and should be opened over the next year or two.

1,022 Views

Tasted

Jan 12, 2022

2016
Château Clarke (Listrac-Médoc)

Medium-bodied, classic, firm, bright, crisp and fresh, the sweet and tart red berry fruit shines easily in the nose and on the palate here.

4,603 Views

Tasted

Sep 23, 2019

2015
Château Clarke (Listrac-Médoc)

One of the few wines in the Medoc with vineyards planted to 100% Merlot, the wine is light to medium bodied, with a crisp bright, red berry, cedar and tobacco character with some tartness in the finish.

2,060 Views

Tasted

Mar 12, 2018

The wine is medium bodied and focused on fresh, red fruits, leaving you with a sweet and tart, clipped finish. 84-86 Pts

2,382 Views

Tasted

Apr 26, 2016

2014
Château Clarke (Listrac-Médoc)

Medium bodied, austere, bright, spicy, earthy, sweet and tart red fruits that is quite classic in style.

3,414 Views

Tasted

Jul 10, 2017

2012
Château Clarke (Listrac-Médoc)

One of the few wines in the Medoc with vineyards planted to 100% Merlot, the wine is medium bodied, focused on fresh, red fruits, leaving you with a sweet and tart, clipped finish.

2,198 Views

Tasted

May 25, 2016

Perhaps the only 100% Merlot wine from the Medoc is more on the tart, bright, crisp strawberry and red cherry side of the style range. This will be best in its first few years of life.

2,279 Views

Tasted

Mar 11, 2015

2010
Château Clarke (Listrac-Médoc)

Simple and easy drinking, with a soft, black cherry, thyme and espresso bean, medium bodied personality for early drinking. Made from a blend of 80% Merlot and 20% Cabernet Sauvignon.

3,715 Views

Tasted

Jan 31, 2015

2009
Château Clarke (Listrac-Médoc)

Soft, open and with quite a bit of charm in its earthy, cassis and thyme filled personality, the generous finish has a nice supple quality.

4,553 Views

Tasted

Apr 26, 2015

2005
Château Clarke (Listrac-Médoc)

Stoic and firm in character, the nose, with its tobacco, wet earth, spice, cassis and cherry aromatics are the best part of the wine. There is an austerity on the palate that will definitely appeal to lovers of older, so called classic wines more than it did to me.

3,912 Views

Tasted

Sep 23, 2016