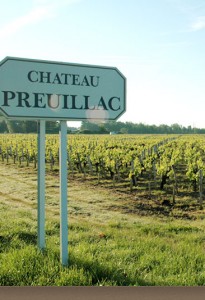 Learn everything about Chateau Preuillac Medoc, with wine tasting notes and wine with food pairing tips. Learn the best vintages, a history of the property, information on vineyards and winemaking. If you want to read about other important, Bordeaux Chateaux: Links to all Bordeaux Wine Producer Profiles
Chateau Preuillac History, Overview
The history of Chateau Preuillac begins in the early 1800s. The vineyard was fully established by 1869. However, the modern era of Chateau Preuillac is actually quite recent. While the estate has been producing wine for more than 200 years, the chateau was only built in about 1975 by the Bouet family, who were the owners of the estate at the time.
When the Bouet family purchased Chateau Preuillac in 1969, it was in quite a dilapidated shape. Not only did they build a new chateau, they also renovated the vineyards and wine-making facilities before selling the property in 1998.
The vineyard was sold to a partnership headed by the Mau family, (who also own a large negociant company as well as Chateau Brown in Pessac Leognan) and the Dirkzwager family. The Dirkzwager family is well known for their Dutch distilleries.
Even though the estate was renovated only 20 years earlier, Chateau Preuillac was again updated in the vineyards and winemaking facilities after the new owners took control of the Left Bank estate.
In late 2014, it was announced that Chateau Preuillac was sold to an investment group, headed by the Chinese investor Gen-Xiong Li, who agreed to retain the previous owner, Jonathan Mau as a consultant for at least one year.
Chateau Preuillac Vineyards, Terroir, Grapes, Winemaking
Chateau Preuillac occupies 42 hectares of land with 26 hectares under vine. The vineyard is planted to 53% Merlot, 45% Cabernet Sauvignon and the remaining 2% is planted to Cabernet Franc. The vineyards of Chateau Preuillac are located in the cooler climate area of the northern Medoc, above the St. Estephe appellation, not too far from Chateau Potensac.
The terroir of Chateau Preuillac is a mix of gravel, sand, clay, and limestone soils. On average the vines are 35 years of age.
The wine of Chateau Preuillac is whole berry fermented in large, 180 hectoliter wood vats. Malolactic fermentation takes place in a combination of wood vat and 15% French, oak barrels. The wine is aged on its lees in 33% new, French oak barrels for an average of 12 months prior to bottling. The average annual production of Chateau Preuillac is 8,000 cases per year. There is a second wine, Le Preuil.
The best vintages of Chateau Preuillac are: 2020, 2019, 2018, 2017, 2016, 2015, 2014, 2010, 2009 and 2005.
They also produce a limited production, high-end Cuvee of Chateau Preuillac, Emotion de Chateau Preuillac, which is produced from a specific, vineyard parcel selection. The wine undergoes malolactic fermentation in 100% new, French oak barrels and is aged in 100% new, French oak barrels.
Emotion de Chateau Preuillac is only made in the best vintages. So far the wine has only been produced in 2003, 2005, 2009 and 2010. The production is quite small. In fact, the production averages between a scant 100 to at most, 200 cases of wine. Stephane Derenoncourt is the consultant.
When to Drink Chateau Preuillac, Anticipated Maturity, Decanting Time
Chateau Preuillac can decanted for an average of 1 hour, give or take. This allows the wine to soften and open its perfume. Older vintages might need very little decanting, just enough to remove the sediment. Chateau Preuillac is usually better with at least 2-4 years of bottle age.
Of course, that can vary slightly, depending on the vintage character. Chateau Preuillac offers its best drinking and should reach peak maturity between 3-9 years of age after the vintage.
Serving and Decanting Chateau Preuillac with Wine, Food, Pairing Tips
Chateau Preuillac is best served at 15.5 degrees Celsius, 60 degrees Fahrenheit. The cool, almost cellar temperature gives the wine more freshness and lift. The wine of Chateau Preuillac is best served with all types of classic meat dishes, veal, pork, beef, lamb, duck, game, roast chicken, roasted, braised, and grilled dishes.
Chateau Preuillac is a perfect match with Asian dishes, hearty fish courses like tuna, mushrooms, and pasta as well as cheese.
Château Preuillac Wine Tasting Notes
9 Vintages 20,204 Views Sort by Vintage-Rating
2020
Château Preuillac (Médoc)

Lots of tobacco and cigar box to accompany the peppery red berries. Medium-bodied, fresh and vigorous, the finish is sweet, round and fruity. 89-91 Pts

1,567 Views

Tasted

May 20, 2021

2018
Château Preuillac (Médoc)

A light touch of espresso, cigar box, earth, cedar, tobacco and red fruit pop up with ease. Soft, round and a bit creamy, this is a fine example of what can be made in a good vintage in the Medoc. Give it a few years to develop and it will be even better. 90 Points

861 Views

Tasted

Mar 9, 2021

The red fruits here, pair perfectly with the earth cigar box and leafy accents. Medium bodied, forward and with espresso and dark red fruits in the finish, you can enjoy this early, or give it a few years to develop. 88-90 Pts

1,354 Views

Tasted

Apr 19, 2019

2016
Château Preuillac (Médoc)

Ripe, round, lush and forward, with a fruit filled concentrated character that allows the tobacco and cigar box accents to come through. 91 Points

1,148 Views

Tasted

Sep 21, 2019

Forward, easy-drinking, earthy, dark fruits and spice with medium body and close to achieving round textures. 89 Points

1,778 Views

Tasted

Apr 29, 2017

2015
Château Preuillac (Médoc)

Medium bodied with an earthy herbal and red berry character this is best suited for early drinking 83 - 85 Pts

1,656 Views

Tasted

Apr 26, 2016

2014
Château Preuillac (Médoc)

Forward, early drinker with light, crisp, red berries, herbs and earth in its profile. 85 Points

1,358 Views

Tasted

Jun 23, 2017

2013
Château Preuillac (Médoc)

Tobacco, earth and blackberry in character, the wine is perfect for restaurants and uncomplicated drinking. 83-85 Pts

2,016 Views

Tasted

Apr 23, 2014

2012
Château Preuillac (Médoc)

Medium bodied, with licorice, coffee and cherry sensations, this will be at its best in its youth. 85-87 Pts

2,824 Views

Tasted

Apr 23, 2013

2010
Château Preuillac (Médoc)

Another solid example of a Bordeaux value wine. Produced with help with Stephane Derenoncourt, this forward styled, plush wine offers black cherries, licorice and the right amount of oak with polished tannins. This ready to drink wine was made from a blend of 53% Merlot, 45% Cabernet Sauvignon and 2% Cabernet Franc. 90 Points

3,136 Views

Tasted

Jul 22, 2013

2009
Château Preuillac (Médoc)

Forward, open, supple, modern in style, this Merlot dominated Bordeaux value wine delivers ripe, sweet fruits, round tannins, licorice, coffee bean and a supple textured, easy to drink finish. I'd drink this on the young side. 89 Points

2,506 Views

Tasted

Nov 27, 2013