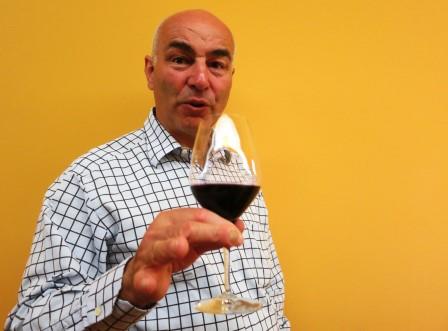 Learn everything about Chateau Fourcas Borie Haut Medoc with wine tasting notes and wine with food pairing tips. Learn the best vintages, a history of the property, information on the vineyards, and winemaking. If you want to read about other important, Bordeaux Chateaux: Links to all Bordeaux Wine Producer Profiles
Chateau Fourcas Borie History, Overview
Chateau Fourcas Borie, which comes from the Listrac area of the Haut Medoc appellation is one of three wines that share the name Fourcas. The others are Fourcas Dupre and Fourcas Hosten.
Chateau Fourcas Borie is the creation of Bruno Borie. If the name of Borie sounds familiar to you, that is because it should. Bruno Borie is best known as the owner of Chateau Ducru Beaucaillou in St. Julien. The Borie family purchased the vineyards that created Chateau Fourcas Borie in 2009.
However, the property has a history in the Bordeaux region that dates well before the Borie era. Chateau Fourcas Borie was previously sold under the name of Fourcas Dumont. The estate was originally created when two properties came under the control of a single owner who merged Chateau Clos du Fourcas with Chateau Moulin du Bourg.
2009 was the final vintage for Fourcas Dumont. From that point forward, the Borie family was clearly in charge. Under the direction of Bruno Borie, Chateau Fourcas Borie made its debut with the 2009 Bordeaux vintage. In 2011, Bruno Borie changed the label of the wine to its current, modern, brightly colored, attention-seeking design for Chateau Fourcas Borie.
Chateau Fourcas Borie Vineyards, Terroir, Grapes, Winemaking
The 30-hectare, Left Bank vineyard of Chateau Fourcas Borie is planted to 50% Cabernet Sauvignon, 40% Merlot, and 10% Petit Verdot. On average, the vines are close to 30 years of age. The vineyard is planted to a vine density that ranges from 6,600 vines per hectare to 9,900 vines per hectare in 27 separate plots.
As the property was created when two estates were joined together, it's understandable the vineyards occupy two separate types of terroir. Here, you mind mostly clay with limestone soils. The soils however come from two separate parcels, you find gravel and clay on the hillsides. There are also vines planted in clay with limestone on the flats.
To produce the wine, Chateau Fourcas Borie is vinified in a range of temperature-controlled stainless vats that vary in size from as small as 30 hectoliters all the way up to 220 hectoliters. This allows for a parcel by parcel vinification. Chateau Fourcas Borie is one of the few wines in its class to be able to do this, due to the high cost.
Malolactic fermentation takes place in vat. The wine of Chateau Fourcas Borie is aged in 30% to 50% new, French oak barrels for an average of 12 months. There is a second wine, Chateau Moulin du Bourg, and a third wine, Hautegrave Tris. The production of Chateau Fourcas Borie is slightly less than 18,000 cases per vintage.
The best vintages of Chateau Fourcas Borie are: 2022, 2021, 2020, 2019, 2018, 2016, 2015, 2010, 2009 and 2005.
If you're looking for a great value Bordeaux wine from the Medoc, that does not require age, yet it offers good character, style, and charm, Chateau Fourcas Borie, with its upfront easy to like personality are one of the best wines in that class. Bargain hunters seeking well-priced, tasty Bordeaux should be all over this wine!
When to Drink Chateau Fourcas Borie, Anticipated Maturity, Decanting Time
Chateau Fourcas Borie is fun to drink on release. Young vintages can be decanted for an average of just under 1 hour or so. This allows the wine to soften and open its perfume. Older vintages might need very little decanting, just enough to remove the sediment. Chateau Fourcas Borie offers its best drinking and should reach peak maturity between 2-7 years of age after the vintage.
Serving Chateau Fourcas Borie with Wine, Food, Pairing Tips
Chateau Fourcas Borie is best served at 15.5 degrees Celsius, 60 degrees Fahrenheit. The cool, almost cellar temperature gives the wine more freshness and lift. The wine of Chateau Fourcas Borie is best served with all types of classic meat dishes, veal, pork, beef, lamb, duck, game, roast chicken, roasted, braised, and grilled dishes.
Chateau Fourcas Borie is a perfect match with Asian dishes, hearty fish courses like tuna, mushrooms, and pasta as well as cheese.
Chateau Fourcas Borie was not the first purchase for the Borie family in the Haut Medoc appellation. The Borie family also owns Chateau Ducluzeau, which is also located in the commune of Listrac, not far from Chateau Fourcas Borie. Chateau Ducluzeau has a vineyard with old vines that are planted to 90% Merlot and 10% Cabernet Sauvignon.
Château Fourcas-Borie Wine Tasting Notes
10 Vintages 27,096 Views Sort by Vintage-Rating
2018
Château Fourcas-Borie (Listrac-Médoc)

A solid Bordeaux value year after year, here you find a nice gulp of ripe, dark, cherries, round textures, hints of licorice and a splash of cocoa. The wine is soft, medium bodied and can be enjoyed on release. 89-91 Pts

1,836 Views

Tasted

Apr 19, 2019

2017
Château Fourcas-Borie (Listrac-Médoc)

Plums, licorice and herbs create the center of the wine. A touch of oak intermingled with bright plums and more licorice capped by red fruits on both the soft-textured palate and in the finish. You will not find a better value from Medoc.

1,313 Views

Tasted

Apr 26, 2018

2016
Château Fourcas-Borie (Listrac-Médoc)

Ripe black cherry and wild strawberry aromatics, lush, silky tannins, medium bodied, and with a supple, fresh, plum and cocoa note in the finish.

2,254 Views

Tasted

Apr 29, 2017

2015
Château Fourcas-Borie (Listrac-Médoc)

With fresh dark cherries, thyme and a hint of cocoa on the nose, the medium bodied wine is soft, fresh and forward with loads of dark chocolate, sweet, plums and spice in the open, easy drinking finish. 88-90 Pts

2,382 Views

Tasted

Apr 26, 2016

2014
Château Fourcas-Borie (Listrac-Médoc)

With licorice, chocolate and boysenberry on the nose, this wine has good color and soft, sweet notes of ripe, round, spicy fruits. It is hard to find a better Medoc wine for this small amount of money. 88-90 Pts

1,932 Views

Tasted

Apr 21, 2015

2013
Château Fourcas-Borie (Listrac-Médoc)

Easy to like and to drink, the wine showcases polished textures and notes of black cherry, licorice and earth. This is not a wine for aging—drink it in its youth. 85-87 Pts

1,731 Views

Tasted

Apr 23, 2014

2012
Château Fourcas-Borie (Listrac-Médoc)

Formerly sold under the name of Fourcas Dumont is from Bruno Borie of Chateau Ducru Beaucaillou. From a Merlot-dominated blend, licorice, black cherry and jam notes are in the forefront. Light and forward in style, this is an easy-to-drink, crowd-pleasing style of wine that should drink well on release. The wine is a blend of 60% Merlot and 40% Cabernet Sauvignon and is aging in 30% new, French oak barrels. 86-88 Pts

1,938 Views

Tasted

Apr 23, 2013

2011
Château Fourcas-Borie (Listrac-Médoc)

Easy drinking, forward styled Medoc, with a good nose, palate presence and it sells for a fair price. Uncomplicated and already open, this is a wine to drink over the 5 few years. The wine was produced from a blend of 70% Merlot, 15% Cabernet Sauvignon and 15% Petit Verdot.

3,286 Views

Tasted

May 20, 2014

2010
Château Fourcas-Borie (Listrac-Médoc)

Fourcas Borie opens with cassis, spice and dark berry aromas. Round, filled with charm and pleasing to the wallet, this will be one of the top value wines from the Medoc in this expensive 2010 Bordeaux vintage. The wine was produced from a blend of 75% Merlot, 15% Petit Verdot and 10% Cabernet Sauvignon.

4,231 Views

Tasted

Jul 12, 2013

The second vintage of Fourcas Borie, which was formerly sold under the name of Fourcas Dumont is from Bruno Borie of Chateau Ducru Beaucaillou. Filled with juicy ripe, spicy cassis, blackberry and earth, this charming, crowd pleasing wine will offer a lot of bang for the buck in the under $20 category. 88-90 Pts

4,212 Views

Tasted

Apr 21, 2011

2009
Château Fourcas-Borie (Listrac-Médoc)

Licorice, boysenberry, milk chocolate and cherry, medium bodied, with an open, soft, lush personality that drank well the day it was released. This is an outstanding Bordeaux value wine. The wine was produced from a blend of 85% Merlot and 15% Petit Verdot. For close to $20, it's going to be hard to find a better wine!

1,981 Views

Tasted

Mar 29, 2012