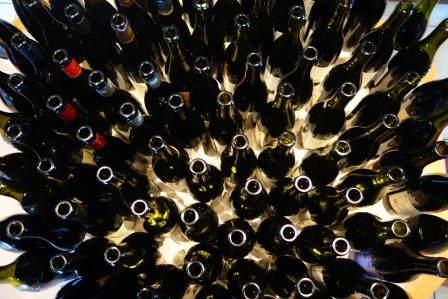 2013 Chateauneuf du Pape is in many cases, the type of vintage in the Southern Rhone wine the marketplace needs. Stylistically, these Southern Rhone Valley wines are fresh, light on their feet, early drinking, spicy and charming, with sweet red fruits at their center. The wines can offer an elegant, fresh style. For tasters that find the wines from 2009 and 2010 too ripe or high in alcohol for their taste, they are sure to find something to like about 2013 Chateauneuf du Pape wines.
Following a cold, wet winter, 2013 Chateauneuf du Pape was the product of a late harvest and low yields. All that rain, coupled with colder than normal weather, caused problems with the flowering with the Grenache. 2013 Chateauneuf du Pape is also the product of a late harvest and low yields. The problems with the Grenache is the one fundamental, overriding factor in the 2013 vintage. Instead of the normal amount of Grenache in the blends, you will find more Syrah and Mourvedre in the wines at the estates with those grape varietals planted in their vineyards. Another important point that helped shape the 2013 Chateauneuf du Pape vintage is that many producers did not make a special wine or high-end cuvee. So those grapes were instead added to the blends of their normal or traditional wines, helping to add depth, body, structure and complexity.
2013 Chateauneuf du Pape wines are not going to challenge vintages like 2009 or 2010. Nor are they meant to. But it's important to note, especially for savvy, bargain hunting consumers, 2013 Chateauneuf du Pape wines are also available for a lot less money and they are ready to serve up their charms, early and easily. 2013 Chateauneuf du Pape is a true drinkers vintage. If you like the wines from the region, and you don't want to spend a lot of money, you can find some very tasty wines for early drinking.
Before we get to the wines, the harvest as started for the 2015 Chateauneuf du Pape wines. While it's still early, with only some of the white wine grapes picked so far, many producers are excited about the potential quality of the vintage! I am already looking forward to tasting the wines!
The following 2013 Chateauneuf du Pape wine tasting notes came from wines tasted in 2015, during the summer in Chateauneuf in non-blind conditions.
3 Cellier Alchimie – Light, easy drinking, cherry dominated wine for early consumption. The wine was made from a blend of 60% Grenache, 16% Syrah, 10% Mourvedre and 14% other varieties. 86 Pts
3 Cellier Marceau – Spicy, with black pepper and red berry notes, the wine is forward, yet, holds some of its spicy fruits in reserve. The wine was made from a blend of 35% Grenache, 35% Mourvedre, 20% Syrah and 10% Vaccarese. 87 Pts
3 Cellier Privilege – Modern in style, with some oak showing in the nose, the wine is polished, with a fresh, red berry and thyme focus. 88 Pts
Albin Jacumin La Begude Papes – Medium bodied, spicy, easy drinking, red berry filled wine produced from a blend of 70% Grenache, 15% Syrah, 12% Mourvedre and 3% Cinsault. 88 Pts
Paul Autard – With a big kiss of oak, licorice, lavender and kirsch, this modern styled wine leaves you with a polished, black raspberry finish. 87 Pts
Paul Autard Juline – Juline, named after Jules and Pauline Autard, is modern in style, with its oaky nose, lush textures and flashy, fruit filled finish. 91 Pts
Paul Autard La Cote Ronde – Sweet, cherry jam in the nose, with hints of licorice and toast in the nose, with a forward, silky, blast cherry in the round finish. 90 Pts
Juliette Avril – Garrigue and cherry, with sweet plummy accents lead to a medium bodied, finesse styled wine. The wine was produced from a blend of 65% Grenache, 25% Syrah, 10% Mourvedre. 87 Pts
Juliette Avril Cuvee Maxence – Medium bodied, peppery, red fruits and soft textures with freshness are the hallmarks of this wine. The wine is made from 100% Grenache. 88 Pts
Barroche Signature – Smooth, fresh and forward, there is a nice sweetness to the polished fruits. The wine was produced from blending 55% Grenache, 25% Mourvedre, 13% Syrah, 5% Cinsault, 1% Vaccarese and the remaining 1% comes from other, assorted grapes. 91 Pts
La Bastide Saint Dominique – Silky, soft and sweet, with freshness to the ripe cherries and a silky smooth, medium bodied finish. The wine was made from a blend of 80% Grenache, 10% Syrah, 7% Mourvedre and 3% Cinsault. 89 Pts
La Bastide Saint-Dominique Les Hesperides – Smoky, earthy, soft red fruits and polished textures, with early drinking pleasure. The wine comes from an equal blend of Grenache and Mourvedre. 91 Pts
Beaurenard – Finesse styled, with a focused, soft, red berry center and a smooth, early drinking, spicy finish. 88 Pts
Beaurenard Boisrenard – Toasty oak, smoke, licorice and black raspberries, with silky, smooth textures and sweet, red fruits in the end note. 91 Pts
Louis Bernard – Jammy red plums and citrus on the nose, with a light styled character that is going to be at its best in its youth. 85 Pts
Benedetti – Forward, soft and approachable, the wine is polished,round and easy on the palate with its sweet black cherry essence. 89 Pts
Berthet-Rayne – Medium bodied, fresh, sweet, ripe fruits and pepper, with an elegantly styled finish for early drinking. Produced from blending 65% Grenache, 20% Mourvedre, 10% Cinsault and 5% Syrah. 86 Pts
Berthet Rayne Elixir Papes – Garrigue, licorice and kirsch create the nose. Forward, medium bodied and ending with a sweet, fresh, red cherry finish. The wine is made using 100% Grenache. 87 Pts
Berthet Rayne Vieilli en Fut Chene – Sweet, lush red fruits, soft textures and forward as well as modern in style. The wine was made from a blend of 65% Grenache, 30% Mourvedre and 5% Counoise. 89 Pts
Jean-Pierre Boisson Pere Caboche – Finesse styled, medium bodied, red berry focused wine that drinks well young. The wine is a product of 80% Grenache, 15% Syrah and 5% Mourvedre. 88 Pts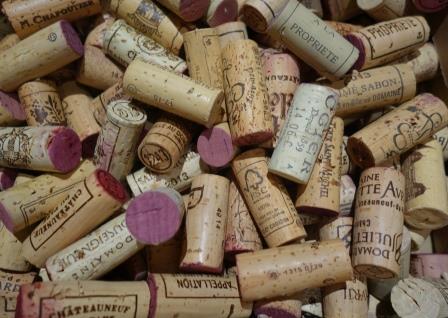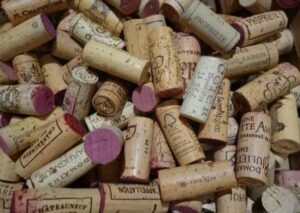 Bosquet des Papes Chante Le Merle Vieilles Vignes – Concentrated for the vintage, there is a wealth of silky, dark red fruits paired with supple textures and a vibrant, richness to the finish making this one of the top wines of the vintage. Produced from a blend of 90% Grenache with an even split of Syrah and Mourvedre. 93 Pts
Bosquet des Papes Cuvee Tradition – Licorice and black cherries abound in this charmer. Silky in texture, forward in style, this is quite nice for the vintage. 91 Pts
Boutiniere – Medium bodied, easy drinking, forward style of Southern Rhone with peppery, kirsch notes. 85 Pts
Brotte – Oaky in the nose, with licorice, incense and cherries rounding things out, this modern styled wine will offer pleasure on release. 87 Pts
la Brunely – Fresh, soft, short and sweet, with a medium bodied, spice focused, red fruit finish. 86 Pts
Cabrieres – Medium bodied, finesse style wine with a light, fresh, sweet, thyme and ripe, red berry finish. 89 Pts
Celestiere Tradition – Light, dusty and lacking concentration, this red berry centered wine will be best on the young side. 85 Pts
Chanssaud – Garrigue, spicy cherries, spicy, light, effervescent finish. 84 Pts
Chanssaud d'Antan – Medium bodied, soft, brisk red fruits, and a fresh, spicy, kirsch, olive and peppery finish. 86 Pts
Chapoutier Barbe Rac – Earthy, with a smoky, thyme and cherry note that stands out, the wine is silky, soft and polished with freshness and sweetness to the fruit. The wine is made with 100% old vine Grenache. 92 Pts
Chapoutier Croix de Bois – Soft and spicy, with polished textures, medium body and sweet, red fruits, this should be drinkable on release. 91 Pts
Chapoutier La Bernardine – Medium bodied, red fruits, spice and kirsch are easy to find in this forward styled wine of pleasure. 88 Pts
Charbonniere – Notes of licorice and black cherry are open from the start. On the palate, the wine is medium bodied, sweet and forward. 60% Grenache, 20% Syrah and 20% Mourvedre create the blend. 90 Pts
Charbonniere Cuvee Mourre Perdrix – Soft, silky and smooth red fruits with lush textures and a forward approach. The wine is a blend of 70% Grenache and an even split of Syrah and Mourvedre. 91 Pts
Charbonniere Cuvee Speciale Les Hautes Brusquieres – Earthy, spicy and dark, the unusual, high percentage of Syrah in the blend adds more fat, freshness and peppery spices than usual to the wine. The wine is split evenly between Grenache and Syrah in the blend. 91 Pts
Charbonniere Vieilles Vignes – Polished, silky, red fruits with sweetness and round sensations on the mid palate, finishing with a soft, ripe, red fruit filled finish. 92 pts
Charvin – With ripe, sweet, fresh red cherries, herb and earthy notes, that are made even better with the blast of kirsch and garrigue in the soft, silky, elegant, finish. 91 Pts
Clos L'Oratoire des Papes – Medium bodied, soft, forward, and serving up an easy drinking, red cherry charm. 87 Pts
Clos du Brusquieres – Licorice, garrigue and cherries fill the nose. On the palate, the wine is filled with sweet peppery cherries and soft textures. 90 Pts
Clos du Caillou Reserve – This is fabulous for any vintage, but it's quite an accomplishment in 2013. The wine has depth of flavor, softness of texture and a beautiful, polished, sweet, red and dark red, fresh fruit character. The wine was made from a blend of 50% Grenache and 50% Mourvedre. 94 Pts
Clos du Caillou les Quartz – Blending 70% Grenache and 30% Syrah produced a wine with supple tannins and ripe, sweet, black raspberries that display a nice peppery, fresh quality. 91 Pts
Clos du Caillou – Medium bodied, with a refined, elegant charm to the fruit and texture, the wine is all about the sweet, ripe, kirsch core of fruit. 90 Pts
Clos St. Jean – Lush, soft textures, sweet and spicy red fruits and freshness are the hallmarks of this elegantly styled wine. 90 Pts
Clos St. Jean Vieilles Vignes – A really good wine for the vintage with an abundance of fresh, sweet black cherries, licorice and fresh herbs. The wine has a softness and polish that feels great as it delivers its sensation of pure fruits. 92 Pts
Clos Saint-Michel – Black cherry and thyme in the nose, with silky tannins and a forward, kirsch filled finish. The wine was made using a blend of 40% Grenache, 30% Syrah and 30% Mourvedre. 89 Pts
Clos Saint-Michel Reserve – Medium bodied, fresh, black raspberry and spice filled wine with a soft, forward, plush, sweet and peppery character. 40% Grenache, 30% Syrah and 30% Mourvedre. created the blend. 91 Pts
Clos Saint Michel Grand Vin – Spicy, black raspberry and pepper, with a forward, medium bodied, open, peppery, black raspberry quality in the soft, and spicy finish. The wine was produced from an even blend of 50% Grenache and 50% Syrah. 91 Pts
Consonniere – Light, easy drinking, bright, fresh, red fruits for uncomplicated early drinking. 84 Pts
Compagnie Rhodanienne Grange des Papes – Light in style, with a simple, easy to like red berry charm for early drinking 84 Pts
Compagnie Rhodanienne Grande Gardiole – Crowd pleasing, lighter style of Chateauneuf du Pape that is best for early drinking. 86 Pts
Comte de Lauze – Medium bodied, easy drinking, forward style of Southern Rhone with peppery, kirsch notes. 85 Pts
La Cote de l'Ange – Light, bright and simple, with a crisp red fruit character and some garrigue that will be best tasted young. 84 Pts
Cristia – Fennel, incense and cherries, with a soft, forward, supple, fruit filled, cherry charm. Made from a blend of 70% Grenache, 15% Syrah and 15% Mourvedre. 90 Pts
Cristia Vieilles Vignes – Smoke, licorice and sweet, plush cherries are easy to find, before you hit the silky, smooth, fresh, kirsch filled finish. The wine was made using 100% old, vine Grenache. 92 Pts
Cuvee Vatican – Medium bodied, forward, correct red berry dominated wine for uncomplicated drinking. 87 Pts
Duseigneur Catarina – Cherry and black pepper make a nice combination, coupled with the ease of early drinkability, medium bodied, soft textures and sweet, ripe fruits. The wine was made from a blend of 85% Grenache, 10% Syrah and 5% Mourvedre. 88 Pts
Duseigneur Vieilles Vignes – Medium bodied with dark, ripe, sweet cherries, licorice and an oaky, dusty, earthy, red berry finish. 89 Pts
Eugenie Eternite – The second vintage for this producer, the wine is light, sweet, and serves up an early drinking, fresh, soft, kirsch finish. 84 Pts
de Ferrand – Soft and approachable, medium bodied and fresh, the red cherry notes show a nice sense of purity and freshness. 89 Pts
Fines Roches – Light in style, this red berry, floral charmer will be best enjoyed in its youth. 87 Pts
Font de Michelle – Polished, bright and fresh, with a sweet, crisp black cherry core of ripe fruit. 89 Pts
Fortia – From a whopping 80% Syrah, with the remainder of the blend taken up with Mourvedre, the wine is peppery, fresh, spicy and tannic. 87 Pts
Fortia Baron – Medium bodied, with dark, red, peppery fruits and freshness to the spicy finish. 50% Syrah, 40% Grenache and 10% Mouvedre is the blend. 88 Pts
Fortia Tradition – Soft and focused on its cherry filled charms, the wine is sweet, fresh and spicy. Made from blending 70% Grenache, 18% Syrah and 12% Mouvedre. 88 Pts
Galevan – Peppery black fruit, medium bodied, fresh, rich, clean, pure fruits and a sweet cherry finish. 88 Pts
Galevan Saint Georges – From 100% Grenache, the wine really delivers black raspberries, kirsch and peppery aromatics, soft textures and a smooth, easy to like, spicy, fresh, fruit filled finish. 90 Pts
Gardine – Lush, forward, round and fruity with a peppery, thyme accent that really shines with all the kirsch. The wine was made from a blend of 65% Grenache, 15% Mourvedre, 15% Syrah and 5% Muscardin. 91 Pts
Gardine Generations Gaston Philippe – Concentrated, rich and powerful for the vintage, there is a fatness to the texture, with lush textures that pair perfectly with the fresh, soft, peppery fruits. The blend of equal parts Grenache, Syrah and Mourvedre is very successful for the vintage. 93 Pts
Giraud les Grenaches Pierre – One of the stars of the vintage, with its pure red, sweet, ripe, polished fruits, freshness and all of its silky, spice filled, elegant charms. This beauty was produced as you might expect from the name using 100% old vine Grenache. 93 Pts
Giraud Premices – Elegant in style, this lighter, fresh, kirsch filled wine is perfect for early drinking pleasure. The wine was made from 100% Grenache. 89 Pts
Giraud Tradition – Sweet kirsch and fennel in the nose, with a blast of soft, elegantly polished red cherries in the sweet finish. 80% Grenache, 15% Syrah and 5% Mourvedre produced the blend. 90 Pts
Grand Tinel – Spice and fresh cherries open to a round, smooth, medium bodied blast of sweet cherries in the finish. 70% Grenache, 25% Syrah and 5% Mourvedre provided the blend. 89 Pts
Alain Jaume Grand Veneur Le Miocene – The debut vintage, made from a blend of 60% Grenache, 30% Syrah and 10% Mourvedre. Sweet, soft and approachable, with a liberal dose of spicy kirsch. 90 Pts
Alain Jaume Grand Veneur Les Origines – Spicy kirsch galore, with silky textures and a round, almost supple texture to the fruit in the finish. 91 Pts
Alain Jaume Grand Veneur Vieilles Vignes – Deep ruby in color, the wine has a lot of plushness and polish for the vintage, with its rich, dark red cherry character. 92 Pts
Paul Jaboulet Aine Terre Ferme – Polished, soft, medium bodied and forward, with a smooth, spicy cherry character that remains present from start to finish. 90 Pts
Paul Jaboulet Aine Les Cedres – Medium bodied, elegant and approachable, the wine is forward, and easy to like in its spicy, kirsch filled youth. 89 Pts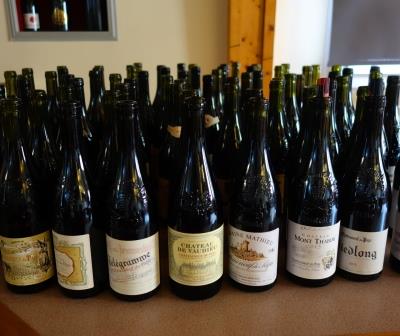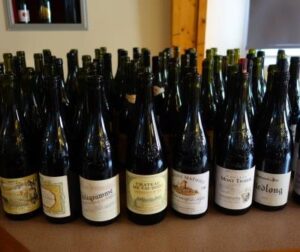 Janasse – Medium bodied and soft, this is a finesse style of Janasse, with a sweet, cherry note that leaves a nice impression. Made from blending 65% Grenache, 20% Syrah, 10% Mourvedre and 5% Cinsault. 90 Pts
Janasse Chaupin From 100% Grenache, this is already approachable, with its medium bodied, soft, silky charms, the fruit is sweet, ripe, fresh and elegant. 91 Pts
Janasse Vieilles Vignes – Smoke, espresso, black cherries and lush textures create one of the top wines of the vintage, with its lushly textured fruit and thyme filled finish. One of the top wines of the vintage was produced from a blend of 65% Grenache, 20% Syrah, 20% Mourvedre and the remaining 5% consists of various other, allowable grape varieties. 93 Pts
Jas de Bressy – Medium bodied, soft, bright and fresh, with a red plum and cherry finish. 88 Pts
La Nerthe – Touches of oak, with licorice and black raspberry in the nose, the wine is round, soft and approachable. 43% Grenache, 30% Syrah and 22% Mourvedre created the blend. 90 Pts
La Nerthe Cuvee des Cadettes – Oak, licorice, smoke, earth and cherries line up together. The wine is round, rich and showcases a supple quality to the ripe fruit. The wine was produced with 42% Syrah, 37% Grenache and 21% Mourvedre. 92 Pts
Lafond Roc-Epine – Spicy cherries and peppery fruits are all over the place, in this lush, round wine. This winner is really quite rich and stylish for the vintage. Produced by blending 80% Grenache, 10% Syrah and 10% Mourvedre. 92 Pts
Lavau – Garrigue and herbs with a light, short, red berry finish. 83 Pts
L'Or de Line – Smoky red fruits, soft and easy drinking, this should be fun to enjoy the day you bring a bottle home from the store. 87 Pts
Mas Boislauzon – Luscious, dark red fruits, soft, round textures and a liberal splash of sweet, black cherries in the finish. The wine was created using a 50/50 blend of Grenache and Mourvedre. 90 Pts
Mas Saint Louis – Blending 80% Grenache, 10% Mourvedre, Syrah and 5% Cinsault created a medium bodied, fresh, soft, red cherry filled wine that's easy to drink on the young side. 86 Pts
Mas Saint-Louis Les Arpents Contrebandiers – Medium bodied, structured style of wine with a firm cherry and strawberry finish. 87 Pts
Mas Saint-Louis Reserve – The top wine from the domaine delivers a lush, ripe, sweet, round, peppery, meaty display of fruits that leave you with a good impression. It will be interesting to see how this wine performs in less difficult vintages. The wine was produced using a blend of 80% Grenache and 20% Mourvedre. 90 Pts
Julien Masquin Memora – Medium bodied, light and fresh, with a breezy, coolness to the red fruits and easy drinking, soft textures. 85 Pts
Julien Masquin Montplaisir – Medium bodied, soft, elegantly styled, this delivers the goods from start to finish, with its floral, fresh red fruits and herb notes down to the plush, crowd pleasing finish. This was a new discovery for me. I'm looking forward to tasting this again in a less challenging vintage. 89 Pts
Mathieu – Spicy, peppery, red fruits, garrigue and soft textures produced a forward easy to like wine that is meant for early drinking. 88 Pts
Mayard Clos du Calvaire – With a nice shot of fresh, sweet cherries in the nose, this forward, silky, smooth medium bodied wine. 89 Pts
Mayard Domaine du Pere Pape – Baked cherries and spice, with soft textures and a forward attitude, ending with a splash of kirsch and pepper accompanied by lush textures. 91 Pts
Mayard La Crau de ma Mere – Flashy, lusty, red fruits, with freshness and a peppery, floral, thyme and cherry nose, this is tasty from start to finish. 91 Pts
Maucoil – Open, medium bodied, forward, easy to like, taste and enjoy, due to its accessible red fruit character. 88 Pts
Maucoil l'Esprit Maucoil – All the new oak has faded into the wine allowing the fresh, spicy, kirsch notes and round textures to shine through. The wine was made from a blend of 50% Grenache, 15% Syrah, 12% Mourvedre and 8% Cinsault. 90 Pts
Maucoil Privilege – Blending red and white grape varietals gives the wine an exotic quality to the nose and texture that helps to showcase the spicy, fresh fruit charm. Produced from a blend of 50% Grenache, 15% Syrah, 12% Mourvedre and 8% Cinsault. 90 Pts
Gabriel Meffre Laurus – Licorice, black cherry and earthy scents in the nose, paired with round, plush textures in an easy drinking style. 88 Pts
Mereuille La Baptaurelle – Red raspberries are the first thing you notice, before moving to sweet ripe cherries. This is all about the freshness in its red fruit character. 89 Pts
Mereuille – Sweet, peppery goodness, with ripe, cherry and strawberry notes, coupled with soft, lush textures. 90 Pts
Milliere Vieilles Vignes – Medium bodied, forward, soft and open, with a crisp, kirsch finish. 86 Pts
Mongin – Herbs, leaf and cherry notes, medium bodied, sweet and tart fruits and short red berry finish. 85 Pts
Mont Redon – Hints of thyme, herbs and kirsch, with a soft, forward, polished, fresh cherry filled finish. 88 Pts
Mont Thabor – Forward, early drinking style, with freshness to the red fruits and a spicy core of fruit in an easy to like finish. 88 Pts
Mordoree Reine des Bois – Quite rich for the vintage, with a sweet fresh, licorice, toast, cocoa and black raspberry nose, the wine is soft and lush on the palate with a ripe, cherry filled, soft textured finish. The wine was made from a blend of 65% old vine Grenache, 10% Syrah and 20% Mourvedre. 93 Pts
Moulin Tacussel – Spicy black cherries and a distinctive tapenade note mesh well with the medium body and crisp freshness in the finish. 86 Pts
Moulin Tacussel Hommage a Henri Tacussel – Fresh fruits, ripe tannins and loads of soft, clean red fruits, herbs and silky textures are all over the place in this charmer. 90 Pts
Nalys – Medium bodied, soft, forward and flavorful, at the center of this wine you'll find tasty, fresh red cherries with an olive accent. 88 Pts
Nalys Le Chataignier – Medium bodied, soft, supple textured and a fresh, ripe, sweet, purity of fruit, which leaves with a good impression. Made from a blend of 85% Grenache and 15% Mourvedre. 90 Pts
Nalys Reserve – Spicy, smoky, earthy, peppery, dark red fruits make up this solid wine. Made with a blend of 73% Syrah, 18% Grenache and 9% Mourvedre. 88 Pts
Ogier Caves de Papes Heritages – Medium bodied, soft and made for early drinking, to allow tasters to enjoy the most of its soft, red berry and garrigue filled character. 87 Pts
Panisse Confidence Vigneron – Medium bodied, approachable, soft, smooth, cherry filled wine. The wine was made from a blend of 50% Grenache, 25% Syrah and 25% Mourvedre. 88 Pts
Pegau Reserve – A beautiful wine in this vintage. Packed with dark, spicy red fruits and earthy, peppery charms, this is a forward styled wine for the domaine that you can enjoy while aging the delicious 2009 and 2010 vintages as they slowly work their way to maturity. 92 Pts
Roger Perrin – Sweet, spicy kirsch, licorice and a hint of toast in the nose, medium bodied, with a forward, silky, cherry nice in the elegant finish. 88 Pts
Roger Perrin Reserve Vieilles Vignes – Fresh, soft, sweet, kirsch and plum notes move to a soft, forward, slightly drying, medium bodied, red berry finish. The wine was made from a blend of 75% Grenache, 17% Syrah and 8% Mourvedre. 89 Pts
Pignan – Light in color, medium bodied, forward, kirsch filled wine. 86 Pts
Pignan Speciale Coralie et Floriane – A touch of oak in the opening notes, coupled with ripe, red fruits, soft, silky textures and a forward, kirsch filled wine in a refined style. 90 Pts
Pontifical – Medium bodied, elegant, soft, and forward, this cherry filled charmer is for early drinking. 88 Pts
Ronciere – This pleasant, medium bodied, easy drinker will deliver uncomplicated, red fruits without any effort. Drink this wine young. 84 Pts
La Roquete Piedlong – This pleasant, medium bodied, charming easy drinker will deliver fresh, ripe, uncomplicated, red fruits without any effort. Traditionally styled, the nose was lightly more interesting than the palate. 89 Pts
Roger Sabon Le Secret de Sabon – One of the true stars of the vintage, which is not a secret due to their high quality wine making. The ripe kirsch notes really sing, leaving you with a lingering, silky red cherry finish. 94 Pts
Roger Sabon Cuvee Prestige – This wine is in serious competition to win an award for one of the top values from the entire appellation. And in the difficult 2013 vintage, this wine is no exception. Plenty of fresh, ripe fruits, hints of thyme, pepper and herbs, with a soft textured, cherry dominated finish. 92 Pts
Roger Sabon Reservee – This really offers a lot of bang for the buck. The garrigue and peppery, red fruits on the nose is enough to move you. But the soft, silky, ripe, fresh mouth feel is just as delicious. The wine was made from a blend of 80% Grenache, 10% Syrah and 10% Mourvedre. 91 Pts
Roger Sabon Les Olivets – With a splash of fresh ripe, sweet, cherries and strawberry notes on the nose, this medium bodied charmer with its forward style and soft textures is already fun to taste. 89 Pts
Saint Cosme – Garrigue and thyme, with fresh black raspberries open the wine. On the palate, this medium bodied wine shows its elegance and charm early. 90 Pts
Saint Siffrein – Spicy plum, earth and garrigue notes, with a meaty personality and slightly dry, tannic finish. 88 Pts
Saint Paul Insolite – Making its debut, this is one of the few Chateauneuf du Pape wines, made from 100% Syrah. With a touch of oak in the nose, coupled with pepper, smoke and black raspberries, the wine spicy, fresh and round, especially when you consider it's made exclusively from Syrah. 89 Pts
Sauma – Medium bodied, soft, forward, easy drinking, red cherry focused wine. 87 Pts
Serguier – Light, easy drinking quaffer without problems, or distinctive features. 84 Pts
Serguier Revelation – Modern in style, with a medium bodied, peppery character to the fruit. The texture is clearly round, but tasters are also going to find a lot of oak for the fruit in this vintage. 87 Pts
Le Serre des Mourres – Orange peel is the first thing you notice, followed by garrigue and red fruits. Medium bodied with freshness in the finish. 84 Pts
Simian Le Traversier – Medium bodied, sweet and tart, with wild strawberry and herbs in a forward style. The wine was made from a blend of 70% Grenache, 10% Syrah, 10% Mourvedre and Cinsault. 87 Pts
Sixtine – Fresh herbs and sweet, ripe red fruits, play well with the soft, silky textures and freshness in the end notes. Made with a blend of 40% Grenache, 35% Mourvedre and 25% Syrah. 90 Pts
Tardieu Laurent Classique – Oaky, medium bodied, soft and smooth, this modern styled wine will provide its black cherry, thyme, and round textures early. 89 Pts
Tardieu Laurent Vieilles Vignes – Thyme, smoke and red fruits, with a touch of oak create the nose. Medium bodied, with a soft, forward round style, this will drink well early. The wine was made from a blend of 90% Grenache and 10% Syrah. 90 Pts
Tour Saint Michel Deux Soeurs – Fresh, spicy, peppery, sweet, fresh red fruits with a soft textured, kirsch core provide a lot of pleasure. The wine was made from a blend of 75% Grenache and 25% Syrah. 90 Pts
Pierre Usseglio – Soft, peppery and smooth, with a charming, kirsch and spicy character that carries through. The wine was made from a blend of 65% Grenache, 25% Syrah, 6% Mourvedre and 4% Cinsault. 90 Pts
Vaudieu – Ripe black cherry and herbs, with silky, soft textures and an olive component that mixes perfectly with the black raspberry finish. The wine was made from a blend of 60% Grenache, 30% Syrah and 10% Mourvedre. 91 Pts
Vaudieu Val Dieu – Thyme, black raspberry and herbs, with fresh cracked pepper and new, toasty oak notes in the perfume adds to the rich, silky and lush textures. This is quite strong for the vintage. The wine was made using a blend of 60% Grenache and 40% Syrah. 92 Pts
Vieux Telegraph – Really strong for the vintage, there is wealth of black raspberries, herbs and kirsch, paired with silky smooth textures and a fresh, sweet, peppery, kirsch finish. Produced from a blend of 65% Grenache, 15% Syrah, 15% Mourvedre and 5% Cinsault.
92 Pts
Vieux Telegraphe Tellegramme – Wild strawberry with herbs, smooth tannins and a soft, short and sweet, fresh, cherry note in the finish. The wine was made using a blend of 80% Grenache, 10% Syrah, 6% Mourvedre and 4% Cinsault. 87 Pts
Les Vins Vienne Cuilleron Gaillard Villard Les Oteliees – Incense and red fruits on the nose, which moves to a smooth, forward cherry character. 87 Pts