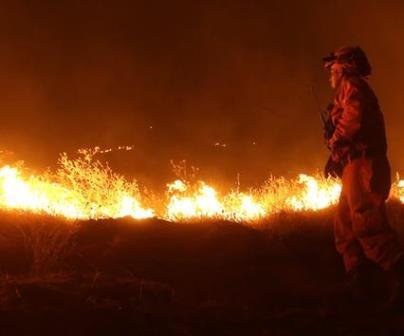 Most importantly, I imagine everyone reading has friends or knows people and wineries in the Napa Valley. I am sure all of us are hoping, wishing and praying that everyone is safe and as far away from the Napa Valley fires as possible.
In perhaps the worst natural disaster that has ever struck Napa Valley, fires are raging in the famous wine region, known for producing some of the most popular and expensive Cabernet Sauvignon wines. California Governor Jerry Brown promptly declared a state of emergency due to the Napa Valley fires. The fire initially broke out in the Lake County area, Saturday. September 13 before exploding by Sunday. At this point Sunday night, more than 50,000 acres have burned. By Monday, it was estimated that 65,000 acres were destroyed by the fires. At least one death and dozens of injuries, mostly smoke related have been reported. 4 firefighters have been injured so far fighting the Lake County blaze. By late Monday afternoon, only 5% of fire seemed to be contained.
Smoke is clouding the air all the way from south of St. Helena to Santa Rosa. The scorching, high heat, with temperatures reaching up to 110 degrees on the Silverado Trail, coupled with extreme drought conditions is only exacerbating the situation for the Napa Valley fires. The Napa Valley fire is moving incredibly fast, claiming a rapidly increasing amount of acreage from 10,000 acres in the morning to more than 50,000 acres before nightfall. Cars, schools, homes, businesses and some wineries have already been claimed by this disaster. On Monday, confirmations of fire damages to local, geothermal power plants known as the Geysers and some water distribution centers were reported. By Monday morning, reports were filtering in stating that vineyards planted to Zinfandel were burning in Amador County. With luck, the cooler temperatures expected Monday will help firefighters. Some of the hardest hit areas are located north of the Napa Valley and west of Sacramento, which include Cobb, Harbin Hot Springs, Hidden Valley and Middletown.
This is a tragedy. It's not just wine or vineyards that are in danger, there are people living in many of these areas as well as pets facing danger. There are vineyards and wineries that could be destroyed as well. I was in Napa Valley last week and experienced the hot, dry temperatures first hand.
According to government reports, mandatory evacuations have been declared in numerous areas. Many of these areas are well known by people all over the world, due to their locations in some of the most famous vineyards in the Napa Valley. While a fire with this much destructive force is always extremely tragic, the 2015 Napa Valley fire could not have struck at a worse time, as many of the wineries are only days away from needing to harvest their grapes for the 2015 vintage.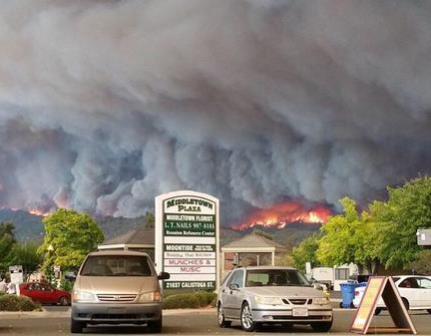 The following areas have mandatory evacuation notices in place: Point Lakeview Highway, Highway 281, Rivera West and Clearlake Rivera, Highway 29 (Kelseyville) at Highway 175 south on Highway 175 towards Cobb, Red Hills Road to Highway 29, Highway 29 X Highway 175 south to Seigler Canyon Road (south side of Highway 29), Highway 29 Tubbs Lane (Calistoga, Napa County) to Highway 29/Highway 53(Lower Lake, Lake County) Butts Canyon Road to Napa County Line, including Berreyssa Estates, Butts Canyon Road to Pope Valley. Communities of Cobb, Seigler Canyon, Loch Lomond, Middletown and Hidden Valley Lakes, Livermore Road, Summit Lake Road and north of the community of Angwin. Areas of Howell Mountain are also in danger and additional advisory evacuation notices have been sent to residents of Pine Flat Road 5000 and above, Geysers Road out of Healdsburg in the 6000 block and above and Geysers Road out of Geyserville in the 9400 block and above.
Several roads leading in and out of the region due to the Napa Valley fires have been closed: Highway 29 has numerous closures. For those that do not know, while it's not the only road in and out of Napa Valley, Highway 29 is the major thoroughfare that traverses Napa Valley. It will be at least several more days before residents can return to their homes in the evacuated or fire swept areas.
More than 1,000 firefighters from over 125 companies are currently fighting the Napa Valley Fire. If the blaze continues, the Adalin power plant, which feeds much of the area could be damaged or destroyed. So far, over 1,000 homes have been destroyed with thousands more homes being threatened. 17,000 people have been evacuated from their homes. Power outages have been reported by thousands of customers.
Many residents in the Napa Valley have opened their homes to evacuees. You can see this easily with all the notices being posted on Facebook. There are also evacuation centers available for people and their pets at the following locations, Kelseyville Presbyterian Church in Kelseyville and Napa County Fairgrounds in Calistoga and the Highland Senior Center.
The current Napa Valley fire follows another fire that struck the region just a few weeks ago. The The Jerusalem fire claimed over 25,000 acres in Lake County, located at northern end of Napa County. The Napa Valley fire is not the only fire ravaging California at this time, due to the extreme dry weather and drought conditions. In the San Andreas region of California, over 65,000 acres have been destroyed.
The after effect of smoke taint on the grapes for wineries in the regions close to the fires should be minimal, or non existent. The reason is, that winds are fortunately fanning the smoke in an easterly direction, away from many of the vineyards. By Tuesday, reports from locals state that the smoke hanging over much of the Napa Valley had dissipated. In some further good news, the wineries located on Howell Mountain, which were evacuated, were not damaged by the blaze.
If you're looking to make donations to help those in need from the Napa Valley fires, you can make donations through the Redd Cross. They are seeking food, tents and blankets which can be dropped off at the following locations:
Calistoga Fairgrounds, Calistoga, 2049 W. Steele Lane, T&B Sports, Santa Rosa, Fountain Grove Inn, 101 Fountain Grove Parkway, Santa Rosa and the Napa Fume Bistro, 2144 Granada Street, Napa. Money can also be donated through the Redd Cross website
The photographs in this article are used through the courtesy of API and ABC.
If you have news or comments to make, please feel free to post and share.