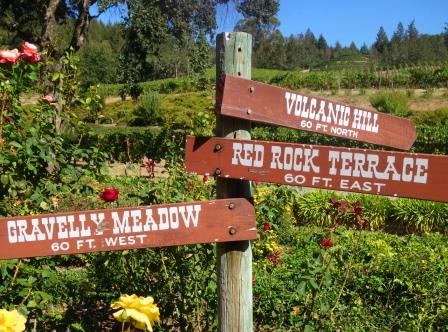 Everything about Diamond Creek Vineyards, Napa Valley California Cabernet Sauvignon wine producer profile, wine tasting notes, wine and food pairing tips, best vintages, history of the property, information on their wine making techniques, terroir and soil. You can also read about the Grapes used for California wine and learn about the extensive History of Napa Valley, California Wines
Diamond Creek History, Overview
Albert Jack Brounstein created Diamond Creek in 1968 with his purchase of 79 acres in the Diamond Creek canyon. It's a good thing the land was bought by Al Brounstein because the owner at the time was considering turning the site into a golf course! Al Brounstein became interested in wine after taking a wine class at UCLA. He started out working as sales rep for Sebastiani vineyards. He furthered his studies by working weekends at Ridge vineyards. At the time, his concept was way ahead of its time. Al Brounstein's desire to create multiple single vineyard wines from Diamond Creek was unique in its day.
The stated goal of Diamond Creek was to display the differences in the terroirs and micro climates found in each unique, vineyard site; Volcanic Hill, Gravelly Meadow, Red Rock Terrace and Lake Vineyards. Diamond Creek gets another award for being the first California winery to produce wine made from only 100% Cabernet Sauvignon. After purchasing the land for the then very expensive price of $1,400 per acre, Al Brounstein began replanted some of the acreage with vines that came from two of the First Growths in Bordeaux. The vines were smuggled in through Mexico! Sadly, the colorful, Al Bournstein died in 2006 at 86 years of age. He was survived by his second wine, Boots Brounstein, their son, Boots Bournstein; son Gary Brounstein and two stepsons Phil Ross and Chuck Ross, five grandchildren and one great-grandchild. Phil Ross and Boots Bournstein are in charge of managing Diamond creek today.
Diamond Creek Vineyards, Wines, Winemaking
The vineyards of Diamond Creek are situated on different soils, but they share some commonalities. Located in the narrow Diamond Creek canyon, the parcels are all close to the same 600 foot elevation and they were planted from budwood obtained from some of the First Growth wines of Bordeaux. Or so the legend goes. The first Diamond Creek wines came from the poor 1972 vintage. But even in that difficult, first vintage, Al Brounstein was able to see the differences in each of the wines due to their distinctive soil types.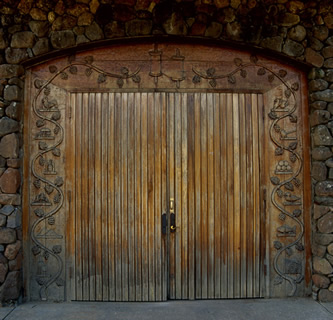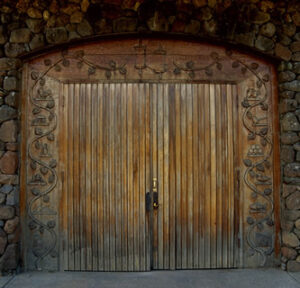 Diamond Creek Volcanic Hill is an 8 acre vineyard planted with Cabernet Sauvignon and a small amount of Petit Verdot on a terroir consisting of volcanic ash that was deposited from Mt. Konocti on a south facing slope. Due to the vast differences in the elevations and slope, Diamond Creek Volcanic Hill can take as long as 3 to 4 weeks for the harvest to finish. The Volcanic Hill vineyard has a slightly warmer micro climate and because of that extra heat, Volcanic Hill is always the first of the Diamond Creek vineyards to be harvest. The wine is aged using 100% new, French oak barrels.
Diamond Creek Red Rock Terrace is a 7 acre, vineyard planted with Cabernet Sauvignon on red tinted clay soil with a large amount of iron deposits on a steep grade with a northern exposure. And yes, as you would expect, the vineyard is planted using a series of terraces as the hillside plantings are quite steep. When you look at the vineyards, you clearly see the red soils which gave the vineyard its name. Red Rock Terrace is almost always the second of their vineyards to be picked. The wine is aged in 100% new, French oak barrels.
Diamond Creek Gravelly Meadow is a 5 acre parcel planted to Cabernet Sauvignon on a pre-historic river bed, with rocky, gravel based soils. This parcel does not have the same level of elevation as the other parcels. The first vintage for Gravelly Meadow was the 1974 vintage. This came out 2 years after wines from the other vineyards were produced. The Gravelly Meadow vineyard is dry farmed. Aside from Lake vineyards, this is the lowest yielding vineyard in their portfolio. The wine is aged using 100% new, French oak barrels.
Diamond Creek Lake Vineyards is the estates smallest site. It takes up only ¾ acre. It is also the coolest of all the Diamond Creek micro climates. The site is also wettest as it's situated as you would imagine next to a lake. Lake Vineyard is not made every year. The wine is only produced when the specific quality of the vintage warrants it. In fact, since Diamond Creek Lake was first produced in 1978, it has only been made 14 times over the past 40 years. When the wine is not made, the grapes are blended in with Gravelly Meadow. Diamond Creek Lake Vineyard has the coolest terroir out of all their sites and is the last to be harvested. Lake vineyards is one of two vineyards that is completely dry farmed. On those rare occasions when the wine is made, it's aged using 100% new, French oak barrels.
From time to time, a blend of all three vineyards has been bottled. Other special bottling's include Special Selections and First and Second Pickings. In at least 4 vintages, 1989, 1991, 1992 and 1993, Diamond Creek made a Gravelly Meadow Lake Blend. A few vintages have been produced from each of three main terroirs, Gravelly Hill, Red Rock Terrace and Volcanic Hill that are named Micro Climate on the label. Special labels were produced for Diamond Creek wines for each of the vineyards to celebrate their 30th anniversary.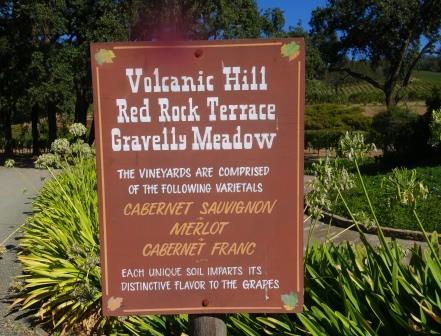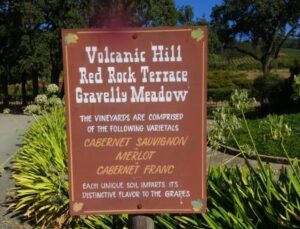 The wines of Diamond Creek are vinified in stainless steel tanks. The wines are now aged in 100% new, French oak barrels for up to 22 months, depending on the character of the vintage and the vineyard. The average production for all 21 acres is on average close to 3,000 cases per vintage. In 2006, Al Bourstein passed away. His family continues to manage the Diamond Creek estate today.
Serving and Decanting Diamond Creek with Wine, Food, Pairing Tips
Diamond Creek wines are best served at 15.5 degrees Celsius, 60 degrees Fahrenheit. The cool, almost cellar temperature gives the wine more freshness and lift. Young vintages of their red wine can be decanted for 1-3 hours, depending on the character of the vintage. This allows the wine to soften and open its perfume. Older vintages might need very little decanting, just enough to remove the sediment.
The wine of Diamond Creek is best served with all types of classic meat dishes, veal, pork, beef, lamb, duck, game, roast chicken, ribs, hamburgers, barbecue, roasted, braised, grilled dishes and stews. Diamond Creek is also good with Asian dishes, hearty fish courses like tuna, salmon, mushrooms and pasta.
I've been fortunate to have tasted most of the pre 1990 Diamond Creek wines several times. For my palate, these wines are compelling. In blind tasting's, the 78 Diamond Creek Volcanic Hill can stand up to many of the best First Growth wines from Bordeaux. At 33 years of age, they are still young, fresh, vibrant and exacting. Sadly, after 1984, things changed and they were no longer making at the same level of quality. After a slow period of almost 25 years, recent vintages have shown a lot more promise. Hopefully, fortunes will continue to change and they will keep increasing the levels of quality found in their unique style of California wine. The 2009 vintage seems to have sparked the revival of fortunes at Diamond Creek Vineyards and the 2012 tasted recently was a knock out! All three vineyard designated wines were stunning.
Diamond Creek Wine Tasting Notes
29 Vintages 166,990 Views Sort by Vintage-Rating
2013
Diamond Creek Cabernet Sauvignon Volcanic Hill (Diamond Mountain)

Powerful deep, rich and concentrated, with a regal, quality to its ample tannins. There is a lot of depth that is easily seen with its multiple layers of fruit. The sweet, ripe, dark berries and the perfect hint of earthy chocolate in the finish sticks with you for close to 50 seconds. This is serious juice, made in a great style that is impossible to stop drinking. That being said, like all great wines, Diamond Creek is a wine to lay down for at least a decade or longer. I'm still drinking my 1978's!

5,053 Views

Tasted

Sep 16, 2016

2013
Diamond Creek Cabernet Sauvignon Red Rock Terrace (Diamond Mountain)

Rocks, burning embers, cassis, wet earth and blackberry aromas stand out. Powerful, balanced, rich, plush and mouth filling, there is weight and substance in abundance with freshness and pure sweet fruits. You can drink it young, but I'd age it for at least a decade.

3,363 Views

Tasted

Sep 16, 2016

2013
Diamond Creek Cabernet Sauvignon Gravelly Meadow (Diamond Mountain)

Truffle, herbs, and dark fruits open up the wine with coaxing. The wine is tight and holding back, so some effort is needed to wake it. Deep, long, full bodied, and with loads of dark chocolate covered fruits on the palate paired with freshness in the finish. Stylistically, the wine is slightly austere, but with great character, depth and mouth feel. You'll need to be patient with this one. But it is going to be worth the wait. And I imagine the score will move up as the wine softens and opens, but we'll have to wait and see.

4,144 Views

Tasted

Sep 16, 2016

2012
Diamond Creek Cabernet Sauvignon 40th Anniversary Volcanic Hill (Diamond Mountain)

Deep, dark ruby in color. Smoke, licorice, caramel, earth, tobacco and ripe blackberry notes are in abundance. The wine is deep, fresh, long, concentrated and really displays a purity of fruit. This is really a great expression of mountain fruit that leaves you wanting another sip, before your glass is emptied. But this is an ager that needs time to soften and come together for maximum pleasure. I might not see this in 30-40 years, but I would not be surprised if the wine was rockin' at that point in time.

2,993 Views

Tasted

Sep 22, 2015

2012
Diamond Creek Cabernet Sauvignon 40th Anniversary Red Rock Terrace (Diamond Mountain)

Dark ruby in color, with an earthy, smoke filled cassis and licorice nose. Full bodied, concentrated, fresh and lively with a polished, mineral driven, cassis packed finish. The finish really lingers. The wine needs a decade in the cellar to become civilized.

2,764 Views

Tasted

Sep 22, 2015

2012
Diamond Creek Cabernet Sauvignon 40th Anniversary Gravelly Meadow (Diamond Mountain)

Smoke, licorice, fresh herbs, cassis and tar aromatics make up the perfume. The wine is more refined than Gravelly Meadow in the same vintage. There is a richness to the texture coupled with fresh blackberry and cassis, in the full bodied finish that stands out.

3,497 Views

Tasted

Sep 22, 2015

2010
Diamond Creek Cabernet Sauvignon Volcanic Hill (Diamond Mountain)

This is a super wine in such a great style. In a semi sleeping mode for the moment, decanting and air brought out all the fresh blackberries, tobacco, smoke, earth burnt wood from a fire pit aromas anyone needs. Rich, dense, tannic, concentrated and fresh, 10 more years of sleep in the cellar will add a lot to this beauty.

3,736 Views

Tasted

Sep 16, 2016

2009
Diamond Creek Cabernet Sauvignon Volcanic Hill (Diamond Mountain)

OK, this is still so young, but there is a lot to like about the layer after of ripe, sweet, fresh, juicy fruit, licorice and campfire ember nose. And the wine is even better when it hits your palate with all those ripe blackberries, blue fruit, licorice and ripe tannins. Give this time and it will be even better.

4,667 Views

Tasted

Sep 22, 2015

2008
Diamond Creek Cabernet Sauvignon Volcanic Hill (Diamond Mountain)

Crème de cassis, licorice, smoke, cedar, earth and lead pencil aromas create the Bordeaux styled perfume. Powerful, concentrated, bright and fresh, this structured wine has mouth searing tannins. This could take 20 years to come around. But as the 1978 Diamond Creek Volcanic Hill is still going strong at close to 35 years of age, if you're really young and very patient, it might be worth the long wait.

6,975 Views

Tasted

May 15, 2012

2008
Diamond Creek Cabernet Sauvignon Gravelly Meadow (Diamond Mountain)

With forest floor, tobacco, cedar, cassis and blackberry aromas, this tannic, structured, old school California wine will need a lot of time to soften. The wine is austere and masculine in style, with cassis and cranberry in the tannic finish. Fans of Cabernet Sauvignon from the 70's will feel right at home with this wine.

2,535 Views

Tasted

May 15, 2012

2008
Diamond Creek Cabernet Sauvignon Red Rock Terrace (Diamond Mountain)

Tobacco leaf, truffle and cassis scents are easy to find in this full bodied, traditionally styled, bright, California Cabernet Sauvignon. The wine ends with crunchy, cassis and blackberry with a hint of green in the tannic finish. This is not a fun wine to drink young.

5,549 Views

Tasted

May 15, 2012

1998
Diamond Creek Cabernet Sauvignon Red Rock Terrace (Diamond Mountain)

Medium-bodied, and clearly on the bright red berry side of the style range, the fruit is not fully ripe here. Earthy and tobacco-oriented, the tannins have a rustic edge, making this lean wine a bit overly classic for my taste. This is fully developed, there is no reason to hold it any longer.

2,508 Views

Tasted

Oct 22, 2021

1996
Diamond Creek Cabernet Sauvignon Volcanic Hill (Diamond Mountain)

Forgettable bottle of Cabernet.

3,082 Views

Tasted

Oct 29, 2003

1995
Diamond Creek Cabernet Sauvignon Volcanic Hill (Diamond Mountain)

Tart, bright, crisp and earthy, with a strong, herbal, cedar and leafy component. Medium-full bodied, the wine is better on the nose than the palate. Lovers of this style of less ripe, old school, classic Cabernet Sauvignon will like this more than I did.

3,572 Views

Tasted

Feb 25, 2019

1994
Diamond Creek Cabernet Sauvignon Volcanic Hill (Diamond Mountain)

Wet soil, tobacco, blackberry and stone aromatics lead to full bodied, tannic, dense, powerful and rich, this is long, fresh, clean and fresh. This is a perfect example of what makes the best traditionally styled Cabernet Sauvignon grapes. This will be quite long aged.

4,253 Views

Tasted

Mar 3, 2014

A nice wine here, with lots of secondary tobacco, cigar, cassis and earthy notes in the boquet. Tannic, young and firm, this could show better with more age. Only time will tell.

3,087 Views

Tasted

Nov 17, 2013

This is starting to show secondary characteristics of cassis, tobacco, minerality, cedar wood, smoke, blackberry and lead pencil aromas. Full bodied and structured to age, while not at the level of Diamond Creek produced in the 1970's or early 1980's, this is a good example of a classic styled, California Sauvignon.

2,815 Views

Tasted

Aug 17, 2012

1994
Diamond Creek Cabernet Sauvignon Gravelly Meadow (Diamond Mountain)

Firm, structured, still young and tannic, the wine is clearly built to age. With 2 hours of decanting, tobacco, cassis, dark berries and earthy notes emerged. The wine is full bodied, bright and fresh.

3,598 Views

Tasted

Mar 3, 2014

1994
Diamond Creek Cabernet Sauvignon Red Rock Terrace (Diamond Mountain)

Firm, classic, cassis filled with a green slant to the herbs, cedar and tobacco leaf nuances. Not quite stoic, but there was an austerity felt here on the mid-palate and finish. I liked the wine, but it was on the rustic side.

2,428 Views

Tasted

Sep 11, 2020

Cassis, pepper, spice and bell pepper scents lead to a crisp, fresh, juicy mouthful of Cabernet Sauvignon.

3,541 Views

Tasted

Mar 3, 2014

1993
Diamond Creek Cabernet Sauvignon Gravelly Meadow (Diamond Mountain)

Severe tannins, firm, structured and on the bright red side of the fruit spectrum range, the earthy, tobacco, spice and cherry notes in the perfume was the best part of the tasting. On the palate, pleasure was harder to find.

5,315 Views

Tasted

Nov 17, 2013

1992
Diamond Creek Cabernet Sauvignon Anniversary Edition 1972 - 1992 Lake (Diamond Mountain)

Tart, tannic and tight, this austere, bright wine will appeal to fans of old school wines more than it did to me. Good luck finding a bottle however.

2,615 Views

Tasted

Nov 17, 2013

1987
Diamond Creek Cabernet Sauvignon Lake (Diamond Mountain)

Nice enough, but not at the level of quality that should be demanded for a wine at this price point. More interesting on the cassis, blackberry, leafy, forest and tobacco nose, than on the tannic, structured, full bodied, concentrated, but austere palate. The wine is still youthful, so there is no hurry to drink it, but I doubt it is going to improve or change its spots from here.

2,726 Views

Tasted

Aug 31, 2017

1984
Diamond Creek Cabernet Sauvignon Volcanic Hill (Diamond Mountain)

It is hard to believe this is so young, and its over 30 years of age. But the truth is in the bottle. Full bodied, concentrated, powerful, and tannic, with loads of fruit, but a wall of tannin that is not yet resolved. Think of 1986 Bordeaux and you get the picture. Not my bottle, but I am happy to have a few stashed away in my cellar.

3,376 Views

Tasted

May 24, 2017

1984
Diamond Creek Cabernet Sauvignon Gravelly Meadow (Diamond Mountain)

Tobacco, cassis, black cherry, earth and incense aromas paired well with the depth of flavor, concentration and chewy, round, mouth filling flavors. Balanced and a pleasure to taste, this old school, California Cabernet Sauvignon wine improved in the glass for 90 minutes before starting to fade.

3,990 Views

Tasted

Oct 16, 2011

1984
Diamond Creek Cabernet Sauvignon Red Rock Terrace (Diamond Mountain)

Powerful, chewy, concentrated, but clearly rough around the edges, this is a solid example of old school California Cabernet Sauvignon that shows a lot of character, but not much finesse.

1,962 Views

Tasted

Feb 3, 2019

1980
Diamond Creek Cabernet Sauvignon Gravelly Meadow (Diamond Mountain)

Better than expected, the wine is still young, slightly coarse in texture, but filled with cassis, tobacco, blackberries and a touch of acidity and cranberry in the finish. All things considered, for a 33 year old wine from an off vintage, this is quite a success. If you're seeking a birth year wine from this difficult vintage, this is a not a bad way to go. In fact, that's exactly what this bottle was opened for.

3,067 Views

Tasted

Jan 24, 2013

1978
Diamond Creek Cabernet Sauvignon Volcanic Hill (Diamond Mountain)

This is everything classic California Cab can be at its peak. Loaded with cedar, tobacco leaf, red currants, herbs, spice, cigar box and olives, the wine remains vibrant, with a refined, rustic charm, loads of ripe currants and a long, savory, earthy finish. Fully mature, this is my favorite old-school California Cab. Sadly, it has become insanely expensive, but so has everything else. If you have a bottle, you are sitting on liquid gold.

2,447 Views

Tasted

Mar 1, 2022

This bottle was spellbinding! It tasted like it was 15-20 years old, not 40. Still concentrated, deep, fresh, vibrant and dark, the is a depth of flavor here, coupled with palate coating intensity, that makes it impossible not to take another sip. The dark berries are fresh, with energy, length and complexity. The wine has become shockingly expensive over the past few years, but it is a remarkable tasting experience for those interested in the best classic California Cabernet Sauvignon wines. This is as good as it gets!!!

4,179 Views

Tasted

Jan 28, 2018

Stunning in every sense of the word, this tasted like it was at least 20 years younger than its true age. The nose reminded me of a First Growth Pauillac, with its tobacco, herbs, earth, cassis, blackberry and cedar wood profile. Fresh, lively, ripe fruits fill your palate with the right amount of acidity and fruit to make you go back for sip after sip.

3,927 Views

Tasted

Jan 17, 2016

1978 Diamond Creek Volcanic Hill announced its presence with cedar wood, cassis, tobacco, truffle, earth, smoke and forest floor aromatics. Full bodied with layers of cassis, spice and blackberry, this mineral driven expression of Cabernet Sauvignon would more than hold its own in a blind tasting against the First Growths. I've been able to taste the wine a lot over the years and as good as this bottle was, I've had even better bottles! If you want to experience one of the better examples of mature California wine, this is about as good as it gets.

6,803 Views

Tasted

Aug 15, 2013

Tobacco, cigar box, creme de cassis, truffle, smoke, forest floor and dark plums always make me think of Pauillac. Served blind, that was my guess. Wrong. This vintage Caliifornia Cabernet Sauvignon would fool most people. Full bodied and concentrated, this powerful, fully mature wine ends with cassis, cranberry and spice. I have tasted better bottles. At almost 34 years of age, perhaps it's a sign that the wine needs drinking.

5,996 Views

Tasted

Oct 29, 2012

This sublime wine once again showed why it remains in such high regard. Stunning aromas of Cuban cigar, truffle, stone, cassis, blackberry and forest floor paired perfectly with the layers of pure cassis and black fruits. Powerful, rich, balanced and at 32, still youthful. This was served to me in a blind tasting and was sure it was First Growth Bordeaux! Life is too short not to try this wine at least once.

6,041 Views

Tasted

Mar 26, 2011

This is a very serious mature, Napa Cabernet wine that would compete with a lot of high scoring First Growths in a blind tasting. Still young, with a lot of character, body and concentration. It's nice sharing cool California bottles with friends from across the pond.

3,034 Views

Tasted

Jun 27, 2009

1978
Diamond Creek Cabernet Sauvignon Lake (Diamond Mountain)

1978 Diamond Creek Lake grabbed your attention as soon as your nose met the glass. The complex aromas of scorched earth, smoke, tobacco, cassis, blackberry, caramel, black cherry and charcoal let you know this was a stunning wine. In the mouth, its concentrated, full bodied, rich, deep and packed with flavor. The long, pure finish was filled with endless layers of cassis, earth and spice. This is probably the best bottle of mature California Cabernet Sauvignon I've had the privilege of tasting. Needless to say, I was blown away when the bottle was revealed. 1978 marked the debut vintage for Diamond Creek Lake vineyard bottling. Very little of this wine was made and only a handful of bottles remain. It was a wine I thought I'd never see.

5,011 Views

Tasted

Aug 15, 2012

1978
Diamond Creek Cabernet Sauvignon Red Rock Terrace (Diamond Mountain)

This is what great, aged, California Cabernet is all about. Powerful concentrated, rich, complex and loaded with ripe, juicy, Cabernet Sauvignon, cedar, tobacco and spice. The wine has depth, length and complexity and it's young and fresh!

3,691 Views

Tasted

Sep 25, 2017

1978 Diamond Creek Red Rock Terrace offered earth, smoke, caramel, blackberry and tobacco scents led to a structured, powerful, full bodied Cabernet Sauvignon with a fresh, ripe, long finish.

4,671 Views

Tasted

Aug 15, 2012

Red Rock Terrace Cassis, stone, earth, blackberry, truffle and tobacco get you interested in a powerful full bodied, concentrated wine that served blind, would fool any taster into thinking it was an upper level Pauillac from a good vintage.

3,177 Views

Tasted

May 26, 2011

1978
Diamond Creek Cabernet Sauvignon Gravelly Meadow (Diamond Mountain)

At its full peak of maturity, with no signs of fading, 78 Diamond Creeks are the diamond standard for mature, older, classic, California Cabernet. This stunner opens quickly, no decanting needed. Initially, you find, cedar, tobacco leaf, red currants and cigar box notes that could be from Pauillac. But give it 5-10 minutes and the sweet cherry tones and mint accents emerge screaming California! Full-bodied, rich, concentrated, and mouth-filling, the finish is packed with ripe, chewy, sweet, fresh, spicy red fruits that linger.

2,177 Views

Tasted

Aug 28, 2021

This is stunning. Served double blind, I would have thought it was almost 20 years younger than its true age. The perfectly ripe blackberries are fresh and pure. The wine is full bodied, concentrated and lush, there is power, rustic refinement and a long, sweet, ripe, dark berry finish. This is mature California Cabernet Sauvignon at its best.

3,249 Views

Tasted

Apr 16, 2016

1978 Diamond Creek Gravelly Meadow – Cigar box, tobacco, cassis, cedar wood, smoke and caramel scents create a complex set of aromatics. The wine is plush, fat and dense, ending with a blast of pure, ripe Cabernet Sauvignon.

3,955 Views

Tasted

Aug 15, 2012

1978 Diamond Creek Gravelly Meadow was stuffed with blackberry,cassis, tobacco, olive tapenade, spice and earthy scents. With intense concentration and round textures, this powerful wine is a dead ringer for a high quality Pauillac from a great vintage. Still young, this deep wine should remain at this level for at least another 10-20 years. 96 Pts

3,019 Views

Tasted

Dec 14, 2010

1974
Diamond Creek Cabernet Sauvignon Volcanic Hill (Diamond Mountain)

Hard to believe this is closing in on 45 years of age. Serving up a profile of cedar, tobacco, cigar box and cherry, there is power, rusticity and charm all in the same glass.

2,530 Views

Tasted

May 30, 2017

Packed with smoke, cigar box, licorice, black cherry and truffles, this was still concentrated, full bodied and deep. The wine continued improving in the glass.

2,925 Views

Tasted

Nov 6, 2015

This was filled with smoke, earth, cassis, tobacco and blackberries. From the nose, this was a dead ringer for an older, fully mature Pauillac. The wine finished with soft textures and deep earth, strawberry and spicy black cherry flavors that are found only in the best older California Cabernets

2,947 Views

Tasted

Aug 12, 2010