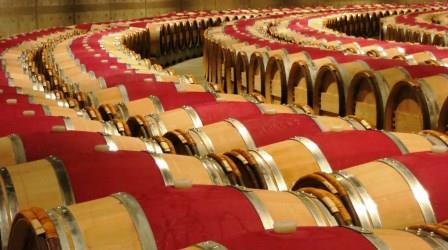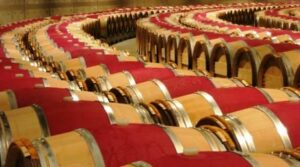 Everything about Opus One Napa Valley California Cabernet Sauvignon wine producer profile, wine tasting notes, wine and food pairing tips, best vintages, history of the property, information on their wine making techniques, terroir and soil. You can also read about the Grapes used for California wine and learn about the extensive History of Napa Valley, California Wines
Opus One History, Overview
Opus One was founded in 1979 when two of the world's most famous wine families began producing wine from their joint venture in Napa. Robert Mondavi and the Baron Philippe Rothschild of Mouton Rothschild became friends back in 1970. Less than a decade later, using parcels from Mondavi's To Kaylon vineyards they created a wine that became an instant hit with wine lovers in American and in Europe. The first parcels of land for Opus One came from 35 acres of vines already owned by Robert Mondavi, located in the famous Q block of the To Kaylon vineyards. That purchase became solidified in 1981.
At first, the partners referred to their venture as Opus. A few days later, thanks to a suggestion from Baron Rothschild, they lengthened the name to Opus One. The partners chose Opus One as the name of their wine due to its Latin origin. More importantly to the two extremely, savvy wine marketers, Opus One was easy to pronounce in multiple languages.
The new partnership expanded their holdings with 100 acres of vineyard land located on the east side of Highway 29. In 2008, the partnership between Philippe Rothschild and now Constellation Brands continued expanding their holdings with 48 additional acres when they acquired a long term leasing contract to the old Mondavi K Block of vines, which is situated in the To Kalon vineyard. Those vines were previously known as being part of the Ballestra Vineyard.
1984 saw the initial release of the first two vintages from Opus One, 1979 and 1980. Sadly, both years were poor for California wine. Opus One was forced to wait until 1984, until a good vintage for California wine arrived. Later that same year, Opus One added 49 more acres to their venture. That same year they began designing their still modern looking architectural winery. They broke ground on the construction in 1989. By the middle of the 2010 decade, Opus One began experimenting with harvesting their grapes at night, to preserve more freshness and avoid oxidation.
Opus One Vineyards, Wines, Winemaking
To produce the wine of Opus One, with 50 fermentation vats, the estate vinifies each parcel in its own tank, which allows for much more precision in their wines. The fermentation vats are elevated, allowing the juice to move by gravity. The wine of Opus One is then aged in new French oak barrels for close to 20 months. With close to 170 acres under vine, the average annual production is quite large at more than 25,000 cases per vintage. Opus One is one of the top selling, high end branded California Cabernet Sauvignon wines.
Opus One not only sells well to American consumers, Opus is one of the top exports from Napa Valley. Close to 50% of their wine is sold to other countries. Japan is one of the leading importers of the wine.
Serving and Decanting Opus One with Wine, Food, Pairing Tips
Opus One wines are best served at 15.5 degrees Celsius, 60 degrees Fahrenheit. The cool, almost cellar temperature gives the wine more freshness and lift. Young vintages of their red wine can be decanted for 1-3 hours, depending on the character of the vintage. This allows the wine to soften and open its perfume. Older vintages might need very little decanting, just enough to remove the sediment.
Opus One is best served with all types of classic meat dishes, veal, pork, beef, lamb, duck, game, roast chicken, ribs, hamburgers, barbecue, roasted, braised, grilled dishes and stews. Opus One is also good with Asian dishes, hearty fish courses like tuna, salmon, mushrooms and pasta.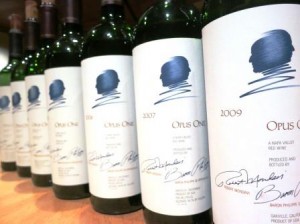 Opus One went through a bad patch for close to a decade. During that time, the property produced wines that were not equal to their terroir or ability. Starting with the 2007 vintage, Opus One started making improvements and thus, much better wine. My favorite vintage of Opus One, prior to 2007 remains the 1996. Things continued to improve with the wines of Opus One in subsequent vintages as grapes from the To Kalon vineyard were now part of the wine. As of today, 2013 is the best wine in the history of the estate. It is positively stunning!
The goal of Opus One is to make California wine in a less exuberant, fruit forward style. In many ways, the wine would have more in common with Bordeaux wine. In September, 2012, Opus One opened a sales and distribution office in Bordeaux. Due to the fact that Opus One is jointly owned with Chateau Mouton Rothschild, which operates a major Bordeaux Negociant company, it's surprising this development did not take place years, if not decades earlier.
Opus One Wine Tasting Notes
18 Vintages 185,106 Views Sort by Vintage-Rating
2015
Opus One (Napa Valley)

Silky, lush, polished and rich, the concentrated, full-bodied wine delivers all of its chocolate covered dark cherries, blackberry, licorice, spice box and floral character with ease. With all the fruit, freshness, plush personality and balance, this is a gorgeous style of wine that will age quite nicely. The blend could easily come from the Left Bank of Bordeaux using 81% Cabernet Sauvignon, 7% Cabernet Franc, 6% Merlot, 4% Petit Verdot and 2% Malbec.

7,505 Views

Tasted

Dec 30, 2019

2014
Opus One (Napa Valley)

I love this style of Napa Cabernet Sauvignon. The wine combines concentration, purity of fruit, lush, silky tannins, freshness and length. You can drink it young, if you prefer, youthful, exuberant, fruit, or age it and enjoy the complexities of age. The wine was made from blending 80% Cabernet Sauvignon, 7% Cabernet Franc, 6% Merlot, 5% Petit Verdot and 2% Malbec, which is something you could easily find in the Left Bank of Bordeaux.

7,659 Views

Tasted

Nov 14, 2017

2013
Opus One (Napa Valley)

Opulent, ripe, fresh, silky, balanced and concentrated with a melange of black and red fruits, the wine feels great, as it loads you up on its layers of black cherry, smoke, blackberry, licorice and vanilla. Everything is in balance with this beauty, which promises to age gracefully for at least another 20-25 years with ease.

7,278 Views

Tasted

Feb 25, 2019

This sexy, voluptuous, charmer is probably the best wine the estate has ever produced. Layers of perfectly ripe, sweet, fresh, black and blue fruits, opulent, silky textures and a fruit filled finish that does not want to quit. I really like this style of wine, as it pairs ripeness, with freshness and never even considers going over the top, yet there is no denying this is a California Cabernet Sauvignon. The wine was made from a blend of 79% Cabernet Sauvignon, 7% Cabernet Franc, 6% Merlot, 6% Petit Verdot and 2% Malbec.

8,834 Views

Tasted

Nov 28, 2016

2012
Opus One (Napa Valley)

This Left Bank Bordeaux lookalike has really been on fire since 2007. This elegant, ripe, sweet, lush, charmer is no exception. Silky tannins, solid concentration of ripe, dark fruits, great mouthfeel and long, fruit filled, stylish finish is another winner from Opus One. The wine was made from a blend of 79% Cabernet Sauvignon, 7% Cabernet Franc, 6% Petit Verdot, 6% Merlot and 2% Malbec.

5,468 Views

Tasted

Mar 5, 2016

2011
Opus One (Napa Valley)

Medium bodied, with earthy, herbal, black raspberry and currant character, the wine finishes with a smoky, dusty, red berry note.

5,030 Views

Tasted

Apr 20, 2015

2010
Opus One (Napa Valley)

Luscious, silky textures, forward in style, and creamy, ripe, sweet, blackberries galore are impossible not to notice. With its concentration of flavor, balance and sensuous style, this is a truly, sublime style of California Cabernet Sauvignon.

6,633 Views

Tasted

Nov 28, 2016

2009
Opus One (Napa Valley)

Black and blue fruit, caramel, licorice and oak, the wine is fleshy, rich, round and supple, ending with a long, dense, crunchy, fresh finish.

10,331 Views

Tasted

Dec 25, 2012

Licorice, smoke, jammy black cherry, earth, tobacco, caramel, oak, forest floor scents open to a lush, sensuous, opulent textured Cabernet Sauvignon wine ending in a fresh, ripe, black raspberry, cassis and spicy, black cherry filled finish.

10,148 Views

Tasted

Nov 27, 2012

Rich chocolate covered plums, tobacco, licorice, blackberry and a kiss of oak lead the way to a plush, round, soft textured wine that is already drinking well today.

10,459 Views

Tasted

Oct 22, 2012

2007
Opus One (Napa Valley)

A perfect ringer for a Bordeaux blind tasting, the wine has freshness, refinement, soft tannins, and while the fruit is perfectly ripe, here, you find all the fresh, sweet, red and black fruits you could hope for, without any jammy, or overripe notes. Lots of cedar, tobacco and earthy, forest notes only add to the fun. Drink now, or hold...

5,213 Views

Tasted

May 24, 2017

A super wine, produced in a great style, that takes the best of the lush, ripe, sweet, fat, juicy, California Cabernet Sauvignon grapes, yet also serves up freshness, balance and harmony. I am sure this will get better, but why wait? It's just great today...

5,465 Views

Tasted

Oct 26, 2016

Caramel, molasses, blackberry jam, fennel and truffle led to layers of polished, soft, round, sweet, crunchy, black and red spicy berries complicated by a long, olive tapenade and strawberry savory finish.

11,181 Views

Tasted

Nov 27, 2014

Clearly, this is in competition for the best wine produced by Opus One yet. I've always felt the 1996 was the best wine from this estate, but the 2007 Opus One, with its smoke, coffee, licorice, cassis, blackberry and earthy nose changed my mind. Add ripe, juicy, fleshy, rich, supple textures and a long, round, dark berry finish that is ripe, but not too ripe, and you have an idea of what this wine delivers.

9,891 Views

Tasted

Aug 9, 2012

2006
Opus One (Napa Valley)

Drinking at a really nice place today, the wine meshes elegance with sweet, ripe, juicy, ripe, fruits. This is a good ringer to place in blind tasting with Bordeaux.

6,882 Views

Tasted

Apr 14, 2017

Tobacco, fresh herbs, cassis and earthy scents opened to a plush, forward, spicy wine that ended with a fresh, crunchy, ripe, red and black fruit filled finish.

7,204 Views

Tasted

Nov 26, 2012

2005
Opus One (Napa Valley)

Oak, spice box, cassis, black cherry and wet forest leaves create the provocative perfume. The wine is fresh, lush, opulently textured, ending with a sweet, strawberry jam and cherry filled finish.

8,361 Views

Tasted

Nov 27, 2012

2004
Opus One (Napa Valley)

With a light touch of oak, tobacco, cassis and forest floor aromas, this medium/full bodied Cabernet Sauvignon ends with fresh, clean, spicy black cherries.

6,207 Views

Tasted

Nov 26, 2012

2002
Opus One (Napa Valley)

Ripe, juicy, long, full bodied, and fruity, with depth, concentration and real, fruit and licorice in the finish. This is really in a great spot today.

7,072 Views

Tasted

Mar 17, 2017

2002 Opus One is a perfect ringer to insert into a blind tasting of Bordeaux, or a flight of Bordeaux and California wine. It offers licorice, black cherry, smoke, coffee bean and earthy scents, with round, plush textures and a ripe, dark berry and cocoa finish.

5,104 Views

Tasted

Sep 19, 2012

1997
Opus One (Napa Valley)

Elegant, soft and refined, it lacks the fruit and concentration found in many of the vintages top wines. That being said, the tobacco, cedar, earth, fresh cherry and forest aromas would make many tasters think of Bordeaux. This refined styled Napa wine requires drinking as there is not enough raw materials or structure, for a much longer evolution.

3,877 Views

Tasted

Sep 23, 2015

1996
Opus One (Napa Valley)

Fully mature with tobacco, black cherry, truffle, earth, blackberry, cocoa, forest floor and spice box aromas, the wine strides the perfect middle ground between the rich, ripe, luscious style of California Cabernet Sauvignon and the tighter, more structured traditionally styled wines.

7,279 Views

Tasted

Jun 6, 2012

1994
Opus One (Napa Valley)

Fully mature, medium bodied Cabernet Sauvignon with blackberry, tobacco, earth, coffee and black cherry on the nose. Soft textured, with no tannin remaining, the wine ends with a cherry, tobacco and cranberry tinged finish

6,684 Views

Tasted

Aug 2, 2012

1992
Opus One (Napa Valley)

Bright ruby in color, with a nose of wet leaves, tobacco, cherry, earth and cigar smoke. This medium bodied wine ends with a tart, fresh, crisp, red cherry and tobacco finish. There is no reason to age this further.

4,358 Views

Tasted

Nov 26, 2012

1991
Opus One (Napa Valley)

Smoke, tobacco, cigar box, blackberry, earth and truffle scents opened to a fully mature, soft textured, concentrated, sweet cassis filled wine. While not at the level of the sublime 96 Opus, this remains one of the better mature vintages of Opus One in the marketplace.

7,304 Views

Tasted

Jan 30, 2011

1986
Opus One (Napa Valley)

Light ruby in color, tobacco, wet forest floor, leaf, fresh herbs, truffle and cassis scents create the complex perfume. The wine is clearly better on the nose than in the mouth. The wine ends with an earthy, crisp, tart cassis and cranberry note. This wine is past its prime and requires drinking.

3,679 Views

Tasted

Nov 26, 2012