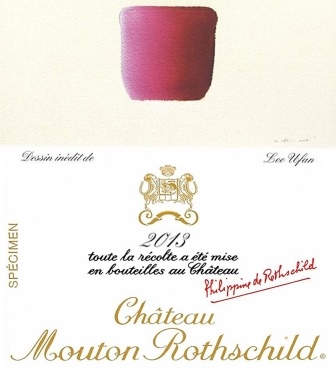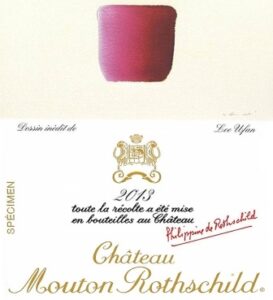 Chateau Mouton Rothschild the First Growth Bordeaux wine is famous for not only producing one of the worlds great wines, they are also well-known for their continuing support of the arts. Since 1945, when the Baron Phillipe Rothschild asked Philippe Jullian to design a unique label for their 1945 wine, Chateau Mouton Rothschild has continued that tradition by asking a different artist each year to design a new label.
Some of the most celebrated artists of our time have created artworks for the labels of Chateau Mouton Rothschild including: Salvador Dali, Andy Warhol, Jean Cocteau, Georges Braque, Henry Moore, Marc Chagall, Keith Haring and Pablo Picasso, to name a few. The original label can be viewed at a museum located on the grounds of Chateau Mouton Rothschild in Pauillac. The label for the 2013 Mouton Rothschild must have been done with a bit of sadness as the is was the first label chosen by Philippe Sereys de Rothschild, since his mother, the Baroness Philippine Rothschild passed away at 80 years of age, August 22, 2014.
For their 2013 Mouton Rothschild label, the chateau chose Lee Ufan. Born in Korea, Lee Ufan moved to Japan in 1956, studying philosophy and art. Lee Ufan is considered a minimalist artist, which can clearly be seen in the design for the 2013 Mouton Rothschild label. Lee Ufan used shades of deepening purple that evokes the colors of the wine in their vat room.
Lee Ufan is as you would expect, a highly regarded artist with works on display in some of the most important museums in the world including: MoMA, New York, The Guggenheim Museum, New York, Centre Georges Pompidou, Paris, The Tate Gallery, London; and the National Museums of Modern Art in Tokyo Japan.
While 2013 Mouton Rothschild is the product of a difficult vintage, the wine is among the best produced in all of Bordeaux that year.
Hints of vanilla bean, tobacco, cassis, blackberry and truffle lead to a medium/full bodied-wine with cassis, blackberry and soft, polished tannins. The wine should improve and add more depth with a few years of aging. From 89% Cabernet Sauvignon, 7% Merlot and 4% Cabernet Franc, the yields were 30.1 hectoliters per hectare. Less than 50% of the harvest was placed in the Grand Vin. 2013 represents the smallest amount of cases produced at Mouton Rothschild since 1969. Interestingly, the Merlot at Mouton Rothschild went through veraison after the Cabernet Sauvignon for the first time in Philippe Dhalluin's memory. 93-94 Pts