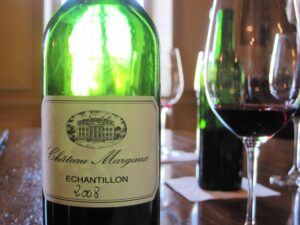 2008 Bordeaux will probably be best known as the last affordable, high quality vintage for Bordeaux wine. Outstanding wines were produced from both the Left Bank and the Right Bank. While the most exciting 2008 Bordeaux wines of the vintage came from Pomerol, several outstanding wines from the Medoc and Pessac Leognan can still be found for fair prices today.
This article features 2008 Bordeaux wine, in bottle notes from two seperate tastings. The first section of notes were written  in January 2011 following the UGC tasting in Los Angeles. The subsequent set of reviews were written in July, 2010, after tasting the 2008 Bordeaux wines in Bordeaux at the properties.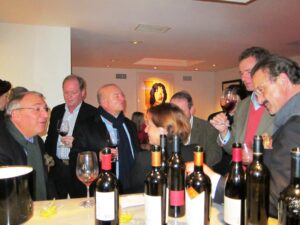 Bordeaux has a new vintage every year. Each year has a unique personality. Some years are better than others. Some are just different in character. Select vintages become so popular, they attract investors. Due to increasing high demand, the wines from those special years jump to price levels that many Bordeaux wine drinkers cannot afford. This is where 208 Bordeaux comes in. 
Every now and then, there are vintages that are perfect for drinkers. If you're a Bordeaux wine lover, 2008 Bordeaux has your name all over it. At their best, the wines are charming, polished and offer complexities paired with depth of flavor. What makes 2008 Bordeaux even better is, 99% of the wines are still well priced! Few wines are over $100. Most are a lot less money. 2008 Bordeaux is a vintage made from drinkers.
If you are looking for quality 2008 Bordeaux wine to cellar and enjoy, and you don't need your wine to score 100 Pts, 2008 Bordeaux was made for you. Strong wines were produced from both banks. While many of the top wines came from Pomerol and St. Emilion,  several 2008 Bordeaux wines worth buying were produced in the Medoc and Pessac Leognan. Those wines are the subject of this article.
The following 2008 Bordeaux wines were tasted in Los Angeles, Saturday, January 22, at the UGCB Bordeaux wine tasting held in the Barker Hanger at the Santa Monica airport.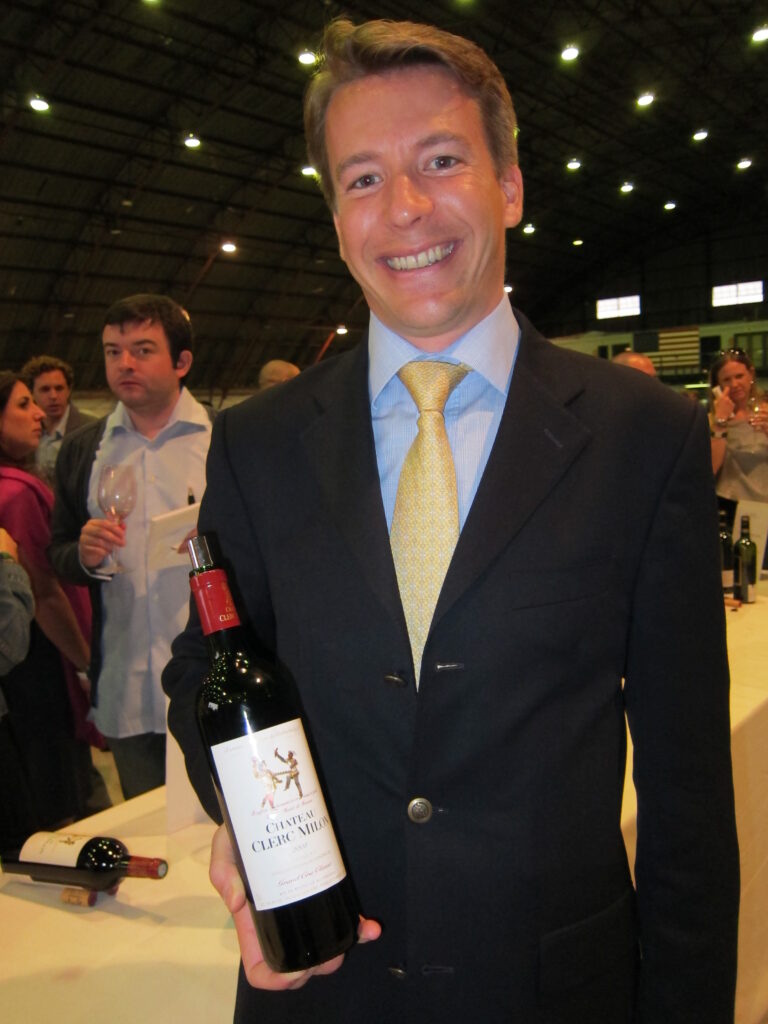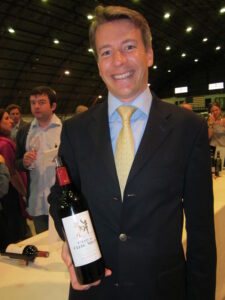 Château Clerc Milon was already closing down. With coaxing, earth, tobacco, cedar and cassis aromas could be found. This lighter style of Pauillac wine ends with a chocolate covered, cherry finish. The vintage of Clerc Milon to buy remains the 2009. 90 Pts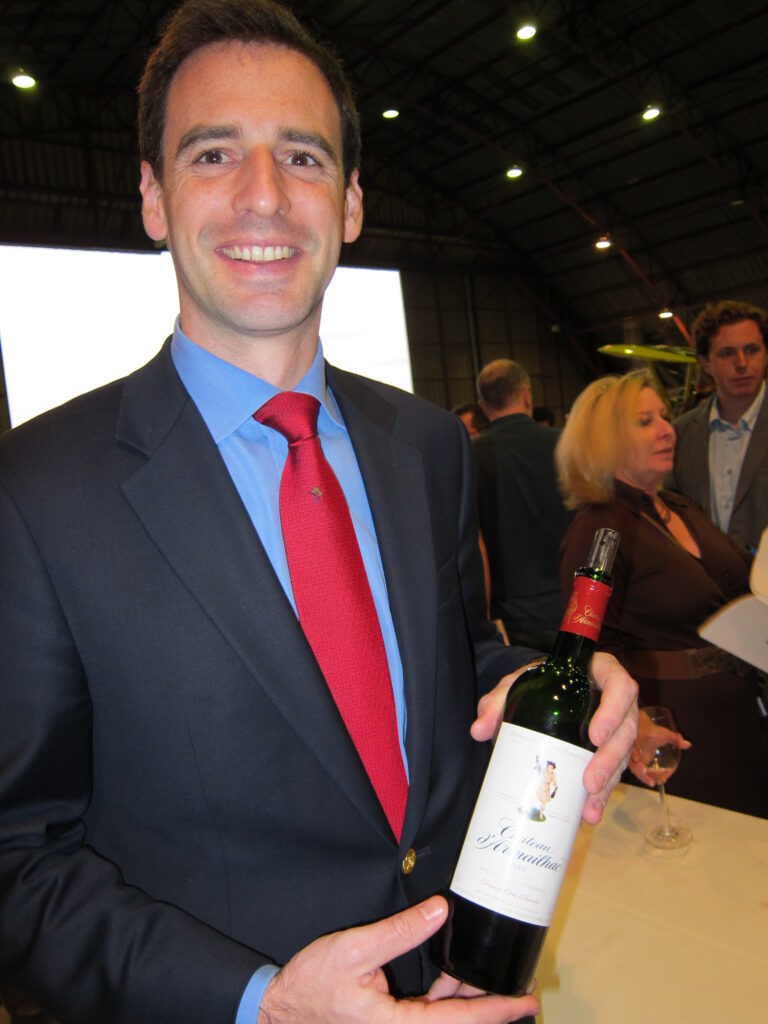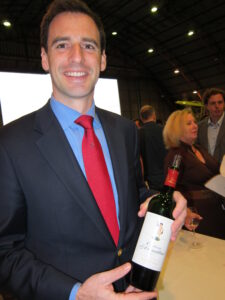 Château d'Armailhac – This medium bodied Bordeaux wine offers tobacco, earth and cherry notes in the perfume. Light in style, the wine shows some green flavors in the finish. Similar to Clerc Milon, the strong 2009 d'Armailhac remains the wine to buy. It's probably the best wine the property has ever produced. It's also one of the best values from the Medoc in an expensive vintage. 88 Pts
Château Lynch Bages – Opens with cassis, tobacco, cedar, oak, earth and herbs, this full bodied, concentrated, chewy Bordeaux wine ends with a big, cassis filled finish. 92 Pts.

Château Pichon Baron – This was one of two Bordeaux wines that were in such high demand to taste at the UGC event, they ran out before I was able to make my way to the table.
Château Pichon Lalande – This was an outstanding wine in barrel and it's even better in bottle. The aromatics are filled with cassis, bitter chocolate, flowers and boysenberries. Suave, polished and with ample depth and freshness, this outstanding Bordeaux wine hits all the right spots with its sexy style. For fans of Pichon Lalande, this is the wine to buy. It pairs great style with quality and the ability to age. 96 Pts
St. Julien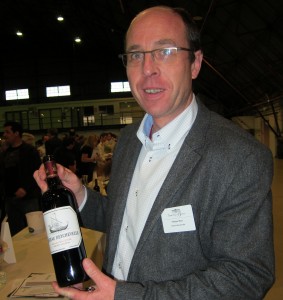 Château Beychevelle Old school in style, the wine combines cassis, cranberry and earthy flavors. The finish has a hint of tart and green flavors along with the bright cassis sensation. Fans of old school Bordeaux wine will like this much more than I did. 88 Pts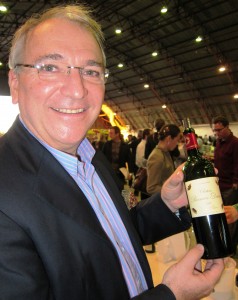 Château Branaire Ducru – – Cassis, cocoa powder, chocolate, earth and cinnamon make up the intriguing perfume. Elegant, supple and already approachable, this Bordeaux wine ends with a strong, sweet cassis and spice filled finish. 93 Pts.

Château Gruaud Larose – – Earth, cassis, truffle and cedar aromas lead into a full boded, cassis and black cherry filled wine. This Bordeaux wine will require time to develop. 90 Pts.

Château Leoville Barton – – Big, powerful, tight and tannic, this masculine, chewy, Bordeaux wine fills your mouth with cassis and a lot of tannin. This was one of the more backward wines from the tasting. 90 Pts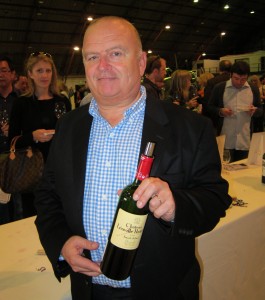 Château Leoville Poyferre – – Sweet spice, earth, cassis, black cherry, coffee and truffles were easy to find. The full bodied, concentrated wine is filled with fresh cassis flavors in the long, polished finish. 93 Pts.
Château St. Pierre – This is the success story of St. Julien. The property was known for producing a strong wine in 1961. It took close to 45 years before they began making strong wines. Since 2005, they have been getting better every year. Chocolate, coca powder, cassis, earth, sweet black cherry and coffee bean aromas were coupled with a long, polished, cassis and blackberry filled finish that will drink well young and age for at least two decades. 92 Pts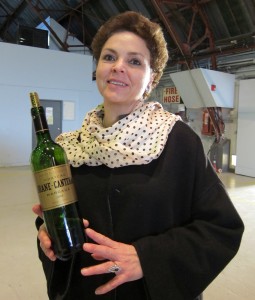 Château Brane Cantenac – Tobacco, cassis, earth and truffle scents open to a medium bodied, soft, elegant style of Margaux. The wine ends with a dark cherry finish. This wine will offer pleasure early. 91 Pts.

Château du Tertre – With perhaps the highest percentage of Cabernet Franc in the Medoc, (20% Cabernet franc was used in 2008) Du Tertre produces a unique style of Bordeaux wine. The wine expresses tobacco, spice, herbs and cassis. Soft in texture, the wine ends with a red and black fruit filled finish. 89 Pts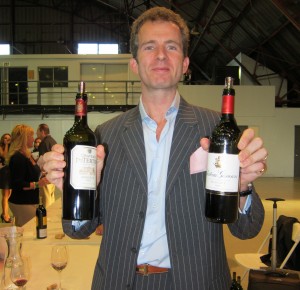 Château Giscours – Earth, truffle, tobacco leaf, cassis and notes of bitter chocolate are easy to find. The smooth textured, refined wine finishes with chocolate covered cassis sensations. 91 Pts.

Château Kirwan – – This wine opens with floral cassis, earth and spice aromatics. The elegant, already open Margaux combines cassis and cherry flavors in the finish. 90 Pts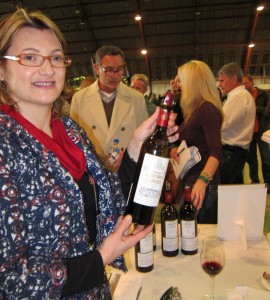 Château Labegorce – The perfume offers spice, tobacco, earth and cherry aromas. The wine ends with a red fruit and cassis flavored finish. 88 Pts.
Château Lascombes – Oak, earth, blackberry, cassis, fennel and pepper open to a plush, round, wine with an opulent, forward, personality. The percentage of new oak has been toned down, which is a good thing. 92 Pts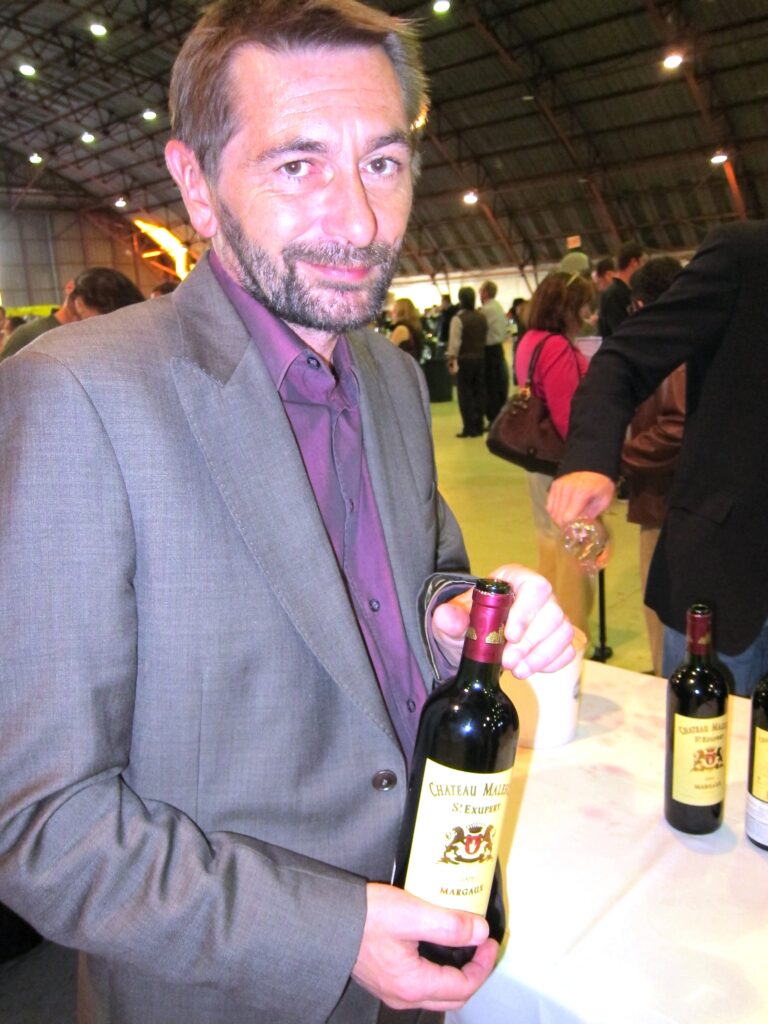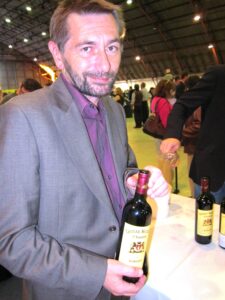 Château Malescot St. Exupery – – This pungent perfume shows flowers, earth, truffle, cherry pipe tobacco and cassis aromas. The wine is concentrated, deep and richly textured. There is a lot to like in this polished, sexy style of Margaux. And the best part is, it's still for sale for about for $40! There are not many wines available for this price at the same level of quality. 94 Pts
Château Rauzan-Segla – I really wanted to retaste this wine. But by the time I made it over to the Margaux section, they had finished all their samples.
Château Les Ormes de Pez – With a perfume filled with blackberry, boysenberry earth and forest floor aromas, this beefy, fresh wine will deliver a lot of bang for the buck. 90 Pts
Haut Médoc

Château Cantemerle – Forest floor, earth, cassis and cherry aromas lead into a medium bodied wine with a light, red fruit finish. 88 Pts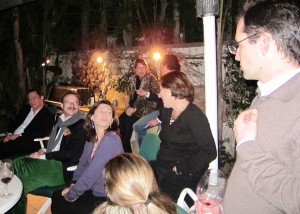 The following 2008 Bordeaux wines from Pessac Leognan were tasted in Los Angeles, Saturday, January 22, at the UGC tasting held at Barker Hanger in the Santa Monica airport.
Domaine de Chevalier shows classic Graves character with its smoke, tobacco, earth and cassis filled personality. Over the last few years, the red and white wines from the domaine seem to be produced with slightly more concentration and depth. This addition of richness adds a lot to the quality and character of this elegant, Pessac Leognan wine. 92 Pts.

Chateau Malartic Lagraviere opens with tobacco, black cherry, cappuccino and earthy scents. Soft in texture, with round tannins and a plush style, the wine finishes with a sweet chocolate covered, dark cherry finish. 91 Pts.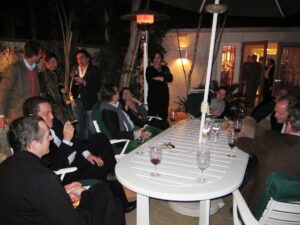 Reviews from the 2008 Bordeaux wine tasting with the UGC.
2008 is a strong vintage for Bordeaux wine. The best wines have charm, character, depth and polished tannins. Much of the success of 2008 is due to the unusually long hang time the growers were afforded before harvesting. One characteristic many of the wines share is the sensation of red fruits in the finish. This signature shows the wines were produced in a cool vintage.
2008 Bordeaux wines will not require the same type of aging found in more recent, structured vintages like 2005 or 2006. The wines will drink younger.
As I wrote many times before, savvy, Bordeaux wine loving consumers should be all over this vintage. There is a lot of stylish wines worth owning. I bought many for my own cellar. Because of the economic collapse which took place when the wines were first offered for sale, most of the top wines were sold at very low prices.
The problem for American consumers will be that very little wine was sold to America. When they are gone, they will be gone. I expect most of the wines that receive good scores from Parker later this spring will sell through.
At the current prices, there is no sense in waiting to buy your favorite wines.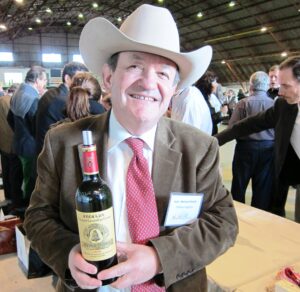 Château Angelus – Oak, coffee, blackberry, licorice, black cherry, spice and earth scents make up the perfume. Stylish, with polished, silky textures, the elegant 2008 Bordeaux wine from Angelus does not offer the levels of concentration found in the top vintages from the chateau. In some ways, this is similar to 2001 Angelus. 93 Pts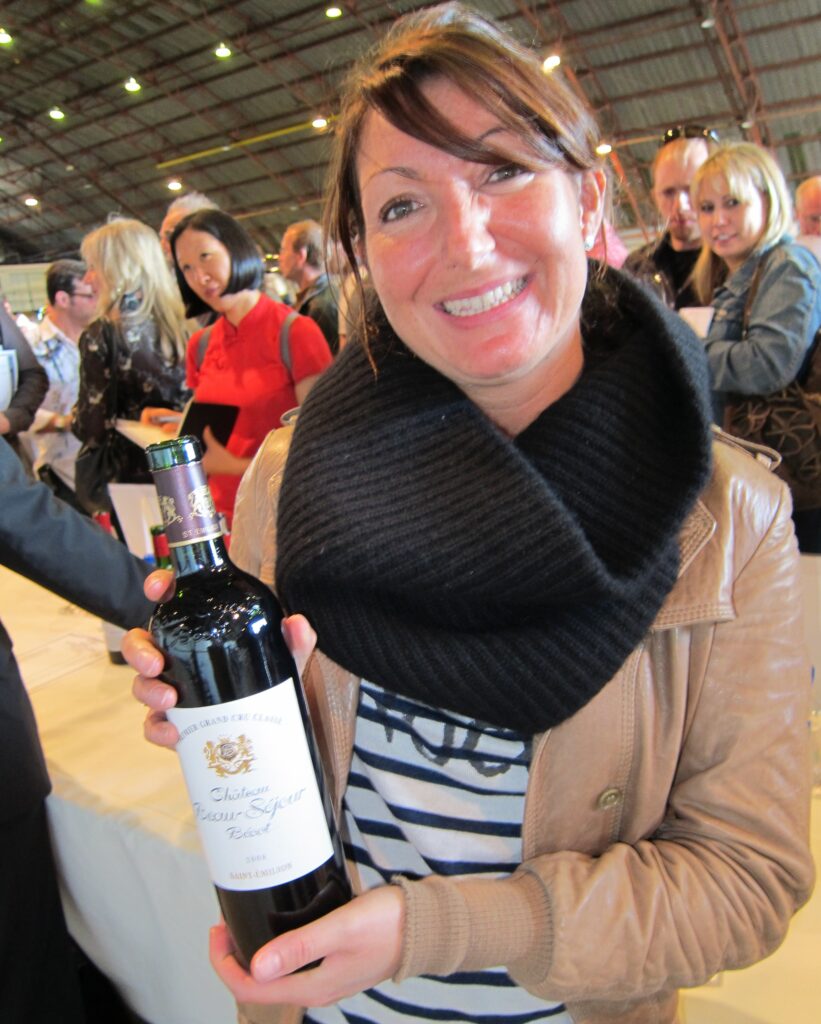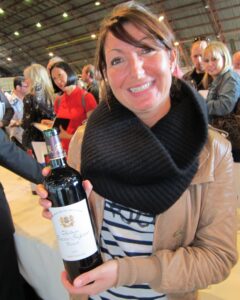 Château Beau-Sejour Becot – This Bordeaux wine opens with oak, stone, caramel, plum and black cherry aromas. It's full bodied, concentrated and elegant in texture, the finish is filled with layers of sweet, fresh, black and red fruits. 92 Pts
Château Canon – Minerality, flowers, cherry, blackberry, floral scents and a kiss of oak are found in the perfume. This elegant wine is filled with fresh red and black fruit. Canon is not produced to be drunk young. It is meant to age. The 2008 might prove to be an exception to the rule for this Bordeaux wine. 92 Pts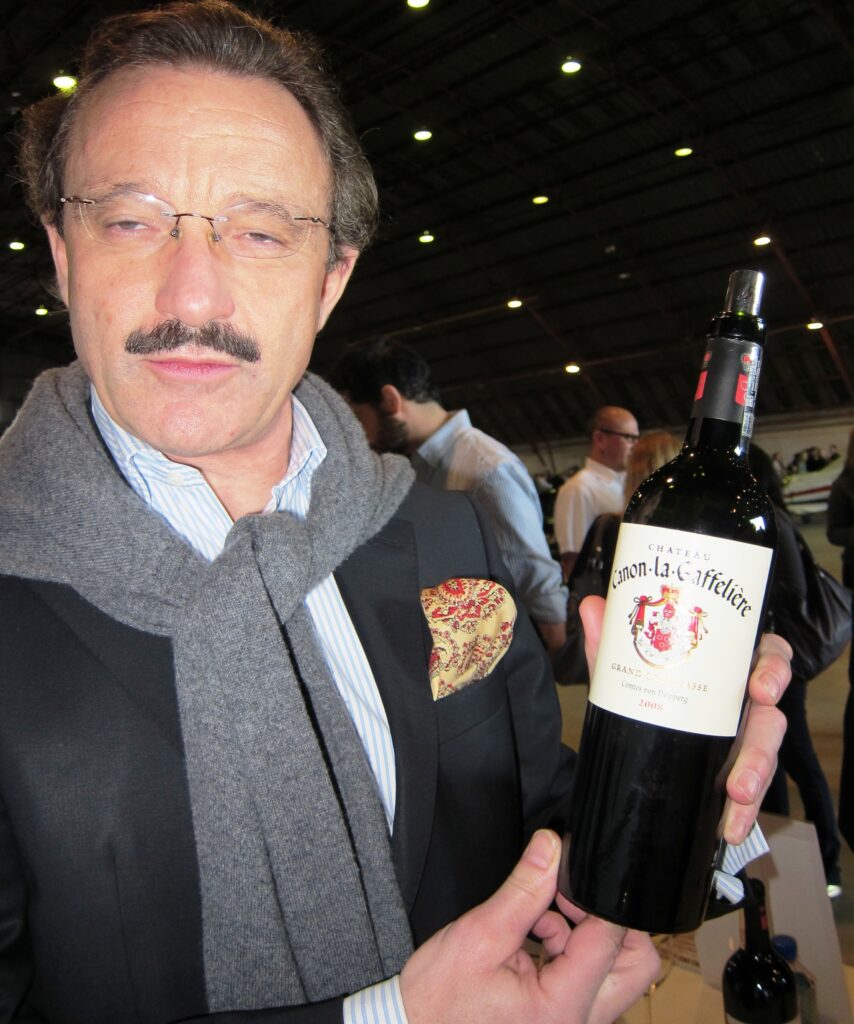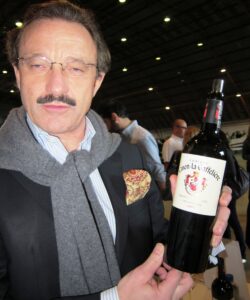 Château Canon La Gaffeliere – This wine offers toasty oak, blackberry, licorice, chocolate and truffle scents. It feels rich, deep and polished on the palate. This Bordeaux wine ends with spicy blackberry, kirsch and coca flavors. 93 Pts.
Château Clos Fourtet – The intense perfume is filled with minerality, black cherry, coca powder, espresso, licorice and truffles, The concentrated, powerful, full bodied, rich wine offers depth and length, ending in a polished blackberry and cherry filled finish. 94 Pts
Château Franc Mayne – This wine opens with cherry, coca and coffee flavors. Medium bodied with a hint of green from under ripeness, this Bordeaux wine ends with a kirsch filled finish. 89 Pts.
Château Grand Mayne is on a streak. The wine keeps getting better, Black cherry, licorice, spice, forest floor and oak aromas are easy to find Elegant, and refined, the soft textured wine ends with a chocolate, blackberry and kirsch filled finish. 92 Pts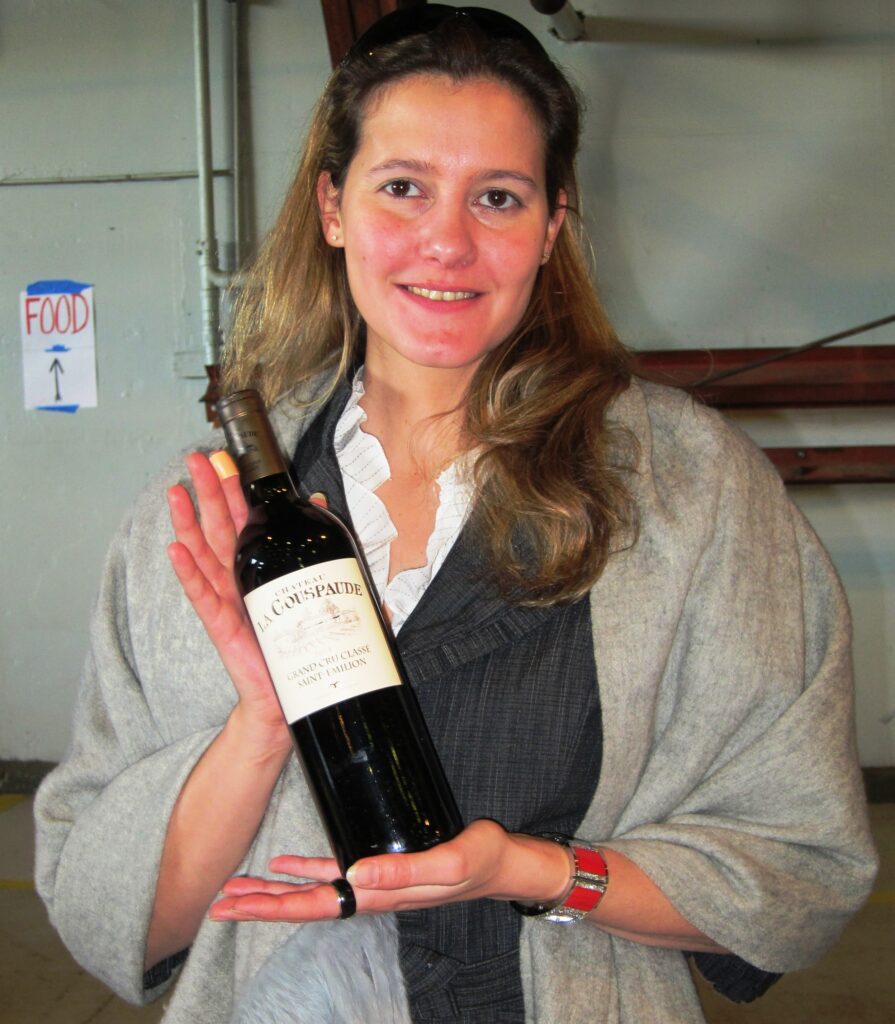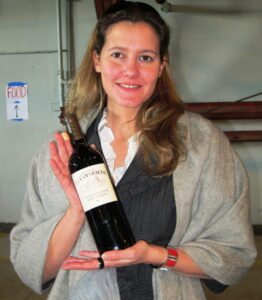 Château La Couspade – Oak, coca, coffee, black cherry and spice aromas open to a Bordeaux wine with a little too much oak. Supple textures and ripe fruit, make this easy to approach and enjoy. But I'd like to see a little less new oak. 90 Pts.
Château La Dominique – This wine had already started to shutdown. With effort, some cherry and bitter chocolate flavors could be found. Elegant in style, this medium bodied, Bordeaux wine ends with red fruit notes. 90 Pts
Château La Gaffeliere – Juicy plums, spice, minerality, earth and espresso notes are found in this medium bodied Bordeaux wine. Elegant and refined, the wine ends with a blend of red and black fruits. 91 Pts
Château Larcis Ducasse – The perfume is filled with floral, black raspberry, cherry, spice, licorice and stone aromas. The wine is rich, supple, fresh and filled with minerality. It needs time to develop. 93 Pts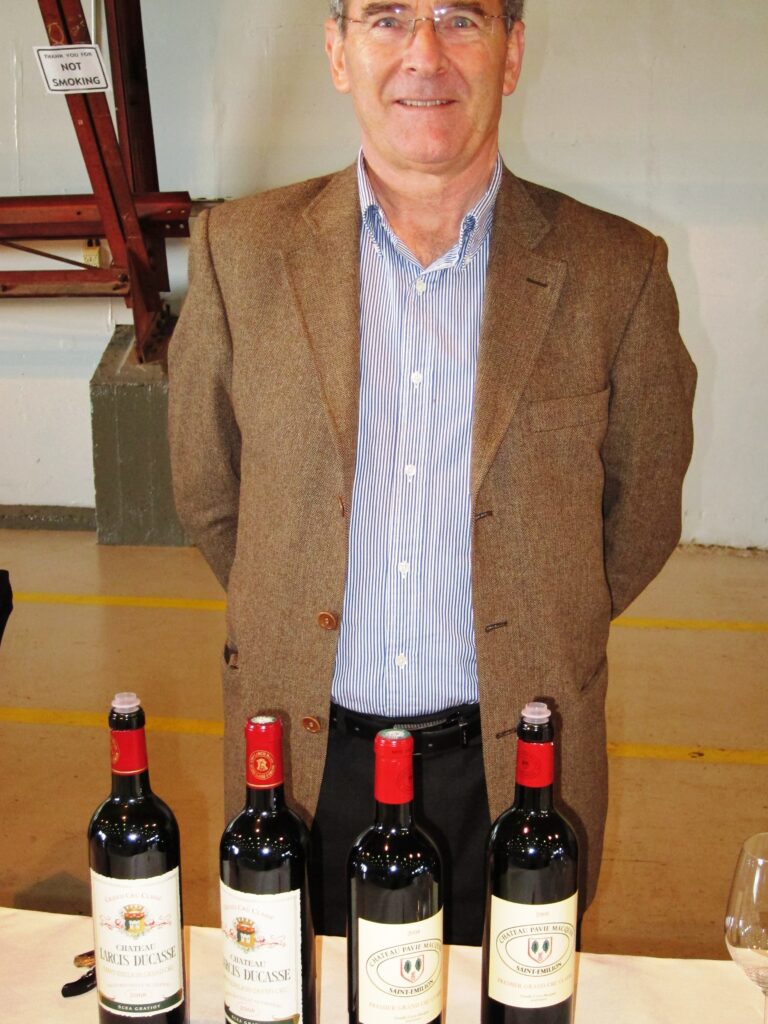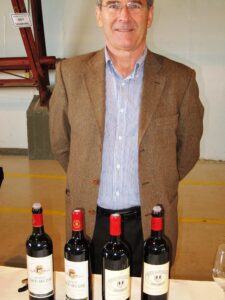 Château Pavie Macquin – Oak, black cherry, anise, flowers, spice and minerality greet your nose, This round, rich Bordeaux wine with soft textures ends with kirsch and fresh blackberry flavors. 94 Pts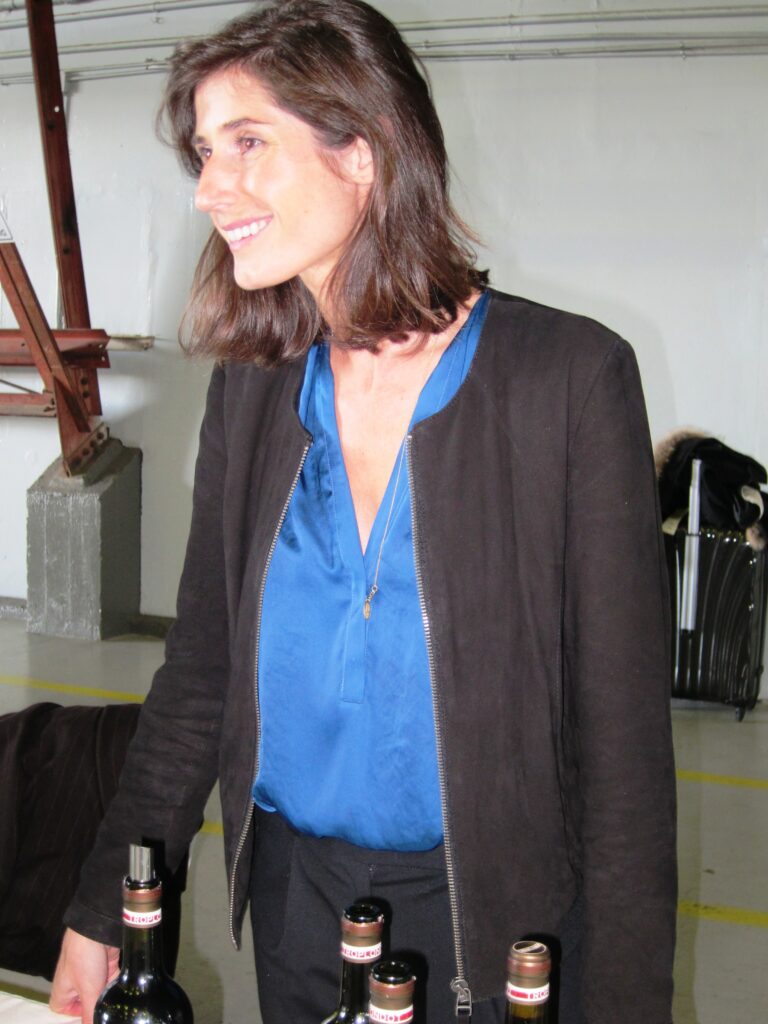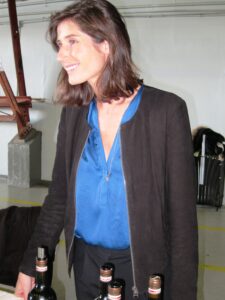 Château Troplong Mondot – With a perfume filled with bitter chocolate, licorice, black raspberry, earth, oak and black cherry, this intense Bordeaux wine is a treat to smell. With a long supple, rich, deep texture, the wine ends with a mouthful of chocolate covered, dark black and blueberries. 2008 was the latest harvest in the history of the property. Due to their cool terroir, the extra time allowed the fruit to develop full ripeness. 95 Pts
Pomerol
.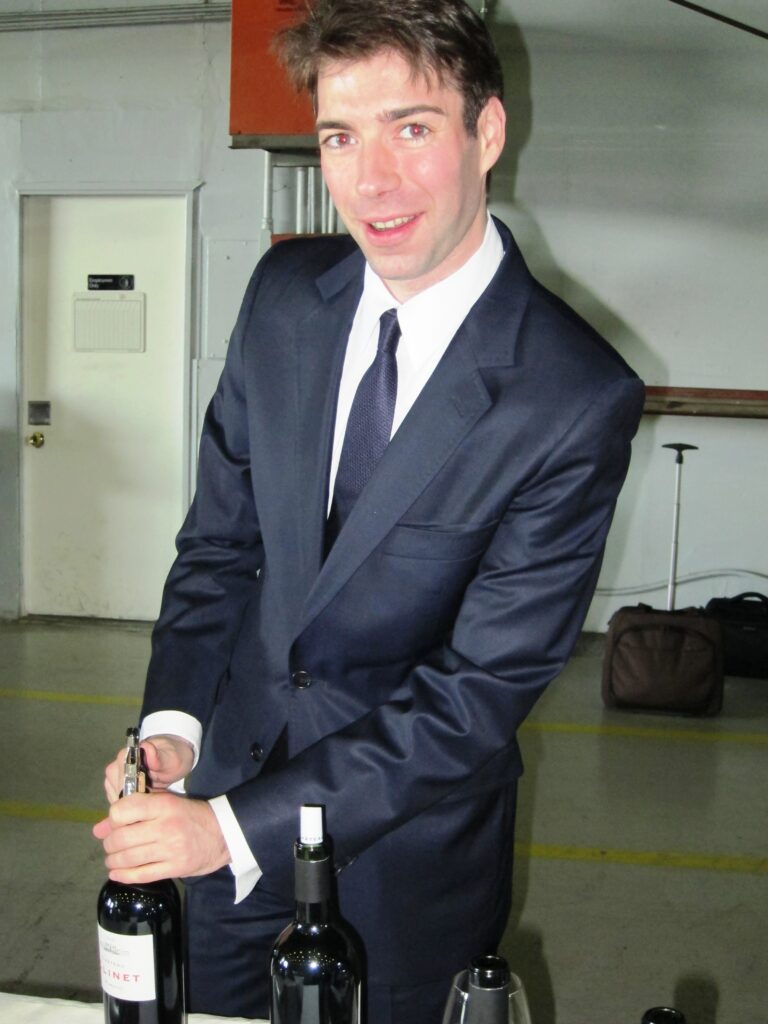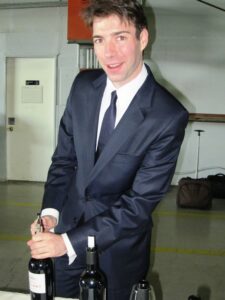 Château Clinet – Chocolate covered plums, licorice, herbs and floral scents open to a rich, concentrated, thick, opulent wine with a long, fresh blackberry and chocolate finish. Clinet achieved a balance of ripe fruit, purity and freshness in 2008. This is a much better Bordeaux wine than they produced in 2005, or 2006. But as good as this is, 2009 is even better! 95 Pts
Château Gazin – Plum, back cherry, coffee bean and cassis aromas open to a full bodied, beefy Bordeaux wine with depth, concentration and a long tannic, red and black fruit filled finish. 92 Pts
Château La Conseillante – This suave Bordeaux wine opens with floral, black raspberry, dark cherry, oak and spice box aromas. With textures of silk and velvet, this wine feels great as it graces your palate. I would have liked a little more concentration. But this is a very pretty wine. It's in the style of their 1998 and 2001. 93 Pts
The following Bordeaux wines were tasted in Bordeaux in July 2010, shortly after bottling.
2008 Alter Ego is not considered a second wine by Chateau Palmer. The blend differs from Palmer and the fruit comes from different terroir. This difference produces a Bordeaux wine perfume of black cherry with hints of coffee, earth and spice. Elegant in style, with soft textures and a medium to full bodied texture, this wine should deliver pleasure early. 91 Pts
2008 Brane Cantenac is a Bordeaux wine that greets your nose with floral, earth, cassis, cedar, and blackberry aromas. Medium bodied in texture, this elegant, cassis filled wine should drink well young. 91 Pts
2008 d'Issan, with its cassis, spice, black cherry and truffle nose feels soft, round and polished in the mouth. The wine ends with sensations of blackberry, spice and dark cherries. 92 Pts
2008 Margaux opens with a complex perfume of fresh flowers, minerals, cassis, earth, forest floor, cedar and coffee scents. Full bodied and concentrated with round tannins, opulent textures and ripe fruit, this stylish wine ends with a long, polished sexy wave of rich textures. 96 Pts
2008 Palmer begins with a perfume filled with blackberry liqueur, vanilla, spice oak, floral and truffle scents. Rich concentrated and filled with layers of ripe, opulent fruit, this elixir ends with an intense, refined, sensuous finish. This is a serious wine and for Palmer, it remains well priced. 96 Pts
2008 Rauzan-Segla, with floral, boysenberry, cassis, tobacco, oak and spicy scents, this full bodied wine already feels soft and silky in the mouth. The wine finishes with sweet ripe, berries and chocolate. 93 Pts
St. Julien
2008 Ducru Beaucaillou is loaded with juicy ripe cassis, licorice, chocolate, oak, truffles and fresh herbs. Powerful, dense and concentrated, this plush, complex wine is elegant, balanced long and complex. 95 Pts
2008 Gloria offers cassis and dark cherry with herbs in the nose. Already drinking well, this medium to full bodied, easy to drink wine should offer pleasure early. 90 Pts
2008 St. Pierre opens with oak, vanilla, black raspberry and chocolate scents. In the mouth, the wine feels round and approachable. The finish ends with a blast of cassis and blackberry. This is a property that keeps getting better, but sadly prices continue rising as well. 92 Pts
Pauillac
2008 Latour is powerful, full bodied and concentrated with ripe cassis, tobacco, truffle, slate, and black plum aromatics. The wine covers your palate with waves dark berries and ripe, round, polished tannins. The long, pure, fresh finish remains in your mouth for over forty five seconds! 97 Pts
2008 Lynch Bages starts with cassis, fudge earth, fennel and forest floor aromas. Full bodied and loaded with ripe tannins and berries this is the best Lynch Bages since the outstanding 2000. 93 Pts
2008 Pichon Baron has a cassis filled perfume that's complicated with hints of tobacco, coca, earth and blackberry jam. Full bodied and loaded with flavor, this elegant, round, polished Pauillac feels great on the palate and ends with a long cassis and dark berry sensation. 93 Pts
2008 Pontet Canet is another winner from Alfred Tesseron, who has been making better wine every year since the 1994 vintage. Black fruit paired with spice, licorice, earth and toasty oak introduce your senses to the wine. This powerful, full bodied, cassis and blackberry jam filled wine is fresh, fat and concentrated, ending in a wave in chocolate covered, dark berries. 95 Pts
Pessac Leognan
2008 Haut Bailly is loaded with spice, earth, cassis, blackberry, smoke, oak and tobacco scents. Full bodied and filled with plush, ripe fruit, this suave wine fills your palate with dark berries and earth. While different in style if you cannot afford Haut Brion or La Mission Haut Brion and you want a great vintage of Pessac Leognan, you cannot do better than Haut Bailly today. 94 Pts
2008 Le Thil is one of the top value wines from the vintage offering quality, character and a low price of under $20. Blackberry dark cherry, tar, vanilla and coffee aromatics pair well with soft textures and a chocolate, boysenberry filled finish. This vintage was produced with the help with Stephane Derenoncourt. 90 Pts
Right Bank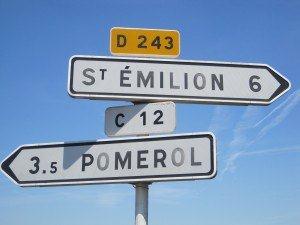 The following Right Bank, Bordeaux wines were tasted in Bordeaux July, 2010.
2008 Pomerol in bottle tasting notes.
2008 La Conseillante opens with blackberry, oak, black cherry coca, cherry and floral aromas. The wine displays ample freshness with a finish that starts with black cherry and ends with fresh, ripe plums. La Conseillante is never about power, it's a Bordeaux wine of grace with elegance, two characteristics this wine has in abundance. 93 Pts
2008 L'Eglise Clinet continues to improve every time I taste this wine. With complex aromatics filled with spice box, blackberry, oak, chocolate, plums and fresh flowers, this silky, velvet textured, rich, round Bordeaux wine ends with a mouthful of deep dark fruits and chocolate. 96 Pts
2008 Le Gay is filled with truffles, Asian spice fresh plums and oak in the nose. On the palate the wine is rich and intense with layers of ripe black cherries, chocolate, licorice and blackberry. 96 Pts
2008 Lafleur has added considerable aromatic complexity over the past several months. Fresh blackberry, Asian spice plum, oak, truffle and licorice scents are easy to find. This full bodied, intense, tannic, fresh Bordeaux wine expresses a lot of purity. 97 Pts
2008 Montviel is a medium bodied Pomerol that is best enjoyed in its youth for its soft textures, chocolate, black raspberry and spice character. 89 Pts
2008 La Violette explodes from the glass with aromas of an entire field of fresh violets in full bloom. Add spice, plums, blue and blackberries, espresso and coca and you an idea of what this elixir of a perfume offers. In the mouth, the wine feels opulent, sexy, plush and long. The intense finish lasts over 45 seconds. This is an exotic, sexy style of Pomerol for hedonists. 98 Pts
2008 St. Emilion in bottle tasting notes.
2008 Ausone smells like you just stepped into a rock quarry that is in full production. This intense sensation of minerality is enhanced with scents of fresh, ripe, blackberry, coffee, oak, spice and violets. Full bodied and intense, this opulent, concentrated, deep, suave polished wine is long, fresh, intense and pure. It really fills your mouth and palate, ending with a finish that lasts close to sixty seconds! 98 Pts
2008 Barde Haut starts with a perfume of licorice, black raspberry, mint and strawberry. Full bodied and filled with ripe fruit, the wine ends with a long, sweet, chocolate, black cherry and black raspberry finish. 91 pts
2008 Beau-Sejour Becot introduces itself with spice filled aromatics complicated with licorice, blackberry, oak, and earthy scents. Plush and full bodied, the wine ends with a mouthful of deep, fresh blackberry. 93 Pts
2008 Canon offers a mineral driven perfume that is complicated with black fruit, plums, anise, coca and plums. With ample round tannins and elegant textures this wine is built to age. The finish ends with black raspberry and fresh dark cherry flavors. 93 Pts
2008 Canon La Gaffeliere from 50% Merlot, 45% Cabernet Franc and 5% Cabernet Sauvignon is filled with black fruit, fresh cut herbs, plums and anise. Soft round textures and a long, black fruit filled finish are the hallmarks of this Bordeaux wine. 92 Pts
2008 Cheval Blanc produced from a blend of 50% Merlot and 50% Cabernet Franc is another 2008 that improved over the past year. The intense perfume is filled with fresh herbs, cassis, plums, black cherries, exotic spice and spring flowers. Very classy and stylish, this elegant, sophisticated, balanced, rich and velvet textured, Bordeaux wine offers freshness, purity and an evocative combination of red and black fruits. 97 Pts
2008 Clos Fourtet starts with a complex licorice filled nose coupled with chocolate, black raspberry jam, and concentrated, ripe plums. Combining freshness and lush textures, this potent wine ends with a mouthful of spicy blackberries and anise. 94 Pts
2008 Clos St. Martin opens with an enticing perfume of dark berries, mint, minerality, licorice, cherry blossoms and sweet oak. The texture feels like polished silk and velvet. This sensual Bordeaux wine ends with a long sensation of fresh, ripe blackberries. Only 480 cases were produced. 94 Pts
2008 La Gomerie with its silky textures and floral, licorice, plum, oak and spice aromatics is a winner. The wine is refined opulence and ends with a clean, fresh, black velvet finish. 93 Pts
2008 Grandes Murailles is filled with roasted black cherry, spice, fennel and earthy scents. This concentrated wine ends with soft, textures, silky tannins and flavors of fresh strawberry and black plums. 92 Pts
2008 La Mondotte expresses intense minerality, jammy black fruit, floral, licorice and floral aromas. Powerful and intense, this minerality based, St. Emilion wine ends with dark cherry black fruit and blueberry. 95 Pts
2008 Troplong Mondot is the first vintage to officially celebrate their new, and well deserved upgrade in the St. Emilion wine classification to Premier Grand Cru on the label. This deeply colored wine has a complex perfume of black licorice, bitter dark chocolate, boysenberry, blueberry and juicy fresh plums. The wine fills your palate with luscious, opulent, dark fruit and hints of anise. 95 Pts
Satellite Regions
2008 D'Aiguilhe offers a perfume of licorice, oak, minerals, blackberry and coffee scents. Full bodied and concentrated, this ripe and round textured wine was bottled in June. 91 Pts
2008 Joanin Becot is stuffed with blackberry, oak, spice, smoke and licorice aromatics. Soft, round and already approachable, this black cherry tinged Right Bank wine should drink well young. 91 Pts