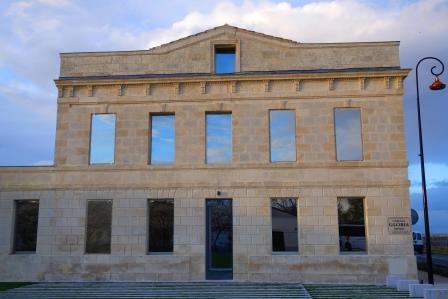 Learn everything about Chateau Gloria St. Julien with wine tasting notes and wine-with-food pairing tips. Learn the best vintages, a history of the property, information on the vineyards, and winemaking. If you want to read about other important, Bordeaux Chateaux: Links to all Bordeaux Wine Producer Profiles
Chateau Gloria History, Overview
While many Bordeaux Chateaux have long histories in the region, especially in the Medoc, that is not the case with Chateau Gloria. In fact, it's a relatively new estate in Saint Julien, that when compared with its 1855 Classified Growth peers, was born quite recently. You could say, Chateau Gloria, dates back to 1903, but that is not exactly the entire case.
The creator of Chateau Gloria, Henri Martin, was born in 1903. Henri Martin had a background in Bordeaux wine before his first birthday. His birth took place at a neighboring St. Julien estate, Chateau Gruaud Larose.
As Henri Martin was born on the property, obviously, Henri Martin was destined for a life in wine. Henri Martin certainly came from a wine family background, as his family has roots that date back to the 1600s in Bordeaux!
During the war, in 1942, Henri Martin purchased 6 hectares of vines located in the Left Bank in the St. Julien appellation. The vines were previously the property of Chateau Beychevelle. Henri Martin made the purchase on the advice of his friend, Jean-Charles Cazes.
Cazes is the father of Jean Michel Cazes of Chateau Lynch Bages. That early purchase eventually grew into Chateau Gloria. It took time, but eventually, they were able to cobble together a total of 48 hectares for the creation of Chateau Gloria.
Forty years after he founded Chateau Gloria, Henri Martin purchased his first Classified Growth, Chateau St. Pierre, also located in Saint Julien. Today, Gloria is managed by Jean Louis Triaud who is also responsible for managing their sister estate, Chateau Saint-Pierre. In 2022, Chateau Gloria brought in Jean-Michel Comme, formerly of Chateau Pontet Canet to consult on their vineyards as they began converting to biodynamic farming.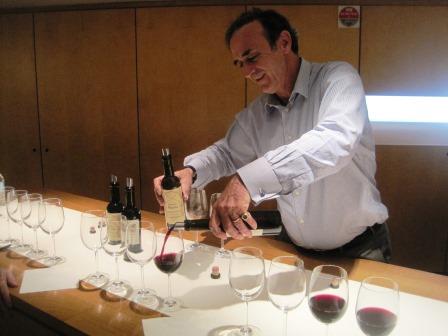 Chateau Gloria Vineyards, Terroir, Grapes, Winemaking
The large, 50-hectare vineyard of Chateau Gloria is planted to 65% Cabernet Sauvignon, 25% Merlot, 5% Petit Verdot and 5% Cabernet Franc. The terroir is gravel, sand and clay soils. The 55 hectares they have in the Left Bank for Chateau Gloria also includes 9 hectares of vines in Pauillac.
The chateau is allowed to add those vines into the blend for the wine of Chateau Gloria by a special dispensation. The vineyard of Chateau Gloria can be divided into 3 main sections with vines planted close to Chateau Beychevelle, a parcel located just west of the village, and a remaining section of vines is placed not too far from the inland vineyards of Chateau Pichon Lalande.
In 2016, Chateau Gloria finished a multi-year-long, complete renovation of the entire winemaking facilities, vat rooms, cellars, offices, reception areas, and tasting room. Due to a long-standing arrangement in the appellation, they also produce the wine of Chateau St. Pierre at Gloria. Starting with the 2021 vintage, Chateau Gloria began using only 100% organic farming techniques. They were certified as organic in 2024.
To produce the wine of Chateau Gloria and St. Pierre the grapes are vinified in 76 different stainless steel tanks that range in size from 50 hectoliters up to 178 hectoliters.
Malolactic fermentation takes place in barrels. Chateau Gloria is aged in 40% new, French oak barrels for 14 months. On average, the production is close to 20,000 cases of Chateau Gloria per year. There is a second wine, Esprit de Gloria. Previously it was known as Peymartin.
The best vintages of Chateau Gloria are: 2022, 2021, 2020, 2019, 2018, 2017, 2016, 2015, 2014, 2010, 2009, 2005, 2000 and 1982.
Jean Louis Triaud is also in charge of the other family estates. Aside from the classified growth, Chateau St. Pierre, which we already mentioned, also produces the following wines; Bel Air from Haut Medoc, Pey Martin from St. Julien, and Haut Beychevelle Gloria.
Chateau Haut Beychevelle Gloria, located in the Saint Julien appellation shares owners and utilizes the same technical team as Chateau Gloria. But it is a completely different wine.
Haut Beychevelle Gloria comes from a 5-hectare parcel of vines located in the middle of Beychevelle and Gloria with a similar gravel terroir. Chateau Haut Beychevelle Gloria is planted to 65% Cabernet Sauvignon, 10% Cabernet Franc and 25% Merlot. The vines are on average, 30 years of age.
The wine is vinified in stainless steel tanks. Malolactic fermentation takes place in vat. Chateau Haut Beychevelle Gloria is aged in 35% new, French oak barrels for 12 months before bottling. The production of Haut Beychevelle Gloria is on average slightly more than 2,000 cases per vintage.
Chateau Gloria Character and Style
Chateau Gloria is a lighter, elegant style of Saint Julien that is often ready to drink within a few years of release. Yet don't let that fool you. The wine can also age quite well. 2009 was the best wine made at this Medoc estate I have ever tasted until the 2010 Gloria was produced which were all bested by the sublime 2016 and 2018 vintages!
Chateau Gloria is popular Bordeaux wine with consumers for its early drinkability, charming character, and fair prices. It's a contender for the best Bordeaux value wine from the St. Julien appellation.
When to Drink Chateau Gloria, Anticipated Maturity, Decanting Time
Chateau Gloria can be enjoyed young, with decanting. Young vintages can be decanted for an average of 1-2 hours, give or take. This allows the wine to soften and open its perfume. Older vintages might need very little decanting, just enough to remove the sediment.
Chateau Gloria is usually better with at least 5-8 years of bottle age. Of course, that can vary slightly, depending on the vintage character. Chateau Gloria offers its best drinking and should reach peak maturity between 8-17 years of age after the vintage.
Serving Chateau Gloria with Wine, Food, Pairing Tips
Chateau Gloria is best served at 15.5 degrees Celsius, 60 degrees Fahrenheit. The cool, almost cellar temperature gives the wine more freshness and lift.
Chateau Gloria is best served with all types of classic meat dishes, veal, pork, beef, lamb, duck, game, roast chicken, roasted, braised, and grilled dishes. Chateau Gloria is a perfect match with Asian dishes, hearty fish courses like tuna, salmon, mushrooms, and pasta as well as cheese.
Château Gloria Wine Tasting Notes
24 Vintages 232,396 Views Sort by Vintage-Rating
2022
Château Gloria (St. Julien)

Flowers, black cherries, plums, and chocolate hit all the right notes. The wine is medium-bodied, silky, elegant, soft, and polished, with layers of plums and cocoa from start to finish. 13.8% ABV. Drink from 2025-2042. 93-95 Pts.

563 Views

Tasted

May 8, 2023

2021
Château Gloria (St. Julien)

Fresh, bright and savory, the red fruits here are soft, sweet and lifted. Medium-bodied, early drinking, bright and crisp, there is an herbal, olive and espresso edge to the soft, polished red fruits that you find in the end notes. The wine blends 61% Cabernet Sauvignon, 19% Merlot, 14% Petit Verdot and 6% Cabernet Franc. Drink from 2024-2036. 89-91

1,552 Views

Tasted

May 20, 2022

2020
Château Gloria (St. Julien)

Showing even better in the bottle than it did in the barrel, this is a stunning vintage for Gloria which kicks off with a gorgeous display of flowers, currants, espresso, tobacco and cedar. The wine is medium-bodied, with ample layers of fresh, vibrant red and black fruits, soft tannins and a savory edge to the elegant, supple finish. If you have not tasted Gloria for a while, this is a great place to start as it competes with many Classified Growths today. Drink from 2025-2045.

1,201 Views

Tasted

Mar 21, 2023

Tobacco, cedar and black currants create the nose. On the palate the medium-bodied wine is soft, refined, elegant, fresh and a touch savory, finishing with blackberry, cocoa, currants and earth. Give this 4-6 years in the cellar and enjoy it for about 2 decades after that. 92-94 Pts

2,639 Views

Tasted

May 20, 2021

2019
Château Gloria (St. Julien)

Black currants, English breakfast tea, orange rind and cigar box are on the nose. On the palate., the wine is fresh, sweet, soft and elegant, as well as juicy, crisp and vibrant. The tannins are soft and polished, the wine finishes with loads of creamy cassis and a touch of chocolate on the backend. Drink from 2027-2040.

4,195 Views

Tasted

Mar 29, 2022

Wow', was the first word that crossed my path as soon as I met this beauty. Texturally, this wine rocks with its layers of lush, soft, polished, elegant, ripe, succulent fruits. The black and red berries glide over your palate with no hard edges, leaving with waves of sweet, ripe, rich, concentrated, full-bodied, pure black, red and blue fruits. This is a super wine that is clearly a contender for the best wine ever produced at Gloria! 93-95 Pts

5,777 Views

Tasted

Jun 8, 2020

2018
Château Gloria (St. Julien)

Flowers and currants aromas are backed up by wet earth, cedar, tobacco and espresso. On the palate the wine is elegant, soft and juicy with loads of sweet berries, lift and focus. There is freshness and length in the finish. Give this 4-6 years in the cellar and enjoy it over the following 2 decades. The wine was made from a blend of 61% Cabernet Sauvignon, 26% Merlot 8% Petit Verdot and 5% Cabernet Franc.

2,918 Views

Tasted

Mar 9, 2021

Floral, espresso, blackberry and tobacco aromas are only the drum roll. The action here is on the palate with its lush, ripe tannins, freshness and smooth, fresh fruits. It is hard to believe this is better than the beautiful 2016 but it is! The wine was made from a blend of 61% Cabernet Sauvignon, 26% Merlot 8% Petit Verdot and 5% Cabernet Franc. 93-95 Pts

4,499 Views

Tasted

Apr 19, 2019

2017
Château Gloria (St. Julien)

Fresh, bright, sweet crisp and fresh, the wine is medium-bodied, with ample ripe red fruits, herbs, tobacco and cedar to make it interesting.

3,517 Views

Tasted

May 14, 2020

Espresso bean, cassis, licorice, tobacco and dark cherry fruits are easily available here. The wine is medium bodied, soft, and will be easy to enjoy in its youth. The wine was made from a blend of 61% Cabernet Sauvignon, 26% Merlot 8% Petit Verdot and 5% Cabernet Franc.

2,531 Views

Tasted

Apr 26, 2018

2016
Château Gloria (St. Julien)

Elegant, fresh, floral, refined and with a real Saint Julien refined character, the wine has concentration focus, energy, ripe red fruits and freshness. This is easily the best wine produced in the history of the estate.

8,078 Views

Tasted

Sep 21, 2019

Forward, fresh and refined, the deep red fruits, espresso, wet earth and spice combine to produce an outstanding wine of character and charm. This is clearly in contention to end up as the finest vintage Gloria has ever produced.

7,440 Views

Tasted

May 13, 2018

Exotic tobacco, anisette and fresh-picked currants on the nose. On the palate, the wine is well coiffed and fresh. The fruit is clean and pure and the perfume lingers in your brain. This is clearly the best wine ever from Gloria. The wine was made from a blend of 60% Cabernet Sauvignon, 30% Merlot 7% Cabernet Franc and 3% Petit Verdot.

7,172 Views

Tasted

Apr 29, 2017

2015
Château Gloria (St. Julien)

This is just a terrific wine and value. Elegant, refined, fresh, lively, and with an earthy, ripe, dark, red berry character that grows and expands in the glass and on your palate. Medium/full bodied, this will be just great with 5 years or so in the bottle.

4,370 Views

Tasted

Mar 12, 2018

Elegant, polished, fresh, medium bodied with a really nice character to all its sweet, black and dark red fruits.

4,839 Views

Tasted

Jul 12, 2017

Licorice, black raspberries and earth create the perfume that leads to a finish laced with freshness, cherries and thyme. This medium-bodied, finesse-styled wine was produced from a blend of 60% Cabernet Sauvignon, 27% Merlot, 7% Petit Verdot and 6% Cabernet Franc. The wine will be aged in 45% new, French oak barrels for about 14 months. The harvest took place from September 21 to October 7. This one should drink well early. If this develops well, and it should, this will be a contender for the best vintage Gloria has ever produced. 91 - 93 Pts

5,250 Views

Tasted

Apr 20, 2016

2014
Château Gloria (St. Julien)

Medium bodied, fresh and refined, there is a marked, energetic, red berry quality to the wine that allows it to deliver a bright, elegant, fresh, cherry and cassis note that really sings. This is a contender for the best value in a top Left Bank for 2014.

5,857 Views

Tasted

Feb 2, 2017

Filled with ripe boysenberry, deep chocolate, flowers and sweet black cherries, this wine treats the palate to lush, creamy tannins and a lengthy finish chock-a-block with fresh fruit. Produced from a blend of 60% Cabernet Sauvignon, 30% Merlot, 6% Petit Verdot and 4% Cabernet Franc, this wine should drink well early. The wine will be aged in 45% new, French oak barrels for about 14 months. 91-93 Pts

7,436 Views

Tasted

May 11, 2015

2013
Château Gloria (St. Julien)

With a touch of oak, licorice and black cherry, this medium bodied, forward, freshly styled wine, finishes with red plums and a hint of cranberry.

5,206 Views

Tasted

Feb 9, 2016

Dark red berries, espresso and fennel add some complexity to this soft, forward wine. Showcasing cherry, earth and licorice, this wine was successful for the vintage. 88-89 Pts

2,349 Views

Tasted

Apr 20, 2014

2012
Château Gloria (St. Julien)

Forward and open in style, with soft tannins, medium body and good freshness to the ripe, dark, red fruits. The wine was produced from a blend of 63% Cabernet Sauvignon, 27% Merlot, 5% Cabernet Franc and 5% Petit Verdot.

4,966 Views

Tasted

Mar 11, 2015

Licorice, smoke, coffee and dark berry aromas lead to a polished, soft, medium/full-bodied Gloria that's slightly oaky, but still appealing. 89-91 Pts

5,504 Views

Tasted

Apr 23, 2013

2011
Château Gloria (St. Julien)

This is really quite strong for the vintage. Open and forward, this medium bodied, dark cherry, licorice and mocha profile is made even better with the soft, dark red fruits in the finish.

4,639 Views

Tasted

Feb 16, 2014

Coffee, smoke, jam and blackberry scents in the nose. Medium-bodied with a supple, round, sweet black cherry finish. 90-91 Pts

6,516 Views

Tasted

Apr 13, 2012

2010
Château Gloria (St. Julien)

With ample ripe blackberry, chocolate, spice and espresso, this tannic, powerful vintage of Gloria is built to age and evolve. It has the depth and structure to improve for years. From a blend of 66% Cabernet Sauvignon, 28% Merlot and 6% Petit Verdot, this is one of the best buys from St. Julien in this vintage.

11,971 Views

Tasted

Feb 8, 2013

2009
Château Gloria (St. Julien)

I like how this is showing today. Mature and ready to, the wine is medium-bodied, elegant, refined, fresh and focuses you on its ripe red, earthy fruits and tobacco leaf notes easily. Drink this now and over the next 12-15 years.

4,492 Views

Tasted

Sep 26, 2019

Medium.full bodied with fresh blackberry, chocolate and cherry scents, this supple textured, ripe, sweet wine will compete with many classified growths in a blind tasting. At just under $40, this blend of 61% Cabernet Sauvignon, 27% Merlot, 6% Cabernet Franc and 6% Petit Verdot is a Bordeaux wine worth buying.

14,950 Views

Tasted

Feb 5, 2012

2009 Gloria offers earth, berries, and fennel in the nose. This medium bodied, elegantly textured St. Julien should drink well early. 89-91 Pts

14,988 Views

Tasted

Aug 26, 2010

2008
Château Gloria (St. Julien)

Ready to go, this medium bodied, elegant charmer hits the spot with its soft, pure, earthy, spicy red fruit character. You can enjoy this now, and over the next decade and probably for at least a few more years after that.

3,395 Views

Tasted

Sep 17, 2018

2008 Gloria offers cassis and dark cherry with herbs in the nose. Already drinking well, this medium to full bodied, easy to drink wine should offer pleasure early. 90 Pts

10,432 Views

Tasted

Jul 20, 2010

2007
Château Gloria (St. Julien)

Medium bodied, easy drinking, fully mature wine showing equal amounts of secondary, earth, tobacco and forest aromatics as red fruit, this requires drinking over the next 3-5 years.

4,162 Views

Tasted

Sep 2, 2017

2006
Château Gloria (St. Julien)

Tobacco, cocoa, wet earth, mushroom and thyme aromas show a wine that is developing nicely. On the palate, the wine is medium bodied, soft, fresh and offering a melange of blackberry and plums in the endnote. You can drink this now, or give it a few more years for more complexity.

3,305 Views

Tasted

May 25, 2016

This finesse styled wine has gotten much better over the past years. Tobacco, earth and black cherries are in the forefront, followed by soft, delicate textures and a spicy, fresh, red berry finish.

5,597 Views

Tasted

Jul 26, 2013

2005
Château Gloria (St. Julien)

Showing light ruby with bricking in the color, the earthy, tobacco and cedar chest nose, with its medium bodied, soft, red berry finish is clearly in a good place today. However, a few more years could help soften the tannins and bring out a bit more in the nose.

4,639 Views

Tasted

Jun 28, 2015

With a perfume of blackberries, tobacco, herbs, cassis and black cherry, this medium/full bodied St. Julien is already showing well. A few more years and this should be at perfection.

11,679 Views

Tasted

Sep 5, 2011

2004
Château Gloria (St. Julien)

Medium bodied with a bit too much oak, the black raspberry and crisp, red plum and leafy profile are serving up all it has to offer. I'd opt for drinking this sooner than later.

4,731 Views

Tasted

Jan 4, 2015

Medium bodied, with good freshness, but lacking in concentration, this dark, red berry focused wine is a wine that is best enjoyed in its youth.

3,180 Views

Tasted

Jul 26, 2013

2003
Château Gloria (St. Julien)

This charming, developed, medium bodied, soft, earthy, forest floor, kirsch and tobacco filled wine is ready for prime time drinking.

3,889 Views

Tasted

May 17, 2014

2001
Château Gloria (St. Julien)

Medium bodied, elegantly styled, with a fresh, cherry and earthy character, the tobacco and cigar box notes add a lot to the wine. Fully mature, this is ready to go.

4,225 Views

Tasted

Apr 16, 2016

2000
Château Gloria (St. Julien)

If you're looking for power, find another wine. This is about finesse, elegance and current drinkability. The nose offers tobacco, black cherry and earthy scents. The palate is refined, soft and already serving the goods. It's probably not going to make it to old age, but there is no rush to drink this before it hits 20.

4,314 Views

Tasted

May 27, 2013

1990
Château Gloria (St. Julien)

Better on the nose, with its spicy, tobacco laden perfume, than on the medium bodied, red berry, bright palate, as the fruit has clearly started fading. Drink up.

3,569 Views

Tasted

Apr 16, 2016

1982
Château Gloria (St. Julien)

Well past its prime, the wine has lost much of its fruit and is showing mostly, secondary characteristics, with more acidity than fruit on the palate. Not much fun to drink. If you're holding any remaining bottles, I'd finish them sooner than later as this is not going to get better, and will jjjust continue losing fruit.

4,291 Views

Tasted

May 24, 2017

I was surprised how well this small wine was showing at the ripe old age of 30. The earthy, herbal, forest, tobacco, cedar and cassis. medium body and soft textures made this a lot of fun to drink. I would not hold it for further aging as there is not enough stuffing to allow the age much further.

5,573 Views

Tasted

Aug 29, 2012