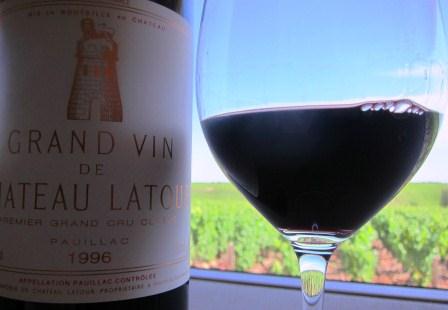 This page is about tasting 1996 Bordeaux wine from the Cabernet Sauvignon dominated wines of the Left Bank.
Like every wine region, all vintages are not created equal in Bordeaux.  Some years  favor the Merlot and Cabernet Franc grapes of the Right Bank.  Other vintages are better for the Cabernet Sauvignon based wines of the Medoc.  In the best years, Bordeaux  produces great wine in every region. 1996 Bordeaux wine is a unique, high quality, vintage for wines that feature mostly Cabernet Sauvignon. These wines come from the appellations located in the Left Bank. Margaux, Pauillac, St. Julien, St. Estephe and to some extent, Pessac Leognan.
1996 Bordeaux wine is to the Left Bank of Bordeaux as 1998 is to the Right Bank.  1996 Bordeaux produced sublime, classic Bordeaux wine. At their best, they are ripe, powerful, rich, concentrated and most importantly, elegantly balanced, wines of finesse.
Pauillac and St. Julien are the true stars of the 1996 Bordeaux vintage. Numerous strong wines were produced in the Left Bank, but the stars came from Pauillac and St. Julien.  What made 1996 Bordeaux such a perfect vintage for Cabernet Sauvignon?
The weather was warm from early March through April. May was relatively cool. June, July and most of August were fine.  At the end of August, a large rainstorm struck. Most of the rain was that fell was located in the Right Bank and to a lesser extent in the Margaux appellation. Almost no rain took fell further north in the Medoc in the appellations of; Pauillac, Saint Julien or in St. Estephe. Conditions were sunny, with warm to hot days, cool to cold nights.  Like many previous years, once again, what really mattered was that September saved the day.  The strong winds helped dry the vineyards. It's said, these winds shaped the vintage. If you want to read about the best Bordeaux value wines from 1996 Bordeaux and from other vintages, Bordeaux Wine Buying Guide Find the Best Bordeaux for the money to buy today (Vintages 1959 to today) If you are interested in reading detailed weather reports on the growing season and the harvest, Bordeaux Year to Year Detailed Vintage and Harvest Reports Guide 1900 to Today.
Most of the following 1996 Bordeaux wines were tasted July, 2011 in Bordeaux at the chateau.
1996   Chateau d'Armailhac – Dark red tea in color, with strawberry and earthy aromas, this medium bodied Pauillac ends with green peppercorn and cherry flavors. This lighter style of Bordeaux wine is past fully mature. 84 Pts
1996  Chateau Branaire Ducru – Ruby colored with hints of bricking, this tobacco laden wine also offers coffee, smoke, cassis, dark berries and spice scents. Soft, elegant, approachable and round, this mature wine ends with soft textured dark berries and mocha flavors. 92 Pts
1996 Chateau Clerc Milon – From a blend of 51% abernet Sauvignon, 37% Merlot, and 12% Cabernet Franc, this fully mature Pauillac displayed cassis, tobacco and truffle in the aromas. With a medium body, this Pauillac ended with with sweet, black cherries and spice flavors. . This Bordeaux wine is fully mature. There is no reason to age it any longer as it will not improve. 89 Pts
1996 Chateau Cos d'Estournel – What a difference this was compared to the previous bottle I tasted. This delicious St. Estephe produced from a blend of 65% Cabernet Sauvignon and 35% Merlot offers truffle, tobacco, wood, cassis, forest floor, Asian spice and blackberry with hints of mocha in the aromatics. Powerful, full bodied, round and classy, the wine is starting to enter maturity, ending in a long, spicy, black cherry and earthy finish. It's drinking great today, but in a few more years, it's going to be even better.
1996 Chateau Ducru Beaucaillou –   Forest floor, cedar wood, menthol, blackberry, crème de cassis, leather and 5 spice aromas pop within moments of being poured. Full bodied and packed with ripe, dark berries, the wine ends with a long, fresh, ripe, cassis filled finish. Still young, this will age well.  94 Pts
1996 Chateau – From a blend of 75% Cabernet Sauvignon and 25% Merlot, this still tannic and youthful Pauillac delivered scents of tobacco, cassis,gravel, smoke, spice and forest floor. Concentrated, powerful and still tannic, this large scaled, broad shouldered, Bordeaux wine needs at least another 5-7 years before it softens and comes together. 94 Pts
1996 Chateau Gruaud Larose-  opened with barnyard, tobacco, earth and unclean aromas. Medium to full bodied with a lean, rustic personality and an earthy, cassis flavored finish, this is not a success for a vintage where so many great wines were produced in the Medoc. I do not see this wine improving with age. 85 Pts
1996 – Chateau Haut Brion is filled with smoke, tobacco, cigar box, ash, kirsch, blackberry and licorice aromatics. This is a big, chewy, masculine style of Haut Brion. Tannic and tight, this needs time to develop and flesh out. Another 10 years will allow this to mature into something special. 95 Pts
1996 – Chateau dIssan – Light ruby with bricking in the color, cassis, truffle, tobacco, forest floor and sweet licorice aromas are found in the nose. Full bodied with soft textures, there is some tannin remaining that needs to be resolved. The mid palate shows a minor hint of green. A few more years will add complexity. 90 Pts
1996 – Chateau La Mission Haut Brion is a firm, structured, tannic, masculine style of wine. Interestingly, that what I was expecting to find in the 95. This is a clear case of role reversal. With tobacco, cassis and stone aromas, this powerful wine needs another 5 years to sort itself out. 91 Pts
1996 – Chateau Latour offers a complicated nose of truffle, licorice, tobacco, cassis, cloves, cinnamon, cocoa, cigar box, cedar chest, black plums and ash. The perfume gains additional layers of fragrances with each swirl and sniff. This Bordeaux wine is perfectly balanced, harmonious and intense. Full bodied, rich and concentrated with pure dark, spicy fruits, this is easily described as power blended with elegance. The seamless finish ends with countless waves of ripe, cassis, spice and blackberry. While already approachable, this stunning wine will continue evolving and improving for decades.  Sonia from Latour made the perfect comment about the wine saying, "The 96 Latour speaks to you for hours, meaning the wine develops well in the glass and continues offering new aromatics with each breath you take of the perfume." She was right. 99 Pts
1996 – Chateau Leoville Las Cases –  Served double blind, my first introduction to the wine was the strong perfume that was filled with crushed stone, tobacco, cassis, smoke, earth and blackberry. Powerful, intense, full bodied, tannic and deep, this Bordeaux wine combined concentration and finesse for a wine of First Growth quality. While the wine had ample stuffing and structure to age for generations, the tannins were so ripe and round, this was already approachable. Classy and stylish, with a long, pure, cassis filled finish, this is now one of my favorite vintages of Leoville Las Cases. 98 Pts
1996 – Chateau Leoville Poyferre – Filled with truffle, smoke, licorice and cassis, the wine is structured, ripe, round and ends with a delicious, sweet black cherry filled finish. At 15, this is drinking great and should remain at this level or improve a little bit for at least another 15 or more years. 93 Pts
1996 – Chateau Lynch Bages – Ruby with hints of slight bricking around the edges, this maturing wine displays scents of cedar wood, damp earth, cassis, mushroom and cigar box aromas. The wine is full bodied, tannic and concentrated. In the mouth, it's like taking a big bite of juicy Cabernet Sauvignon. This is developing nicely and will continue improving for at least another 20 more years. 94 Pts
1996 – Chateau Margaux – Showing deep ruby with bricking at the edges on the color, this stunning Chateau Margaux is filled with complex aromas of Cuban cigars, truffles, flowers, spice, ash, blackberries, tobacco, cassis, stone and fennel. In the mouth, the wine gushes over your palate with sensations of sweet crème de cassis, tobacco and roasted cherries. The silk and powerful finesse finish remains on your palate for over 60 seconds. This is already starting to show well at 15 years of age. This special Bordeaux wine has the fruit and structure needed to continue developing for at least another 20-30 or 40 years! 98 Pts
1996 Chateau Montrose< - Crushed stone, tobacco, cassis, spice, cigar box, earth and barnyard aromas are found with only a little swirling. The nose is the best part of this Bordeaux wine. Full bodied, powerful, tannic and with an austere leaning, this vintage of Montrose is more of an old school style of St. Estephe. 90 pts
1996 Chateau Mouton Rothschild – From a blend of 77% Cabernet Sauvignon, 13% Merlot and 10% Cabernet Franc, the wine opens with tobacco, cigar box, crème de cassis, minerality, damp earth, fennel, smoke, and an array spice box aromas. Full bodied and powerful, this Bordeaux wine awards you with a juicy, rich mouthful of fresh, ripe cabernet sauvignon. The long finish ends with a blast of blackberry, spice and black cherry. While already showing well, this special Pauillac wine will gain additional complexity along with more opulent layers of texture with time. 96 Pts
1996 – Chateau Pibran – Pale ruby with bricking in color, scents of cedar chest, cherries and leaves lead to a medium bodied wine that ends with light red and black fruits and tart cranberry. This wine is already in decline. 83 Pts
1996 – Chateau Pichon Lalande – Truffles, cigar smoke, dark berries, cassis, cedar wood, spice, tapenade, anise and damp forest scents open to a suave, rich, full bodied, silky, fresh, polished, sensuous wine with multiple layers of ripe, black fruits. The long, clean, black cherry finish with sensations of velvety tannins remains in your mouth for close to 50 seconds. At 15 years of age, this is starting to its true character. It seems to get better with every tasting. Drink this delicious Bordeaux wine now and over the next 20 years. 97 Pts
1996 – Chateau Pichon Baron – From a blend of 80% Cabernet Sauvignon and 20% Merlot, this fully mature Pauillac offered scents of tobacco leaf, cassis, cedar wood and earthy forest notes. Fully mature, this medium/full bodied, lighter style of Pichon Baron offers soft textures with a cassis filled finish. 91 Pts
1996 – Chateau Pontet Canet – Tobacco, earth, smoke and dark berries make up the perfume. The third vintage produced under the supervision of Alfred Tesserson is full bodied and filled with crunchy, chewy Cabernet Sauvignon. In a slightly firm style, this chunky wine ends with cassis and a hint of greenness. The wines being made by Tesseron today bear no resemblance to the earlier, pre 2003 vintages. 90 Pts