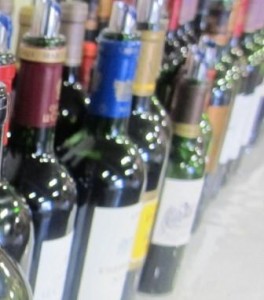 A list of the best Bordeaux wine for the money to buy today. 1959 – Today, Value Bordeaux wine buying guide…
The best wines are not always the best deals. This page is a list of the best Bordeaux wines that combine quality, price and character from every major Bordeaux appellation from today all the way back to 1961.

What should average consumers, Bordeaux wine lovers, addicts and everyone else in between be looking to buy today before wines become even harder to find and more expensive? We can all use help to make smart buys. If you're seeking savvy, value Bordeaux wine buying tips, or hints on great value Bordeaux wines, this page will help you save money, and get the best wines possible.
If you are interested in learning more about Bordeaux wine, we offer numerous articles on everything about Bordeaux wine, from a history of the Bordeaux region and the famous 1855 Classification, to the grapes used to produce Bordeaux wine and even vintage summaries covering Bordeaux wine from 1900 to today: All About Bordeaux Wine Guide
If you're looking for deals, and are willing to consider previous vintages, you've come to the right place. If you want to read details on what these or other wines are like in taste, character and style, please try the easy to use, Wine Tasting Note Search Function
Some people and even the wine press complain about high prices for Bordeaux wines. To back their contention, they cite the same few wines over and over again as examples. A lot of  Bordeaux wine is expensive these days. But Bordeaux as an expensive region does not paint an accurate picture of the majority of the wines being produced. The truth is, much of the press focuses on an extremely small number high priced wines, The First Growths and a few Right Bank glamour wines. Those Chateaux represent a minor fraction of the in-demand wines most of us desire, drink and discuss. There are countless great, value Bordeaux wines and we're here to offer some tips. For a look at the best Bordeaux appellations with a reputation for consistently producing high quality, Bordeaux value wine: Bordeaux Value Wine Appellation Guide
Bordeaux continues to represent the best priced region for people seeking high quality red wines with character, coupled with the ability to age and evolve into something special. The wines are made in large enough volume enabling most people the opportunity to purchase them without much difficulty. Even with today's spiraling prices, a lot of great wine is available at reasonable rates. There are countless value Bordeaux wines available. Americans have a great opportunity because much of what is available was purchased when our dollar was stronger and prices do not reflect current replacement costs on older stocks.
For a quick check on replacement costs and to see what our friends across the pond have to pay for Bordeaux, log onto any of the top British wholesalers like Farr Vintners, Bordeaux Index, Turville, Justerini & Brooks, Corny & Barrow or others. In time, those prices will be what we pay because those merchants are cheaper than Negociants and they sell wines to several American stores. Something to else to note, most UK merchants sell only full case lots and they do not take Credit Cards.
Deciding what value Bordeaux wine to purchase depends on your amount of disposable income, age, what is already in your cellar and the level of maturity you want to drink your wines at. If your focus is buying 2009, unless you've been able to taste the wines, read as much as possible and pay attention the critics you trust. 2009 produced a myriad of wines that need to be in any Bordeaux lovers cellar.
The links below bring you to recommendations for some of the best values produced in each vintage from the current year, all the way back to 1959. However, it is important to note that the wines we are talking about here are not a list of recommendations for inexpensive, or even solely focused on value Bordeaux wine. Although I have tried to mention as many reasonably priced, value Bordeaux wines as possible. This list was put together to help you find the best Bordeaux wines combining quality with price. The best deals are for the younger vintages. As Bordeaux wine gets older, it's harder to find and it offers a better, more unique sensory experience. With that in mind, often the wines can become expensive. This page offers links to the best value Bordeaux wines for the money.