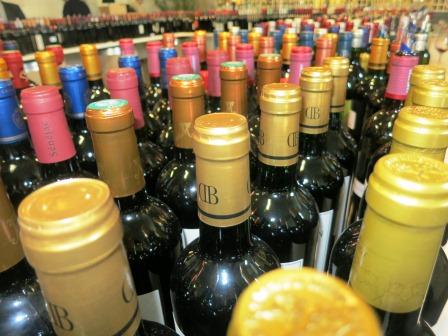 The 2012 Bordeaux value wine guide is for the purpose of helping you find the best values from all the top wines in every appellation.
To understand what took place during the growing season for 2012 Bordeaux, based on exclusive interviews with the top wine makers and chateaux owners; Conversations with chateau owners and wine makers on 2012 Bordeaux wine To read detailed tasting notes on the best 350 wines from the 2012 Bordeaux vintage: The best 350 wines from 2012 Bordeaux
2012 Bordeaux will be known as the year that almost was. Following on the poorly received 2011 vintage, the wines from 2012 are considered classic in style. Classic for 2012 is a positive term and not pejorative. It's a vintage that requires some homework as many wines are much better than others. Pomerol is clearly the star of the appellation. In fact, numerous Pomerol chateaux made very fine wines. Due to the mixed reputation of the vintage, Pomerol which is one of the most expensive Bordeaux appellations, (due to its small size and high level of quality) offers some nice 2012 Bordeaux value wines.
If you're wondering about the "Year that almost was" comment, that's easy to explain. Demand for 2012 Bordeaux was moderate. Even though the chateaux were well aware of the worldwide, tepid level of demand, many charged far too much money for their wines. Classic vintages are never in big demand as futures. Classic years are for drinkers, not collectors. Normally, classic vintages are priced accordingly. There are numerous over priced wines from 2012 that remain unsold.
However, once you look past the overpriced offerings, there are wines that merit purchasing for the quality and the price. Interestingly, this starts with The First Growths. Not that $350 is inexpensive, it's not. That is a lot of money for a wine. But Chateau Mouton Rothschild, Chateau Haut Brion and Chateau Margaux all produced outstanding wines and in 2012, the wines were all priced below any available, older vintage in the marketplace. For tips on other Bordeaux value wines and vintages: Bordeaux Wine Buying Guide Find the Best Bordeaux for the money to buy today (Vintages 1959 to today)
As I mentioned, Pomerol is the star appellation of the vintage. There are other successful 2012 Bordeaux value wines from St. Emilion and a few good picks from the Left Bank as well. If you have the money, the best wine from the vintage to purchase is Chateau L'Eglise Clinet. The wine would be a stunning Pomerol in any year. In 2012, it's a remarkable achievement that is not far from the quality of Petrus.
As a consumer, my view remains that if you make a good wine and sell it for a fair price, the wine will sell. These are the best 2012 Bordeaux value wines that deserve your attention and if you like the wines, your money. 2012 Bordeaux value wines are not coming from the satellite appellations. While some of those wines are worth looking at, they should not be purchased as a future. If you are interested in any of those wines, it's much better for you to buy them on release when they arrive in your local stores. All the following 2012 Bordeaux value wine picks represent high quality wines at fair prices. These are wines for drinkers, not for collectors. Simply put, while a few of these wines will offer good investment potential, most of these 2012 Bordeaux value wines will simply offer a lot of pleasure at fair prices, which is what most consumers are seeking today.
2012 Barde Haut
2012 Beausejour Duffau
2012 Brane Cantenac
2012 Cantenac Brown
2012 Clos du Clocher
2012 Clos Fourtet
2012 Clos Marsalette
2012 Croix de Labrie
2012 L'Eglise Clinet
2012 Feytit Clinet
2012 Fleur Cardinale
2012 La Fleur de Gay
2012 Le Gay
2012 Haut Bergey
2012 Haut Brion
2012 Larcis Ducasse
2012 Le Moulin
2012 Malescot St. Exupery
2012 Margaux
2012 Mouton Rothschild
2012 Pavie Macquin
2012 La Pointe
2012 Pontet Canet
2012 Rauzan Segla
2012 Rouget
2012 Troplong Mondot
2012 Trotanoy