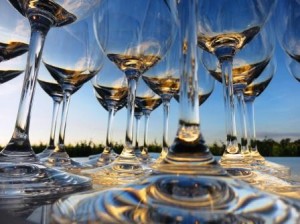 This page offers tips for the best 2012 Bordeaux wines, the top value wines from the 2012 Bordeaux and should be used as a buying guide on what are the 2012 Bordeaux wines that deserve to be seriously considered for buying. Each of the links brings you to a page filled with 2012 Bordeaux wine tasting notes, ratings, reviews and images. By clicking on any of the links in the pages, you can also access complete profiles of each chateaux and find links to buy the wines if you desire.
If you want to read detailed interviews from the top Bordeaux wine makers from every major appellation that offer detail and personal insight on the 2012 Bordeaux vintage: 2012 Bordeaux Harvest Reports, News, Interviews and Photographs
Most 2012 Bordeaux has been priced and is now offered for sale. While many wines are in my opinion priced too high to make them attractive as a future, there are wine worth looking at, that combine quality, character and price in all price ranges. If you have the disposable income, while they are not inexpensive, The First Growths are all fairly priced. There are few older vintages of any of those wines available for less in the market place. Haut Brion produced a strong wine that is worth considering. The same can be said for Chateau Mouton Rothschild, Chateau Margaux and Chateau Lafite Rothschild. Chateau Latour is no longer sold as a future.
The Left Bank is not nearly as successful as the Right Bank in 2012. Yet, there are wines worth considering. Chateau Rauzan Segla came out at an attractive price and the wine is one of the best 2012 Bordeaux wines. Chateau Pontet Canet is another wine worth buying. Theses are only a few examples with looking at. The list of names is not deep, but there are wines well worth considering from the Medoc and Pessac Leognan.
The Right Bank once again is the star of the vintage! At most estates, the Merlot was picked at an optimum of ripeness. That places Pomerol at the top of the 2012 Bordeaux quality pyramid. If you're looking for value, check out Chateau Feytit Clinet. It could be the best wine they have produced yet. For other values, look at Chateau La Croix St Georges, Clos du Clocher and Latour a'Pomerol. If you want to take a chance on what could easily be the wine of the vintage, 2012 Chateau L'Eglise Clinet, which has not been priced yet, is the wine to buy. There are other Pomerol wines worth taking a serious look at.
2012 St. Emilion is more of a mixed bag. 2012 Bordeaux from St. Emilion requires consumers to look at each wine on a chateau by chateau basis as some estates did much better than others. 2012 Sauternes is the product of a very difficult vintage. Some estates, for example, Chateau d'Yquem declassified their entire harvest. Others followed their example. Things were much better in Barsac.
While much of the success found in 2012 came from producers at the top estates, with the money, technology and ability to declassify, as well as practice a ruthless selection process, interestingly, several Merlot dominated vineyards known for making fine Bordeaux wines also turned out good performances.
For details on what appellations and chateau produced the best wines, follow any of the links for detailed 2012 Bordeaux tasting notes, ratings and reviews.
<a "title="Permanent Link to 2012 Pomerol Bordeaux Wine Tasting Notes in Barrel Ratings" href="https://www.thewinecellarinsider.com/2013/04/2012-pomerol-bordeaux-wine-tasting-notes-in-barrel-ratings/" rel="bookmark">2012 Pomerol Bordeaux Wine Tasting Notes in Barrel Ratings
<a "title="Permanent Link to 2012 St. Emilion Bordeaux Wine Tasting Notes in Barrel Ratings" href="https://www.thewinecellarinsider.com/2013/04/2012-st-emilion-bordeaux-wine-tasting-notes-in-barrel-ratings/" rel="bookmark">2012 St. Emilion Bordeaux Wine Tasting Notes in Barrel Ratings
<a "title="Permanent Link to 2012 Pauillac Bordeaux Wine Tasting Notes In Barrel Ratings" href="https://www.thewinecellarinsider.com/2013/04/2012-pauillac-bordeaux-wine-tasting-notes-in-barrel-ratings/" rel="bookmark">2012 Pauillac Bordeaux Wine Tasting Notes In Barrel Ratings
<a "title="Permanent Link to 2012 St. Julien Bordeaux Wine Tasting Notes In Barrel Ratings" href="https://www.thewinecellarinsider.com/2013/04/2012-st-julien-bordeaux-wine-tasting-notes-in-barrel-ratings/" rel="bookmark">2012 St. Julien Bordeaux Wine Tasting Notes In Barrel Ratings
<a "title="Permanent Link to 2012 Margaux Bordeaux Wine Tasting Notes In Barrel Ratings" href="https://www.thewinecellarinsider.com/2013/04/2012-margaux-bordeaux-wine-tasting-notes-in-barrel-ratings/" rel="bookmark">2012 Margaux Bordeaux Wine Tasting Notes In Barrel Ratings
<a "title="Permanent Link to 2012 Pessac Leognan Wine Tasting Notes in Barrel Ratings" href="https://www.thewinecellarinsider.com/2013/04/2012-pessac-leognan-wine-tasting-notes-in-barrel-ratings/" rel="bookmark">2012 Pessac Leognan Wine Tasting Notes in Barrel Ratings
<a "title="Permanent Link to 2012 St. Estephe Bordeaux Wine Tasting Notes in Barrel Tastings" href="https://www.thewinecellarinsider.com/2013/04/2012-st-estephe-bordeaux-wine-tasting-notes-in-barrel-tastings/" rel="bookmark">2012 St. Estephe Bordeaux Wine Tasting Notes in Barrel Tastings
<a "title="Permanent Link to 2012 Haut Medoc Wine Tasting Notes, Ratings from Barrel Tastings" href="https://www.thewinecellarinsider.com/2013/04/2012-haut-medoc-wine-tasting-notes-ratings-from-barrel-tastings/" rel="bookmark">2012 Haut Medoc Wine Tasting Notes, Ratings from Barrel Tastings
<a "title="Permanent Link to 2012 Bordeaux Value Wine Tasting Notes in Barrel Ratings" href="https://www.thewinecellarinsider.com/2013/04/2012-bordeaux-value-wine-tasting-notes-in-barrel-ratings/" rel="bookmark">2012 Bordeaux Value Wine Tasting Notes in Barrel Ratings
If you want to read more about the 2012 Bordeaux vintage: <a "title="Permanent Link to 2012 Bordeaux Vintage Report and Harvest Summary" href="https://www.thewinecellarinsider.com/2013/02/2012-bordeaux-vintage-report-and-harvest-summary/" rel="bookmark">2012 Bordeaux Vintage Report and Harvest Summary