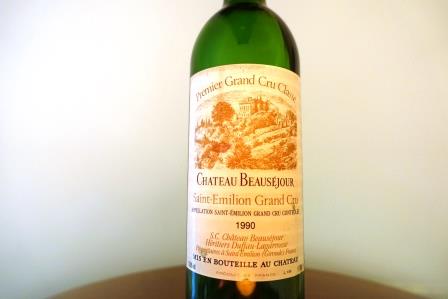 1990 Bordeaux Wine Vintage Report and Buying Guide
1990 Bordeaux remains one of the top vintages of the 20th century.  Like all vintages, its character was shaped by the weather.  1990 was the hottest vintage to follow 1947.   All great Bordeaux vintages spring from hot years and 1990 Bordeaux was no exception.
July and August were dry and hot. In fact, at the time, 1990 Bordeaux was the hottest summer on record. Only 1928 reached higher average temperatures for the month. Interestingly, while hot, the growing season was not dry, especially in September.   Similar to what happened in 2009, producers claim the rains fell at just the right time. The moisture allowed the grapes to reach higher levels of ripeness and increase their sugar and potential alcohol levels.
1990 Bordeaux continue improving and thrilling wine lovers.  They are rich, roasted, velvety, intense, sensual expressions of Bordeaux wine. Plus, the quality of the vintage allowed great 1990 Bordeaux wine to be produced at all levels in every appellation. The Left Bank, The Right Bank and Pessac Leognan were all equally successful in producing sublime 1990 Bordeaux wine.
Most of the wines are now reaching full maturity. If well stored, they should remain at this level until at least 2025, before slowly declining.  1990 Bordeaux is also a great vintage for the sweet white wines of Sauternes. The following tasting notes were based on 1990 Bordeaux wines tasted in 2010, 20 years after the vintage. The bottles were sourced and tasted at the chateau in Bordeaux for the majority of wines in this article.
If you want to read about the best Bordeaux value wines from 1990 Bordeaux and from other vintages, Bordeaux Wine Buying Guide Find the Best Bordeaux for the money to buy today (Vintages 1959 to today) If you are interested in reading detailed weather reports on the growing season and the harvest, Bordeaux Year to Year Detailed Vintage and Harvest Reports Guide 1900 to Today.
1990 Château Angelus, St. Émilion
Intense aromatics demanding your attention are filled with truffle, licorice, plums, olives, spice, blackberry, tobacco and hints of espresso. Silk and cashmere textured waves of juicy, fennel coated berries caress your palate. The wine ends with lush, ripe, rich plums and cassis. While probably close to fully mature, if it's well stored, the wine should offer pleasure for at least another 15-20 more years. 97 points
1990 Château Beausejour Duffau-Lagreosse St. Émilion
It explodes from the glass with an array of ripe scents blackberry liqueur, caramel, tobacco, licorice, jam and espresso. Opulent decadence, is either the name of a Porn Star, or what this wine deserves to be called. Rich, deep, concentrated and intense, the amazing mouth coating finish fills every nook and cranny of mouth, palate and sense. This amazing wine is young and will only get better with time. 99 points
1990 Château Branaire Ducru St. Julien
This is fully mature. With a light berry and spice nose, this medium bodied wine does not compete with the level of quality being produced at the property today. As a matter of style, this traditionally made wine is slightly austere and lacks the freshness, as well as the depth and ripeness offered in current vintages from 2000 on. Drink up. 88 points
1990 Château Brane Cantenac  Margaux
This light ruby colored wine was showing signs of age. With complex aromatics of tobacco, truffle, cassis and fresh leaves were a pleasure to spend with, Medium bodied with elegant textures, the wine finished with spicy cassis. 89 points
1990 Canon La Gaffeliere  St. Émilion
This is ruby with tea color. Truffle, tobacco, black berries, fennel and fresh herbs aromas start the perfume. Elegant, silky textures and a round mouth feel , coupled with a finish filled with ripe, sweet strawberries make this fully mature, charming wine a treat to drink. 93 points
1990 Château Certan de May Pomerol
Already fully mature and surprisingly light for the vintage, the herbal, spicy, blackberry nose is the best part of the wine. The light entry and short finish are nothing to get excited about. Drink up. 88 points
1990 Château Cheval Blanc St. Émilion
With an intoxicating perfume of fresh truffles, tobacco, ripe plums, smoke, coconut and kirsch, this wine grabs your attention. Full bodied and concentrated with exotic, velvety, decadent textures, the wine finishes with a sensuous, kinky black cherry and kirsch component. As good as it is, this will only get better wine more time! 98 points
1990 Château Clinet Pomerol
Rich, chocolate coated plums, truffles, spice, flowers, licorice, coffee bean and black cherry aromas couple with decadent, silk and velvet textures that end in multiple waves of opulent, plush, ripe, voluptuous, sweet fruit. This wine seems to improve every year and is not far off from the legendary 1989. 97 points –
1990 Château Clos St. Martin St. Émilion Grand Cru
Light ruby with bricking in the color. The nose of strawberry and spice accompanied this fully mature wine which finished with hints of dark fruit. Drink up. 84 points
1990 Château La Conseillante Pomerol
1990 is filled with fresh, ripe plum, chocolate, spice, floral and truffle aromas. This elegant, suave, plush, sexy wine feels like polished silk and velvet as it flows over your palate, The finish is filled with chocolate covered plums and black raspberries. This wine might improve, but there is no reason to wait as it delivers a sublime drinking experience today. The wine remained at the same high level for over two hours in the glass & bottle. 97 points
1990 Château Cos d'Estournel St. Estèphe
Scents redolent of dried leaves, blackberries, wood, smoke and tea. Opulent in texture,  but slightly light in feel. The silky finish has some dry tones.  This wine is fully mature. I would not purchase it for further cellaring. If you own it, drink it over the next 5 years from today. 92 points
1990 Château L'Evangile Pomerol
The initially closed nose opened after much coaxing to notes of herbs, cherries, strawberries and hints of black fruits. On the palate the wine is pleasant, but it lacks the richness and excitement from previous bottles. I am not clear this bottle was correct. I'm going to open one of mine to compare in the near future as this bottle seemed to have matured far too rapidly.  91
1990 Château Gazin Pomerol
Chocolate, truffle, boysenberry, blackberry, caramel and roasted plum scents open to a mélange of chocolate covered blackberries and elegant textures. The only minor drawback in the wine is at the end of the finish with some green/stemmy flavors. This is a nice fully mature Pomerol that will offer pleasure for at least another 15-20 years. 93 points
1990 Château Grand Puy Lacoste Pauillac
The aromas expresse truffle, cassis, tobacco, cedar, leather and forest floor scents. Still young, this powerful, concentrated, masculine wine offers a big, beefy, juicy mouthful of ripe cabernet fruit. Some tannin remains that needs to be resolved. The wine finishes with cassis and a of hint green pepper which detracted from the otherwise sublime experience. I've had other bottles that did not display green notes that earned a higher score. Still, this is an outstanding example of a traditionally made Pauillac. 94 points
1990 Château Gruaud Larose St. Julien
Interestingly, this is one of the few modern Bordeaux wines that was produced from all 5 varietals. Earth, truffle, smoke, tobacco, fig, plum and cassis scents make up the perfume. Full bodied and filled with ripe, juicy Cabernet Sauvignon, this powerful Bordeaux still tastes young. The wine finishes with spicy cassis and earthy flavors. This will be a very long lived wine. 95 points
1990 Château Haut Bailly Pessac-Léognan
Ruby with bricking in color, this truffle, tobacco, coffee, smoky, cassis and earthy scented wine, is fully mature. With soft textures showing the patina of age the wine ends in an elegant dark, cherry finish. 90 points
      1990 Château Haut Brion Pessac-Léognan
This  is the real deal! Cigar box, smoke, earth, truffle, roasted dark berries, plums and tobaccos aromas make up the perfume. In the mouth, this plush, round, opulent, sexy wine coats your palate. The long , seamless, rich, deep, intense, pure finish is loaded with sweet cassis, chocolate covered blackberry and dark cherries. 98 points 
1990 Château d'Issan Margaux
This opens with earthy ripe, blackberry flavors and hints of mixed, pit fruit jam, licorice, truffle and earthy scents. Soft, ripe and round, the wine finishes with roasted dark berry flavors and fennel. 92 points
1990 Château L'Eglise Clinet Pomerol
Tasting this elixir, all I could think of was liquid silk gliding over my palate. Very richly textured and filled with plums, black and red fruits. The wine continued improving in the glass for several hours. A few more years will improve this wine, but, if anyone wanted to open it today, they will reap the rewards of a sensuous Pomerol. I've tasted this Pomerol on several occasions and perhaps because this was a pristine bottle from the chateau, it was the best example of this wine I've ever tasted. 94 points
1990 Château La Dominique St. Émilion Grand Cru
Light ruby in color. Scents of tobacco, roses, chocolate fudge, earth, minerals, plums and a hint of cinnamon scents waft from the glass. Medium to full bodied and filled with juicy black plums with black cherries that end with opulent, elegant, smooth sensations in the finish. Fully mature, this might not improve, but it's going to deliver ample pleasure for at least another decade. This wine remains a bargain for an almost 20 year old St. Emilion from a great vintage. 92 points
1990 Château La Fleur de Gay Pomerol
Produced from 100% old vine merlot, this beautiful Pomerol offers enticing scents of licorice, truffle, plums, blackberries, flowers, earth, tobacco and dark cherries. Silky, round and sensuous in texture, this hedonistic wine is at its apogee. This sexy wine ends with soft, long, plum, chocolate and black cherry finish. There is no reason to delay your gratification any longer as the wine is fully mature. 94 points
1990 Château La Lagune Haut-Médoc
My last bottle from the original case. All 12 were great! Fully mature, with scents of tobacco, flowers, spice, blackberry and cassis, this soft textured wine will not awards for concentration. But it earns kudos for elegance and charm. This should be consumed by 2015 as it could start to decline by then.  92 points
     1990 Château La Mission Haut Brion Pessac-Léognan
1990 La Mission Haut Brion is an exciting wine. The moment your nose meets the perfume, you know something special is going on. Potent aromatics of tobacco, earth, cedar, hot stones, coconut, blackberry, cassis, tar and spice are easy to find. In the mouth, the wine feels lush, elegant and yet powerful. Balanced and in harmony, this beautiful Bordeaux wine has a long, bright future to look forward to.  97 points
1990 Château Lafite Rothschild Pauillac
A bit of a disappointment. The wine is good. But, at least to me, it's not First Growth in quality. Elegant in style, with its cedar and cassis profile, the fruit is high quality offering a lush mouth feel. But, the finish is moderate and there is not enough concentration to make this really exciting. With another decade, the wine will develop additional complexities, but at least to me, it will never offer a First Growth experience. 92 points
1990 Château Lafleur Pomerol
Exotic, kinky notes of kirsch, coffee and cherry explodes in your face. Tannic, but with mountains of fruit behind it. Massive levels of concentration. This is the iron fist in the velvet glove. 98 points – Tasted Mar 17, 2008
1990 Château Latour Grand Vin Pauillac
Cassis, blackberry, grilled nuts and cedar sparked the aromatics. Still tannic, this needs time. When tasting, I commented how much it reminded me of Leoville  Las Cases. As they are neighbors, that is easy to understand. On the palate, the wine offers a lot of ripe juicy, Cabernet fruit. While stylish, it comes up short for the vintage and a First Growth. This will improve, but as good as it is, it's not at the top level Latour is producing today that started with the 1995. 95 points
1990 Château Le Pin  Pomerol
This is a silky, sexy slut of a wine that puts the kink back into kinky! The mouth feel is pure decadence. The wine slips and slides over every nook and cranny of your palate. The exotic coconut, over ripe dark cherry, black pit fruit, chocolate and plum tinged perfume holds your attention and does not let go. The sultry, sensuous finish remains close to sixty seconds. If I was rich, I'd buy it. 99 points
1990 Château Léoville Barton  St. Julien
Still backwards and with boatloads of tannin, this traditionally styled, masculine, cassis filled wine demands another decade of sleep. 90 points
1990 Château Leoville Las Cases St. Julien
This stunning Bordeaux wine  makes itself known with aromatics of Asian spice, earth, fresh blackberry, caramel, cigar box, tobacco and cassis. This powerful, full bodied, rich, intense wine is polished, sophisticated and intense. It fills your mouth with strong, ripe tannins and round textures. The long, pure, concentrated finish could be mistaken for a top First Growth from a great year. Still young, this can be enjoyed today, but it's only going to get better with time. This is probably my favorite vintage of Leoville Las Cases at the moment. 97 points
1990 Château Leoville Poyferre  St. Julien
Spice, tobacco, cherry blossoms, cassis, truffles, stone and smoke greet your nose. This potent, rich, full bodied, round wine feels great as it pours over your palate. Concentrated, ripe, sweet spicy dark berries and cassis remain on your palate for close to 40 seconds. At 20, this is a good time to start opening your bottles. While it will improve, there is no reason to wait. 96 points
1990 Château Lynch Bages  Pauillac
This powerful wine opens with truffle, cassis, tobacco, earth and barn yard notes. Concentrated and filled with juicy, ripe black berry and cassis flavors, this intense, powerful, concentrated wine is showing well today and with more time, it's going to get better! 95 points
1990 Château Margaux Margaux
Cedar, cassis, wet earth, truffles and floral aromatics put a smile on your face. Similar to 89 Haut Brion, this is an extremely concentrated wine. This is pure silk and velvet. Tasting this Margaux wine   makes me think each berry was polished one at a time giving it an incredible sense of opulence. The tannins are amazingly soft. This was marries power with elegance and grace. The seamless finish appears endless. There is not a hard edge to be found. 99 points
1990 Château Montrose St. Estèphe
Since the day this Bordeaux wine was released, I have always felt 1989 Montrose the better wine of the dynamic duo. 21 years after the 1990 Montrose was made, my view has suddenly changed. The wine remains a deep ruby color. An intoxicating perfume of smoked meat, tobacco, blackberry, barnyard, gritty earth, spice and cassis pops from the wine as it spills into your glass. This wine is powerful, dense and masculine, as well as refined. There are no hard edges to be found. Layers of flavor float all over your palate, teeth and gums. This stunning wine ends with a long, pure, clean cassis, blackberry and spice sensation that seems to last for close to 50 seconds. The mark of all great wines is the ability to improve with age and time in the glass. 1990 Montrose continued improving in the glass for several hours. The problem with this wine has been the massive wall of tannin and amount of brett many bottles have displayed. This example was a very clean wine and as you can see from the note, the tannins have integrated into the wine. While secondary aromas are clearly developed, this is only now starting to become civilized. As good as this bottle is today, it will be better with 10-20 or even 30 more years of bottle age. 99 points
1990 Château Palmer Margaux
Light ruby in color, this elegantly styled wine offers floral scents that were complicated by tobacco, sweet cherries, citrus and smoke. Soft and round, this fully mature ends with kirsch and cassis flavors. 90 points
1990 Château Pape Clement Pessac-Léognan
A light ruby color greets your eyes. Notes of tobacco, smoke, cassis, blackberries & herbs says hello to your mouth. And your palate is met by a ripe, spicy, blackberry pie washed down with a dose of cassis. Very full bodied, rich, silky entry with a good concentration of ripe fruit in the finish. 93 points
1990 Petrus Pomerol
Structured, tannic and concentrated with layers of dark berry, plum, spice, chocolate, flowers and mocha. The palate enjoyed waves of rich, dark, ripe, pure fruit and ample freshness, giving the wine lift. This dense tannic wine demands time before it fully blossoms and offers its full potential. 96 points
1990 Château Pichon Comtesse de Lalande Pauillac
Ruby with light tea coloring at the edges, the perfume offers, cassis, spice, olive and herbal aromas. Medium bodied, this lighter style of Pichon  Lalande finishes with soft, cherry and strawberry flavors. 88 points
1990 Château Pichon Longueville Baron Pauillac
This has a lot in common with the 89. The difference is, the 90 is a little more elegant with a roasted quality. The 89 also appears to have a bit more tannin and structure. Still youthful, this gem of a wine offers an ocean of ripe, spicy, black fruit, licorice, chocolate and more spice. The perfect definition of powerful  elegance. I bought cases of this on release for $35. I should have purchased more. 96 points
1990 Château Pontet Canet Pauillac
Leather, soy and truffles with dark berries made the perfume. Fully mature, on the palate this rustic, old school styled wine showed a hint of green in the finish. Drink up. 85 points
1990 Château Potensac Médoc
Light berry, mushroom, tobacco and spice aromatics, an old school personality and a finish that ends with earth and berry flavors are the hall marks of this fully mature wine. 88 points
1990 Château Rauzan-Segla Margaux
Spice, flowers, licorice, cassis, tobacco and a faint hint of truffle make up the perfume. In the mouth, the wine is full bodied, chewy and almost round in texture. The wine ends in cassis and black cherry flavors with a hint of spicy kirsch in the 35/40 second finish. At 20 years of age, most of the tannin has faded away. The wine fleshed out after an hour in the decanter. 94 points
1990 Tertre Roteboeuf St. Émilion
Licorice, minerality, truffle, plums, cassis, earth, spice and an elegant note of fresh picked raspberry create a complex fragrance. In the mouth, the feels lush, round and soft to the touch, finishing with chocolate, silky black cherry and spice sensations. This wine is fully mature. Over the past few years, the wine has gained in complexity, but its lost some of its density and power. I'm going to finish my case over the next 3-5 years. 93 points
Rich and port like, if you wanted to find this wine in the dictionary, look under decadent, Intense and concentrated, this glycerine filled wine is stuffed with fat, juicy ripe plums, chocolate, spice, truffle, earth, fudge, espresso bean, blueberry and black cherry liqueur. The wine coats your mouth with layers of port like fruit that last close to sixty seconds! Decadent is the perfect word to describe the wine. The levels of concentration found in this bottle of heaven are seldom seen in dry wines. I have high hopes that the 2005 and 2010 will turn out this well at maturity. 98 points