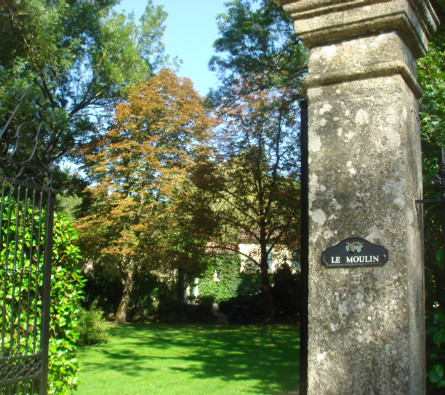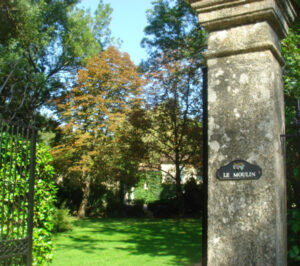 Learn everything about Chateau Le Moulin Pomerol with wine tasting notes and wine with food pairing tips. Learn the best vintages, a history of the property and information on the vineyards and winemaking. If you want to read about other important, Bordeaux Chateaux: Links to all Bordeaux Wine Producer Profiles
Chateau Le Moulin History, Overview
Chateau Le Moulin takes its name from an ancient flour mill that remains on the property. The mill is located near the vines and it's called Moulin de Lavaud.
The small Pomerol vineyard of Chateau Le Moulin is 3 hectares. While the estate was created in the 1800s, it did not begin to earn its reputation until the very end of the 20th century with vintages like 1998 and 2000. Prior years are not nearly as interesting.
In 1969, what we know of as Chateau Le Moulin was sold to Michel Querre and Genevieve Querre. At the time of the purchase, the estate was known as Vieux Chateau Cloquet. The Querre family renamed the property Chateau Le Moulin and began to renovate the estate.
It took the new owners several years before they were able to produce their first commercial vintage from the 1997 harvest. Since then, they recently replanted the vineyards and restored the Right Bank chateau as well as the wine-making facilities. Today, Chateau Le Moulin is consulted by Dr. Alain Raynaud.
While Chateau Le Moulin is their most prestigious estate, the Querre family also own numerous other chateaux in the Right Bank including; Chateau Patris in St. Emilion, Chateau d'Aiguilhe-Querre in Cotes du Castillon, and their first purchase in Bordeaux, Chateau Brun Despagne Bordeaux Superieur, which they purchased in 1986.
Chateau Le Moulin Vineyards, Terroir, Grapes, Winemaking
The tiny 2.5-hectare Pomerol is planted to 80% Merlot and 20% Cabernet Franc. On average, the vines average 30 years of age. The vines are planted to a density of 5,500 vines per hectare. The vineyard has a terroir of clay and gravel soils.
To produce the wine of Chateau Le Moulin, the wine undergoes vinification in five small, open-top, 25 hectoliter wood vats. The five vats allow for a parcel by parcel vinification of Chateau Le Moulin. Malolactic fermentation takes place in 85% new, French oak barrels. Pigeage is performed twice a day.
The wines are then aged in 85% new, French oak barrels for between 15 to 20 months, depending on the style of the vintage. There is a second wine, Le Petit Moulin. Le Petit Moulin is not produced in every vintage. On average, close to 1,200 cases of Chateau Le Moulin are produced every year.
The best vintages of Chateau Le Moulin are: 2022, 2021, 2020, 2019, 2018, 2017, 2016, 2015, 2014, 2012, 2010, 2009, 2005 and 2000.
When to Drink Chateau Le Moulin, Anticipated Maturity, Decanting Time
Chateau Le Moulin can be enjoyed on the young side with an hour or two of decanting. However, I find the wine is usually better with 4-7 years of bottle age. Of course, that can vary slightly, depending on the vintage character. In the best years, Chateau Le Moulin will be at its peak between 5 and 15 years of age after the vintage.
This allows the wine to soften and open its perfume. Older vintages of Chateau Le Moulin might need very little decanting, just enough to remove the sediment.
Serving and Decanting Chateau Le Moulin with Wine, Food, Pairing Tips
Chateau Le Moulin is best served at 15.5 degrees Celsius, 60 degrees Fahrenheit. The cool, almost cellar temperature gives the wine more freshness and lift.
Chateau Le Moulin is best served with all types of classic meat dishes, veal, pork, beef, lamb, duck, game, roast chicken, roasted, braised, and grilled dishes. Chateau Le Moulin is also good with Asian dishes, hearty fish courses like tuna, mushrooms, and pasta.
Château Le Moulin Wine Tasting Notes
16 Vintages 43,803 Views Sort by Vintage-Rating
2022
Château Le Moulin (Pomerol)

Deeply colored, the first thing you notice is the smoke, toasted oak, espresso, chocolate, and plums. Round, and plush, with an oaky character to the fruit on the palate, the wine is supple, and long, but it needs the oak to become better integrated. Drink from 2026-2038. 89-91 Pts.

783 Views

Tasted

May 8, 2023

2021
Château Le Moulin (Pomerol)

Dark in color, the wine shows off its espresso, flower, plum, licorice, coffee and chocolate cherry packed nose with little effort. Round, creamy, forward and fruity, this will be perfect to enjoy on release. Drink from 2023-2036. 88-90

1,290 Views

Tasted

May 20, 2022

2020
Château Le Moulin (Pomerol)

Espresso, and smoke belie too much of an oak presence. Once past the oak, the wine is round and fleshy with ripe, rich, fleshy textures and a luscious, plummy, albeit oaky finish, the wine will offer pleasure on release. Drink from 2023-2038.

659 Views

Tasted

Mar 21, 2023

With a strong oak presence, the wine is dark, round, fleshy and ripe, with layers of spicy, black cherries, espresso bean, chocolate, smoke and licorice. Give this 3-5 years for the oak to better integrate. 89-91 Pts

1,555 Views

Tasted

May 20, 2021

2019
Château Le Moulin (Pomerol)

Dark in color, the wine is round, lush and obvious. The oak is quite strong here, almost overwhelming the ripe, red pit fruits. The richly textured wine leaves you with smoke, espresso, dark chocolate, spice and black cherries. Drink from 2022-2033.

1,025 Views

Tasted

Mar 29, 2022

Deep in color, the wine is round, supple and forward with a dark red berry presence, chocolate, espresso and smoke. The wine is not for the oak averse. 88-90 Pts

2,185 Views

Tasted

Jun 28, 2020

2018
Château Le Moulin (Pomerol)

Dark in color, the wine shows off its espresso, flower, plum, licorice and cherry nose with little effort. On the palate you find loads of round, lush, richly textured, deep red fruits, polished tannins and a strong touch of oak. Give it a few years in the cellar for the oak to better integrate.

780 Views

Tasted

Mar 9, 2021

With its citrus and floral character, you also find ripe, dark red fruits and espresso bean on the front and the back end. Medium bodied and soft in texture, you can drink this early in life. 87-89 Pts

3,367 Views

Tasted

Apr 19, 2019

2017
Château Le Moulin (Pomerol)

The nose, with its oak, earth and red frui,t is what stands out here. Medium bodied with roundness, this wine's basic nature will make it more appealing to those tasters who are not oak adverse.

1,440 Views

Tasted

Apr 26, 2018

2016
Château Le Moulin (Pomerol)

Medium bodied, forward, simple, bright and oaky, this will be best in its youth.

1,172 Views

Tasted

Sep 21, 2019

Medium bodied, light in fruit, forward with a simple, red fruit character for early drinking.

1,668 Views

Tasted

Apr 29, 2017

2015
Château Le Moulin (Pomerol)

Oaky in the nose, this wine is round and polished and the fruit is ripe, but there is an overriding sensation of oak at this point that hopefully will better integrate with time. 87 - 89 Pts

1,434 Views

Tasted

Apr 27, 2016

2014
Château Le Moulin (Pomerol)

The nose, with its oak, earth, spice and crimson berries, is the best juncture of this wine, as the close is wrought with oak, overpowering what could be a lovely and fleshy plum finish. 86-88 Pts

1,393 Views

Tasted

Apr 24, 2015

2013
Château Le Moulin (Pomerol)

With oak, licorice, cocoa and cherry on the nose, the wine has medium body and round textures, finishing with a cherry liqueur note. 88-90 Pts

1,221 Views

Tasted

Apr 26, 2014

2012
Château Le Moulin (Pomerol)

Polished, plush and round, the wine serves up an oaky, sweet cherry and plum character that is already open.

3,708 Views

Tasted

May 15, 2015

With a floral, black raspberry, jammy, cocoa and coffee-scented nose, the wine is rich, fleshy, ripe and sweet. 89- 91 Pts

3,926 Views

Tasted

Apr 26, 2013

2011
Château Le Moulin (Pomerol)

Deep in color with coffee, vanilla and black plum, supple textures and a plush black plum and coffee bean finish are found in this wine. 89-91 Pts

2,730 Views

Tasted

Apr 21, 2012

2010
Château Le Moulin (Pomerol)

Le Moulin opens with coffee, blackberry and plum scents. In the mouth, this mediuml bodied wine finishes with coffee and dark berries. 89-91 Pts

4,129 Views

Tasted

Mar 14, 2011

2009
Château Le Moulin (Pomerol)

This ripe, modern styled Pomerol is filled with fresh plums, black cherry, vanilla, licorice and opulent, flashy textures. Drink it young, or let it age for a decade.

4,991 Views

Tasted

May 18, 2012

2008
Château Le Moulin (Pomerol)

Bright, crisp, fresh, red fruits, espresso, wet earth, cocoa and thyme show easily on the nose and round, lifted, red plum palate. This is ready to go.

1,538 Views

Tasted

Aug 25, 2021

2005
Château Le Moulin (Pomerol)

Plush, round and polished, the wine is medium/full bodied, with ample, dark, red berries, cocoa, licorice, smoke and truffle, on the nose and the palate.

2,809 Views

Tasted

Dec 13, 2017