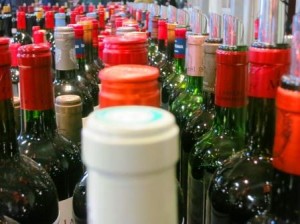 This page is a guide to the best 2010 Bordeaux value wines from all the top producers from every appellation.
Each new generation of wine collectors finds Bordeaux to be perhaps expensive, but they buy the wines because they there are values to be found. Every previous generation of Bordeaux buyers thinks the younger wine buyers are out of their mind, because wines have never been more expensive! This traditional passing of the torch has been going on for centuries and will in likelihood continue for centuries as well. Or will it?
For a good understanding of 2010 Bordeaux based on exclusive interviews with the top wine makers and chateaux owners; Conversations with chateau owners and wine makers on 2010 Bordeaux wine To read a detailed summary on the 2010 Bordeaux growing season and harvest: 2010 Bordeaux Wine
2010 marked the first truly very expensive vintage for Bordeaux wine. At their best, 2010 Bordeaux are undeniably stunning. The wines received high scores across the board from every major critic, especially Robert Parker. Yet, for the first time the wine buying public did not fight or even rush to buy the wines. More interesting, when the best wines received, perfect 100 Pt scores from Robert Parker, the top wines barely moved in price. That lack of price increases speaks volumes about the current, tepid demand for 2010 Bordeaux. Today, in 2013, many negociants, merchants, retailers and wholesalers are still holding vast amounts of stock from the 2010 Bordeaux vintage.
What does this mean for Bordeaux wine and consumers? Is this a harbinger of things to come? If I had a crystal ball, I'd go to the track and bet on the races. As I seem to have misplaced my crystal ball, this is my guess. The world is slowly recovering from a serious economic collapse. Today, except for people at the very top, the recovery is lukewarm. Wine and other high end, discretionary, luxury products are not all that important. Plus, previous generations of collectors have collections and cellars filled with wine. Many of those collectors spent obscene amounts of money to purchase the legendary 2009 vintage. Add to that, the next generation of Bordeaux buyers, probably from China and other Asian countries has not yet jumped in with both feet. Plus, there is a lot of back stock sitting in warehouses. Those are some of the reasons prices for 2010 have not moved.
On the other hand, prices have not been reduced for any of the top wines. OK, a store here and there have discounted small amounts of wine, but most wines have been discounted. You also need to consider 2011, 2012 and 2013 are not in big demand. They were all small vintages that are not selling well. Consumers seeking high quality Bordeaux are going to sooner or later take a look at, and begin buying 2010 Bordeaux. There is not going to be a mad rush to the door. But the wines will sell slow and steady.
The beautiful thing about Bordeaux is, in a great vintage, every appellation produces good wine in large quantities, making it easy to find. 2010 Bordeaux is no exception. There are values from the Left Bank, Pessac Leognan, Pomerol, St. Emilion and all the Satellite appellations. The sweet wines of Sauternes and Barsac are also worth taking a look at.
With all this in mind, what are the wines to buy in 2010 that offer quality and price?
2010 St.Estephe Best Value Wines
Le Crock
de Pez
Lafon Rochet
Lilian Ladouy
Les Ormes de Pez
Meyney
Phelan Segur
Tronquoy-Lalande
2010 Pauillac Best Value Wines
Batailley
Clerc Milon
d'Armailhac
Duhart-Milon
Grand Puy Ducasse
Grand Puy Lacoste A contender for the best Grand Puy Lacoste of all time!
Haut Batailley
Pedesclaux
Pontet Canet Expensive, but for a wine this good, scoring 100 pts from Robert Parker, this is wine cellar.
2010 St. Julien Best Value Wines
Branaire Ducru
Croix de Beaucaillou Ducru Beaucaillou
Gloria
Clos du Marquis Leoville Las Cases
2010 Margaux Best Value Wines
Alter Ego Palmer
Brane Cantenac
Cantenac Brown
d'Issan
Du Tertre
Giscours
Labegorce
Malescot St. Exupery
Marquis d'Alesme
Prieure-Lichine
2010 Pessac Leognan Best Value Wines
Branon
Brown
Domaine de Chevalier
Clos Marsalette
Haut Bergey
Malartic Lagraviere
2010 Haut Medoc Best Value Wines
2010 Pomerol Best Value Wines
Bon Pasteur
Clinet
Clos du Clocher
Feytit Clinet
La Fleur de Bouard
Latour a' Pomerol
Le Gay I know this is expensive, but for a Pomerol of this quality, it's a steal!
Montviel
La Pointe
Rouget
Vieux Chateau Certan I know… this is more a lot of money, but everything in Pomerol is expensive. This is at the level of Petrus, Le Pin and Lafleur and sells for a fraction of the price. If you have the funds, this is the wine to buy.
2010 St. Emilion Best Value Wines
Barde Haut
Beau-Sejour Becot
Beausejour Duffau-Lagarrosse Another very pricey wine, I know. But this is so good, it's close to being off the charts. Very little wine is made. This is a future legendary Bordeaux wine.
Canon La Gaffeliere
Chauvin
Clos de l'Oratoire
Clos La Madeleine
Clos St. Martin
Corbin
Cote de Baleau
Croix de Labrie
Faugeres
Fleur Cardinale
Fombrauge
Fonbel
Fonplegade
Grand Mayne
Grandes Murailles
La Fleur Morange Mathilde
Larcis Ducasse
Moulin St. Georges
Peby Faugeres
Rol Valentin
Saintayme
Sansonnet
As I mentioned previously on this page, the sweet, white wines from Sauternes and Barsac in the 2010 vintage are super! They are well worth taking a look at.
Perhaps the best values from the 2010 Bordeaux vintage are found in the satellite appellations. The communes in the Right Bank are filled with great, well priced, Merlot dominated wines. You can also find value with some of the smaller producers in the Left Bank as well: Bordeaux Value Wine Appellation Guides