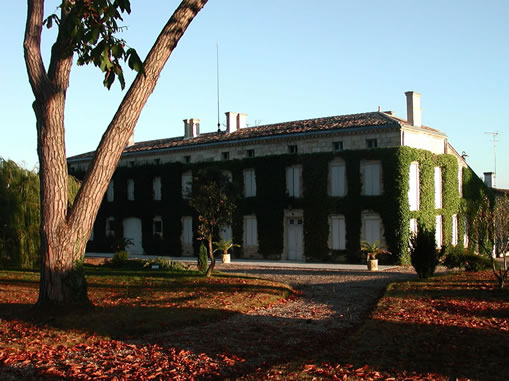 Learn everything about Chateau Rouget Pomerol with wine tasting notes and wine with food pairing tips. Learn the best vintages, a history of the property, information on the vineyards, and winemaking. If you want to read about other important, Bordeaux Chateaux: Links to all Bordeaux Wine Producer Profiles
Chateau Rouget History, Overview
Chateau Rouget has one of the longest histories in Pomerol. The vineyards appear to have been planted by the ancient Romans at one point.
Although, coming closer to the modern age, Chateau Rouget makes its first appearance all the way back in the 1700s, according to documents stored in the archives of Pomerol. For most of the 18th century, Chateau Rouget was owned by the Bayonne family.
At the time, Chateau Rouget had a great reputation. It was considered to be one of the top five wines of the entire Pomerol appellation. Near the close of the 19th century, in 1892, the estate was sold to the Dupuy family who later passed it to Marcel Bertrand. A direct descendant of Marcel Bertrand sold Chateau Rouget to the Labruyere family in 1992.
This was not the first wine venture for the Labruyere family. They have owned vineyards since 1850, in Beaujolais with Domaine Labruyere in the Moulin-a-Vent appellation. The Labruyere family also owns Domaine Jacques Prieur Musigny, in the Burgundy region and JM Labruyere in Champagne.
Prior to the 1992 sale to the Labruyere family, much of the production for Chateau Rouget was sold in bulk to Ets. Moueix. As soon as the sale closed, the new owners of Chateau Rouget set out to make a vast array of improvements and renovations to their entire Right Bank property.
The Labruyere's goal was to do everything that was needed to improve the wines of Chateau Rouget and not spare any expense to accomplish their ambition. Today, the estate is managed by Edouard Labruyere.
The vineyards of Chateau Rouget were replanted and they removed the plots of Cabernet Sauvignon. They also built all wine-making facilities and cellars.
In 1997, they hired Michel Rolland as their consultant. They also purchased additional vineyard land and expanded the vineyards of their Right Bank estate. The additional land turned Chateau Rouget into one of the largest Pomerol properties in the appellation with close to 17-hectares of vines.
In 2001 they also began an extensive replanting of over half their vineyards and a complete modernization of the wine-making facilities at Chateau Rouget. The vineyards of Chateau Rouget are located in the northern part of the Pomerol appellation. They are not that far from Chateau LEgliseClinet and Chateau La Croix de Gay.
Chateau Rouget Vineyard, Terroir, Grapes, Winemaking
The 17-hectare vineyard of Chateau Rouget is planted to 85% Merlot and 15% Cabernet Franc. The terroir is gravel, sand, and clay with iron in the soils. The vineyard is in 3 distinctive parcels. The best parcels are the 12-hectares planted close to the chateau and not far from Chateau Trotanoy and Chateau Petit Village.
The remaining vineyard is located in soils with more sand. The vines are on average close to 28 years of age and are planted to a density of 6,000 vines per hectare. However, they now have a small parcel, about 1 hectare which is planted to Cabernet Sauvignon. Those vines will eventually add to the Grand Vin when the vines are old enough.
New plantings are taking place at a density of 10,000 vines per hectare, which is quite high, for a vineyard in Pomerol.
To produce the wine of Chateau Rouget, vinification takes place in a combination of 50 hectoliter and 60 hectoliter, wood vats, and temperature-controlled, stainless steel tanks.
The grapes are only partially crushed, with some of the fruit being, whole berry fermented, to reduce oxidation and help maintain more freshness. They are also, whole cluster fermenting close to 45% of their production, meaning that 45% of the grapes are vinified with the stems attached,
Malolactic fermentation takes place in barrels. However, a portion of the harvest, about 35% of the grapes are vinified using micro-vinification techniques, meaning that that portion of the wine was entirely vinified in barrels, giving the wine a rounder texture, with more of an oaky note. The wine of Chateau Rouget is then aged in 50% new, French oak barrels for an average of 15 to 18 months before bottling.
There is a second wine, which has gone through a few name changes over the years. Today, the second wine is Le Carillon de Rouget. Previously it was called Vieux Chateau des Templiers and before that, it was previously sold as Le Clocher de Rouget. Close to 6,500 cases of wine are produced at Chateau Rouget each year.
The best vintages of Chateau Rouget are: 2022, 2021, 2020, 2019, 2018, 2017, 2016, 2015, 2014, 2012, 2010, 2009, 2005 and 2000. Fans of the property should note that starting with the 2015 vintage, the quality of wine here has seriously improved!
When to Drink Chateau Rouget, Anticipated Maturity, Decanting Time
Chateau Rouget can be enjoyed on the young side with 1-2 hours of decanting. This allows the wine to soften and open its perfume.
Older vintages might need very little decanting, just enough to remove the sediment. However, I find the wine is usually better with 5-8 years of bottle age. Of course, that can vary slightly, depending on the vintage character. In the best years, Chateau Rouget is usually at its best between 5 to 20 years of age after the vintage.
Serving Chateau Rouget with Wine, Food, Pairing Tips
Chateau Rouget is best served at 15.5 degrees Celsius, 60 degrees Fahrenheit. The cool, almost cellar temperature gives the wine more freshness and lift. Chateau Rouget is best paired with all types of classic meat dishes, veal, pork, beef, lamb, duck, game, roast chicken, roasted, braised, and grilled dishes.
Chateau Rouget is also good when matched with Asian dishes, hearty fish courses like tuna, mushrooms, and pasta.
Château Rouget Wine Tasting Notes
22 Vintages 111,292 Views Sort by Vintage-Rating
2022
Château Rouget (Pomerol)
Medium-bodied, with notes of espresso, plums, and cocoa before you find the luscious layers of black and red pit fruits, silky tannins, and chalky finish with its white peppery edge on the back end. Drink from 2025-2042. 92-94 Pts.
2,527 Views
Tasted

May 8, 2023
2021
Château Rouget (Pomerol)
Flowers, licorice, thyme, cinnamon and cherries on the nose and mid-palate. The wine is soft, fresh, round, sweet and fruity, with a bright, supple-textured, juicy, red and black plummy finish. The wine blends 80% Merlot and 20% Cabernet Franc. Drink from 2023-2038. 91-93
1,835 Views
Tasted

May 20, 2022
2020
Château Rouget (Pomerol)
Soft, lush, ripe, sweet, black, and red plums infused with chocolate, truffles and licorice on the backend in the nose, and on the palate create the core of this wine. The finish offers freshness with waves of plush, black cherries, and a touch of spicy cocoa. Give it a year or two in the cellar, and it will really start to show its stuff. Drink from 2024-2045.
1,688 Views
Tasted

Mar 21, 2023
Showing a depth of color, the lusciously textured, rich, silky, fresh wine is packed with ripe, black cherries, espresso, dark chocolate with touches of peppery spice and cigar wrapper in the endnote. With 3-5 years in the cellar, this is going to be just great. 92-94 Pts
3,793 Views
Tasted

Jun 3, 2021
2019
Château Rouget (Pomerol)
Soft, silky, fresh and elegant, the richly-textured, medium-bodied layers of cocoa-covered black cherries, licorice, espresso, flowers and wet earth are already a treat to experience. Lush, supple and creamy on the palate, you can enjoy this early, or age it for more complexity. Drink from 2023-2039.
3,121 Views
Tasted

Mar 29, 2022
Dark in color, the wine pops with flowers, earth, black forest cake and licorice notes on the nose. Lush, supple and rich, the wine ends with silky plums, black cherries and chocolate. This is a top vintage for Rouget. 92-94 Pts
4,506 Views
Tasted

Jun 28, 2020
2018
Château Rouget (Pomerol)
Showing much better in bottle than in barrel, the wine is full-bodied, rich, round and supple. Layers of silky, sweet, black and deep red fruits meld perfectly with spice, cocoa, licorice, espresso bean and wet earth. The fruit filled finish combines length, lift and finesse. Give this 3-5 years before popping a cork.
3,579 Views
Tasted

Mar 9, 2021
Black cherry and plums galore with espresso, licorice and spice box aromas that fuse well with the medium-bodied, soft, ripe berry palate. Give this 3-5 years for the oak to integrate and for the wine to gain in complexity. 90-92 Pts
5,126 Views
Tasted

Apr 19, 2019
2017
Château Rouget (Pomerol)
Medium-bodied, forward and floral, with the right amount of licorice, plums, dark cherries and even darker cocoa, the wine is soft round and needs only a few years in the cellar.
3,625 Views
Tasted

May 15, 2020
Juicy bright cherries, plum and thyme create the main theme here in this medium-bodied wine. You'll find this is soft, round and polished with fruits that speak to you from start to finish.
2,709 Views
Tasted

Apr 26, 2018
2016
Château Rouget (Pomerol)
Lush, silky, rich and concentrated, the wine is polished, fresh, and juicy with a silky textured blast of licorice, cocoa and red fruit filled finish. This super wine is a real value for Pomerol.
4,088 Views
Tasted

Sep 21, 2019
Silky, soft, polished and fresh, the ripe fruit sings here. The added nuances of flowers, anise and truffle along with dark cocoa add to the experience. This super wine is a real value for Pomerol.
3,553 Views
Tasted

Feb 9, 2019
Floral and black raspberry notes are the first things you notice here. This lush, silky, medium-bodied wine is satisfying with fruit-infused cocoa in a round finish.
3,940 Views
Tasted

Apr 29, 2017
2015
Château Rouget (Pomerol)
Rich and concentrated, with silky tannins, freshness and layers of sweet, ripe black cherries with the right amount of licorice. Silky and fruity, the wine feels great on your palate. This is the best vintage of Rouget produced yet!
4,066 Views
Tasted

May 21, 2018
I love writing about wines that start out as 91 Pts in barrel, and end up with 93 Pts in bottle. That's how it should work in a good vintage. Here, you find a rich, deep, concentrated wine, with silky tannins, elegance, balance, freshness and sweet, ripe black cherries infused with licorice. The lusciously textured finish is the frosting on the cake. The wine was made with 45% whole cluster fruit, which definitively had a positive impact.
3,814 Views
Tasted

Mar 12, 2018
Medium-bodied, silky and soft, with ripe, fresh, juicy plums, earth and floral notes. This is quite nice and a good value for a wine from Pomerol.
3,885 Views
Tasted

Jul 12, 2017
Medium-bodied and forward with round, polished, sweet and spicy, red fruits and licorice that feel great and taste even better, this wine is fresh and smooth and wraps with polished, sweet plums and a dash of spice. 91 - 93 Pts
3,514 Views
Tasted

Apr 27, 2016
2014
Château Rouget (Pomerol)
This wine offers soft, round, textures, a forward character and bright, red berries with plums in the cocoa and herb finish. 88-90 Pts
3,221 Views
Tasted

Apr 24, 2015
2013
Château Rouget (Pomerol)
With an oak, earth and black raspberry character, the wine shows dusty tannins in the black raspberry and dark chocolate finish. 87-89 Pts
3,693 Views
Tasted

Apr 26, 2014
2012
Château Rouget (Pomerol)
Licorice, black cherry liqueur, polished and supple tannins, round textures and a plush, spicy and minty liqueur finish are found in this wine. 90-92 Pts
5,404 Views
Tasted

Apr 26, 2013
2011
Château Rouget (Pomerol)
Earth, bitter chocolate and black cherry with round, soft tannins, lush textures and a ripe, dark plum finish are found in this wine. 90-92 Pts
3,681 Views
Tasted

Apr 21, 2012
2010
Château Rouget (Pomerol)
As good, or even slightly better than the 2009, the wine is lush, plush and filled with sweet, juicy, ripe, black plums, cherries, truffle, licorice and dark chocolate. Rouget is making one of the best values in Pomerol today, which says a lot for wines from this increasingly expensive appellation.
5,976 Views
Tasted

Nov 1, 2014
2009
Château Rouget (Pomerol)
Round, supple textures, fresh dark cherry, earth, fennel and cocoa scents and a fresh, sweet, plummy, rich, plush finish. This is another example of how great 2009 is for the entire appellation of Pomerol at all price points.
6,391 Views
Tasted

Jun 27, 2012
2008
Château Rouget (Pomerol)
Black raspberry, coffee, dark cherry and earthy notes make up the perfume. Medium bodied, soft and round in texture, with a sweet, red and black plum filled finish. This is a nice, ready to drink Pomerol that is available for under $30.
3,350 Views
Tasted

Jan 9, 2012
2006
Château Rouget (Pomerol)
Floral, focused and fresh, the wine is medium bodied, finesse in style, with a sweet, black raspberry, red plum and licorice finish. Give this a few more years of age for the structured tannins to better integrate and soften.
2,442 Views
Tasted

Oct 31, 2016
2005
Château Rouget (Pomerol)
Plums, flowers and black cherries pair well with this medium bodied Pomerol. Soft in texture with some roundness, this earthy, black cherry and licorice flavored wine is almost ready to drink.
5,490 Views
Tasted

Nov 6, 2011
2001
Château Rouget (Pomerol)
Nice wine here, developed and open in the nose, with its black cherry, cocoa, wet earth and licorice character, and on the palate, with its tannins full integrated, leaving you with juicy, fresh, earthy, spicy cherries in the finish.
2,712 Views
Tasted

Oct 26, 2016
2000
Château Rouget (Pomerol)
Close to fully mature, with lots of soft, silky plums, cherries and chocolate with truffle accents.
3,216 Views
Tasted

May 9, 2014
1998
Château Rouget (Pomerol)
Medium-bodied, fully developed, refined, soft, earthy, truffle laden wine with sweet plums, cherries, spice tobacco and earthy notes. This is probably a bit past its prime. So if you are sitting on any, drink up.
2,319 Views
Tasted

Sep 10, 2020
1943
Château Rouget (Pomerol)
Dried cherries, roses and herbs with a hint of cocoa formed the cure of this wine. Medium-bodied, elegant, soft and refined, the light finish still offered cherries on the backend. The only 43 I am likely to taste again was not only a taste of history, having been produced during the middle of WW2, it was a super tasting experience. Drink from 2023-2025.
1,345 Views
Tasted

Sep 15, 2023
1937
Château Rouget (Pomerol)
Sour, tart, acidic and filled with VA, the best part was the dried fruit component, and that was obviously not enough to make this wine worth drinking.
2,683 Views
Tasted

Mar 12, 2010