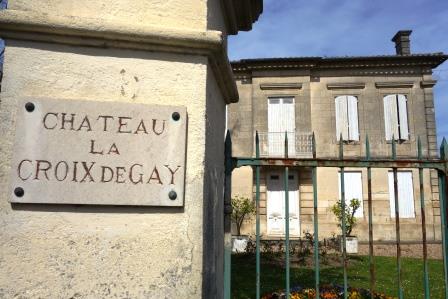 Learn everything about Chateau La Croix de Gay Pomerol with wine tasting notes and wine with food pairing tips. Learn the best vintages, a history of the property, information on the vineyards, and winemaking. If you want to read about other important, Bordeaux Chateaux: Links to all Bordeaux Wine Producer Profiles
Chateau La Croix de Gay History, Overview
Chateau La Croix de Gay has a long history in the Pomerol appellation. But the owners of the vineyard, the Raynaud-Lebreton family have an even longer history in Bordeaux dating back to 1477!
The official estate dates back to at least the mid-1800s as wine was produced from the vineyard in 1772.
Later in the 19th century, the property was known to have produced not only their own wine but for some reason, the wine of Chateau Certan de May was also made at the property for a period of time.
Chateau La Croix de Gay was one of the first Pomerol properties to bottle at least some of their production at the estate. This took place in the mid to late 1800s! From that point forward, through small purchases from other vineyards, La Croix de Gay slowly grew in size.
However, the modern era for Chateau La Croix de Gay begins in the late 1960s, when the owners obtained land that was being used for the production of Pignon de Gay.
In the 1970s, the future consultant Alain Raynaud, who was born at the estate began to take part in the production of the wine.
While Alain Raynaud maintained an increasing role at La Croix de Gay, the property was managed by his father, Noel Raynaud until his death in 1997. In time, Alain Raynaud would sell his interests in La Fleur de Gay and La Croix de Gay.
Today, the estate remains in the hands of the Raynaud and Lebreton families. Starting in 1998, Chantal Lebreton took over managing the estate and the winemaking after her father Noel Raynaud passed away.
Over the years, like many estates in the Right Bank, the vineyard has changed in size. Most recently, it's becoming smaller.
The first significant change took place in 1982 when they began producing La Fleur de Gay from the estate's oldest vines located in a 3-hectare parcel with deep gravel and clay soils in their vineyard. In 2012, the estate sold a large portion of their vineyards to the owners of Chateau L'Evangile. 
Located in the northern portion of the Pomerol appellation, Chateau La Croix de Gay has good neighbors. The Right Bank chateau is located not too far from Chateau Clinet or LEglise Clinet on the Pomerol plateau.
In 1997 the estate modernized its wine-making facilities and added temperature-controlled vats. In June 2012, the owners of Chateau Lafite Rothschild purchased 6 hectares of vines from La Croix de Gay allowing them to expand the holdings of Chateau L'Evangile.
The owners of Chateau La Croix de Gay built a new cellar for the fermentation and vinification of their wine that was completed in 2015.
Chateau La Croix de Gay Vineyards, Terroir, Grapes, Winemaking
The 4.2-hectare vineyard of Chateau La Croix de Gay is planted to 86% Merlot and 14% Cabernet Franc. This shows a change in the vineyard as now you find more Cabernet Franc planted here.
The vineyard is divided into 10 separate parcels. The terroir is gravel, sand, and clay soils. The vines are on average close to 30 years of age. The vineyard is planted to a vine density of 5,000 vines per hectare.
The wine of Chateau La Croix de Gay is vinified in 10, tulip-shaped, temperature-controlled, concrete vats that correspond to their 10 parcels of vines. Malolactic fermentation takes place in a combination of French oak barrels and tanks.
The wine of Chateau La Croix de Gay is aged in 50% new, French oak barrels for an average of 18 months. There is a second wine, which is not made every year, Commandeur de Croix de Gay. On average, close to 1,600 cases of wine are produced each vintage.
The best vintages of Chateau La Croix de Gay are: 2022, 2021, 2020, 2019, 2018, 2016, 2015, 2014, 2012, 2010, 2009, 2005, 2001, and 2000.
When to Drink Chateau La Croix de Gay, Anticipated Maturity, Decanting Time
Chateau La Croix de Gay can be enjoyed on the young side with decanting. Young vintages can be decanted for an average of 1 hour to 90 minutes. This allows the wine to soften and open its perfume.
Older vintages might need very little decanting, just enough to remove the sediment. Chateau La Croix de Gay is usually better with at least 4-6 years of bottle age. Of course, that can vary slightly, depending on the vintage character. Chateau La Croix de Gay offers its best drinking and should reach peak maturity between 4-15 years of age after the vintage.
Serving Chateau La Croix de Gay with Wine, Food, Pairing Tips
Chateau La Croix de Gay is best served at 15.5 degrees Celsius, 60 degrees Fahrenheit. The cool, almost cellar temperature gives the wine more freshness and lift.
Chateau La Croix de Gay is best paired with all types of classic meat dishes, veal, pork, beef, lamb, duck, game, roast chicken, roasted braised, and grilled dishes. Chateau La Croix de Gay is also good with Asian dishes, hearty fish courses like tuna, mushrooms, and pasta.
The family also previously owned Chateau Faizeau in the satellite appellation of Montagne St. Emilion.
www.chateau-la-croix-de-gay.com
Château La Croix de Gay Wine Tasting Notes
20 Vintages 63,225 Views Sort by Vintage-Rating
2021
Château La Croix de Gay (Pomerol)

Flowers, powdered cocoa and cherries are clean, sweet, and fresh on the nose, mid-palate and in the medium-bodied, strawberry and red plum, savory finish. Drink from 2023-2035. 88-90

1,114 Views

Tasted

May 20, 2022

2020
Château La Croix de Gay (Pomerol)

Plums, chocolate, lilacs and Indian spices open the perfume. On the palate, the medium-bodied wine is soft, silky and fresh with layers of creamy cherries, cocoa and plums on the mid-palate and in the finish. Drink from 2023-2038.

150 Views

Tasted

Mar 21, 2023

Soft, silky, forward, medium-bodied, elegant chocolate-covered, cherry-filled wine that is going to be delicious shortly after release. 89-91 Pts

1,339 Views

Tasted

May 20, 2021

2019
Château La Croix de Gay (Pomerol)

Black raspberries, plums, cherries, wet earth and forest leaf, the wine is silky, seductive and fresh, with mineralistic overtones in the red pit fruit and chocolate oriented finish. Give this a few years of bottle age and it will be a much better wine. Drink from 2023-2034.

1,246 Views

Tasted

Mar 29, 2022

2018
Château La Croix de Gay (Pomerol)

Medium bodied, forward and already displaying its mix of truffle, leaf, cherry, spice and red plum on the nose and palate. The wine is soft, juicy and fresh, leaving you with silky, sweet cherries and a lot of up-front, Pomerol charm in the finish.

1,116 Views

Tasted

Mar 9, 2021

2017
Château La Croix de Gay (Pomerol)

Medium-bodied, with a strong herbal tint to the red plum and bright, fresh cherry fruit on the nose and on the palate.

1,669 Views

Tasted

Aug 25, 2021

2016
Château La Croix de Gay (Pomerol)

Medium bodied, forward, ripe, plummy and fresh, with ripe, sweet fruits, some flesh and a lot of Pomerol charm.

3,543 Views

Tasted

Sep 21, 2019

Medium bodied, forward, soft and focused on cherry with a licorice whip, this is an agreeable, early-drinking Pomerol.

1,722 Views

Tasted

Apr 29, 2017

2015
Château La Croix de Gay (Pomerol)

Medium-bodied, soft and polished, the wine isn't deep, but it's forward, soft, forward and expressive, making it a pleasure to enjoy young.

3,833 Views

Tasted

May 21, 2018

Medium-bodied, soft and polished, this wine isn't deep but the fruits are ripe, fresh, round and elegant. 87 - 89 Pts

1,571 Views

Tasted

Apr 27, 2016

2014
Château La Croix de Gay (Pomerol)

A medium-bodied and forward wine with bright plum and cherry tones and a short finish. 87-88 Pts

2,737 Views

Tasted

Apr 24, 2015

2013
Château La Croix de Gay (Pomerol)

Light in color, the wine has simple but pleasant cherry personality. Drink this within the first few years of life. 85-88 Pts

2,353 Views

Tasted

Apr 25, 2014

2012
Château La Croix de Gay (Pomerol)

Medium bodied, with a fresh, cherry, earth and thyme centric personality. The wine has a rustic texture in the tannins that slightly mars the finish.

4,668 Views

Tasted

May 15, 2015

2010
Château La Croix de Gay (Pomerol)

Lush and plush black cherries, chocolate, plum and earthy in character, this value priced Pomerol serves up delicious plummy, silky textured wine that can be enjoyed young, or aged.

4,490 Views

Tasted

May 7, 2014

2009
Château La Croix de Gay (Pomerol)

Pomerol is not a region known for value wines. Bargain hunting wine lovers should take a good look at this beauty, as it combines an opulent, lush styled Pomerol with good value. Lots of juicy black plum, licorice and earthy character are easily found here before ending in a plush, black cherry finish. Drink now, or over the next decade.

5,804 Views

Tasted

Jul 17, 2013

2008
Château La Croix de Gay (Pomerol)

Medium-bodied, lighter-styled, earthy, silky, fully developed wine with a soft, earth, and savory, plum character that will be at its best over the next 5 years or so.

2,395 Views

Tasted

Sep 24, 2021

2005
Château La Croix de Gay (Pomerol)

The addition of 5% Cabernet Franc to the Merlot dominated wine created a soft textured, refined, medium bodied Pomerol, with fennel, plum, black cherry and cocoa. This is already accessible and fun to drink.

3,334 Views

Tasted

May 14, 2012

Produced from 95% Merlot and rest Cabernet Franc, the wine features scents of ripe plums, spice and milk chocolate. Soft textured and already drinking well, this medium bodied Pomerol should probably be drunk up before its 15th birthday. The wine ends with a light, black cherry finish.

4,100 Views

Tasted

Aug 10, 2011

2001
Château La Croix de Gay (Pomerol)

Fully mature Pomerol, with soft, silky textures, a medium body, and a floral, plummy, truffle essence. Popped and poured, this is drinking in its sweet spot. And because it is not really that well known, you should be able to score it for a fair price today.

3,054 Views

Tasted

Oct 25, 2016

2000
Château La Croix de Gay (Pomerol)

Probably close to mature, the wine is soft, round and supple in texture, with a dark chocolate covered red and black plum, truffle filled perfume. A nice value for a mature Pomerol if you can still find it for about $75 or less.

2,236 Views

Tasted

Jan 11, 2015

1989
Château La Croix de Gay (Pomerol)

Light ruby color. Earth, spice and coffee aromas. Very simple and short on the palate. Past its short lived prime.

3,369 Views

Tasted

Mar 12, 2009

1970
Château La Croix de Gay (Pomerol)

Fully mature, with earth, red berries, smoke, soft textures and a short cherry finish. The wine faded in the glass after 20 minutes. Tasted blind, once it was revealed, it showed much better than I would have imagined.

2,890 Views

Tasted

Jul 5, 2012

1955
Château La Croix de Gay (Pomerol)

The wine is labeled Clos du Commanderie – This is a negociant bottling of Le Croix de Gay. The color of tea, the nose offered damp earth, tobacco and burning leaf aromas. Rustic and starting to run out of fruit, this is well past its prime.

2,786 Views

Tasted

Mar 29, 2012

1945
Château La Croix de Gay (Pomerol)

Orange and brick in color, very little fruit remained, and what little fruit was showing, was dwarfed by the amount of acidity and tartness in its cranberry character. This much more interesting on the nose with its complex, earthy scents than on the palate, with its tart, dry character.

1,706 Views

Tasted

May 7, 2015