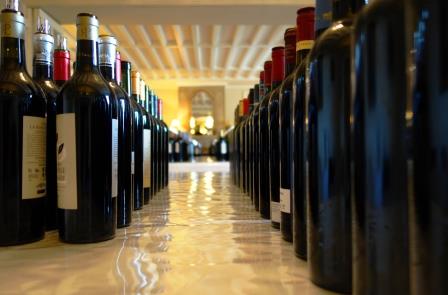 To understand what took place during the growing season and harvest conditions that shaped the vintage, please read: 2014 Bordeaux Detailed Harvest and Vintage Summary
I tasted more than 500 different 2014 Bordeaux wines in April 2015. I wrote detailed tasting notes for 432 wines in total. The results were as mixed as the vintage, especially when it comes to finding the best 2014 Bordeaux value wines. While much of the attention for 2014 Bordeaux will always focus on the First Growths, and other high end wines, if you look around and follow our advice, there are some very nice 2014 Bordeaux value wines worth placing in your cellar!
Due to a combination of factors ranging from the lack of uniformity in the vintage, meaning all appellations were not created equal, and a glut in the marketplace for wine, it can be a slightly daunting task to find the best value wines. But it can be done. Cabernet Sauvignon is the king when it comes to 2014 Bordeaux value wines. Merlot was not as successful. Pomerol had some issues. St. Emilion produced some good wines, but the vintage was not great in the Right Bank. The best wines and values from the 2014 Bordeaux vintage clearly come from the Left Bank. In fact, the farther north you go in the Medoc, the wines are generally speaking, better than when you head in a southerly direction. With that in mind, you're naturally going to find the best 2014 Bordeaux value wines in St. Estephe, followed by Pauillac, then St. Julien and the Haut Medoc, before you move further south into Margaux and Pessac Leognan.
Interestingly, while they are among the most expensive wines of the vintage, for fans of the famous First Growth Bordeaux wines, all 5 of those wines have been fairly priced and will probably continue going up in price, albeit at a slow rate. This can be easily explained. All the First Growths have been priced at levels below any cost of replacement for a similar level of quality in the marketplace today. I am not recommending you run out and buy cases of these wines, but in their own world, which is where these wines live, they represent a fair price level. The way to know this is to simply keep track of their pricing.
This list of wines is not intended to look at the top wines of the vintages. Instead, it focuses on recommending the best wines that combine character, quality and price in a fair ratio, especially when you factor into the equation, the current physical cost of other current vintages with a similar level of quality. Those are the wines I was thinking of when I put together this list of the best 2014 Bordeaux value wines. There also also several nice 2014 Bordeaux value wines from the Satellite appellations worth taking a look at, especially when the bottles become available at your local wine merchant.
2014 St. Estephe Bordeaux Value Wines
2014 Le Boscq
2014 Calon Segur
2014 Capbern
2014 Le Crock
2014 Lillian Ladouys
2014 Meyney
2014 Pauillac Bordeaux Value Wines
2014 Grand Puy Ducasse
2014 Grand Puy Lacoste
2014 Haut Bages Liberal
2014 Haut Batailley
2014 St. Julien Bordeaux Value Wines
2014 Beychevelle
2014 Ducru Beaucaillou
2014 Gloria
2014 Margaux Bordeaux Value Wines
2014 Brane Cantenac
2014 Deyrem Valentin
2014 d'Issan
2014 Labegorce
2014 Marquis d'Alesme
2014 Prieure-Lichine
2014 Rauzan Segla
2014 Siran
2014 du Tertre
2014 Pessac Leognan Bordeaux Value Wines
2014 Haut Bergey
2014 Brown
2014 Les Carmes Haut Brion
2014 Domaine de Chevalier
2014 de Fieuzal
2014 LaTour Martillac
2014 Malartic Lagraviere,
2014 Seguin
2014 Le Thil
2014 St. Emilion Bordeaux Value Wines
2014 Barde Haut
2014 Beau-Sejour Becot
2014 Canon
2014 La Dominique
2014 Faugeres
2014 Fleur Cardinale
2014 L'if
2014 Larcis Ducasse
2014 Poesia
2014 Sansonnet