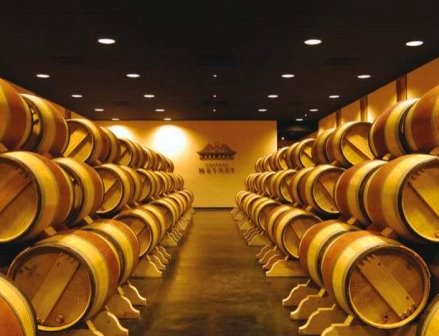 Learn everything about Chateau Meyney, St. Estephe with wine tasting notes, wine, and food pairing tips. Learn all the best vintages, vineyards, a history of the property, and information on winemaking. If you want to read about other Bordeaux wine producers: Links to all Bordeaux Wine Producer Profiles
Chateau Meyney History, Overview
Chateau Meyney in Saint Estephe has a long history starting in the 17th century. At that time, the Bordeaux wine estate belonged to the monks who planted the first vines at Meyney about 1660. Prior to the planting of the vines, the property was previously used as a convent.
However, the modern age of Chateau Meyney starts in 1917, when it was purchased by the well-established Cordier family that same year. The wines were produced at the time by the same team that looked after all the numerous Cordier estates.
Headed by Georges Pauli, the other wineries in the group included; Chateau Gruaud Larose in St. Julien and Chateau Cantemerle in Haut Medoc among their properties.
Chateau Meyney the Modern Age
In 2004, Chateau Meyney was purchased by CA Grands Crus, which owns several other Bordeaux properties including; Chateau Grand Puy Ducasse in Pauillac, Chateau Rayne Vigneau in Sauternes, and other assorted Cru Bourgeois estates. Thierry Budin was placed in charge of the various Bordeaux wine-producing estates.
Hubert de Bouard of Chateau Angelus began consulting Chateau Meyney and all the other CA Grands Crus properties in late 2013.
Things quickly changed for the better at Chateau Meyney. With the 2014 vintage, Chateau Meyney produced what could be the best wine in the history of the estate. That is until the sublime 2016 vintage which is even better!
Chateau Meyney Vineyards, Terroir, Grapes, Winemaking
The 51-hectare Left Bank vineyard of Chateau Meyney is planted with 60% Cabernet Sauvignon, 30% Merlot, and 10% Petit Verdot. The current vineyard plantings represent a change in the Chateau Meyney vineyard. Previously, there was some Cabernet Franc planted in their Medoc vineyard. Those vines were removed and more Merlot was added to the vineyard in its place.
The vineyard is in 1 large, single parcel, which is unusual for such a big vineyard. However, the large vineyard is divided into 63 separate plots. Situated close to Chateau Montrose and not far from Chateau Phelan Segur, they have some very good terroir.
Chateau Meyney has a terroir of gravel and sand with a large streak of blue clay close to three meters thick, that resides underneath the gravel and sand, topsoil.
The vineyard is planted to a vine density of 9,000 vines per hectare for their newer plantings. The older plantings are closer to 7,500 plants per hectare. The vines are on average between 35 and 40 years old. However, they also have very, old vines that are close to 100 years of age, which are some of the oldest vines in the Saint Estephe appellation.
Chateau Meyney Wine Making
To produce the wine of Chateau Meyney, vinification takes place in traditional, temperature-controlled, cement vats that vary in size. Malolactic fermentation takes place in vat. The wine is aged in an average of 50% new, French oak barrels for between 18 and 24 months, depending on the character and quality of the vintage.
On average, Chateau Meyney produces close to 25,000 cases of Saint Estephe wine per year. There is a second wine, Prieur de Meyney.
The best vintages of Chateau Meyney are: 2022, 2021, 2020, 2019, 2018, 2017, 2016, 2015, 2014, 2010, 2009, 2005, 2003, 2000 and 1982. However, it's interesting to note that vintages from the 1950s, 1940s and the 1930s have provided great tasting experiences. Older vintages of Chateau Meyney with good provenance are worth taking a chance on at auction.
When to Drink Chateau Meyney, Anticipated Maturity, Decanting Time
Chateau Meyney can be enjoyed early. However, the wine is often better with at least a few years of bottle age. Of course, that can vary slightly, depending on the vintage. Chateau Meyney is usually best enjoyed in the first 10-20 years after the vintage when it is at full maturity.
Young vintages can be decanted for 1-2 hours. This allows the wine to soften and open its perfume. Older vintages might need very little decanting, just enough to remove the sediment.
Serving Chateau Meyney with Wine, Food, Pairing Tips
Chateau Meyney is best served at 15.5 degrees Celsius, 60 degrees Fahrenheit. The cool, almost cellar temperature gives the wine more freshness and lift.
Meyney is best served with all types of classic meat dishes, veal, pork, beef, lamb, duck, game, roast chicken, roasted, braised, and grilled dishes. Chateau Meyney is also good with Asian dishes, and hearty fish courses like tuna, mushrooms, and pasta.
Château Meyney Wine Tasting Notes
36 Vintages 261,716 Views Sort by Vintage-Rating
2022
Château Meyney (St. Estèphe)

Leafy herbs, tobacco, currants, spice, and spearmint notes show easily in the nose, and on the long, rich palate. The wine finishes with creamy-textured currants, cocoa, spearmint, and bitter chocolate on the end note. This should age quite nicely. Drink from 2026-2045. 92-94 Pts.

2,878 Views

Tasted

May 8, 2023

2021
Château Meyney (St. Estèphe)

Dark red fruits, tobacco, spearmint, espresso, currants and cranberry on the nose. Forward, bright, medium-bodied, fresh and savory with an herbal, spiced edge on the mid-palate and in the chewy, peppery finish. The wine is produced from a blend of 54% Cabernet Sauvignon, 34% Merlot and 12% Petit Verdot. Drink from 2025-2040. 90-92

2,168 Views

Tasted

May 20, 2022

2020
Château Meyney (St. Estèphe)

Flowers, dark cherries, blackberries, Asian spices and espresso is what you find right off the bat on the nose. Rich, ripe, supple and lush, the wine is polished, fresh and offers layers of fruit-filled pleasure with every sip. Give this a few years of age and it promisses to really hit the spot. Drink from 2025-2045.

3,263 Views

Tasted

Mar 21, 2023

Black and blue fruits with a wealth of Asian spices and espresso is found right off the bat on the nose. On the palate, the wine is rich, supple, lush and polished with a core of ripe, dark, sweet fruits, silky tannins and a finish packed with peppery fruits, chocolate and espresso beans. Give this at least 5-6 years in the cellar and enjoy it over the following 20-25 years. 92-94 Pts

5,428 Views

Tasted

May 20, 2021

2019
Château Meyney (St. Estèphe)

Showing much better in bottle than it did from the barrel, the deeply colored wine is imbued with cigar box, tobacco leaf, spice, espresso, wet earth, and dark currants and blackberries. On the palate, the wine focuses on its medium/full-bodied core of ripe, sweet, dark red fruits, soft, tannins, and polished finish and its light kiss of chocolate in the endnote. Drink from 2025-2042.

6,256 Views

Tasted

Mar 29, 2022

Dark garnet in color, with a healthy sweetness to the cherry and raspberry fruits on the nose and palate. The wine is medium-bodied, fresh and energetic. 90-92 Pts

10,200 Views

Tasted

Jun 8, 2020

2018
Château Meyney (St. Estèphe)

Smoke, espresso, spice box, black cherry, tobacco and blackberries create the perfume. Round, rich, lush, supple textured red fruits taste and feel great on the palate and in the finish. This is so good now and it is only going to get better from here as it should offer up to 2 decades of pleasure. Fans of Meyney should be all over this. The wine was made from blending 42% Cabernet Sauvignon, 40% Merlot and 18% Petit Verdot.

5,871 Views

Tasted

Mar 9, 2021

Clearly a contender for the best vintage of Meyney ever produced, this wine has a fabulous depth of flavor, concentration, silky soft tannins, perfectly ripe dark, spicy, fresh fruits, length and an expansive finish. The wine was made from blending 42% Cabernet Sauvignon, 40% Merlot and 18% Petit Verdot. 93-95 Pts

7,798 Views

Tasted

Apr 19, 2019

2017
Château Meyney (St. Estèphe)

Much better from the bottle, than from the barrel, now, you find a wine packed with sweet red fruits, spice, mint leaf, tobacco, flowers, and blackberries. Medium-bodied, with loads of ripe, red fruits and vibrancy on the palate, with just a touch of oak on the palate to round things out, this is already showing quite well. Drink from 2023-2035.

922 Views

Tasted

Aug 22, 2023

Soft textured, medium bodied, sweet, ripe and polished, there is a gentle, fruity quality that carries through from the attack to the already open finish.

6,349 Views

Tasted

Apr 26, 2018

2016
Château Meyney (St. Estèphe)

Young, but already showing well, the fruits are ripe, sweet, vibrant, long, dark, elegant, and creamy. This is only at the start of its long life. And the best part is, the wine sells for a song. Drink from 2023-2040.

5,238 Views

Tasted

Jul 4, 2023

Here is a wine that keeps getting better with each tasting. Concentrated, lush, deep, fresh, ripe, dense, sweet, long, and rich, there is a beautiful, mineralistic quality to the fruit that shines through today. There is opulence, freshness, energy, and character in this wine that frankly, sells for a song. Drink from 2025-2045.

7,304 Views

Tasted

Jul 8, 2022

Almost opaque in color, you can tell this is going to be Dark black fruits, truffle, smoke, jam and tobacco scents are just great in the nose. The wine is rich, concentrated and has depth of flavor with length. Not a finesse styled wine, instead you enjoy a blast of ripe, dark fruits, crunchy tannins and serious levels of fruit in the finish! This is the best vintage of Meyney ever produced.

7,979 Views

Tasted

Sep 21, 2019

Almost opaque in color, this is a beauty! The wine is rich, concentrated and has depth of flavor with length. The fruit is unadulterated purity and unreal deliciousness; the finishes builds into a sensory experience of taste and feel. This is the best vintage of Meyney ever produced.

10,529 Views

Tasted

Apr 29, 2017

2015
Château Meyney (St. Estèphe)

The wine is medium bodied, soft, polished, forward and delivers its red fruits, tobacco, cedar and spicy cherries with little effort. Give this just a few years and it will show great

4,723 Views

Tasted

May 21, 2018

Medium bodied, soft, refined and focused on its freshness, red fruits and tobacco, cedar, cherry and spice filled character. Forward in style, this will drink well with just a few years of age.

4,631 Views

Tasted

Mar 12, 2018

Soft, fresh, red fruits, this wine is medium-bodied and elegant in texture with salty tannins in mix. 88 - 90 Pts

6,414 Views

Tasted

Apr 19, 2016

2014
Château Meyney (St. Estèphe)

This is probably the best vintage of Meyney produced to date. It's certainly the best wine I've tasted from the estate. (And I have tasted wines dating back to 1929!) Vibrant in color with strong aroma of blackberry, plum and spice, this wine is a liquid dream, concentrated and fleshy with length, purity and character. Much of the success is due to the estate's recently adopted, spare-no-expense attitude and a man named Hubert de Bouard, new consultant to Meyney. This is a wine to watch, especially if it stays reasonably priced. 92–94 Pts

7,743 Views

Tasted

Apr 13, 2015

2013
Château Meyney (St. Estèphe)

Spicy oak with black cherry and spice aromatics on the nose, the wine is medium bodied, with black raspberry and oak on the palate with a bit of a polish sense to its tannins. This is the first vintage made with the aid of Hubert de Bouard as the consultant. 88-90 Pts

2,880 Views

Tasted

Apr 20, 2014

2012
Château Meyney (St. Estèphe)

Ready to drink, medium-bodied, classically-classically-styled, with a nose of tobacco, cedar, green pepper and bright red fruits, the wine is slightly lean on the palate with fresh, bright, crisp red fruits in the finish.

5,319 Views

Tasted

Jun 16, 2021

Earth, forest and cassis notes shift to a medium-bodied, cassis-filled wine that should drink well young. 88-90 Pts

4,687 Views

Tasted

Apr 23, 2013

2011
Château Meyney (St. Estèphe)

From a blend of 55% Merlot, 30% Cabernet Sauvignon and 15% Petit Verdot. The wine reached 13.7% ABV. The wine will be aged in 35% new oak. Damage to various degrees took place to almost 80% of the vineyards due to the September hail storm. Coffee, blackberry and earthy aromatics, medium bodied with ripe tannins, cassis and spicy black cherry in the finish. 87-89 Pts

5,156 Views

Tasted

Apr 8, 2012

2010
Château Meyney (St. Estèphe)

Earthy, mineral driven dark berries, cassis and spicy scents open to a tannic, fresh wine that should improve for another decade or two.

8,037 Views

Tasted

May 8, 2013

2009
Château Meyney (St. Estèphe)

This just keeps getting better and better. The wine is medium/full-bodied, with a core of earthy, spicy, tobacco stained red berries, round, soft, inviting tannins, freshness and a gorgeous, spicy, red fruit filled finish. Give this just a few more years and it will show even better!

4,456 Views

Tasted

Sep 20, 2019

Ripe dark fruits, licorice, smoke, earth and spice aromas open to a medium/full bodied, soft, round, forward wine that can be enjoyed in its youth or aged, as there is enough stuffing for this wine to improve for at least a decade or more.

8,271 Views

Tasted

Jan 28, 2014

2008
Château Meyney (St. Estèphe)

2008 Chateau Meyney is deep ruby in color, Black fruit, cassis, gravel and green aromatics lead into this medium bodied wine. Rough textures and drying tannins are a drawback. The wine ends wine with short cassis flavors.

7,072 Views

Tasted

Sep 24, 2009

2007
Château Meyney (St. Estèphe)

Earthy, tobacco cedar and leafy forest notes almost overwhelm the red fruits and spice. Medium-bodied, fully mature, there is no reason to hold this wine any longer.

2,584 Views

Tasted

Aug 4, 2020

2006
Château Meyney (St. Estèphe)

Better on the nose, with its focus on earth, tobacco, cigar wrapper, herbs, cassis and cranberry, than on the medium bodied, earthy, slightly austere palate. You can drink this now, or age it further, hoping for more softness.

4,922 Views

Tasted

May 25, 2016

2006 Meyney opens with cassis, tobacco, cedar and earthy scents. This traditionally made wine displays a rustic, tannic personality. The wine finishes with a short dark cherry note

6,076 Views

Tasted

Sep 24, 2009

2005
Château Meyney (St. Estèphe)

2005 Meyney - Truffle, mocha. cassis, spice and forest floor scents are already on display. Full bodied and tannic, almost masculine wine will need some time before coming together. It should age well as it has ample stuffing. The wine ends with a blast of black cherry flavors.

8,705 Views

Tasted

Sep 24, 2009

2004
Château Meyney (St. Estèphe)

Past its prime, with crisp red berries, cassis and tobacco notes in the nose, this light wine requires consumption.

5,106 Views

Tasted

Jan 4, 2015

2004 Meyney offers floral, black fruit, truffle, oak and stone aromatics. The wine ends with cranberry and cassis flavors.

3,738 Views

Tasted

Sep 24, 2009

2003
Château Meyney (St. Estèphe)

Earhy, herbs, blackberry, mint and olive scents, soft, supple textures and a round, sweet, blackberry jam finish. This is drinking perfectly today. There is no need to wait to pop a bottle.

5,383 Views

Tasted

Nov 8, 2012

2003 Meyney starts off with fresh blackberry, cassis, spice and toast aromatics. Full bodied and with some intensity of flavor. this concentrated wine is tannic, but the tannins are ripe. This wine will age and develop well.

5,980 Views

Tasted

Sep 24, 2009

2002
Château Meyney (St. Estèphe)

2002 Meyney starts off with earth, barnyard, truffle and tobacco notes. The wine ends with a short finish of cassis, rhubarb and green flavors.

3,243 Views

Tasted

Sep 24, 2009

2001
Château Meyney (St. Estèphe)

2001 Meyney offers earth, cassis and leather aromas. This simple wine ends with cassis and mushroom flavors.

4,435 Views

Tasted

Sep 24, 2009

2000
Château Meyney (St. Estèphe)

2000 Meyney - Spice, earth, cassis, barnyard, horsey aromatics along with green sensations lead into a medium bodied wine that finishes with light rhubarb and cassis flavors.

7,062 Views

Tasted

Sep 24, 2009

1995
Château Meyney (St. Estèphe)

1995 Meyney - Truffle, earth and blackberries make up the aromatics for this lean, thin, drying wine

5,499 Views

Tasted

Sep 24, 2009

1988
Château Meyney (St. Estèphe)

1988 Meyney is fully mature with is mushroom, tobacco, herb. mocha and cassis nose. The wine ends with drying sensations and red and black flavors.

4,170 Views

Tasted

Sep 24, 2009

1986
Château Meyney (St. Estèphe)

1986 Meyney is light in color and body. Stewed fruit, tobacco and earthy aromatics coupled with a short drying finish are to be expected with this fully mature wine. Drink up. It will not get better.

5,968 Views

Tasted

Sep 24, 2009

1982
Château Meyney (St. Estèphe)

Stewed cherries, cassis, forest floor, cedar, coffee, mint and truffle aromas. The fruit seems to be starting to slowly fade away at close to 30 years of age. Drink this over the next few years before more of the fruit fades away.

5,700 Views

Tasted

Sep 24, 2009

1970
Château Meyney (St. Estèphe)

1970 Meyney begins with a stewed fruit, leather, earth, cassis and tobacco nose. This fully mature wine was probably better several years ago as very little fruit remained in this light, red fruited wine.

4,884 Views

Tasted

Sep 24, 2009

1966
Château Meyney (St. Estèphe)

1966 Meyney - Dried pit fruit and tobacco scents were not made more attractive by the austere nature of the wine. This fully mature wine ended with light cassis and cherry flavors.

4,986 Views

Tasted

Sep 24, 2009

1962
Château Meyney (St. Estèphe)

1962 Meyney - Truffle, earth, barnyard. leather and spice made up the perfume. This medium bodied, fully mature wine concluded with light, spice and cassis flavors.

4,132 Views

Tasted

Sep 24, 2009

1961
Château Meyney (St. Estèphe)

1961 Meyney was the color of brick. Herbs stable aromas, cedar, tobacco and cassis made for a nice perfume, But the wine was past its best days and not much fruit remained. The wine ended with cassis and tart sensations. 88 Pts

2,746 Views

Tasted

Sep 24, 2009

1955
Château Meyney (St. Estèphe)

1955 Meyney offered complex aromas of whiskey, cedar, herbs, truffle, herbs, spice and some dark berry scents. Light in texture, this elegant wine may have seen better days. But it was a pleasure to taste as it ended with spicy, berry and cassis flavors.

3,062 Views

Tasted

Sep 24, 2009

1952
Château Meyney (St. Estèphe)

1952 Meyney opened with truffles, earth, barnyard, cedar and forest floor aromas. Very little fruit remained. The wine ended with tart, drying flavors. 80.

3,105 Views

Tasted

Sep 24, 2009

1947
Château Meyney (St. Estèphe)

1947 Meyney - When at first you don't succeed, you try again. At least that's what happened at the chateau on that date. The first bottle was filled with VA, so the chateau agreed to share a second bottle. Earth, leather, crushed rock, tar, smoke, truffle, coffee, smoke and textures that are only experienced with the patina of age were a treat for the senses. The wine ended with delicate, fresh, cherries and spice flavors.

3,048 Views

Tasted

Sep 24, 2009

1934
Château Meyney (St. Estèphe)

1934 Meyney - It's always a pleasure to taste a wine from my dad's birth year. Tea colored with aromas of BBQ, smoke, tea, truffles, flowers and earth. Medium bodied, the wine ends with strawberry, mint and cassis flavors. This was a very nice 1934 Bordeaux wine. While I do not get to taste many 1934 wines, I continue to be surprised at the quality of the vintage. It seems to have been a good vintage with the ability to age for decades.

2,575 Views

Tasted

Sep 24, 2009

1929
Château Meyney (St. Estèphe)

1929 Meyney was a treat and a surprise. The color looked like a wine from the 60's. Truffles, truffles and more truffles permeated the aromatics of this wine. Toss in cedar, spice, leather, earth plus a hint of mint and you get an idea of what this wine smelled like. In the mouth, the wine was opulent, yet a little firm. The finish was filled with black cherries and you guessed it, truffles.

3,035 Views

Tasted

Sep 24, 2009