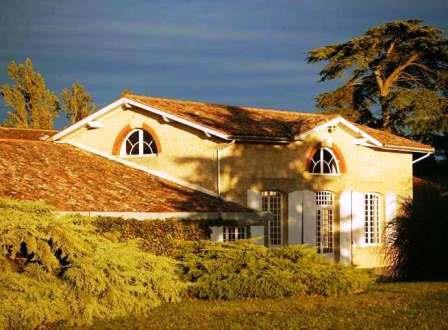 Learn everything about Chateau de Rayne Vigneau Sauternes, Premiers Crus with wine tasting notes, wine and food pairing tips, the best vintages, a history of the property, information on the vineyards and winemaking. If you want to read about other important, Bordeaux Chateaux: Links to all Bordeaux Wine Producer Profiles
Chateau Rayne Vigneau History, Overview
You might find it hard to believe, but 200 years ago, Chateau de Rayne Vigneau was said to be the second-best producer of Sauternes. Only one vineyard was considered to make better Bordeaux wine in the appellation, Chateau d'Yquem!
Chateau de Rayne Vigneau takes its name from the phonetic sound of one of its early owners, Baron de Rayne, and another owner, Etienne du Vigneau. At the time of the 1855 Classification, the estate was known as Chateau Vigneau. Chateau de Rayne Vigneau remained in the hands of de Rayne's ancestors from the 18th century until it was sold in 1961 to Georges Raoux.
George Raoux resold it a decade later to the Cordier Mestrezat group who later sold it to the French bank, Credit Agricole, which owns numerous Bordeaux estates as investments, including Chateau Meyney in St. Estephe and Chateau Grand Puy Ducasse in Pauillac.
In November 2015, it was announced that Credit Agricole sold a large stake in Rayne Vigneau to Tresor du Patrimoine through their wine subsidiary Vins et saveurs de France.
Tresor du Patrimoine is a massive French company that is one of the biggest producers of foie gras. It is hoped that they might eventually sell and package foie gras and Rayne Vigneau, which is a natural combination.
Chateau Rayne Vigneau Vineyards, Terroir, Grapes, Winemaking
Chateau de Rayne Vigneau is a large, 84 hectare Sauternes vineyard planted to 74% Semillon, 24% Sauvignon Blanc and 2% Muscadelle. The sizeable vineyard is planted in 1 solid block of vines.
The terroir is sand, clay, gravel, rocks, and stone soils located on a plateau. The vineyard reaches 75 meters at its peak, giving it one of the highest elevations in the Sauternes appellation.
Vines average close to 30 years of age here. Interestingly, the terroir is littered with occasional deposits of semi-precious stones! The vineyard is situated next to Chateau d'Yquem, so as you can imagine, they are in a very fine location.
To produce the wine of Chateau Rayne Vigneau, after pneumatic pressing, the wine is vinified in 50% new, French oak barrels. The wine is aged in 50% new, French oak barrels for an average of 18 months. On average, close to 10,000 cases of wine are produced here each year.
The best vintages of Chateau Rayne Vigneau are: 2022, 2021, 2020, 2019, 2018, 2017, 2016, 2015, 2014, 2013, 2011, 2010, 2009, 2007, 2005, 2003, 2001 and 1997.
There is a second wine, Madame de Rayne. In addition, the estate also produces Clos l'Abeilley, which is made from a parcel selection. Chateau de Rayne Vigneau also produces a small amount of wine from 100% Semillon, Gold de Rayne, and a dry, white Bordeaux wine, Le Sec de Rayne Vigneau, which comes from a specific 7-hectare parcel of 100% Sauvignon Blanc.
Chateau Rayne Vigneau is one of a handful of moderately priced, Sauternes producers that understand the need to create new markets. To help promote their brand, they recently began selling their wine in individual, 100 ml test tube packages.
The estate has also been focusing on the quality of its wine. Starting with the 2005 vintage, the wines at Rayne Vigneau have become much more interesting to lovers of Sauternes. The owners have started to turn everything around for the better.
When to Drink Chateau Rayne Vigneau, Anticipated Maturity, Decanting Time
Chateau Rayne Vigneau can be enjoyed on the young side with no decanting. In fact, it is delicious and quite a treat young, even on release! However, like all great wines, Chateau Rayne Vigneau is much better with age and does not reach full maturity until it's between 12-30 years of age, or in some years, perhaps even longer in the best vintages!
That is when the magic happens! But that is unrealistic for 99% of the world's wine drinkers. So, enjoy it on any special occasion that calls for it.
Of course, the wine is sweet, but there is so much, incredible, racy acidity, the wine always feels fresh, and never cloying, which makes it quite fun to enjoy young. With Chateau Rayne-Vigneau and frankly, all Sauternes, the temperature is more important than decanting.
Serving Chateau Rayne Vigneau with Wine and Food Pairings
Chateau Rayne Vigneau is best served at 14 degrees Celsius, 57 degrees Fahrenheit. The cool, almost cellar temperature gives the wine more freshness and lift. The wine will naturally warm in the glass, while it develops more aromatic complexities and fleshes out.
Chateau Rayne Vigneau can be served with seafood dishes, especially shellfish, lobster, crab, and oysters on the half shell. Foie gras is a perfect pairing with its natural sweet, salty and savory characteristics. Chateau Rayne Vigneau can also be paired with roasted chicken, veal, and pork dishes that are either spicy or prepared with a touch of sweetness.
Spicy Asian cuisine, raw fish, like sushi or sashimi, and cheese, both hard and soft also make great pairings with Chateau Rayne Vigneau.
Château de Rayne-Vigneau Wine Tasting Notes
19 Vintages 51,304 Views Sort by Vintage-Rating
2022
Château de Rayne-Vigneau (Sauternes)

Layers of sweet, spicy, white peaches, tangerine, mango, and pineapple all coated with honey hit all the right pleasure buttons. The wine is sweet, refined, fresh, and creamy from start to finish. In fact, this is already a treat in your glass. Drink from 2025-2045. 92-94 Pts.

440 Views

Tasted

May 8, 2023

2020
Château de Rayne-Vigneau (Sauternes)

Layers of sweet, spicy, white peaches, tangerine, mango and pineapple all coated with honey hit all the right pleasure buttons. Sweet, refined, fresh and creamy from start to finish, this is already a treat in your glass. Drink from 2023-2045.

493 Views

Tasted

Mar 21, 2023

Pineapple, vanilla, apricots, roasted nuts, flowers and honey create the attention-seeking perfume. Fresh, sweet, ripe, juicy and fruity with loads of honey-coated lemon creme and apricots in the endnote. 91-93 Pts

1,333 Views

Tasted

May 20, 2021

2019
Château de Rayne-Vigneau (Sauternes)

Honeyed apricot, pineapple, candied orange rind, vanilla, a touch of honeysuckle, and a hint of spice are what you initially notice before moving to the fresh, orange and mango-centric, spicy, nutty, sweet, fresh palate. This is one of the sweet wines that will work well with savory courses or as a dessert wine. Drink from 2022-2039.

947 Views

Tasted

Mar 29, 2022

2018
Château de Rayne-Vigneau (Sauternes)

Kicking off with strong floral notes followed by With a range of flowers and orange fruits, you also find vanilla bean and honey notes. A bit light, you can enjoy this young with savory dishes.

762 Views

Tasted

Mar 9, 2021

With a range of flowers and orange fruits, you also find vanilla bean and honey notes. A bit light, you can enjoy this young with savory dishes.

1,822 Views

Tasted

Apr 19, 2019

2018
Château de Rayne-Vigneau Le Sec de Rayne Vigneau (Bordeaux)

Waxy lemon with tropical fruit is crisp, fresh, creamy and ready to go for near term drinking pleasure.

623 Views

Tasted

Mar 9, 2021

2017
Château de Rayne-Vigneau (Sauternes)

The floral notes on the front end add to the pineapple, Mandarin orange and apricot to create the base of the wine. Take all that, drizzle it with honey and vanilla, add a liberal dose of acidity, shake, stir and serve for a delicious indulgence.

1,854 Views

Tasted

Apr 26, 2018

2016
Château de Rayne-Vigneau (Sauternes)

White peaches, flowers, vanilla, apricot, pineapple and honey tones pop as soon as the cork leaves the glass. Sweet, but with ample to provide lift, allowing you to enjoy the array of tropical fruits, vanilla and honey in the finish.

2,326 Views

Tasted

Jul 11, 2020

2015
Château de Rayne-Vigneau (Sauternes)

With a strong floral note that adds to the candied orange, apricot and honey coated pineapples in the nose. Lush, sweet and rich, with a blast of acidity that really keeps this going. Over the past few years, this estate has really upped their game. 92 - 94 Pts

2,584 Views

Tasted

May 3, 2016

2014
Château de Rayne-Vigneau (Sauternes)

Looking for a great deal on a sweet wine for the holidays, look no further. Already delicious to taste today, the roasted apricot, pineapple, mango, vanilla and honeysuckle packed nose is the perfect introduction to all the honey-slathered tropical fruits and nuts on the palate. All of this sweet treat is perfectly balanced with ample racy acidity making this a pleasure to sniff and sip. Drink now, and over the next 2 decades with ease.

1,475 Views

Tasted

Dec 6, 2021

2013
Château de Rayne-Vigneau (Sauternes)

The wine was very tight and will not a lot of coaxing, air and probably bottle age before it begins to display its charms. You could easily sense the sweetness, honey, vanilla and oak, but everything was round at this point, quite tightly.

2,815 Views

Tasted

Feb 1, 2016

2012
Château de Rayne-Vigneau (Sauternes)

Light in color, fruit, density and flavor, this was more like a charming, sweet, aperitif, than a Sauternes. This is the type of sweet wine that pairs quite well with lightweight, but tasty, savory courses or even oysters. This needs to be drunk on the young side.

2,316 Views

Tasted

Nov 25, 2016

2011
Château de Rayne-Vigneau (Sauternes)

With a strong floral note that adds to the candied orange, apricot and honey coated pineapples in the nose. Lush, sweet and rich, with a blast of acidity that really keeps this going. Over the past few years, this estate has really upped their game.

3,008 Views

Tasted

May 25, 2016

A very nice sweet treat here, with loads of fresh, sweet, ripe, honeyed tropical fruits and vanilla. There is ample freshness in the finish to give all the sugar a lift.

3,842 Views

Tasted

Feb 12, 2014

2010
Château de Rayne-Vigneau (Sauternes)

Opened to celebrate International Sweet Wine Day, May, 8, the wine is young, medium bodied, fresh, sweet, vibrant and leaning a bit to the orange, apricot, nectarine, tangerine side of the style range, all coated with honey as expected. There is a solid sensation of sweetness, but the acidity, is sharp, presented and accounted for.

3,846 Views

Tasted

May 9, 2016

2009
Château de Rayne-Vigneau (Sauternes)

Medium bodied, with good, fresh acidity, honeyed tropical and orange fruits, vanilla and floral notes. Forward, sweet and easy to drink, enjoy it now, if you like more tropical tones. Age it for a decade if you prefer more caramel and custard in your glass.

4,376 Views

Tasted

Nov 12, 2015

2007
Château de Rayne-Vigneau (Sauternes)

Apricot, orange, citrus, honey suckle and overripe tropical fruit, lush textures and a sweet, honey coated citrus and tropical fruit finish, good acidity, freshness and length.

4,493 Views

Tasted

May 20, 2012

2003
Château de Rayne-Vigneau (Sauternes)

For some reason, I seldom taste this wine, which is a shame as it can be quite good and sells for a fair price. Lush, juicy layers of overripe pineapple, lemon rind, apricot and marmalade drenched in honey, topped with coconut and vanilla and honeysuckle are found in each sip, swirl and sniff.

5,239 Views

Tasted

May 22, 2013

2001
Château de Rayne-Vigneau (Sauternes)

Ready to go. The wine is medium bodied, fresh and focused on its tropical, pineapple, apricot, tangerine, honey and spicy personality. While it lacks the weight of the top wines from the vintage, the acidity is good, giving the wine the right amount of freshness and sweetness to make it fun to taste today. It is not a wine I'd wait for miracles to happen in the bottle however.

2,738 Views

Tasted

Nov 1, 2016

1937
Château de Rayne-Vigneau (Sauternes)

Amber in color, this stunner offered a perfume of caramel, butterscotch, pineapple upside down cake, burnt, candied orange rind and honey. With intensity, acidity, sweetness and length, this was stunning! If you see this at auction, and it has good provenance, try and buy it!

1,513 Views

Tasted

Apr 22, 2017

1926
Château de Rayne-Vigneau (Sauternes)

More alive than Julius Caesar, but not by much. Murky in color, with very little discernible fruit, there was not a lot of pleasure in this overly acidic wine. If this wine was a person, we would have called 911, hoping to revive it before it was too late.

2,459 Views

Tasted

Oct 28, 2012