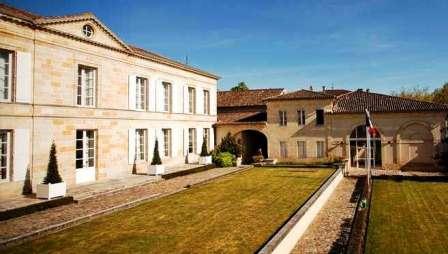 Learn everything about Chateau Grand Puy Ducasse, Pauillac, Fifth Growth with wine tasting notes and wine with food pairing tips. Learn all the best vintages, a history of the property, and information on the vineyards and winemaking. If you want to read about other important, Bordeaux Chateaux: Links to all Bordeaux Wine Producer Profiles
Chateau Grand Puy Ducasse History, Overview
The history of Chateau Grand Puy Ducasse dates back to the middle of the 18th century when Arnaud Ducasse bought a small house next to the Gironde river. He obtained the land from Jacques de Segur. Segur is one of the famous names in the early days of Bordeaux, as they owned much of the land that is devoted to the top chateaux in the Medoc.
That purchase by the river is important because, it eventually became the location of the chateau. In fact, Chateau Grand Puy Ducasse has a unique distinction of being one of the few Bordeaux chateaux that are not located in their vineyards. The chateau, built in the 18th century is located close to the Gironde river.
Additional purchases and exchanges allowed the family to increase the size of what would become the vineyards for Grand Puy Ducasse.
Some of their vines were purchased from the Dejean family, who sold a portion of their Pauillac vineyards to Pierre Ducasse. Those vines soon became Grand Puy Ducasse, while the remainder of their holdings went on to create Chateau Grand Puy Lacoste.
In 1797, the son of Pierre Ducasse inherited the Bordeaux estate known as Ducasse-Grand-Puy-Artigues-Arnaud, which included 60 hectares of vines. His marriage with Jenny Ducasse produced two children who eventually managed the estate when it was classified in 1855 under the name of Chateau Artigues Arnaud. To honor the founders of the Medoc estate, the name was later changed to Grand Puy Ducasse.
Interestingly, Chateau Grand Puy Ducasse has a connection to Sauternes. At some point in time, near the turn of the 19th century, in the early 1900's, the estate was owned by a member of the Suduiraut family. The official company called Grand Puy Ducasse was founded in 1932.
In 1971, Grand Puy Ducasse was sold to investors who once again enlarged the properties Left Bank vineyard holdings. In 1980, the chateau added a new vatting house, including sorting tables and other wine making facilities.
The property was sold in 2004 to CA Grands Crus who began to renovate the vineyards and winemaking facilities. They also brought in the oenologist, Denis Dubourdieu to consult. That situation changed in November 2013, when the owners, who wanted to shake things up brought in Hubert de Bouard of Chateau Angelus from St. Emilion to consult. Things have never been better.
Chateau Grand Puy Ducasse has slowly but surely continued not only improving their wines, but keeping up with technological innovations. In 2012, after giving optical sorting a try in the difficult 2011 Bordeaux vintage, the estate liked the results so much, they purchased their own optical sorters.
In 2012, the chateau completed a renovation of their cellars and added new, cement, egg shaped vats for vinification, which provided a bit more minerality to the wine.
Chateau Grand Puy Ducasse Vineyards, Terroir, Grapes, Winemaking
The 40 hectare Medoc vineyard of Grand Puy Ducasse is planted to 63% Cabernet Sauvignon and 37% Merlot, which shows an increase in the amount of Cabernet Sauvignon in the vineyard, giving the wines more structure, tannin and complexity.
The vineyard of Grand Puy Ducasse can be divided into three main blocks with plots on gravel, clay and sand soils. However, their parcels are widely dispersed in the appellation on a myriad of exposures, elevations and soil types.
In the northern part of Pauillac, their vines border other famous Pauillac estates, Mouton Rothschild, Lafite Rothschild and if you travel further to the north, Pontet Canet and Chateau dArmailhac.
In the southern end of Pauillac, Chateau Grand Puy Ducasse has vines close to Chateau Pichon Baron. They also have parcels close to Chateau Lynch Bages. The vines are close to 30 years of age on average. The vines are planted to a density of between 8,000 and 10,000 vines per hectare. Newer plantings are done at the higher level of vine density.
Chateau Grand Puy Ducasse is vinified in stainless steel vats. Malolactic fermentation takes place mostly in tank. A small percentage of the wine sees Malolactic Fermentation in barrel.
The wines are aged in 50% new, French oak barrels for an average of 18 months, depending on the character of the vintage. Production averages slightly more than 10,000 cases per year for Chateau Grand Puy Ducasse. There is a second wine, Prelude a Grand Puy Ducasse.
The best vintages of Chateau Grand Puy Ducasse are: 2020, 2019, 2018, 2017, 2016, 2015, 2014, 2012, 2010, 2009, 2006 and 2005.
When to Drink Chateau Grand Puy Ducasse, Anticipated Maturity, Decanting Time
Chateau Grand Puy Ducasse needs some time in the cellar before it is truly fun to drink. It is a strong, tannic Pauillac wine. Young vintages can be decanted for an average of 2-4 hours, give or take. This allows the wine to soften and open its perfume. Older vintages might need very little decanting, just enough to remove the sediment.
Chateau Grand Puy Ducasse is usually better with at least 8-10 years of bottle age. Of course that can vary slightly, depending on the vintage character. Chateau Grand Puy Ducasse should be at peak maturity between 10-25 years of age after the vintage.
Serving Chateau Grand Puy Ducasse with Wine, Food, Pairing Tips
Chateau Grand Puy Ducasse is best served at 15.5 degrees Celsius, 60 degrees Fahrenheit. The cool, almost cellar temperature gives the wine more freshness and lift.
Chateau Grand Puy Ducasse is best served with all types of classic meat dishes, veal, pork, beef, lamb, duck, game, roast chicken, roasted, braised and grilled dishes. Chateau Grand Puy Ducasse is also good with Asian dishes, hearty fish courses like tuna, mushrooms and pasta.
Château Grand-Puy Ducasse Wine Tasting Notes
22 Vintages 100,762 Views Sort by Vintage-Rating
2020
Château Grand-Puy Ducasse (Pauillac)

Dark in color with a nose that quickly displays its cedar, tobacco leaf, thyme, smoke and black currant character, the wine is full-bodied and fleshy with salty tannins and a finish loaded with savory creme de cassis and a touch of chocolate. The wine is rich, supple, long, fresh and delivers a serious depth of flavor and character. This is a top vintage for Grand Puy Ducasse that will age for 3 decades with ease. 92-94 Pts

792 Views

Tasted

May 20, 2021

2019
Château Grand-Puy Ducasse (Pauillac)

Fleshy, ripe and loaded with cassis, blackberry and espresso, the wine is medium/full-bodied, round and juicy, which is perfect for all the fruit and mineral essences in the long, vibrant finish. 92-94 Pts

3,429 Views

Tasted

Jun 8, 2020

2018
Château Grand-Puy Ducasse (Pauillac)

Dark in color, the wine is paced with ripe black currants, espresso, smoke, tobacco, vanilla and blackberry. On the palate the wine is sweet, fresh, juicy, crisp and chewy, with a blast of black and red fruits, herbs and cocoa in the finish. This is a wine to lay down for at least 7-8 years to insure an even better experience. The wine is made from blending 52% Cabernet Sauvignon with 48% Merlot. 93 Points

1,105 Views

Tasted

Mar 9, 2021

Dark in color the wine is concentrated and loaded with ripe black currants. The palate feel is full, lush and round, leaving you with dark red fruits, soft tannins and loads of red berries, licorice, tobacco, smoke, cedar and cocoa in the finish. This is a wine to lay down for at least 7-8 years to ensure an even better experience. The wine is made from blending 52% Cabernet Sauvignon with 48% Merlot. 92-94 Pts

1,875 Views

Tasted

Apr 19, 2019

2017
Château Grand-Puy Ducasse (Pauillac)

Tobacco, cedar, licorice and ripe, softly textured, bright fruits create the personality here. The wine is medium bodied with salty tannins and a forward finish. 91 Points

1,404 Views

Tasted

Apr 26, 2018

2016
Château Grand-Puy Ducasse (Pauillac)

Medium-full/bodied, with a nose that blasts you with its floral, red berry, espresso, blackberry and smoke filled nose. There is depth of flavor here, but the focus is clearly on the freshness and finesse over power and tannin. The wine was made from blending 60% Cabernet Sauvignon and 40% Merlot. 93 Points

3,054 Views

Tasted

Sep 21, 2019

In line for the best wine ever produced at the estate, there is concentration, volume, freshness, energy and personality The wine is fleshy, full bodied, slightly polished and with 2 hours of decanting, quite easy to like. 94 Points

1,986 Views

Tasted

Feb 10, 2019

Full bodied, silky, long and fresh, the wine has depth and concentration along with all the ripe, sweet, juicy, fresh dark red fruits you need. The clean, vibrant, cassis and blackberry note in the finish sticks with you. The wine was made from blending 60% Cabernet Sauvignon and 40% Merlot. 93 Points

3,347 Views

Tasted

Apr 29, 2017

2015
Château Grand-Puy Ducasse (Pauillac)

One of the best vintages for Grand Puy Ducasse, the wine is equally luscious, and tannic. But the tannins are soft and refined. The cassis and blackberry fruits are ripe, fresh, vibrant, but also polished. The complexity is there as well as the length. 92 Points

2,830 Views

Tasted

Mar 12, 2018

This should hit the top of my score range without much trouble. The fruit, with all its fresh, juicy cassis, blackberries, cedar and tobacco is coming through, loud and clear. 91 Points

2,255 Views

Tasted

Jul 12, 2017

With a smoky licorice and cassis filled profile, this medium-bodied wine has soft tannins and freshness in the finish. 89-91 Pts

3,197 Views

Tasted

Apr 18, 2016

2014
Château Grand-Puy Ducasse (Pauillac)

Supple textured, round, refined and serving up a medium/full bodied layer of dark, red fruits, oak, licorice, earth and black cherry. The plushly textured, fruit finish has a lot to offer. 92 Points

4,523 Views

Tasted

Feb 1, 2017

A smoky mix of cedar, licorice and cassis start off the nose of this wine which is medium to full-bodied shows gentle, refined tannins and a freshness in the fruity, open finish. 91-92 Pts

2,832 Views

Tasted

Apr 14, 2015

2013
Château Grand-Puy Ducasse (Pauillac)

Opening with cedar, coffee bean and cassis on the nose, this light wine has notes of cranberry and cassis and ends with a sandy, textured finish. 87-88 Pts

2,291 Views

Tasted

Apr 20, 2014

2012
Château Grand-Puy Ducasse (Pauillac)

Medium bodied, with a crisp, bright red fruit character, the wine is better on the nose than on the far too short, crunchy, red fruit dominated finish. 87 Points

2,129 Views

Tasted

Mar 11, 2015

Blending 53% Merlot with 47% Cabernet Sauvignon produced a medium bodied, cassis, earth and cranberry leaning wine with a short, bright and slightly tart, lean finish. 85-87 Pts

3,420 Views

Tasted

Apr 26, 2013

2011
Château Grand-Puy Ducasse (Pauillac)

Tight, tart and drying at this stage, the blackberry tinged finish is the best part of the wine. I'd let this sit in the cellar for a while, hoping that things will come together with time. 87 Points

3,758 Views

Tasted

Feb 16, 2014

Blending 53% Cabernet Sauvignon and 43% Merlot, which reached 13.5% alcohol. Yields were 42 hectoliters per hectare. The wine will be aged in 40% new oak. A ruby hue opens to earth, cassis and a hint of oak. Round tannins and with structure to age, this fresh cassis- and cranberry-filled bright wine needs some time to soften. 88-90 Pts

2,217 Views

Tasted

Apr 10, 2012

2010
Château Grand-Puy Ducasse (Pauillac)

A top notch performance in this vintage with ripe, polished tannins, ample levels of fresh cassis, blackberry, earth, cedar and spice. There is an elegance to the fruit, coupled with the structure to age and charm in the finish. For a classified growth in this vintage, it sells for a fair price as well. 91 Points

5,122 Views

Tasted

May 7, 2013

2009
Château Grand-Puy Ducasse (Pauillac)

The blend of rocks, tobacco leaf, cedar, cigar box and crisp red berries is there on the nose and palate. Juicy, crisp and fresh, with a lot of lift in the finish, this should be better with a few more years in the bottle. 91 Points

1,931 Views

Tasted

Sep 20, 2019

With inviting, text book Pauillac aromas of cedar wood, gravel, cassis, blackberry, truffle and tobacco, this blend of 60% Cabernet Sauvignon and 40% Merlot has round tannins and all the right stuff to age, yet offer pleasure after only a few years of bottle age. For about $40, this is a nice value Bordeaux wine, especially for a Classified Growth. 91 Points

4,552 Views

Tasted

Feb 7, 2012

2008
Château Grand-Puy Ducasse (Pauillac)

Young and tight, which is not what you want in a wine. But if you have to pull a cork in the name of science, give it a few hours of air. Not quite strict, but close, there is a nice wall of blackberry and cassis, licorice, espresso and tobacco, but the finish has a bit more firmness than I'd like. Let's see in another 5 years or so. 90 Points

3,885 Views

Tasted

Oct 29, 2016

2007
Château Grand-Puy Ducasse (Pauillac)

Medium bodied, with peppery, earthy, tobacco influenced, red berry notes in the nose. On the palate, the wine is a bit light, focusing on its slightly, austere, peppery, red fruit character. Drink up. 87 Points

6,060 Views

Tasted

Sep 2, 2017

2006
Château Grand-Puy Ducasse (Pauillac)

Already showing its Pauillac charm, with a cassis, tobacco and cedar filled personality. Medium/full bodied, with a judicious touch of austerity to the tannins in the finish. A few more years should add more nuances and softness to the wine. 91 Points

3,776 Views

Tasted

May 25, 2016

With licorice, smoke, blackberry, cassis, coffee bean and tobacco scents, this medium/full bodied Pauillac is soft and round in texture, but lacking in concentration of flavor. 89 Points

3,267 Views

Tasted

Oct 5, 2011

2005
Château Grand-Puy Ducasse (Pauillac)

This is a nice little value Pauillac with cassis, tobacco, cedar, cigar box and gravel scents. The wine is concentrated with ample ripe crunchy cassis and tannin to allow it to improve at least 15 -20 years. It's hard to find many value priced classified growths today. But this is worth the money. It has nice Bordeaux character. 90 Points

9,235 Views

Tasted

Aug 9, 2011

2004
Château Grand-Puy Ducasse (Pauillac)

Surprisingly fine in this mixed vintage, with polished textures, lots of cassis, tobacco, cedar chest and charm. 90 Points

3,311 Views

Tasted

Jan 4, 2015

2003
Château Grand-Puy Ducasse (Pauillac)

Medium bodied and probably close to fully developed, the fruit has a ripe, flashy, textural quality on the palate. In the nose, tobacco, red and dark red berries, forest floor and earthy notes create the perfume. There is no sensation of heat, or jam, but it seems to have developed rapidly, so it is not a wine for a long term hold. I'd opt for drinking it over the next 5 years or so. 90 Points

2,531 Views

Tasted

Dec 27, 2017

2001
Château Grand-Puy Ducasse (Pauillac)

Fully mature, the wine is medium-bodied bordering on light. The earthy red fruits come with a boatload of tobacco, smoke and wet earth, but the wine lacks depth and punch. The wine is more interesting on the nose than the palate. If you are holding on to this hoping for better days, drink up, as it is not going to get any better. 89 Points

3,157 Views

Tasted

Sep 30, 2019

2000
Château Grand-Puy Ducasse (Pauillac)

Medium bodied and already mature, dominated by bright red fruits, earth, tobacco and spice, this is not a wine to age. 87 Points

3,156 Views

Tasted

Dec 6, 2012

1970
Château Grand-Puy Ducasse (Pauillac)

1970 Grand Puy Ducasse. What a difference a last name makes. I never tasted this wine before today, so I have no idea as to the timing of its demise. From it's color, I doubt it was recent. The tobacco, dried fruit, smoke and earthy aromas were the best part of the wine. Had I not tasted it, my opinion would have been much more positive. Being an intrepid soul, I made the mistake of putting this tart, dried out, sour wine in my mouth. 70 Points

2,683 Views

Tasted

Sep 14, 2010

1961
Château Grand-Puy Ducasse (Pauillac)

Stern and austere, the herbal, leafy, pepper and cedar notes overpowered the remaining cassis and cherry fruits. The finish, with its rustic, bright, cherry and cranberry notes lacked weight and length. I imagine this was better 20 years ago. 86 Points

1,652 Views

Tasted

Oct 6, 2018