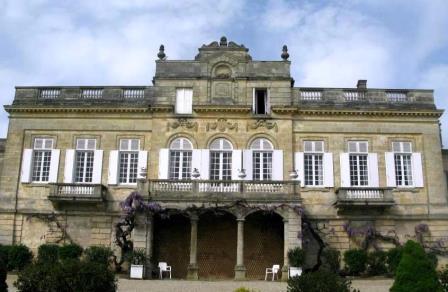 Learn everything about Chateau Le Crock St. Estephe Bordeaux with wine tasting notes and wine with food pairing tips. Learn about the best vintages, wine ratings, a history of the property, information on their vineyards and winemaking. If you want to read about other Bordeaux wine producers: Links to all Bordeaux Wine Producer Profiles
Chateau Le Crock, History and Overview
Chateau Le Crock was the first purchase made by the Cuvelier family. They bought Saint Estephe vineyards of Le Crock in 1903. At one point in the estate's history, the wines were sold under the name of Cru de Crock.
Like many Bordeaux vineyard owners, the Cuvelier family got their start in Bordeaux the same way numerous other future chateau owners did, as negociants.
In fact, the Cuvelier family has a long history in the Bordeaux wine trade dating all the way back to 1804.
Following their purchase of Le Crock, their next acquisition was Chateau Camensac in the Haut Medoc appellation which was followed by buying Chateau Leoville Poyferre in St. Julien. Today, Chateau Le Crock is ably managed by Didier Cuvelier and Anne Cuvelier.
Under their management, Chateau Le Crock has become one of the top Cru Bourgeois producers in the appellation.
To help continue and improve the level of quality they have been producing in the region, they began an extensive remodeling and renovation of their wine-making facilities that will be completed in 2016.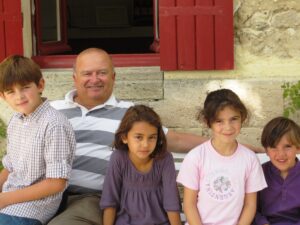 Chateau Le Crock Vineyard, Terroir, Grapes, Winemaking
The 32.5-hectare Bordeaux vineyard of Chateau Le Crock is planted to 45% Cabernet Sauvignon, 44% Merlot, 8% Cabernet Franc and 3% Petit Verdot. This represents a change in the vineyard as today, you find more Merlot and less Cabernet Sauvignon planted in the vineyard.
They have old vines averaging close to 40 years of age. The Saint Estephe vineyards of Le Crock are situated between Chateau Cos d'Estournel and Chateau Montrose, looking east over the Gironde estuary.
The terroir is a mix of deep gravel and clay soil. The Left Bank vineyard is planted to a vine density of 9,000 vines per hectare.
To produce the wine of Chateau Le Crock, the wine is vinified in a combination of 8 cement vats and 14 stainless steel tanks with a 30-day cuvaison. The wine ages in 20% new, French oak barrels for an average of 18 months.
The same team that works with the families other Medoc estates including Chateau Leoville Poyferre in Saint Julien, is responsible for the winemaking at Chateau Le Crock. Michel Rolland joined the team as their consultant in 1994.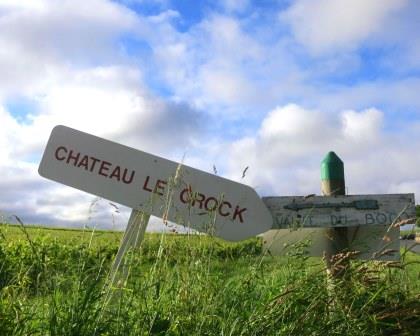 The Best Vintages of Chateau Le Crock are: 2022, 2021, 2020, 2019, 2018, 2017, 2016, 2015, 2014, 2010, 2009, 2005 and 2003.
2009 was a banner year from Le Crock. It is the finest Bordeaux wine from this estate I have ever tasted. In fact, it is the equal of many classified growths in this vintage.
Le Crock is a perfect wine to bring to a blind tasting with more expensive wines from the Medoc.
The wine is also one of my top value picks from not only Saint Estephe, but from the Medoc in 2009. 2010 could be just as good. It's more of a matter of style as to which Bordeaux vintage is better for the St. Estephe estate.
Production is on average 10,000 cases of Chateau Le Crock, St. Estephe wine per year. There is a second wine, La Croix St. Estephe. Chateau Le Crock also produces a Kosher Cuvee.
Chateau Le Crock, due to its great style and ease of drinkability, is a serious contender for the top Bordeaux wine value from Saint Estephe as well as in the entire Medoc appellation.
When to Drink Chateau Le Crock, Anticipated Maturity, Decanting Time
Chateau Le Crock can be enjoyed on the young side with an hour of decanting. However, the wine is usually better at 2-5 years of bottle age. Of course, that can vary slightly, depending on the vintage character. In the best years, the wine will best between 5 and 12 years after the vintage.
Young vintages can be decanted for an average of 1-2 hours or so. This allows the wine to soften and open its perfume. Older vintages might need very little decanting, just enough to remove the sediment.
Serving Chateau Le Crock with Wine, Food, Pairing Tips
Chateau Le Crock is best served at 15.5 degrees Celsius, 60 degrees Fahrenheit. The cool, almost cellar temperature gives the wine more freshness and lift.
Chateau Le Crock is best served with all types of classic meat dishes, veal, pork, beef, lamb, duck, game, roast chicken, roasted, braised, and grilled dishes. Chateau Le Crock is also good when served with Asian dishes, hearty fish courses like tuna, mushrooms, pasta, and cheese.
Château Le Crock Wine Tasting Notes
17 Vintages 70,559 Views Sort by Vintage-Rating
2022
Château Le Crock (St. Estèphe)

Black raspberries, herbs, spices, licorice, and flowers show readily in the nose. Medium-bodied, and packed with much more fruit, and freshness than usual, this is simply a pleasure to taste. The bold, showy finish, with its layers of blackberries, crème de cassis, spice, and tobacco leaves is lifted, elegant and creamy. There is no doubt, this is the best vintage of Le Crock ever produced! This will be simply delicious on release, yet, it can age for over a decade if you prefer more secondary notes. The wine blends 44% Cabernet Sauvignon, 40% Merlot, 11% Cabernet Franc and 5% Petit Verdot. 14.71% ABV, 3.84 pH. Drink from 2025-2040. 92-94 Pts.

582 Views

Tasted

May 8, 2023

2021
Château Le Crock (St. Estèphe)

Flowers, black raspberries, espresso and a nice touch of cocoa are easy to find in the background of the perfume. On the palate, the wine is medium-bodied, fresh, vibrant and fruity, with a softness to the tannins and a nice bite of savory-edged Cabernet in the polished finish. This will be simply delicious on release. The wine is a blend of 58% Cabernet Sauvignon, 25% Merlot, 10% Cabernet Franc and 7% Petit Verdot. Drink from 2023-2035. 89-91

1,310 Views

Tasted

May 20, 2022

2020
Château Le Crock (St. Estèphe)

Medium-bodied, soft, creamy and fresh, with layers of ripe, polished red currants, blackberries, spice, chocolate and a sprig of fresh mint at every turn, this is going to be delicious on release and it also offer additional levels of complexity with a few years of age. Drink from 2023-2038.

724 Views

Tasted

Mar 21, 2023

With good color, the wine is bright, fresh, juicy and richly textured. Medium/full-bodied with loads of ripe, sweet, round berries, spice and chocolate in the finish. This is is so good today, you can enjoy it right now. And it will be even better with just a few years of age. 90-92 Pts

1,868 Views

Tasted

May 20, 2021

2019
Château Le Crock (St. Estèphe)

Medium-bodied, soft, energetic red fruits with touches of herbs, flowers, spice, and wet earth come through easily on the nose and palate. The hints of spice, wet earth, black and red fruits in the finish seal the deal here. You can enjoy this on release, but it will be better after 1-2 years of age. Drink from 2023-2035.

1,350 Views

Tasted

Mar 29, 2022

With good color, you also find richness, lush fruits, round tannins and a gorgeous finish of earthy, leathery, fresh fruits, espresso, smoke and cocoa. Give this just a year or two and enjoy it over the next 12-15 years. The wine was produced from 45% Merlot, 40.% Cabernet Sauvignon, 10% Cabernet Franc and 5% Petit Verdot. Value seekers should be all over this one. 90-92 Pts

2,399 Views

Tasted

Jun 8, 2020

2018
Château Le Crock (St. Estèphe)

Chewy, fresh, bright, sweet, earthy red pit fruits and tobacco leaf show with little effort on the nose. On the palate the wine is round, juicy, sweet and fruit and a nice spicy endnote that delivers blackberry and currants. Give this just a year or two and enjoy it over the next 12-15 years. Value seekers should be all over this one.

1,799 Views

Tasted

Mar 9, 2021

Earthy black cherries, clay, smoke and licorice sensations for the aromatic character. On the palate the wine is round, soft, sweet and juicy. The fruit is easy to like, due to its perfect ripeness. In the finish, spice, licorice and blackberry kick in and stay there. Give this just a year or two and enjoy it over the next 12-15 years. The wine was produced from 45% Merlot, 40.% Cabernet Sauvignon, 10% Cabernet Franc and 5% Petit Verdot. Value seekers should be all over this one. 91-93 Pts

2,627 Views

Tasted

Apr 19, 2019

2017
Château Le Crock (St. Estèphe)

Spicy black cherries kick in quickly. This wine is medium bodied, fresh, sweet and finishes with herbs, bright fruit and a soft, polished touch. The wine was produced from 52% Cabernet Sauvignon, 34% Merlot, 8% Petit Verdot and 6% Cabernet Franc.

2,917 Views

Tasted

Apr 26, 2018

2016
Château Le Crock (St. Estèphe)

Spicy cassis with rich textures and cushy, polished, sumptuous tannins, this one gives you floral notes and curvy, salaciously juicy fruits with a hint of licorice in the finish. The wine was produced from 46% Merlot, 40% Cabernet Sauvignon, 8% Cabernet Franc and 4% Petit Verdot.

2,886 Views

Tasted

Apr 29, 2017

2015
Château Le Crock (St. Estèphe)

Medium-bodied with a touch of vanilla, dark, red fruits and spice, this wine is soft, forward and fresh with sweet cherries and more vanilla in the finish. Produced from 50% Cabernet Sauvignon, 31% Merlot, 7% Petit Verdot and 12% Cabernet Franc. 88 - 90 Pts

2,622 Views

Tasted

Apr 19, 2016

2014
Château Le Crock (St. Estèphe)

This wine offers a lot of bang for the buck. Medium-bodied, elegantly-styled with freshness and layers of verdant, juicy, red berries and wild herbs. The wine was produced from 50% Cabernet Sauvignon, 39% Merlot, 8% Petit Verdot and 3% Cabernet Franc. It should drink well young. 89-90 Pts

3,325 Views

Tasted

Apr 13, 2015

2013
Château Le Crock (St. Estèphe)

Blending 53% Cabernet Sauvignon, 33% Merlot, 9% Cabernet Franc and 5% Petit Verdot, the wine starts with oak, espresso and black cherry aromas. The wine is clean and fresh, delivering a nice dose of black cherries in the finish. 88-89 Pts

2,817 Views

Tasted

Apr 20, 2014

2012
Château Le Crock (St. Estèphe)

A blend of 50% Cabernet Sauvignon, 37% Merlot, 8% Petit Verdot and 5% Cabernet Franc produced a wine with earthy, blackberry, spice and cassis scents. This medium-bodied wine ends with cassis and herbs. 86-88 Pts

2,578 Views

Tasted

Apr 23, 2013

2011
Château Le Crock (St. Estèphe)

Cherry and chocolate mint on the nose, soft, open and approachable, there is good freshness to the sweet, cocoa dusted, almost bright, red cherry finish.

4,555 Views

Tasted

May 20, 2014

A blend of 46% Merlot, 37% Cabernet Sauvignon and a whopping 17% Petit Verdot set a record for the estate for the inclusion of Petit Verdot. On average, the blend contains closer to 5%. The wine reached 13.5% ABV. This is due to the September hail storm that slammed into Le Crock damaging a large portion of the Cabernet Sauvignon and Merlot found in the vineyard. Deep in color with a spicy, earth and red berry-dominated nose, the wine is tannic, fresh, ripe and strong, ending with sweet, round cassis. 89-90 Pts

4,818 Views

Tasted

Apr 8, 2012

2010
Château Le Crock (St. Estèphe)

Le Crock - A blend of 47% Cabernet Sauvignon, 33% Merlot and 7% Petit Verdot, the wine offers coco powder, cassis and black raspberry aromas. Medium bodied and round textured, this wine packs a lot of punch more the money. The wine ends with a fresh cassis finish. 90-91 Pts

8,274 Views

Tasted

Apr 19, 2011

2009
Château Le Crock (St. Estèphe)

Medium-bodied, soft, polished, earthy, and fully mature, the wine serves up its round, soft, spicy red berries, tobacco, thyme and coffee notes with ease. This is not a long-distance runner, so if you have been waiting, you should be enjoying this now and over the next 5 years or so.

2,917 Views

Tasted

Sep 20, 2019

Le Crock is another great 2009 selling for a fair price. Located not far from Cos d'Estournel, the wine has a nose filled with aromas of berries, rocks, and spice. Round in texture, the wine finishes with dark cherry and earth flavors. This is one of the better values of the vintage.

5,200 Views

Tasted

Jun 26, 2010

2008
Château Le Crock (St. Estèphe)

Herbaceouos, with bright red cherries, medium bodied and tartness in the finish.

3,220 Views

Tasted

Nov 19, 2014

2005
Château Le Crock (St. Estèphe)

Spicy, fresh, tannic, firm and structured, with fresh black and red fruits, this is still young and should be better with another year or two in the bottle which should help it soften and come together.

5,122 Views

Tasted

Jul 25, 2013

Light in style, this medium bodied, charming St. Estephe offers black frutis, spice and earth. This is not a wine to age. Starting in 2009, the quality of Le Crock took a big leap forward.

4,350 Views

Tasted

Oct 11, 2011

2003
Château Le Crock (St. Estèphe)

Fully mature with a nose of cigar box, herbs, earth and dark red cherries. The wine is soft round and open, leaving with fresh cherries in the finish.

2,299 Views

Tasted

Dec 18, 2013