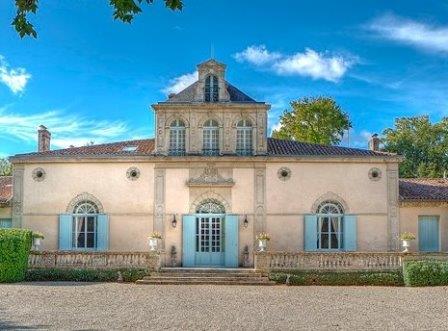 Learn everything about Chateau Siran Margaux with wine tasting notes and wine with food pairing tips. Learn the best vintages, a history of the property, information on the vineyards and winemaking. If you want to read about other important, Bordeaux Chateaux: Links to all Bordeaux Wine Producer Profiles
Chateau Siran History, Overview
Chateau Siran has a history in the Medoc that dates back to 1428, making it one of the oldest estates in Margaux. The property took its name from Guilhem de Siran, the first owner of the estate. Since then, Chateau Siran has been owned by several interesting families over the centuries, including the Toulouse Lautrec family. The owners were the grandparents of the famous French painter.
Chateau Siran has been the property of the Miailhe family since 1858, having purchased the estate from the Lautrec family. Perhaps it is the connection to Toulouse Lautrec that inspired Chateau Siran to create a series of art labels.
Similar to what Chateau Mouton Rothschild does in Pauillac each year with their labels, from 1980 to 2005, Chateau Siran also created a new label for each vintage that features a different artist. However, from the 2005 vintage forward, Siran has retained the same label.
In late 2014, Chateau Siran finished a complete renovation and modernization of their cellars and wine-making facilities along with their museum. The museum, which is worth a trip to see has a stunning collection of wine-related objects including several ancient amphorae, the oldest of which can be dated all the way back to 300 BC.
If you're visiting Siran, be sure to ask to see the only wine cellar in Bordeaux built to withstand a nuclear explosion or the failure of the nuclear plant in Blayais. The bomb shelter, which is really just used as a cellar to store their oldest bottles was built during the 1980s.
Chateau Siran Vineyards, Terroir, Grapes, Winemaking
The 24.5 hectare Left Bank vineyard of Chateau Siran is planted to 46% Merlot, 40% Cabernet Sauvignon, 13% Petit Verdot and 1% Cabernet Franc. The vineyard is located in the southern part of the Margaux appellation, close to Chateau Dauzac on one side of the road and Chateau Giscours on the other side.
The terroir is gravel and sand soils. The vineyard has a vine density of 10,000 vines per hectare. On average the vines are kept at 30 years of age. By 2020, 10% of the vineyard has moved to be organically farmed.
At various points in time, Siran was consulted by Michel Rolland from 1995 to 2004, who was followed by Denis Dubourdieu from 2004. Starting with the 2015 vintage, Chateau Siran began working with Hubert de Bouard of Chateau Angelus and the wines have never been better. In fact, 2015 is a contender for being one of the finest wines the estate has ever produced!
To produce the wine of Chateau Siran, the wine is vinified in temperature-controlled, stainless steel vats. Malolactic fermentation takes place in tank. The wine is aged in an average of 50% new, French oak barrels for 12 months before bottling. There is a second wine, S de Siran. On average, the annual production of Siran is close to 10,000 cases of wine per vintage.
For now, 2015 Siran is the finest wine the estate has ever produced in its history. I have not had the chance to taste really mature vintages, but people I trust have had positive experiences from very old vintages. The wines made at Siran from top vintages 1961 and older are said to be quite good.
The best vintages of Chateau Siran are: 2020, 2019, 2018, 2016, 2015, 2014, 2012, 2010, 2009 and 2005.
Not all of their vines are not all in the Margaux appellation. Chateau Siran also owns 14.5 hectares of vines and they also own vines in Bordeaux Superieur, where they produce Siran Saint Jacques. In addition, Chateau Siran also produces a wine from 14.5 hectares of vines they own in the Haut Medoc appellation which are used to produce Bel-Air de Siran.
When to Drink Chateau Siran, Anticipated Maturity, Decanting Time
Chateau Siran can be enjoyed on the young side with decanting. Young vintages can be decanted for an average of 1-3 hours, give or take. This allows the wine to soften and open its perfume. Older vintages might need very little decanting, just enough to remove the sediment.
Chateau Siran is usually better with at least 7-10 years of bottle age. Of course, that can vary slightly, depending on the vintage character. Chateau Siran offers its best drinking and should reach peak maturity between 10-22 years of age after the vintage.
Serving Chateau Siran with Wine, Food, Pairing Tips
Chateau Siran is best served at 15.5 degrees Celsius, 60 degrees Fahrenheit. The cool, almost cellar temperature gives the wine more freshness and lift. The wine will also warm up in the glass as the aromatics develop.
Chateau Siran is best served with all types of classic meat dishes, veal, pork, beef, lamb, duck, game, roast chicken, roasted, braised, and grilled dishes. Chateau Siran is a perfect match with Asian dishes, hearty fish courses like tuna, mushrooms, and pasta as well as cheese.
Château Siran Wine Tasting Notes
16 Vintages 126,610 Views Sort by Vintage-Rating
2020
Château Siran (Margaux)

Incense, spice, oak, licorice, spearmint, smoke and red fruits peek through the perfume with ease. From there, the wine is plush and polished round and supple with layers of sweet, ripe fruits, spice and earthy nuances. Give this 7-8 years of cellaring and pop a cork on the best value in the Margaux appellation today. 92-94 Pts

2,342 Views

Tasted

May 20, 2021

2019
Château Siran (Margaux)

Intensely floral, with a strong note of violets, black cherry, espresso, cocoa and roses on the nose are what you initially notice. From there you move to the voluptuously textured palate with its layers of fresh, ripe, silky black fruit with a touch of spicy chocolate that hits all the right notes. They are doing everything right at Siran these days. This is a beauty from start to finish that for a wine of this quality, sells for a song. As an added bonus, the bottle features a special label design celebrating 160 years of family ownership. Drink from 2024-2047. 94 Points

2,104 Views

Tasted

Mar 29, 2022

The overwhelming scent of violets is the first thing you notice. From there, touches of smoky espresso, sweet cherries and black pit fruits come alive. Silky and polished on the palate, the finish delivers loads of sweet, lush, ripe fruits with elegance and purity. 91-93 Pts

4,553 Views

Tasted

Jun 8, 2020

2018
Château Siran (Margaux)

Showing a good depth of color, the wine kicks off with flowers, forest floor, espresso, tobacco leaf, spice and a hint of truffle. On the palate the wine is round, lush, full-bodied and carries its multiple-layers of sweet fruits nicely. There is depth, length and energy here. You can enjoy this for at least 20 years or more. The wine blends 45% Merlot, 44% Cabernet Sauvignon, 10% Petit Verdot and 1% Cabernet Franc, 14% ABV. 93 Points

3,381 Views

Tasted

Mar 9, 2021

With considerable color and silky tannins, this wine is rich, polished, lush and round. The fruit is ripe, sweet, fresh and long with a spicy, dark cherry and mocha finish. Made from blending 45% Merlot, 44% Cabernet Sauvignon, 10% Petit Verdot and 1% Cabernet Franc, the harvest took place from September 20 to October 13, reaching 14% alcohol. 92-94 Pts

6,475 Views

Tasted

Apr 19, 2019

2017
Château Siran (Margaux)

Cherry blossom, licorice, espresso and ripe plums get the medium bodied wine off to a good start. It's the blend of sweet, red fruits, soft, polished tannins and acidity that create the personality. You'll be able to enjoy this while waiting for the 2015 and 2016 to mature. The wine was made from blending 46% Merlot, 45% Cabernet Sauvignon and 9% Petit Verdot. The harvest took place from September 18 to October 5 and he wine reached 13.5% alcohol. 91 Points

4,936 Views

Tasted

Apr 26, 2018

2016
Château Siran (Margaux)

Deep in color the wine pops with oak, licorice, smoke, red fruits and espresso. The wine is medium-bodied, round delivers tobacco, licorice and dark, red pit fruit in the finish. Give this 7-8 years and pop a cork on the best value in the Margaux appellation. 92 Points

4,455 Views

Tasted

Sep 21, 2019

Medium-bodied, round and open, this wine delivers tobacco, licorice and dark, red pit fruit both in the nose and on the palate, with a softly textured, elegant finish. The wine was produced from blending 46% Cabernet Sauvignon, 44% Merlot, 9% Petit Verdot and 1% Cabernet Franc. 92 Points

9,309 Views

Tasted

Apr 29, 2017

2015
Château Siran (Margaux)

This just keeps getting better and better. It is complex, fresh, rich, silky and lushly textured, with loads of sweet, ripe, fresh fruit on the nose and palate. This really offers great character. If you can wait until 2025, you will have a super wine on your hands. And it still sells for a song! 94 Points

7,359 Views

Tasted

Dec 4, 2019

Silky textures, refined tannins and an elegant, fresh, juicy mouthful of earthy, ripe, sweet dark red fruits with nuances of tobacco, wet earth, cigar wrapper and a background note of licorice are a turn on. Give this about 7 years in the cellar and this should start to really show its character and complexities. Today, there is no better wine for the money from the Margaux appellation than the 2015 Chateau Siran. The wine was made from blending 55% Merlot, 38% Cabernet Sauvignon and 7% Petit Verdot. 93 Points

7,861 Views

Tasted

May 21, 2018

There is no better wine from Margaux for the money than the4 2015. Thus sublime beauty offers silky textures, refined tannins and a sweet, juicy, mouthful of ripe, deep, red fruits, floral notes and a polished, soft, elegant finish. Prices can only go up. So grab it while you can. 93 Points

8,864 Views

Tasted

Mar 12, 2018

There is no better wine for the money coming out of the Margaux appellation than Siran. Character driven, complex, fresh, fruity and with loads of earthy, dark red fruits and violets. Look at the top of my range, as that is where this is headed.. 93 Points

8,226 Views

Tasted

Jul 12, 2017

Medium/full-bodied with a nice polish to the sweet, black cherries, plum and cassis, the ripe tannins, silky textures and long finish taste and feel great. This is probably the best vintage yet produced by the southern Margaux. The wine is made from a blend of 55% Merlot, 38% Cabernet Sauvignon and 7% Petit Verdot . Some of the credit for this super wine has to go to bringing in Hubert de Bouard as their consultant. 91 – 93 Pts

7,954 Views

Tasted

Apr 21, 2016

2014
Château Siran (Margaux)

The debut vintage for Hubert de Bouard as the consultant has yielded a soft, approachable, silky, fresh, elegant charmer that will be drinkable early. 91 Points

3,050 Views

Tasted

Feb 4, 2017

This is the best wine I've tasted from Siran. Medium-bodied, soft, round and open with a core of licorice, blackberry and dark molten chocolate, this is a property to watch, as Hubert de Bouard is now the consultant. 89-91 Pts

2,894 Views

Tasted

Apr 22, 2015

2013
Château Siran (Margaux)

From a blend of 55% Cabernet Sauvignon, 35% Merlot and 10% Petit Verdot, this medium-bodied wine displays rustic tannins and a crisp finish with cranberry and cassis. 83-85 Pts

2,552 Views

Tasted

Apr 20, 2014

2012
Château Siran (Margaux)

Medium bodied, bright, red fruits, earth and spicy notes lead to a soft wine that should drink best on the young side. 87 Points

3,850 Views

Tasted

Mar 11, 2015

55% Merlot, 35% Cabernet Sauvignon and 10% Petit Verdot, the red berry and herb-tinged, lean wine is chalky on the finish. 84-86 Pts

3,952 Views

Tasted

Apr 25, 2013

2011
Château Siran (Margaux)

Medium bodied, light in style, focused on red fruits and spice, this is a wine to drink young. 85 Points

5,555 Views

Tasted

Feb 17, 2014

2010
Château Siran (Margaux)

Medium bodied, pleasant, straight forward, with a focus on earthy, black fruits, with a rustic, chalky quality to the tannins in the finish. 87 Points

5,544 Views

Tasted

Nov 23, 2014

2009
Château Siran (Margaux)

Looking a few years younger than its actual age, the wine offers red cherry, truffle, tobacco and cedar on the nose. Medium bodied, firm, classic and still fresh, the wine needs more time before it its ready. Give it another 5 years before popping a cork. 88 Points

2,623 Views

Tasted

Sep 20, 2019

This is quite nice and does not display the usual rustic tannins I often find in this chateau. The licorice, espresso bean, earth, black cherry and floral nose opens to a medium bodied, soft, round wine with plenty of spicy, ripe berries in the finish. 89 Points

2,668 Views

Tasted

Feb 16, 2014

2008
Château Siran (Margaux)

Already showing secondary notes of truffle, ash, cigar box, tobacco and currants, on the palate, the wine is medium bodied, soft, with a cherry nuance, but lacking in the depth and complexity found in more recent vintages. You can drink this now, or age it a few more years. 87 Points

2,444 Views

Tasted

Sep 17, 2018

2005
Château Siran (Margaux)

Austere in style, with firm tannins, cassis, cherry and cranberry fruit and an earthy, spicy, tobacco scented nose. 87 Points

5,541 Views

Tasted

Dec 4, 2014

2003
Château Siran (Margaux)

Fully mature, the wine is already on the cusp of the earth, smoke and tobacco side, instead of the fruit-filled side, this is in its prime time drinking window. Medium bodied, soft, and easy on the palate, if you have any remaining bottles, I'd drink them over the next few years. 87 Points

2,277 Views

Tasted

Sep 19, 2018

2000
Château Siran (Margaux)

Nice wine here that is clearly drinking where you want it to be. The nose shows secondary characteristics of tobacco, flowers, dark red fruits and forest floor scents. There is good texture, concentration, length and freshness in the earthy, blackberry filled finish. 90 Points

5,841 Views

Tasted

Jun 14, 2016