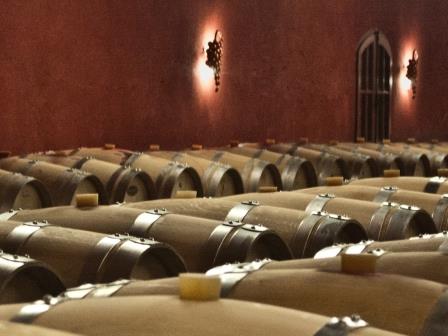 Learn everything about Chateau Maison Blanche Medoc with wine tasting notes and wine with food pairing tips. Learn the best vintages, the history of the property, and information on the vineyards and winemaking. If you want to read about other important, Bordeaux Chateaux:Links to all Bordeaux Wine Producer Profiles
Chateau Maison Blanche History, Overview
Chateau Maison Blanche was purchased in 2000 by Patrick Bouey. While their purchase of Chateau Maison Blanche is relatively recent, as far as Bordeaux goes, the Bouey family has a long history in the region. In fact, the family has been active in the Bordeaux region as winemakers and negociants since 1821.
Chateau Maison Blanche Vineyards, Terroir, Grapes, Winemaking
The 28-hectare, Left Bank vineyard of Chateau Maison Blanche is planted to 80% Merlot, 16% Cabernet Sauvignon and 4% Cabernet Franc. Chateau Maison Blanche, along with Chateau Coufran has the highest percentage of Merlot planted in the Medoc.
This adds a lot of inherent softness, roundness, and ripe fruit characteristics to their wine, which is needed from their terroir, as they are so far north, placing them in the cooler terroir of the northern Medoc. They have a terroir of gravel, clay, and limestone soils.
While the average age of the vines is only 20 years, there are old vines, some of which date all the way back to 1954. The terroir is clay and limestone-based soils. The estate focuses on biodynamic and organic vineyard farming techniques.
The property earned its certification for being 100% ISO biodynamic in 2011. The winemaking and vineyard management for Chateau Maison Blanche is consulted by the team of Stephane Derenoncourt. It was a few rounds of musical chairs for their consultants because Stephane Derenoncourt was brought in to replace Michel Rolland.
To produce the wine of Chateau Maison Blanche, the wine is vinified in temperature-controlled, stainless steel vats. The grapes are whole berry fermented. Malolactic fermentation takes place in French oak barrels. The wine is aged in 75% new, French, oak barrels for 12 months before bottling.
The estate also produces Maison Blanche Parcelle and Chateau Lestruelle. Maison Blanche Parcelle is the top wine from the property. The wine is produced from a selection of the estate's best parcels.
The wine is produced using micro vinification techniques, meaning that the wine was vinified entirely in French oak barrels. The production is small with only 400 cases produced in each vintage. On average, Chateau Maison Blanche produces about 12,000 cases in total of all their different wines in every vintage.
The best vintages of Chateau Maison Blanche are: 2022, 2021, 2020, 2019, 2018, 2017, 2016, 2015, 2014, 2010, 2009 and 2005.
When to Drink Chateau Maison Blanche, Anticipated Maturity, Decanting Time
Chateau Maison Blanche needs some time before it can be enjoyed. Young vintages can be decanted for an average of 1 hour or so. This allows the wine to soften and open its perfume. Older vintages might need very little decanting, just enough to remove the sediment.
Chateau Maison Blanche is usually better with at least 1-3 years of bottle age. Of course, that can vary slightly, depending on the vintage character. Chateau Maison Blanche offers its best drinking and should reach peak maturity between 2-8 years of age after the vintage
Serving and Decanting Chateau Maison Blanche with Wine, Food, Pairing Tips
Chateau Maison Blanche is best served at 15.5 degrees Celsius, 60 degrees Fahrenheit. The cool, almost cellar temperature gives the wine more freshness and lift. The wine of Chateau Maison Blanche is best served with all types of classic meat dishes, veal, pork, beef, lamb, duck, game, roast chicken, roasted, braised, and grilled dishes.
Chateau Maison Blanche is a perfect match with Asian dishes, hearty fish courses like tuna, mushrooms, and pasta as well as cheese.
www.famillebouey-vignobles-chateaux.com
Château Maison Blanche Wine Tasting Notes
10 Vintages 30,738 Views Sort by Vintage-Rating
2019
Château Maison Blanche (Médoc)

Medium-bodied, flowery in nature, with ripe, soft, sweet red berries in a forward, easy-to-like and easy-to-drink style. 88-90 Pts

2,014 Views

Tasted

Jun 8, 2020

2018
Château Maison Blanche (Médoc)

Sweet red and black fruits with a background hint of licorice and tobacco start the wine off. Soft, juicy and filled with ripe, sweet, fresh, red berries, you can enjoy this now, or give it few years of age. This is a solid Bordeaux value wine with great Medoc character deserving a look from savvy wine buyers not looking for big names.

969 Views

Tasted

Mar 9, 2021

Packed with ripe, round, earthy, spicy, dark berries, tobacco and forest, leaf, you have nice volume and loads of fruit, soft tannins and ample fruit in the finish. This is a solid Bordeaux value wine with great Medoc character deserving a look from savvy wine buyers, not looking for big names. 89-91 Pts

1,415 Views

Tasted

Apr 19, 2019

2017
Château Maison Blanche (Médoc)

Rustic with earth and cherry, this wine delivers a big, juicy mouthful of tobacco tinged, dark red fruits. You should enjoy this on release.

1,908 Views

Tasted

Apr 26, 2018

2016
Château Maison Blanche (Médoc)

Forward, medium-bodied, fruit and fresh, this is perfect for early drinking.

2,329 Views

Tasted

Sep 21, 2019

A straightforward, uncomplicated, medium-bodied, correct wine with a red fruit and tobacco edge.

2,805 Views

Tasted

Apr 29, 2017

2015
Château Maison Blanche (Médoc)

Medium-bodied, with a forward, easy going, early drinking character for pleasurable, uncomplicated drinking. 84 - 86 Pts

2,686 Views

Tasted

Apr 26, 2016

2014
Château Maison Blanche (Médoc)

This medium-bodied is fresh and juicy with cassis, cocoa and cherries. 86-88 Pts

2,126 Views

Tasted

Apr 21, 2015

2013
Château Maison Blanche (Médoc)

Simple red berry quaffer that requires drinking in the first few years of life. 82-84 Pts

2,680 Views

Tasted

Apr 23, 2014

2012
Château Maison Blanche (Médoc)

Really nice, Left Bank Bordeaux value wine here, with freshness to the earthy, spice filled, cherries with forest overtones. Medium/full bodied, with a spicy, fresh, dark, red berry finish that is tasty now, and will be even better another 2-3 years in the bottle.

2,199 Views

Tasted

Nov 6, 2016

2009
Château Maison Blanche (Médoc)

Blackberry, earth and cassis fragrances couple with round textures to produce an easy to drink early wine that represents a good value wine from the Medoc in 2009.

5,785 Views

Tasted

Jul 20, 2011

2005
Château Maison Blanche (Médoc)

Fully mature, this earthy, plummy, tobacco laden wine requires consumption over the next few years.

3,822 Views

Tasted

Feb 16, 2014