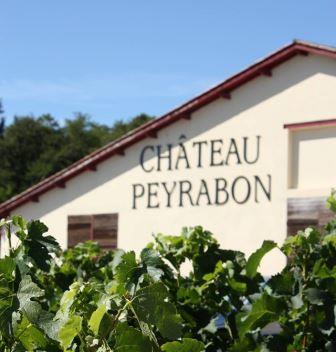 Learn everything about Chateau Peyrabon Haut Medoc with wine tasting notes and wine with food pairing tips. Learn the best vintages, a history of the property, and information on the vineyards, and winemaking. If you want to read about other important, Bordeaux Chateaux: Links to all Bordeaux Wine Producer Profiles
Chateau Peyrabon History, Overview
Chateau Peyrabon has a history that dates back to the mid to late 1700s. In fact, the chateau was built in 1766. The wine of Chateau Peyrabon had become popular enough that by the late 1800s, the wines were priced at the same level that some of the 1855 Classified Growths were selling for.
The owner at the time, Arnaud Roux was so sure his wine deserved to be classified, along the same lines as his neighboring estates, Arnaud Roux actually sued, hoping to force a reclassification of the Medoc that included Chateau Peyrabon.
Needless to say, he did not win his case. The judge ruled against him in 1869 and the 1855 Classification was not changed.
The modern era for Chateau Peyrabon begins in 1998 when the property was sold by Jacques Babeau to Patrick Bernard. Patrick Bernard was quite well-known in Bordeaux by this time as he is related to Olivier Bernard of Domaine de Chevalier.
Patrick Bernard was also responsible for forming Millesima. Millesima is both a large Bordeaux negociant and a massive direct mail-order house for the sale of Bordeaux wine.
Under the stewardship of Patrick Bernard, Chateau Peyrabon has both increased in size and improved in quality. Patrick Bernard spent more than 2 Million Euros to improve the estate after its purchase. Some of the improvements to Chateau Peyrabon include the replanting of 11 hectares of vines.
Trees were cut down to increase the air circulation for the vines and a new drainage system was installed. There was also a modernization of the cellars, wine-making facilities, and chateau.
In September 2022, the vineyard was purchased by Philippe Casteja and Frederic Casteja who own numerous estates including Chateau Batailley and Chateau Lynch Moussas in Pauillac and Chateau Trottevielle in St. Emilion as well as a massive Negociant company, Borie-Manoux.
Chateau Peyrabon Vineyards, Terroir, Grapes, Winemaking
Chateau Peyrabon is planted to 60% Cabernet Sauvignon, 35% Merlot, 3% Cabernet Franc and 2% Petit Verdot. In total, Chateau Peyrabon owns 57 hectares of vines in the Left Bank. 40 hectares are located in the Haut Medoc appellation.
They have vines situated next to the Pauillac appellation. However, they own 7 hectares located in Pauillac which are planted to 67% Cabernet Sauvignon, 26% Merlot, and 7% Petit Verdot. Prior to 2005, their holdings in Pauillac were only 5 hectares, but in 2005, Patrick Bernard was able to purchase 2 additional hectares of vines. Those vines are used exclusively to produce Chateau La Fleur Peyrabon, which is a Pauillac. Chateau La Fleur Peyrabon was bought by Philippe Casteja and Frederic Casteja. I wonder if these vines will end up in either of their Classified Growths, Chateau Batailley or Chateau Lynch Moussas. Time will tell.
The vineyard for Chateau Peyrabon has a terroir of sand, gravel, clay, and limestone soils. The vines are on average 25 years of age. The vineyard has a vine density that ranges from 6,500 vines per hectare to 8,500 vines per hectare. The newer plantings are at higher levels of density. The vines are still young with an average of 25 years.
Chateau La Fleur Peyrabon is vinified in tank. Malolactic fermentation is in vats. The wine is aged in an average of 50% new, French oak barrels for about 14 months before bottling.
While Chateau La Fleur Peyrabon is often a more user-friendly, occasionally rustic style of Pauillac, the 2009 and 2010 vintages were quite successful and Chateau La Fleur Peyrabon sells for a song. On average, between 2,500 and 3,000 cases of wine are produced of La Fleur Peyrabon every vintage.
For Chateau Peyrabon, the vines are picked using a combination of mechanical harvesters and manual pickers. The wines are vinified in temperature-controlled, stainless steel vats. Malolactic fermentation takes place in tanks. The wine is then aged in 33% new, French oak barrels for an average of 14 months before bottling.
There is a second wine, Chateau Pierbone. On average, Chateau Peyrabon produces close to 35,000 cases of wine per vintage. For Chateau La Fleur Peyrabon, the production is much smaller, with about 3,000 cases being produced each year.
The best vintages of Chateau Peyrabon are: 2022, 2021, 2020, 2019, 2018, 2017, 2016, 2015, 2014, 2010, 2009 and 2005.
When to Drink Chateau Peyrabon, Anticipated Maturity, Decanting Time
Chateau Peyrabon can be enjoyed on the young side with decanting. Young vintages can be decanted for an average of 1 hour or a bit more, give or take. This allows the wine to soften and open its perfume. Older vintages might need very little decanting, just enough to remove the sediment.
Chateau Peyrabon is usually better with about 3-4 years of bottle age. Of course, that can vary slightly, depending on the vintage character. Chateau Peyrabon should be at peak maturity between 4-15 years of age after the vintage. La Fleur Peyrabon needs more decanting and should age and develop at least another 5-8 more years.
Serving Chateau Peyrabon with Wine, Food, Pairing Tips
Chateau Peyrabon is best served at 15.5 degrees Celsius, 60 degrees Fahrenheit. The cool, almost cellar temperature gives the wine more freshness and lift. Older vintages might also need decanting, for both aerating and removing the sediment.
The wine of Chateau Peyrabon is best served with all types of classic meat dishes, veal, pork, beef, lamb, duck, game, roast chicken, roasted, braised, and grilled dishes. Chateau Peyrabon is a perfect match with Asian dishes, hearty fish courses like tuna, mushrooms, and pasta as well as cheese.
Château Peyrabon Wine Tasting Notes
13 Vintages 43,734 Views Sort by Vintage-Rating
2022
Château La Fleur Peyrabon (Pauillac)

Forward, soft, chewy, peppery red berries with freshness, spice, cedar and leafy herbs on the nose and palate. The wine is medium-bodied, forward, and fruity. This is one of the remaining values in Pauillac. The wine is a blend of 57% Cabernet Sauvignon, 30% Merlot, and 13% Petit Verdot. Drink from 2025-2042. 89-91 Pts.

654 Views

Tasted

May 8, 2023

2022
Château Peyrabon (Haut-Médoc)

Peppery blackberries, leafy herbs and cedar form the personality here. Medium-bodied, round and fruity, this is already an easy pleasure to taste. Loads of fruit and a touch of menthol show in the finish. Drink from 2025-2030. 88-90 Pts.

810 Views

Tasted

May 8, 2023

2019
Château Peyrabon (Haut-Médoc)

Medium-bodied and already showing off its tobacco, cherry and cassis core, the wine is soft, bright and crisp with a focus on the lift and freshness in the red berry finish. 86-88 Pts

3,194 Views

Tasted

Jun 8, 2020

2018
Château Peyrabon (Haut-Médoc)

Medium-bodied with tobacco leaf, herbs, olives and red berries on the nose as well as in the fresh, chewy, bright, ready to drink, medium-bodied palate.

1,723 Views

Tasted

Mar 9, 2021

Medium bodied, easy drinking, correct Medoc wine for early drinking, uncomplicated pleasure. 85-87 Pts

2,701 Views

Tasted

Apr 19, 2019

2016
Château La Fleur Peyrabon (Pauillac)

It is easy to find the smoke, tobacco and crisp cassis here. Not a Pauillac of depth and structure, instead you find a wine of freshness and refinement. Give this a few years in the bottle and enjoy it over the next 15 years or more.

3,096 Views

Tasted

Sep 21, 2019

You quickly sense the smoke, tobacco and crisp cassis character of this wine. Medium bodied with roundness to the tannins, the wine leaves you with an earthy freshness in tihe finish.

2,872 Views

Tasted

Apr 29, 2017

2016
Château Peyrabon (Haut-Médoc)

Light and fresh with soft cassis, herb and tobacco character, this medium-bodied wine brings you to an open, quiet fruity finish.

3,545 Views

Tasted

Apr 29, 2017

2015
Château La Fleur Peyrabon (Pauillac)

Light in color and on the palate, this wine is simple with a forward, red berry flair coursing right down the middle. 84 - 86 Pts

4,630 Views

Tasted

Apr 18, 2016

2014
Château Peyrabon (Haut-Médoc)

Fully mature, medium-bodied, earthy, round, open, and loaded with tobacco, herbs, and currants, this will be at its best over the next few years. Drink from 2022-2025.

1,944 Views

Tasted

Aug 23, 2022

2012
Château La Fleur Peyrabon (Pauillac)

Easy to drink, forward, medium bodied correct Pauillac with plenty of cassis, blackberries, tobacco and an elegant, fresh, crisp, dark, red berry finish. Drink it now, or age it a few more years.

3,996 Views

Tasted

Aug 26, 2016

2010
Château La Fleur Peyrabon (Pauillac)

One of the better values from the increasingly expensive Pauillac appellation, this medium bodied, fresh, forward wine delivers a lot of bang for the buck with its cassis, earth, spice, tobacco and cedar personality.

4,137 Views

Tasted

Dec 31, 2015

2009
Château La Fleur Peyrabon (Pauillac)

If you're looking for a value priced Pauillac, from a top vintage, this is the wine to buy. Medium bodied, with a tobacco, cedar, blackberry and cassis nose, with just a hint of oak. The wine has character and it should for another decade or longer with ease.

3,879 Views

Tasted

Sep 13, 2015

2008
Château La Fleur Peyrabon (Pauillac)

Great example of an early drinking, fair-priced Pauillac with loads of ripe red fruits, which just a hint of tart, tobacco, earth and some oak. Medium/full bodied, fresh and juicy, you can drink this now and over the next decade easily.

1,615 Views

Tasted

Feb 14, 2019

2005
Château Peyrabon (Haut-Médoc)

Fully mature, medium bodied, soft textured, earthy, red berry dominated wine with hints of tobacco, cedar and forest leaves, which add to the overall character. There is no reason to hold this for more development. I'd drink this over the next year or two, before the fruit fades away.

4,938 Views

Tasted

Oct 20, 2017