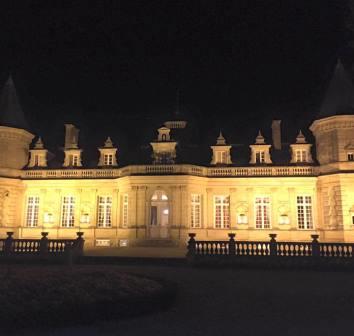 Learn everything about Chateau Beaumont, Haut Medoc with wine tasting notes, and wine with food pairings. Learn the best vintages, the history of the property, and information on the vineyards and winemaking. If you want to read about other important, Bordeaux Chateaux: Links to all Bordeaux Wine Producer Profiles
Chateau Beaumont History, Overview
Chateau Beaumont, one of the largest estates in the Medoc, dates its formation all the way back to 1772 when the property was originally created.
However, vines were not planted at what we know of as Chateau Beaumont today, until 1824. In those formative years, the estate was only a fraction of the size it is today. Over the years, with new purchases and additional plantings, the vineyard continued expanding until it reached its current size. The chateau was designed and constructed in 1854.
Jumping ahead about 100 years, in the early 1980's much of the vineyards were replanted before the estate was sold in 1986, Groupe GMF, along with their partner, Suntory, who was already quite experienced in owning vineyards as they already the owner of Chateau Beychevelle, in neighboring St. Julien.
Currently, the property is owned by the same partnership group that owns and manages Chateau Beychevelle, the Castel group, and Suntory, which also co-own Grands Millesimes de France.
Chateau Beaumont Vineyards, Terroir, Grapes, Winemaking
The Left Bank vineyard of Chateau Beaumont is planted to 53% Cabernet Sauvignon, 40% Merlot, 4% Cabernet Franc and 3% Petit Verdot. The large vineyard is 114 hectares, making it one of the largest vineyards that is in one massive block of vines. The terroir is sand and gravel soils.
The vineyard is planted to a vine density of 6,666 vines per hectare. The vineyard is farmed using Terra Vitis and Integrated Farming techniques since 2004. The vineyard is mechanically harvested.
To produce the wine of Chateau Beaumont, vinification takes place in large, temperature-controlled, stainless steel vats. Malolactic fermentation takes place in tank. The wine is aged in 30% new, French oak barrels for between 12-14 months before bottling.
There is a second wine, Les Tours de Beaumont. The owner also makes another wine from their vineyards in the Haut Medoc appellation, Chateau d'Avigny. On average, 50,000 cases of Chateau Beaumont are produced each year.
When to Drink Chateau Beaumont Anticipated Maturity, Decanting Time
Chateau Beaumont can be decanted for an average of 1 hour or so. This allows the wine to soften and open its perfume. Older vintages might need very little decanting, just enough to remove the sediment. Chateau Beaumont is usually better with at least 2-3 years of bottle age.
Of course, that can vary slightly, depending on the vintage character. Chateau Beaumont offers its best drinking and should reach peak maturity between 3-10 years of age after the vintage.
The best vintages of Chateau Beaumont are: 2022, 2021, 2020, 2019, 2018, 2017, 2016, 2015, 2014, 2012, 2010, 2009 and 2005.
Serving and Decanting Chateau Beaumont, with Wine, Food, Pairing Tips
Chateau Beaumont is best served at 15.5 degrees Celsius, 60 degrees Fahrenheit. The cool, almost cellar temperature gives the wine more freshness and lift. Chateau Beaumont is best served with all types of classic meat dishes, veal, pork, beef, lamb, duck, game, roast chicken, roasted, braised, and grilled dishes.
Chateau Beaumont is a perfect match with Asian dishes, hearty fish courses like tuna, mushrooms, and pasta as well as cheese.
Château Beaumont Wine Tasting Notes
13 Vintages 53,962 Views Sort by Vintage-Rating
2022
Château Beaumont (Haut-Médoc)

Licorice, black fruits and a touch of espresso on the nose lead the way to the medium-bodied, round, polished, soft, fruit-filled, blackberry finish. The wine blends 65% Cabernet Sauvignon, 30% Merlot and 5% Petit Verdot. For about $20, this is a steal! Drink from 2025-2031. 89-91 Pts.

544 Views

Tasted

May 8, 2023

2021
Château Beaumont (Haut-Médoc)

Medium-bodied, forward, soft, short and sweet, this is going to best in its youth to capture all of its soft, pleasant. red fruits. Drink from 2023-2030. 86-88

1,047 Views

Tasted

May 20, 2022

2020
Château Beaumont (Haut-Médoc)

Tobacco, cigar box, cedar and peppery red currants pop with no effort in the nose. The fresh, sweet, vibrant, round palate is even better with its layers of sweet, earthy, tobacco stained fruit and fresh mint. This is already a delight to taste, and it will be even better with a few years of age. This is clearly a big step up here in quality and character and is easily the best vintage of Beaumont I have ever tasted. Drink from 2024-2038.

965 Views

Tasted

Mar 21, 2023

Deep in color, the nose opens with smoke, spice, tobacco, herbs and dark red fruits. Round, and with much more ripeness and volume than in previous vintages, this is already a delight to taste due to all its sweet, chewy, ripe, fresh red fruits on the palate and in the finish. This is clearly a big step up here in quality and character. 88-90 Pts

1,667 Views

Tasted

May 20, 2021

2019
Château Beaumont (Haut-Médoc)

Clearly the best vintage of Chateau Beaumont ever produced, the wine exudes sweet, ripe, red pit fruits with touches of chocolate and espresso. Soft, round, sweet and polished, the ripe red fruits enjoy lingering on your palate. Forward in style, so you can enjoy it early in its youth, yet still age it a bit for more complexity. Drink from 2023-2034.

1,887 Views

Tasted

Mar 29, 2022

2018
Château Beaumont (Haut-Médoc)

Peppery red fruits, cedar and tobacco leaf create the character for this medium-bodied, soft-textured, earthy wine that will be great for early drinking pleasure.

1,947 Views

Tasted

Mar 9, 2021

With a blast of dark cocoa, black cherry, herbs and tobacco, this medium bodied, forward, fresh Medoc wine will be great for early drinking pleasure. 86-88 Pts

3,831 Views

Tasted

Apr 19, 2019

2016
Château Beaumont (Haut-Médoc)

Already showing some secondary notes of tobacco, wet forest and olive, this is a solid example of uncomplicated, Left Bank Cabernet Sauvignon that is perfect for drinking today.

2,777 Views

Tasted

Sep 21, 2019

Forward, approachable, easy to drink and correct, this medium-bodied wine gives you sweet red fruit from start to finish.

4,998 Views

Tasted

Apr 29, 2017

2015
Château Beaumont (Haut-Médoc)

Forward, early drinking, medium bodied, lighter style of wine. With its bright, fresh, red berry personality, this is best to drink in its youth.

3,916 Views

Tasted

Mar 12, 2018

Correct, medium bodied, red berry dominated wine, with a bright, crisp, simple red fruit finish. 85 - 87 Pts

3,986 Views

Tasted

Apr 26, 2016

2014
Château Beaumont (Haut-Médoc)

Forward, medium bodied, bright, red fruits with accents of tobacco, cedar , herbs, and red plums that will be easy to drink with just a year or two of age.

3,632 Views

Tasted

Jan 31, 2017

2012
Château Beaumont (Haut-Médoc)

Forward, generic, easy drinking, Left Bank wine with a fresh, red berry character for near term consumption.

3,382 Views

Tasted

Jun 23, 2017

Forward, generic, easy drinking, Left Bank wine with a fresh, red berry character for near term consumption.

2,377 Views

Tasted

Apr 1, 2017

2010
Château Beaumont (Haut-Médoc)

From a blend of 53% Cabernet Sauvignon, 46% Merlot and 1% Petit Verdot, the wine is medium bodied, bright and crisp, with an earthy, stern, cassis, cranberry, thyme and herbal profile.

3,372 Views

Tasted

Feb 17, 2016

2009
Château Beaumont (Haut-Médoc)

Correct, medium bodied, red berry dominated wine, with a bright, crisp, simple red fruit finish.

2,882 Views

Tasted

May 25, 2016

Early drinking, medium bodied, correct, but unexciting wine made from a blend of 53% Cabernet Sauvignon, 46% Merlot and 1% Petit Verdot.

3,670 Views

Tasted

Sep 13, 2015

2008
Château Beaumont (Haut-Médoc)

Equally simple and charming, this medium bodied, earthy, easy to like, cherry tobacco and earthy wine is fully ready to drink.

3,343 Views

Tasted

Feb 10, 2019

2005
Château Beaumont (Haut-Médoc)

Easy drinking and round textured, the wine is filled with ripe, sweet, juicy plums and black cherries, with an earthy, forest and tobacco note to make it even better. There is no reason to hold this any longer.

3,739 Views

Tasted

Oct 21, 2016