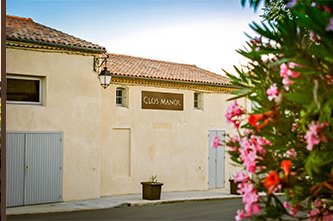 Learn everything about Clos Manou Medoc Bordeaux with wine tasting notes and wine-with-food pairing tips. Learn the best vintages, the history of the property, information on the vineyards, and winemaking. If you want to read about other important, Bordeaux Chateaux: Links to all Bordeaux Wine Producer Profiles
Clos Manou History, Overview
Clos Manou is owned by the family of Françoise Dief and Stephane Dief. The debut vintage for Clos Manou was produced in 1998. When they first purchased the vineyard, they were only able to buy a scant .12 hectares of vines.
At the time, with such a diminutive vineyard, the production was only 600 cases. Things have improved since then, and the quantity of wine has also increased since those early days at the couple's Left Bank estate.
Today, through several additional purchases of vines, Clos Manou is now up to 18 hectares cultivated with vines.
Clos Manou Vineyard, Terroir, Grapes, Winemaking
Located in the far northern part of the Medoc, the 16.8-hectare vineyard of Clos Manou is planted to 45% Cabernet Sauvignon, 45% Merlot, 6% Cabernet Franc and 4% Petit Verdot.
The vines are old, with an average of 35 years. One of the best, or should I say the most amazing thing about the vineyard of Clos Manou is that they also have some very old vines. In fact, they have some of the oldest vines in all of Bordeaux!
They own one small parcel of Merlot that was planted during the 1850s! They also have some equally old Cabernet vines.
This is one of the few remaining parcels of vines in Bordeaux that is pre-phylloxera. The rootstock remains undrafted as well. The parcel consist of roughly 400-500 vines. These are probably the oldest vines in the entire Bordeaux appellation! The vineyard of Clos Manou is planted to a vine density of 10,000 vines per hectare. Though one parcel of Cabernet Sauvignon is planted to 13,500 vines per hectare.
The vineyard has a terroir of gravel, sand, clay, and limestone soils. All farming and vineyard management at the estate is 100% organic.
Clos Manou is vinified in a combination of oak vats and cement tanks. Malolactic fermentation takes place in barrels. 1/3 of the wine is aged on its lees for 6 months, to give the wine more richness. The wine is then aged in a combination of vessels. 70% of the wine, (mostly Cabernet Sauvignon) is aged in 100% new, French oak barrels, 25%, (Mostly Merlot) is aged in concrete egg-shaped vats, and the remaining 5% of the wine ages in terracotta amphora jars for an average of 17 months before bottling.
From time to time, the estate also produces a special wine that is a high-end version of their Grand Vin, Clos Manou Cuvee 1850. The wine is produced from the estate's oldest vines, as the name implies. The wine was only made in 2008, 2009, 2010, 2011, 2014, and 2018. Clos Manou Cuvee 1850 is as you can see, not produced in every vintage. It is only produced in the best vintages. It is almost impossible to find this wine as only 50 cases are produced in most vintages!
The best vintages of Clos Manou are: 2022, 2021, 2020, 2019, 2018, 2016, 2015, 2010 and 2009, and 2005.
There is a second wine, Petit Manou. The production hovers at around 3,000 cases per vintage of Clos Manou.
However, it's good to note that a large portion of their crop is designated for the second wine. That makes quite a statement for their search for quality, especially when you consider they are not a classified growth and their wine are available for a very, consumer-friendly price point.
When to Drink Clos Manou, Anticipated Maturity, Decanting Time
Clos Manou needs some time before it can be enjoyed. Young vintages can be decanted for an average of 1 hour or so. This allows the wine to soften and open its perfume. Older vintages might need very little decanting, just enough to remove the sediment.
Clos Manou is usually better with at least 6-9 years of bottle age. Of course, that can vary slightly, depending on the vintage character. Clos Manou offers its best drinking and should reach peak maturity between 6-14 years of age after the vintage.
Serving and Decanting Clos Manou with Wine, Food, Pairing Tips
Clos Manou is best served at 15.5 degrees Celsius, 60 degrees Fahrenheit. The cool, almost cellar temperature gives the wine more freshness and lift. The wine of Clos Manou is best served with all types of classic meat dishes, veal, pork, beef, lamb, duck, game, roast chicken, roasted, braised, and grilled dishes.
Clos Manou is a perfect match with Asian dishes, hearty fish courses like tuna, mushrooms, and pasta as well as a wide variety of hard and soft cheese.
Clos Manou Wine Tasting Notes
16 Vintages 63,941 Views Sort by Vintage-Rating
2022
Clos Manou "Cuvée 1850" (Médoc)

Black, dark red and blue fruits show in the nose. On the palate, the wine is lush, concentrated, sweet, vibrant, round, and fresh. There is a patina of softness to the fruits in the mid-palate and in the endnote. The wine is produced from a small parcel of Merlot vines planted in 1850! Drink from 2025-2037. 92-94 Pts.

964 Views

Tasted

May 8, 2023

2022
Clos Manou (Médoc)

Blackberries, licorice, espresso, vanilla, currants and cedar work together to form the perfume. Complete from start to finish, the fresh, soft, firm, medium-bodied finish is packed with more of those, sweet, dark, fresh fruits. While this is easy to enjoy in its youth, with age, this is going to be even better. Drink from 2025-2038. 91-93 Pts.

1,403 Views

Tasted

May 8, 2023

2021
Clos Manou (Médoc)

Deeply colored, there is fruit and freshness here with round textures and nice character, finishing with blackberries, tobacco leaf and plums along with a hint of cocoa in the endnote. The wine blends 73% Cabernet Sauvignon, 17% Merlot, 8% Petit Verdot and 2% Cabernet Franc. Drink from 2023-2030. 89-91

2,497 Views

Tasted

May 20, 2022

2020
Clos Manou (Médoc)

A solid effort and one of the better wines from the far north of Bordeaux, the wine offers flowers, tobacco, herbs, cedar and currants. Round, fruity and soft, with a juicy, mouthful of sweet cassis on the mid-palate, this is good now, and will be even better with a few years of bottle age. Drink from 2024-2038.

1,526 Views

Tasted

Mar 21, 2023

Deeply colored, the fragrant wine opens with peppery cassis, earth, spice and savory herbs on the nose. Full-bodied, dense and chewy with an herb and pepper note to accompany its blast of powerful dark fruit. Give this 5 years or so to soften and develop. 89-91 Pts

3,494 Views

Tasted

May 20, 2021

2019
Clos Manou (Médoc)

Floral in nature in its opening notes, the wine is loaded with soft, polished, sweet, juicy, ripe, dark red fruits. Medium-bodied, vibrant and juicy, this is already a treat to taste from the fruit-filled mid-palate, all the way through to its creamy-textured, black currant finish. Drink from 2023-2034.

3,786 Views

Tasted

Mar 29, 2022

2018
Clos Manou (Médoc)

Dense and dark in color, the wine pops with roses, dark, brooding, red pit fruits, earth and spice. Richly textured, with layers of soft, ripe, lush, dark red fruits that resonate. There is good old-vine intensity that you can taste and feel here. The wine blends 52% Cabernet Sauvignon, 38% Merlot, 5% Petit Verdot and 5% Cabernet Franc.

5,565 Views

Tasted

Mar 9, 2021

Inky dark, dense and full-bodied, the wine shows lots of sweet, juicy red fruits on the palate and in the long, earthy, fresh, round, lush finish. 89-91 Pts

6,778 Views

Tasted

Apr 19, 2019

2017
Clos Manou (Médoc)

Fresh, juicy, round and ripe, you find red fruits, cedar and tobacco, soft tannins, a medium body and bright, fresh red fruits on the palate and in the finish.

3,252 Views

Tasted

Apr 26, 2018

2016
Clos Manou (Médoc)

Better with age, though the wine retains its oaky edge, as well as loads of ripe, blackberries, dark cocoa, espresso, and black cherries. Concentrated, round, and displaying ample dark red fruits, with sweetness and richness on the palate, this is a fabulous example of wine from the far north of the Medoc. Drink from 2023-2036.

3,215 Views

Tasted

Dec 6, 2022

There is a bit too much oak here, which stops the fruit from delivering to full capacity. The color is deep and there is flesh but the wood must integrate properly for this to really shine.

4,785 Views

Tasted

Apr 29, 2017

2015
Clos Manou (Médoc)

With an earthy, forest floor essence, tobacco, oak and blackberry, the wine is ripe, firm, structured, and age worthy. Produced from a forward blend of 69% Cabernet Sauvignon, 20% Merlot, 9% Petit Verdot and 2% Cabernet Franc. 88 - 90 Pts

4,587 Views

Tasted

Apr 26, 2016

2014
Clos Manou (Médoc)

Kissed by oak, this wine features dark red fruits, forest and leafy notes with a lingering finish tinted with cassis and dark chocolate. Produced from a forward blend of 52% Merlot, 40% Cabernet Sauvignon, 6% Petit Verdot and 2% Cabernet Franc. 87-89 Pts

3,135 Views

Tasted

Apr 21, 2015

2013
Clos Manou (Médoc)

With black cherries, cocoa, espresso bean and hints of earth, this soft, sweet and ready-to-drink wine is a real value. From a blend of 48% Merlot, 43% Cabernet Sauvignon, 5% Cabernet Franc, and 4% Petit Verdot, the wine reached 13.2% ABV and is aging in 70% new oak. 86-88 Pts

2,034 Views

Tasted

Apr 23, 2014

2012
Clos Manou (Médoc)

Bright and crisp with red berries and some green in the bright finish. 84-86 Pts

3,206 Views

Tasted

Apr 23, 2013

2011
Clos Manou (Médoc)

With old vines averaging 40 years of age, the real surprise is that 2% of the vines are amazingly pre-phylloxera! From an assemblage of 75% Cabernet Sauvignon, 15% Merlot, 7% Cabernet Franc and 3% Petit Verdot, the wine reached 14.2% ABV. Herbs, earth, cassis, medium body and a red berry finish. 87-88 Pts

2,778 Views

Tasted

Apr 12, 2012

2010
Clos Manou (Médoc)

Lots of cassis, spice, blackberries, tobacco and earth in this ready to drink, medium bodied, fresh wine. This should be even better with another year or two of age.

4,057 Views

Tasted

Aug 8, 2013

2009
Clos Manou (Médoc)

Solid Bordeaux value wine here, with its open, round, licorice, chocolate and dark cherry profile, the wine is soft, spicy and easy to drink.

3,142 Views

Tasted

May 7, 2014

2005
Clos Manou (Médoc)

Fully mature, with load of cedar wood, smoke, tobacco, blackberry and wet earth on the nose. The fruit has a nice, spicy freshness to its red berry quality that carries through to the finish.

3,737 Views

Tasted

Oct 15, 2017