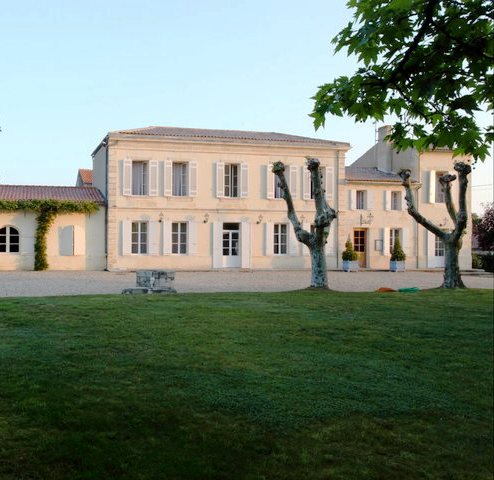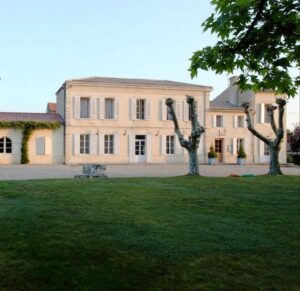 Learn everything about Chateau Haut Condissas, Medoc with wine tasting notes, and wine with food pairing tips. Learn the best vintages, a history of the property, information on the vineyards, and on winemaking. If you want to read about other important, Bordeaux Chateaux: Links to all Bordeaux Wine Producer Profiles
Chateau Haut Condissas History, Overview
Chateau Haut Condissas, which takes its name from the street it is located on, was purchased in 1995 by Jean Guyon. Jean Guyon also owns Chateau Rollan de By, Chateau Tour Seran and Chateau La Clare
In 2012, Jean Guyon purchased one of the most famous Cru Bourgeois estates in all of Bordeaux when he took control of Chateau Greysac. Chateau Haut Condissas was once a part of the larger Rollan-de-By property owned by Jean Guyon.
But with time, they determined that a portion of their rock, strewn terroir could be culled to make a special Cuvee. The wine made its debut with the 1998 vintage, although wines might have been made in small quantities previously.
Chateau Haut Condissas Vineyards, Terroir, Grapes, Winemaking
The 15-hectare, Left Bank vineyard of Chateau Haut Condissas is planted to 60% Merlot, 20% Petit Verdot, 10% Cabernet Sauvignon and 10% Cabernet Franc. This represents a major change in the vineyard in size, (As it was only 5 hectares) and with the vineyard plantings.
Today, there is a large portion of Petit Verdot in the vineyards as you can see, and Cabernet Franc has also been added to the mix as well.
The vines at Chateau Haut Condissas are on average close to 30 years of age. However, the estate also has old vines. Some of their vines are over 40 years of age. The vineyard is planted to a vine density of 8,500 vines per hectare with a terroir of gravel with clay soils. Vineyard management techniques are focused on sustainable farming.
Before being purchased by Jean Guyon, Chateau Haut Condissas maintained a lot more Cabernet Sauvignon in the vineyard cepage. But Jean Guyon decided to increase the portion of the Merlot, in part, due to the high concentration of clay in the soil.
To produce the wine of Chateau Haut Condissas, vinification takes place in temperature-controlled, stainless steel, conical-shaped vats. Malolactic fermentation takes place in 100% new, French oak barrels.
The wine is aged in 100% new oak barrels. The barrels are a combination of 90% new, French barrels and 10% new American oak barrels. The wine is aged in barrel for up to 18 months, depending on the character and quality of the vintage.
The best vintages of Chateau Haut Condissas are: 2022, 2021, 2020, 2019, 2018, 2017, 2016, 2015, 2010, 2009 and 2005.
Close to 6,000 cases of wine are produced at Haut Condissas every year. Alain Raynaud is the consultant for the estate. Haut Condissas also produces a Kosher Cuvee.
When to Drink Chateau Haut Condissas, Anticipated Maturity, Decanting Time
Chateau Haut Condissas can be decanted for an average of 1 hour or so. This allows the wine to soften and open its perfume. Older vintages might need very little decanting, just enough to remove the sediment.
Chateau Haut Condissas is usually better with at least 2-5 years of bottle age. Of course, that can vary slightly, depending on the vintage character. Chateau Haut Condissas offers its best drinking and should reach peak maturity between 4-12 years of age after the vintage.
Serving and Decanting Chateau Haut Condissas with Wine, Food, Pairing Tips
Chateau Haut Condissas is best served at 15.5 degrees Celsius, 60 degrees Fahrenheit. The cool, almost cellar temperature gives the wine more freshness and lift.
The wine of Chateau Haut Condissas is best served with all types of classic meat dishes, veal, pork, beef, lamb, duck, game, roast chicken, roasted, braised, and grilled dishes. Chateau Haut Condissas is a perfect match with Asian dishes, hearty fish courses like tuna, mushrooms, and pasta as well as cheese.
Château Haut Condissas Wine Tasting Notes
16 Vintages 35,030 Views Sort by Vintage-Rating
2022
Château Haut Condissas (Médoc)

Lush, round, polished, creamy, ripe. forward, and fruity, this is going to offer pleasure early, due to its wealth of ripe, sweet, polished, blackberries, plums, cocoa, and espresso beans. Drink from 2025-2037. 89-90 Pts.

632 Views

Tasted

May 8, 2023

2021
Château Haut Condissas (Médoc)

Espresso, incense, plums and currants show easily on the nose and in the soft, round, forward, chocolate-accented, fruity, oaky palate. Drink from 2023-2029. 88-90

1,085 Views

Tasted

May 20, 2022

2020
Château Haut Condissas (Médoc)

Deep in color, the wine is soft, round, forward and fruity. The red fruits and spice are surrounded by toasty oak on the nose and palate. There is a nice sweetness to the fruit and lift in the finish. Give it a few years before pulling a cork. 89-91 Pts

1,127 Views

Tasted

May 20, 2021

2020
Château Haut Condissas Prestige (Médoc)

Opening with notes of espresso, flowers, cocoa and plums in the perfume, the wine is medium-bodied, soft, round, open and loaded with sweet, polished currants, cherries, plums and a hint of cocoa on the backend. Drink from 2023-2034.

461 Views

Tasted

Mar 21, 2023

2019
Château Haut Condissas Prestige (Médoc)

Showing a lot of oak at the moment, though, once past the vanilla, espresso and chocolate, you find a lot of sweet, ripe, fleshy, round, sweet fruits. Give it a few years and hope that the oak integrates better. Drink from 2022-2032.

1,012 Views

Tasted

Mar 29, 2022

Peppery red fruits, espresso and licorice pop with no effort. Round, supple, forward and fresh, with an easy delivery this should be delicious on release. 88-90 Pts

1,843 Views

Tasted

Aug 12, 2020

2018
Château Haut Condissas (Médoc)

Round, lush, forward, and already easy to drink with its core of ripe, black cherries, chocolate, and licorice on the now and palate. Drink from 2022-2035.

1,645 Views

Tasted

Aug 16, 2022

2018
Château Haut Condissas Prestige (Médoc)

Ripe, round, and loaded with dark chocolate, licorice, ripe, sweet, dark red fruits, and espresso beans on the nose and palate, this would offer pleasure for at least a decade. Drink from 2022-2031.

1,425 Views

Tasted

Nov 24, 2022

Forward with a strong jolt of espresso, licorice and smoke, on top of the ripe dark red fruits, the wine is round, fleshy and should provide pleasure early with its modern approach. 87-89 Pts

1,284 Views

Tasted

Apr 19, 2019

2017
Château Haut Condissas Prestige (Médoc)

With early approachability, the deep-colored wine shows some agreeable sweetness and a little flesh. There are soft tannins and a licorice, espresso, red fruity finish.

1,591 Views

Tasted

Apr 26, 2018

2016
Château Haut Condissas Prestige (Médoc)

Deep in color, the wine is forward, round, ripe, sweet and fruity, with chocolate and licorice in the mix. This is the finest vintage of Haut Condissas I have ever tasted!

1,332 Views

Tasted

Sep 21, 2019

Juicy fruits, freshness, soft textures and plenty of fruit in the finish.

1,924 Views

Tasted

Apr 29, 2017

2015
Château Haut Condissas Prestige (Médoc)

Medium bodied, forward, soft and with licorice, cherry and plum notes to round things out. This should be easy to drink on release. 87 - 89 Pts

2,290 Views

Tasted

Apr 26, 2016

2014
Château Haut Condissas Prestige (Médoc)

Ripe, soft, fleshy and forward, this easy-drinking wine is round and filled with dark berries. 87-89 Pts

2,192 Views

Tasted

Apr 21, 2015

2012
Château Haut Condissas Prestige (Médoc)

Oaky, with licorice, coffee bean and a black cherry personality, the wine has enough polish to be enjoyed on release. 85-87 Pts

2,674 Views

Tasted

Apr 23, 2013

2010
Château Haut Condissas Prestige (Médoc)

Haut Condissas offers big juicy mouthful of ripe cassis, licorice, oak and tannin. 89-91 Pts

3,429 Views

Tasted

Apr 21, 2011

2009
Château Haut Condissas Prestige (Médoc)

Sweet, round and voluptuous, this early drinking wine is already serving up its pleasures with its supple textures, licorice, espresso and chocolate covered cherries. This blend of 70% Cabernet Sauvignon, 25% Merlot and 5% Petit Verdot is a little expensive for what it delivers, but it's a fun wine to drink today.

4,808 Views

Tasted

Sep 14, 2013

2006
Château Haut Condissas Prestige (Médoc)

Served on Air France on my way to Bordeaux. Quite nice, with an easy, open, round, licorice and plummy personality.

2,110 Views

Tasted

May 7, 2014

2005
Château Haut Condissas Prestige (Médoc)

Licorice, coffee, blackberry, earth, and smoke aromas open to a soft, round, crowd pleasing style of Bordeaux wine that is already showing well. I'd drink this on the young side to enjoy its fruit forward flavors.

2,166 Views

Tasted

Oct 1, 2011