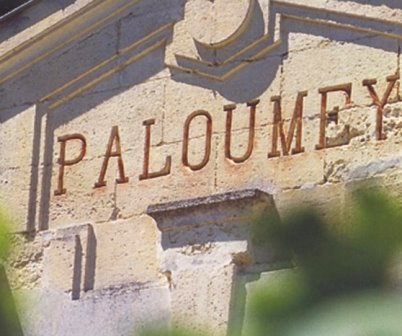 Learn everything about Chateau Paloumey Haut Medoc with wine tasting notes and wine-with-food pairing tips. Learn the best vintages, a history of the property, and information on their vineyards and winemaking. If you want to read about other important, Bordeaux Chateaux: Links to all Bordeaux Wine Producer Profiles
Chateau Paloumey History, Overview
Chateau Paloumey has a long history in the Medoc. But after years of no attention to its vines, due to financial difficulties, by the mid-1950s, the vineyard was abandoned by its owners, because the upkeep was too expensive. The modern era of Chateau Paloumey began in 1990 when the estate was purchased by the Cazeneuve family.
At the time of the purchase, the entire property needed a complete renovation and the vineyards required complete replanting. The Cazeneuve family was already experienced in owning vineyards when they bought the property, as they had previously owned Chateau MaineGazin in what is now the Cotes de Blaye appellation a few years earlier. Chateau Paloumey is owned and managed by Martine Cazeneuve today.
Tragedy struck Chateau Paloumey in January 2020, when the chateau was destroyed by a fire. The cellars and vineyards were not harmed. However, the chateau sustained severe damage and needed to be reconstructed.
Chateau Paloumey Vineyards, Terroir, Grapes, Winemaking
The 36.4-hectare Left Bank vineyard is planted to 54% Cabernet Sauvignon, 43% Merlot, and 3% Cabernet Franc. Chateau Paloumey is located in the commune of Ludon. This is close to the southern end of the Medoc, not far from Chateau La Lagune and Chateau Cantemerle.
Their specific location gives them a warmer micro-climate, allowing them to harvest a bit earlier than their neighbors. The terroir is gravel, sand, clay, and limestone soils with vines divided into two main sections. Since 1995, Chateau Paloumey has practiced self-sustainable vineyard management techniques.
The wine of Chateau Paloumey is vinified in temperature-controlled, stainless steel tanks. Malolactic fermentation takes place in vat. The wine is then aged in 30% new, French oak barrels for about 12 months before bottling. There is a second wine, Les Ailes de Paloumey. On average, the annual production at Chateau Paloumey is close to 24,000 cases of wine.
The best vintages of Chateau Paloumey are: 2022, 2021, 2020, 2019, 2018, 2017, 2016, 2015, 2014, 2010, 2009, and 2005.
The Cazeneuve family also produces wine at Chateau Le Besanne in Margaux, Chateau La Garricq in Moulis, and Chateau Haut Carmaillet in the Haut Medoc appellation. Chateau Garricq comes from a small, 3-hectare parcel of vines with a large percentage of Petit Verdot.
When to Drink Chateau Paloumey, Anticipated Maturity, Decanting Time
Chateau Paloumey can be decanted for an average of 1 hour or so. This allows the wine to soften and open its perfume. Older vintages might need very little decanting, just enough to remove the sediment.
Chateau Paloumey is usually better with 2-4 years of bottle age. Of course, that can vary slightly, depending on the vintage character. Chateau Paloumey offers its best drinking and should reach peak maturity between 3-12 years of age after the vintage.
Serving and Decanting Chateau Paloumey with Wine, Food, Pairing Tips
Chateau Paloumey is best served at 15.5 degrees Celsius, 60 degrees Fahrenheit. The cool, almost cellar temperature gives the wine more freshness and lift. The wine of Chateau Paloumey is best served with all types of classic meat dishes, veal, pork, beef, lamb, duck, game, roast chicken, roasted, braised, and grilled dishes.
Chateau Paloumey is a perfect match with Asian dishes, hearty fish courses like tuna, mushrooms, and pasta as well as cheese.
Château Paloumey Wine Tasting Notes
14 Vintages 44,395 Views Sort by Vintage-Rating
2021
Château Paloumey (Haut-Médoc)

Medium-bodied, with a savory, herbal accent to the flowers and red fruits in the nose, the wine finishes with a touch of menthol along with its crisp, cranberry and peppery red currants, Drink from 2023-2029. 87-89

1,401 Views

Tasted

May 20, 2022

2020
Château La Garricq (Moulis en Médoc)

Medium-bodied, soft, fresh and almost polished, with loads of spice, flowers and soft, creamy red fruits that will be perfect for enjoyment in its youth. The wine blends 54% Merlot, 32% Cabernet Sauvignon and 14% Petit Verdot. Drink from 2023-2032.

150 Views

Tasted

Mar 21, 2023

2020
Château Paloumey (Haut-Médoc)

Dark red berries, with a hint of peppery spice and some oak that needs to integrate a bit better, the wine is medium-bodied, bright, crisp and juicy, with a stony, firm finish. Drink from 2024-2035.

171 Views

Tasted

Mar 21, 2023

Peppery, dark red berries, medium-bodied, soft, polished, forward and already accessible, the wine is packed with sweet and savory herbs and a stony, firm finish. 87-89 Pts

1,719 Views

Tasted

May 20, 2021

2019
Château Paloumey (Haut-Médoc)

Flowers, spearmint and red, earthy fruits garner your attention on the nose. The soft, fresh, silky, polished, medium-bodied palate is loaded with layers of sweet, ripe, red fruits and freshness. This is probably the best wine Paloumey has ever produced. Drink from 2022-2034.

1,387 Views

Tasted

Mar 29, 2022

Earthy, dark red fruits, licorice, smoke and a hint of mint garner your attention on the nose. The palate shines with its round, lush, sweet, dark fruits, espresso and bitter chocolate along with blackberries. Give it a few years in the cellar and it will be even better. This is probably the best wine Paloumey has ever produced. 90-92 Pts

2,612 Views

Tasted

Jun 8, 2020

2018
Château Paloumey (Haut-Médoc)

With a good depth of color, the wine is round, ripe and loaded with black cherries, currants, blackberries, dark cocoa and earth. Lively, sweet and with good length, this is enjoyable now, but it is going to be even better with a few years of age.

1,180 Views

Tasted

Mar 9, 2021

Medium bodied, you already find the tobacco and currant character, along with bright, crisp red fruits, earth, spice and olives in the finish. 89-91 Pts

1,988 Views

Tasted

Apr 19, 2019

2017
Château Paloumey (Haut-Médoc)

Medium bodied, forward and easy drinking with its red fruit and tobacco tinted character, there is a quick dash of chocolate in the endnote to help round things out.

2,096 Views

Tasted

Apr 26, 2018

2016
Château Paloumey (Haut-Médoc)

Medium-bodied, and already rounding out, this early drinking, ripe, fruit-filled charmer is already delicious to drink.

3,088 Views

Tasted

Sep 21, 2019

Medium-bodied, this wine is an early-drinking charmer with a plummy, licorice character and round tannins.

3,525 Views

Tasted

Apr 29, 2017

2015
Château Paloumey (Haut-Médoc)

Charming, easy drinking, forward styled Haut Medoc with soft, fresh, red berry fruit and an uncomplicated finish. 85 - 87 Pts

3,685 Views

Tasted

Apr 26, 2016

2014
Château Paloumey (Haut-Médoc)

Medium-bodied, easy drinking, soft textured, fresh, red fruits with a kick of tobacco, earth and cocoa. Drink this young for its simple pleasure.

2,031 Views

Tasted

Jun 23, 2017

Medium-bodied, easy drinking, soft textured, fresh, red fruits with a kick of tobacco, earth and cocoa. Drink this young for the pleasure.

2,027 Views

Tasted

Apr 1, 2017

2012
Château Paloumey (Haut-Médoc)

Nice, easy drinking Haut Medoc to enjoy on the young side for its soft, ripe, black and red fruits and its earthy, tobacco tint. I'd polish this off before the wine hits its 10th birthday.

2,342 Views

Tasted

Jun 8, 2016

2010
Château Paloumey (Haut-Médoc)

Charming, easy drinking, forward styled Haut Medoc with soft, fresh fruits and an uncomplicated finish.

2,657 Views

Tasted

May 25, 2016

Early drinking, medium bodied, ripe, fresh wine that is already showing some tobacco notes in the softening dark cherry finish.

2,975 Views

Tasted

Sep 20, 2015

2009
Château Paloumey (Haut-Médoc)

Medium bodied, forward and focused on the red fruit side of the style range, soft easy drinking with an earthy, fresh herb an tobacco leaf component to spice things up.

3,180 Views

Tasted

Nov 24, 2015

2008
Château Paloumey (Haut-Médoc)

Soft, round, cherry filled with a touch of oak, thyme and earth is ready to go. This is not going to improve, so if you have a bottle, drink up.

1,765 Views

Tasted

Feb 10, 2019

2005
Château Paloumey (Haut-Médoc)

Fully mature, easy drinking, medium bodied, crowd pleaser, with an earthy, plum and cherry core of soft fruits.

4,416 Views

Tasted

Oct 22, 2016