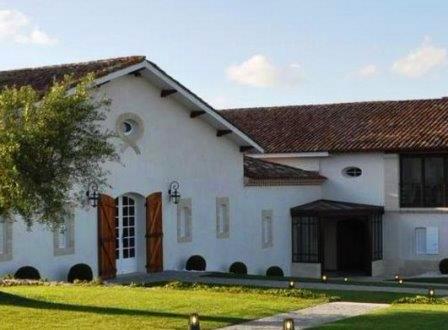 Learn everything about Chateau Sociando Mallet, Haut Medoc with wine tasting notes, and wine with food pairing tips. Learn the best vintages, the history of the property, information on the vineyards and winemaking. If you want to read about other important, Bordeaux Chateaux: Links to all Bordeaux Wine Producer Profiles
Chateau Sociando Mallet, History, Overview
Sociando Mallet takes its name from two previous owners. A nobleman from the Basque region, who was known as Sossiondo founded the estate in 1633.
In time, the name of the property was changed to match the phonetic sound to Sociando. The estate was confiscated and sold during the French Revolution. There was a time in the early 1800s when the property was known as Sociando-Lamothe.
From there, the estate was owned by the Cabarrus family, who also owned Chateau Lagrange in St. Julien.
In about 1850, the land was sold to a captain in the navy, who following the custom of the day, renamed the estate using his name of Mallet, and Chateau Sociando Mallet was born.
Chateau Sociando Mallet, The Modern Era
Jean Gautreau was born in 1927 in Lesparre, France. He did not come from a wine background. He discovered Bordeaux when he went to work as a Negociant in 1948. By 1957 he opened his own Negociant firm. Next, Jean Gautreau came up with the idea to provide mobile bottling trucks to the chateaux.
The modern age of Chateau Sociando Mallet began in 1969, when it was purchased by Jean Gautreau from the Tereygeol family for 250,000 French Francs, in part, on the advice Jean Michel Cazes of Chateau Lynch Bages in Pauillac.
When Jean Gautreau bought Sociando Mallet in 1969, the property had fallen into poor condition.
The cellars, winemaking facilities, vineyards, and even the chateau, which was uninhabitable all needed work. As far as the vineyard, much of the land had gone fallow, as they had not been tended for years.
In fact, when Sociando Mallet was originally purchased by Jean Gautreau, less than 7 hectares were under vine. Today, the vineyard has almost 85 hectares, with much of that being cultivated with vines!
Jean Gautreau quickly began alternating the expanding of the vineyard with additional purchases and replanting selections of his newly purchased vines. He was also simultaneously remodeling and renovating the winemaking facilities.
He added new, temperature-controlled stainless vats and repaired the older concrete vats. Jean Gautreau also constructed a new, modern, tasting room with natural lighting and an incredible, unobstructed view of the Gironde.
At first, as he already owned his own negociant company, Jean Gautreau sold the entire production on his own. In time, this shifted, and the wines were eventually sold through to other negociants on the Place de Bordeaux.
Sadly, in November 2019, after 50 years of managing Sociando Mallet, Jean Gautreau passed away. He was 92 years old. His daughter Sylvie Gautreau and grandson Arthur Gautreau are now in charge of managing the estate.
Chateau Sociando Mallet Vineyards, Terroir, Grapes, Winemaking
The large, 85-hectare Sociando Mallet vineyard is planted to 55% Merlot, 40% Cabernet Sauvignon and 5% Cabernet Franc. This represents a change in plantings. Their best vines are located close to and surrounding the chateau.
Previously, the vineyard included a higher percentage of Cabernet Sauvignon and less Merlot, as well as a portion of Petit Verdot. As you can see, the Petit Verdot vines have been removed and more Merlot has been planted.
If the old adage is true, that all the best vineyards in Bordeaux have a prime view of the Gironde, Chateau Sociando Mallet, with its unobstructed view of the water from both directions has a privileged terroir. The vineyards are situated north of the Saint Estephe appellation and in many ways share the same terroir you find in Pauillac and in St. Estephe.
Being that far north in the Left Bank means they have a cooler climate than even their neighbors, just due south in St. Estephe, so they would naturally harvest later in most vintages and perform well in the hot dry years.
Although, cooler years would then, also make it difficult for the grapes to develop full ripeness.
Located in the far north of the Haut Medoc appellation in the village of Saint Seurin de Cadourne, the terroir is gravel, with a subsoil of clay, sand, and limestone soils.
The vineyard of Sociando Mallet is planted to a vine density of 8,333 vines per hectare. On average, the vines are close to 30 years of age.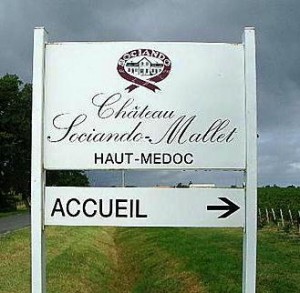 Today, the majority of Bordeaux producers believe in green harvesting to control yields and add concentration. But that is not the case with Sociando Mallet. They have some of the highest yields in the entire region at close to 80 hectoliters per hectare in some vintages. Although the average is closer to 50-50 hectoliters per hectare.
Jean Gautreau prefers to allow nature to decide on the level of the yields at Sociando Mallet. At Sociando Mallet, while they do prune in the winter, they do not green harvest or de leaf in the summer like most estates.
Those high yields at Sociando Mallet are part of what gives the wine its rustic and often green character, as well as its charm, according to the many fans of the estate.
Winemaking at Sociando Mallet
The wine of Sociando Mallet is vinified in a series of temperature-controlled, stainless steel vats and a small portion of traditional cement tanks. Malolactic fermentation takes place in vat.
Chateau Sociando Mallet is aged in a combination of mostly 100% new, French oak barrels, and the remainder is aged in tanks. On average, 95% of the harvest is aged in mostly new, French oak barrels, while the remaining 5% of the harvest is aged invats for about 12 months.
On average, the estate produces close to 35,000 cases per year of Sociando Mallet. The estate also makes a second wine, previously sold under the name of Lartigue-de Brochon. Brochon was the name of a previous owner of the vineyard during the 1800s. Today, the second wine is La Demoiselle de Sociando Mallet.
The Best Vintages of Sociando Mallet are: 2022, 2021, 2020, 2019, 2018, 2017, 2016, 2014, 2012, 2010, 2009, 2005, 2003, 2001, 2000, 1996, 1990, 1989, 1982.
Chateau Sociando Mallet, Cuvee Jean Gautreau
in 1995, Sociando Mallet produced a special wine that was at the time, intended to only be produced in that one vintage, Sociando-Mallet Cuvee Jean Gautreau.
The wine was made from a barrel selection and was aged in 100% new, French oak barrels. To produce the wine, Jean Gautreau pulled the eighty best barrels from over 1,500 barrels.
Those barrels were aged separately. Then, out of those 80 barrels, Gautreau pulled what he considered the top 15 barrels. Those 300 cases were bottled for his own pleasure and were not originally intended for sale.
However, when he discovered he was running out of room, the wines were sold in the marketplace. Sociando-Mallet Cuvee Jean Gautreau is difficult to find.
But it might not sell for much a premium over the standard wine. Since that initial production, in 2013, Jean Gautreau decided to release several other vintages of the wine that covered the years 1996 to 2006.
When to Drink Chateau Sociando Mallet, Anticipated Maturity, Decanting Time
Chateau Sociando Mallet needs time before it can be enjoyed. Young vintages can be decanted for an average of 2-3 hours. This helps the wine soften and open its perfume. Older vintages might need very little decanting, just enough to remove the sediment.
Chateau Sociando Mallet is usually better with at least 8-10 years or more of bottle age. Of course, that can vary slightly, depending on the vintage character.
Chateau Sociando Mallet offers its best drinking and should reach peak maturity between 8-25 years of age after the vintage.
Serving and Decanting Chateau Sociando Mallet with Wine, Food, Pairing Tips
Chateau Sociando Mallet is best served at 15.5 degrees Celsius, 60 degrees Fahrenheit. The cool, almost cellar temperature gives the wine more freshness and lift. The wine of Chateau Sociando Mallet is best served with all types of classic meat dishes, veal, pork, beef, lamb, duck, game, roast chicken, roasted, braised, and grilled dishes.
Chateau Sociando Mallet is a perfect match with Asian dishes, hearty fish courses like tuna, mushrooms, and pasta as well as cheese.
Chateau Sociando Mallet is one of the most popular Cru Bourgeois Classified Bordeaux wines. Until recently, Sociando Mallet had a reputation for selling their wine at low prices.
Due to high demand, that is no longer the case. The wine of Sociando Mallet has a distinctive rustic, brawny, classic, and sometimes herbaceous style that appeals to some tasters more than others.
Château Sociando-Mallet Wine Tasting Notes
26 Vintages 222,332 Views Sort by Vintage-Rating
2022
Château Sociando-Mallet (Haut-Médoc)

Blackberries, black currants, flowers, cedar, mint, and tobacco fill the nose. On the palate, the wine is full-bodied, concentrated, deep, and packed with layers of chalky, ripe, red fruits, spice, herb and cigar wrappers. This is among the best vintages of Sociando Mallet I have ever tasted. Drink from 2027-2050. 93-95 Pts.

896 Views

Tasted

May 8, 2023

2021
Château Sociando-Mallet (Haut-Médoc)

The nose kicks off with dark red currants, cigar wrapper, cedar, spice, and peppery herbs. The wine is medium/full-bodied with a core of bright, chewy, lively red fruits, earth and herbs, leaving you with, crisp red berries in the endnote. This is a very good effort in this difficult vintage. The wine blends 54% Cabernet Sauvignon, 44% Merlot and 2% Cabernet Franc, Drink from 2025-2040. 89-91

2,140 Views

Tasted

May 20, 2022

2020
Château Sociando-Mallet Cuvée Jean Gautreau (Haut-Médoc)

Deeply colored, the perfume opens with cherry blossoms, espresso, black and red currants and Asian spices. Full-bodied, powerful, concentrated and fleshy, with a nice, chewy, mouthful of ripe, sweet red berries and chocolate, along with the tannic structure to age and evolve for decades, this is a solid effort. 93-95 Pts

2,684 Views

Tasted

May 20, 2021

2020
Château Sociando-Mallet (Haut-Médoc)

Deeply colored, with a nose offering flowers, touches of chocolate, wet earth, herbs and dark red spicy fruits. The wine is full-bodied, with a generous splash of black fruits, savory herbs and cocoa. Long and full in the mouth, this will age and develop for at least 3 decades with little effort. 92-94 Pts

4,183 Views

Tasted

May 20, 2021

2020
Château Sociando-Mallet La Demoiselle de Sociando-Mallet (Haut-Médoc)

Soft, round, lush, fruity and polished, the wine is forward, medium-bodied and already expressive with its dark red fruits, spice and tobacco character. Enjoy this while waiting for the Grand Vin to develop. 89-90 Pts

2,619 Views

Tasted

May 20, 2021

2018
Château Sociando-Mallet (Haut-Médoc)

Clearly, a contender for the best wine ever produced here. Even though it is an infant, it is hard not to enjoy the cornucopia of ripe, red berries, black plums and blackberries that come along with a judicious dose of new French oak, tobacco leaf, fresh herbs, cigar box and cedar. The wine has a solid depth of flavor and a long, chewy blast of ripe red fruits in the endnote. The wine is also bottled with a special, commemorative, one-time-only, black and gold label, celebrating 50 years of ownership by the Gautreau family.

6,573 Views

Tasted

Jul 19, 2021

Tobacco leaf, cigar wrapper, fresh herbs and black currant create the core of the wine. Full-bodied, powerful, tannic and juicy, the fruit and tannins are ripe, there is a roundness to the texture coupled with density and flesh to the fruit that really shines this year. 92-94 Pts

13,901 Views

Tasted

Apr 19, 2019

2017
Château Sociando-Mallet (Haut-Médoc)

Medium-bodied and reserved, holding on to its core of crunchy red fruits, crisp currants and cranberry top notes. Classically designed with its bright personality, lay this down for a decade, and it could soften and fill out as it adds additional nuances and character.

4,008 Views

Tasted

Jul 19, 2021

Piquant red fruits with a firm wall of tannins greet you in the mouth. This OG, classic wine is going to need cellaring before it's able to be enjoyed.

9,691 Views

Tasted

Apr 26, 2018

2016
Château Sociando-Mallet (Haut-Médoc)

Medium-bodied, fresh, bright, crisp and clean, the red fruits shine on the nose and palate, leaving you with sensations of fresh red currants, strawberry, leafy herbs, espresso and tobacco leaf. Lay this down for at least another decade and it should be even better.

8,986 Views

Tasted

Jul 19, 2021

Deep in color with dark red fruits, earth and tobacco and an herb and olive note, this wine has good weight and density. The tannins are round and polished and the finish is packed with dense, dusky fruits.

8,585 Views

Tasted

Apr 29, 2017

2015
Château Sociando-Mallet (Haut-Médoc)

Medium-bodied, firm, bright, crisp, earthy and spicy, the bright red berries are accompanied by cedar, tobacco, herbs, espresso bean and earth with a touch of austerity in the finish. The wine is a blend of 50% Merlot, 45% Cabernet Sauvignon and 5% Cabernet Franc.

4,549 Views

Tasted

Jul 19, 2021

Firm, taught, bright and crisp, the crunchy cranberry and cassis show a tartness that is going to please those that also appreciate the herbal character found in this wine. 86 - 88 Pts

10,763 Views

Tasted

Apr 26, 2016

2014
Château Sociando-Mallet (Haut-Médoc)

Firm, bright, crisp and fresh, with blackberry, tobacco, smoke and spicy cassis in its character, the wine is full bodied, tannic and should age well. 88-90 Pts

13,297 Views

Tasted

Apr 21, 2015

2013
Château Sociando-Mallet (Haut-Médoc)

Spice, leaf, herb and red fruit in character, this is a light, user-friendly style of Sociando Mallet that will drink well early. 86-88 Pts

9,058 Views

Tasted

Apr 23, 2014

2012
Château Sociando-Mallet (Haut-Médoc)

Dark in color, with good concentration of flavor, this blend of 55% Cabernet Sauvignon, 40% Merlot and 5% Cabernet Franc produced an herb tinged, peppery, earthy, leafy, herb and cassis filled, classically styled wine that will need time to soft and come together.

6,178 Views

Tasted

May 7, 2015

2010
Château Sociando-Mallet (Haut-Médoc)

Tannic, tough and tight, this powerful, classically styled, cassis and herb dominated, tannic, austere, Bordeaux will require a long time to develop and become civilized.

11,326 Views

Tasted

May 8, 2013

2009
Château Sociando-Mallet (Haut-Médoc)

One of the more backward, tannic, hard wines of the vintage, the crisp fruits and earthey, peppery, structured personality do not lead to much pleasure today. Let this sleep for 5-10 years and the experience should be better.

7,737 Views

Tasted

Jan 23, 2014

2008
Château Sociando-Mallet (Haut-Médoc)

Bright, crisp, chunky red fruits, chewy tannins, and loads of herbs, cedar and tobacco leaf on the nose and palate, which finishes with chewy tannins attached to the sweet and quite fresh, peppery red berries, green forest leaf and herbs. A few more years in the cellar could add more softness to the wine.

3,162 Views

Tasted

Dec 14, 2021

2007
Château Sociando-Mallet (Haut-Médoc)

Austere and green with a strong cedar and herbal note, paired with a lean, strict character to the red fruits and tannins in the finish that creates a wine, others will enjoy much more than I did.

5,449 Views

Tasted

Sep 2, 2017

2006
Château Sociando-Mallet (Haut-Médoc)

Medium bodied, with a rustic, stern, masculine leaning to the tannins, the wine is still young. Showing tobacco, cedar chest and blackberry notes on the nose, with a crisp, chewy, blackberry, earth, pepper and cassis thread in the finish, give this at least 5 more years, or longer to come around.

6,014 Views

Tasted

Sep 12, 2015

2005
Château Sociando-Mallet (Haut-Médoc)

Big and powerful, but lacking refinement, there is a lot of tannin to overcome before this becomes much fun to drink. Cassis, blackberry, earth, tobacco and herbs are in abundance, but there is a touch of green and the tannins display some rusticity as well. The wine was produced from a blend of 55% Cabernet Sauvignon, 40% Merlot and 5% Cabernet Franc.

15,474 Views

Tasted

Aug 1, 2011

2004
Château Sociando-Mallet (Haut-Médoc)

Crisp red, sweet and tart fruits, firm tannins and an austere personality with a cassis and cranberry finish that reminds me of what some tasters would call classic.

5,358 Views

Tasted

Jan 4, 2015

2003
Château Sociando-Mallet (Haut-Médoc)

The drying tannins, jammy berries and herbal notes are not the best combination for a wine. Fans of this estate will probably enjoy this wine much more than I did.

7,170 Views

Tasted

Dec 18, 2013

Already approachable, this slightly rustic, big, old styled Bordeaux lacks elegance and has a bitter note in the finish I find off putting. Others that are fond of this style will probably enjoy it.

5,960 Views

Tasted

Jun 1, 2010

2001
Château Sociando-Mallet (Haut-Médoc)

This concentrated, full bodied, classically styled, tannic wine serves up a big helping of blackberry, cassis, fresh herbs, tobacco, leaf and earth, along with the structure to age and develop for years. This is one of the few Left Bank wines from this vintage that can use more bottle age.

4,657 Views

Tasted

May 20, 2013

2000
Château Sociando-Mallet (Haut-Médoc)

I know many people that enjoy this throwback to how Bordeaux wines used to be made. The nose displayed too much vegatal and herbal notes for my taste. On the palate, the wine feels hard and austere. The tannic finish has some green mixed in with the red and black fruits along with cranberry. If you like this style of wine, give it another decade in the bottle.

11,087 Views

Tasted

Dec 6, 2011

Pepper, black cherry and BBQ spice notes were in the perfume. Concentrated with fruit, there were some green flavors and drying tannins in the finish.

10,233 Views

Tasted

Mar 5, 2010

1996
Château Sociando-Mallet (Haut-Médoc)

Classic, old school styled wine, with firm, strict tannins and a strong, cedar, tobacco, leaf, green pepper and cassis nose. Full bodied, but with an austere, stiff leaning, you can either drink this now, or age it further, for more secondary character.

4,347 Views

Tasted

Dec 15, 2017

1995
Château Sociando-Mallet (Haut-Médoc)

Firm, crisp, crunchy, red fruit, strict tannins and a strong note of cedar, herbs green pepper, tobacco leaf, cranberry and red plums are on the nose and palate. This is very old-school in nature, so some will like this more than I did.

3,946 Views

Tasted

Nov 15, 2019

1990
Château Sociando-Mallet (Haut-Médoc)

Full bodied, with a rustic edge to the tannins, the aromatics pop with their earthy, cedar wood, leaf, herb, olive tapenade, cassis and tobacco profile. Drink this classic styled claret now, or age it another 5-10 more years.

5,140 Views

Tasted

Sep 5, 2014

1982
Château Sociando-Mallet (Haut-Médoc)

Not exactly refined, but you do get a big, chewy mouthful of ripe, cassis, blackberries, herbs, pepper, and wet earth. Youthful, earthy, and loaded with tobacco, green herbs, forest leaf, and crunchy, meaty, dark currants, this concentrated, old-school classic might not improve, but it has plenty of gas left in the tank. Drink from 2022-2035.

2,648 Views

Tasted

Dec 15, 2022

There is a serious streak of green flavors in this wine. It's concentrated and full bodied, but the tough tannins and herbaceous quality were in full force. Fans of very traditional Bordeaux will probably enjoy this a lot more than I did.

4,513 Views

Tasted

Mar 17, 2013