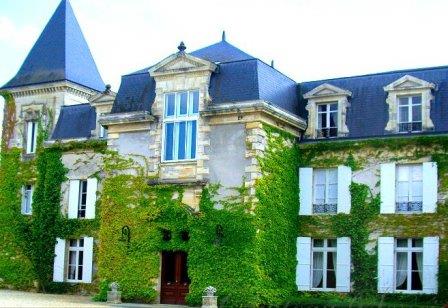 Learn everything about Chateau Senejac Haut Medoc with wine tasting notes and wine with food pairing tips. Learn the best vintages and about their winemaking and vineyards. If you want to read about other important, Bordeaux Chateaux: Links to all Bordeaux Wine Producer Profiles
Chateau Senejac History, Overview
Chateau Senejac has a long history in the Medoc. While the property dates back to the 1500s, vines were not planted for a few hundred years until some point in the 18th century. The estate remained in the hands of the same family for close to two centuries.
The de Guigne family owned the property from 1860 until 1999 when they sold Chateau Senejac to Lorraine Cordier, the owner of Chateau Talbot in St. Julien, and her husband Thierry Rustmann. Lorraine Cordier passed away in 2011. Today, Chateau Senejac is managed by the sister of Lorraine Cordier, Nancy Bignon Cordier.
It's interesting to note that for much of its life, Chateau Senejac was known for producing white Bordeaux wine. That is no longer the case today as the property is planted exclusively for the production of red Bordeaux wine.
After the Cordier family took over the estate, they produced high-end wine that made its debut in 1999, Chateau Senejac Karolus. Chateau Senejac Karolus was made from a small, 3-hectare parcel of the estate's oldest vines and was aged in a larger percentage of new, French oak barrels. Chateau Senejac Karolus is no longer being made. 2004 was the last vintage of Chateau Senejac produced.
Chateau Senejac Vineyards, Terroir, Grapes, Winemaking
The 41-hectare vineyard of Chateau of Senejac is planted to 52% Cabernet Sauvignon, 36% Merlot, 8% Cabernet Franc and 4% Petit Verdot. The vineyard is located to the far southern end of the Haut Medoc appellation in the commune of Le Pian Medoc. The Left Bank vineyard is in one large block of vines. The terroir is mostly gravel soils.
To produce the wine of Chateau Senejac, vinification takes place in 17, thermoregulated, stainless steel tanks. Malolactic fermentation takes place in barrels.
The wine of Chateau Senjac is then aged in 33% new, French oak barrels for an average of 12 to 15 months, depending on the character and quality of the vintage.
There is a second wine, Artigues de Senejac. On average, the production of Chateau Senejac is close to 16,000 cases of wine per year.
The best vintages of Chateau Senejac are: 2022, 2021, 2020, 2019, 2018, 2017, 2016, 2015, 2014, 2010, 2009 and 2005.
When to Drink Chateau Senejac, Anticipated Maturity, Decanting Time
Chateau Senejac needs some time before it can be enjoyed. Young vintages can be decanted for an average of 1 to hours allowing the wine to soften and open its perfume. Older vintages might need very little decanting, just enough to remove the sediment.
Chateau Senejac is usually better with at least 4-8 years of bottle age. Of course, that can vary slightly, depending on the vintage character. Chateau Senejac offers its best drinking and should reach peak maturity between 6-15 years of age after the vintage.
Serving and Decanting Chateau Senejac with Wine, Food, Pairing Tips
Chateau Senejac is best served at 15.5 degrees Celsius, 60 degrees Fahrenheit. The cool, almost cellar temperature gives the wine more freshness and lift. The wine of Chateau Senejac is best served with all types of classic meat dishes, veal, pork, beef, lamb, duck, game, roast chicken, roasted, braised, and grilled dishes.
Chateau Senejac is a perfect match with Asian dishes, hearty fish courses like tuna, mushrooms, and pasta as well as cheese.
Château Sénéjac Wine Tasting Notes
13 Vintages 83,491 Views Sort by Vintage-Rating
2022
Château Sénéjac (Haut-Médoc)

With notes of flowers, blackberries, black currants, and black raspberries on the nose, you get a concentrated, round, dark-fruited, rich wine with more of those sweet, juicy black fruits in the finish along with a hint of chocolate and spicy espresso that comes in at the end of the finish. The wine blends 47% Cabernet Sauvignon, 34% Merlot, 13% Cabernet Franc and 6% Petit Verdot. 13.5% ABV. Drink from 2025-2035. 91-93 Pts.

1,844 Views

Tasted

May 8, 2023

2021
Château Sénéjac (Haut-Médoc)

Medium-bodied, fresh, forward and fruity, with a light, red berry palate presence along with an earthy, savory touch in the red berry finish that will be best enjoyed in its youth. Drink from 2023-2031. 87-89

1,780 Views

Tasted

May 20, 2022

2020
Château Sénéjac (Haut-Médoc)

Cherries, currants and cocoa are on the nose and also in the core of this wine. Medium-bodied, soft and vibrant, with a touch of chalk and oak that comes through in the mid-palate and in the fruit-filled endnote. You can open and enjoy this with pleasure on release, with give it a bit of age as well. Drink from 2024-2038.

1,538 Views

Tasted

Mar 21, 2023

Showing deep color, leather, cedar, tree leaf, spice and red currants pop right off the bat, this wine is medium/full-bodied with sandy, soft tannins and freshness in the finish. This should show well with just a few years of age. 89-91 Pts

3,806 Views

Tasted

May 20, 2021

2019
Château Sénéjac (Haut-Médoc)

Roasted espresso, flowers, and currants are all over the place on the nose and palate of this soft, round, medium-bodied wine. The finish is crisp and classic with a slight polish to the tannins that you can sense in the juicy, cassis and cranberry finish. Drink from 2023-2038.

2,033 Views

Tasted

Mar 29, 2022

Flowers, coffee, underbrush and red fruits create the nose. The wine is medium-bodied, fresh, crisp and lively with a crunchy, classic, red berry finish. 90-92 Pts

5,217 Views

Tasted

Jul 3, 2020

2018
Château Sénéjac (Haut-Médoc)

Ripe, dark red fruit, cedar and tobacco leaf with a hint of bitter cocoa and spice are at the core of this wine. On the palate, the wine is round, fruity, soft and juicy with loads of ripe, sweet berries in the finish. This debut vintage for Jean-Michel Laporte at the property has turned out quite well.

3,195 Views

Tasted

Mar 9, 2021

The ripe dark fruit found in the 2018 vintage really shines here. The cedar, tobacco and dark berries comes through nicely on the nose and on the medium/full-bodied, round, soft palate. The finish offers upfront, forward and easy to like already. This is the first vintage for Jean-Michel Laporte who consults at the property. The wine was made from 59% Cabernet Sauvignon, 29% Merlot, 7% Cabernet Franc and 5% Petit Verdot. 90-92 Pts

6,054 Views

Tasted

Apr 19, 2019

2016
Château Sénéjac (Haut-Médoc)

A steal of a deal here, this medium-bodied wine is loaded with sweet, ripe, dark cherries, red currants, cigar wrapper, flowers, herbs, and freshness on the nose and palate. Drink from 2022-2036.

5,835 Views

Tasted

Aug 16, 2022

Showing deep color, this wine is medium/full-bodied with soft tannins, an open personality and fresh, polished, earthy fruits in the finish.

11,859 Views

Tasted

Apr 29, 2017

2015
Château Sénéjac (Haut-Médoc)

Medium/full bodied, with good color and an earthy, tobacco, thyme and dark red berry character, finishing with fresh, black raspberries and spice in the endnote. 89 - 91 Pts

7,206 Views

Tasted

Apr 26, 2016

2014
Château Sénéjac (Haut-Médoc)

A solid value wine with a future. The medium bodied, fresh, ripe, crisp, dark red fruits, soft tannins, and fruit filled, earth laden finish hits the spot.

3,714 Views

Tasted

Apr 1, 2017

2012
Château Sénéjac (Haut-Médoc)

Medium/full bodied, with good color and an earthy, tobacco, thyme and dark red berry character, finishing with fresh, crisp black raspberries and spice in the endnotes.

3,619 Views

Tasted

May 25, 2016

Medium bodied, fresh, bright, black raspberry filled wine that starts out soft, ending with a dusty, tannic finish.

3,094 Views

Tasted

May 7, 2015

2010
Château Sénéjac (Haut-Médoc)

Medoum/full bodied, with a fresh, crisp character to the cassis and blackberry notes, there is an earthy, tobacco and espresso accent in the fresh, dark, red berry finish.

7,121 Views

Tasted

May 7, 2015

2009
Château Sénéjac (Haut-Médoc)

Medium bodied, soft tannins, forward with an open, black cherry, cassis, licorice and earthy, espresso bean character, this is already fun to drink with a little bit of air. Bringing in the team of Alfred Tesseron has really upped the game for Senejac.

6,038 Views

Tasted

Jan 27, 2015

2006
Château Sénéjac (Haut-Médoc)

Simple, foursquare, earthy cherries, cigar box and herbal notes with a rustic quality in the finish. Drink up.

5,255 Views

Tasted

Feb 10, 2016

2005
Château Sénéjac (Haut-Médoc)

Fully mature, value priced charmer with loads of tobacco, wet earth, cedar wood, plums and blackberry. Good concentration, a little rusticity in the tannins, but plenty of fruit and character in the finish. No need for further aging. If I had any, I'd drink the remaining bottles over the next 5 - 7 years or so. The bottle was popped and poured.

4,283 Views

Tasted

Nov 7, 2016