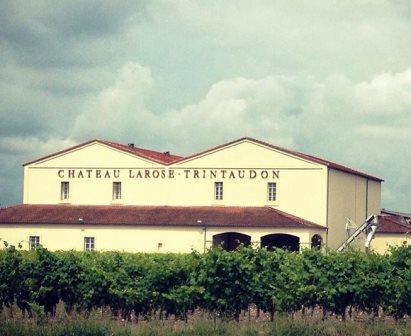 Learn everything about Chateau Larose Trintaudon, Haut-Medoc with wine tasting notes and wine with food pairing tips. Learn the best vintages, a history of the property and information on the vineyards and winemaking. If you want to read about other important, Bordeaux Chateaux: Links to all Bordeaux Wine Producer Profiles
Chateau Larose Trintaudon History, Overview
While the birth of Chateau Larose Trintaudon dates to 1719, when the estate went under the name of Larose Perganson. It took more than 100 years before the Haut Medoc estate became a working vineyard.
That took place in 1838 when vines were planted on a parcel that was called, "Tenement de Trintaudon", which as you can easily see, is where the estate took the second part of its name from.
If the first word, "Larose" sounds familiar to you, that is because the owner at the time, Henry Delaroze, also gave his name to Chateau Gruaud Larose in the St. Julien appellation.
Now you know how the estate found the name of Larose Trintaudon. For a short period of time, the wine was sold under both names, Larose Perganson and Larose Trintaudon.
The beautiful chateau was built in 1870 by the owner at the time, Comte Ernest de Lahens. During the late 1800's, the property was even larger than it is today as Ernest de Lahens was able to increase the size of their vineyards to 345 hectares of vines.
In 1963 the property changed hands when it was bought by the Forner family, who also owned Chateau Camensac. At the time of the sale, Larose Trintaudon was in a dilapidated state.
In 1986, Chateau Larose Trintaudon was purchased as an investment by the large, French insurance company, Allianz from the Forner family. The cellars were completely renovated after a multi-year construction period ending in 2023. Under the name the Larose group, Allianz also owns Chateau Larose Perganson, Chateau Arnaud and Chateau Tour de Pez.
Chateau Larose Trintaudon Vineyards, Terroir, Grapes, Winemaking
The massive 190 hectare vineyard of Chateau Larose Trintaudon is planted to 49% Cabernet Sauvignon, 46% Merlot, 2.5% Cabernet Franc and 2.5% Petit Verdot.
The estate is one of the largest in the entire Bordeaux region. The terroir is a blend of sand, clay and limestone soils. Some of the vines are located next to Pauillac. In fact, Chateau Latour purchased a parcel of vines from the estate several years ago that was located in the Pauillac appellation.
They also have vines in Cussac and Arcins and close to the chateau. The vines are on average close to 30 years of age.
The vineyard is planted to a vine density of 6,600 vines per hectare. The vineyards of Chateau Larose Trintaudon are farmed with an effort to use self sustaining farming techniques.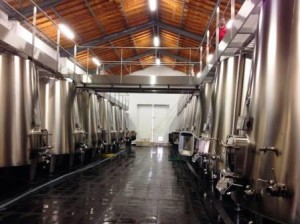 The wine of Chateau Larose Trintaudon is vinified in temperature controlled, stainless steel vats. Malolactic fermentation takes place in tank. The wine is aged in 20% new, French oak barrels for an average of 12 months before bottling.
The best vintages of Chateau Larose Trintaudon are: 2020, 2019, 2018, 2017, 2016, 2015, 2010, 2009 and 2005.
There are 2 second wines, Larose-St. Laurent and Les Hauts de Trintaudon. Chateau Larose Trintaudon is probably the largest producer in the Medoc. In fact they are perhaps one the biggest producers in all of Bordeaux as they make more than 1 million bottles of Chateau Larose Trintaudon wine per year!
When to Drink Chateau Larose Trintaudon, Anticipated Maturity, Decanting Time
Chateau Larose Trintaudon needs some time before it can be enjoyed. Young vintages can be decanted for an average of 1 hour or so. This allows the wine to soften and open its perfume. Older vintages might need very little decanting, just enough to remove the sediment.
Chateau Larose Trintaudon is usually better with at least 2-3 years of bottle age. Of course that can vary slightly, depending on the vintage character. Chateau Larose Trintaudon offers its best drinking and should reach peak maturity between 2-7 years of age after the vintage.
Serving and Decanting Chateau Larose Trintaudon with Wine, Food, Pairing Tips
Chateau Larose Trintaudon is best served at 15.5 degrees Celsius, 60 degrees Fahrenheit. The cool, almost cellar temperature gives the wine more freshness and lift. The wine of Chateau Larose Trintaudon is best served with all types of classic meat dishes, veal, pork, beef, lamb, duck, game, roast chicken, roasted, braised and grilled dishes.
Chateau Larose Trintaudon is a perfect match with Asian dishes, hearty fish courses like tuna, mushrooms and pasta as well as cheese.
www.chateau-larose-trintaudon.fr
Château Larose-Trintaudon Wine Tasting Notes
10 Vintages 24,908 Views Sort by Vintage-Rating
2020
Château Larose-Trintaudon (Haut-Médoc)

Fruity, round and juicy with a nice sweetness to the savory, chewy currants hints of cocoa on the palate and in the finish. This is fine for early, uncomplicated drinking pleasure. 87-89 Pts

622 Views

Tasted

May 20, 2021

2019
Château Larose-Trintaudon (Haut-Médoc)

Easy drinking, medium-bodied, forward, fruity, correct wine with a round textured, sweet, red berry finish. This is fine for early, uncomplicated drinking pleasure. 86-88 Pts

2,559 Views

Tasted

Jun 17, 2020

2018
Château Larose-Trintaudon (Haut-Médoc)

Medium-bodied, soft, forward, early drinking charmer with no hard edges, just plenty of ripe, sweet, red fruits from start to finish. You can drink this on release. 87 Points.

676 Views

Tasted

Mar 9, 2021

Forward, easy to like, and easy to drink, the wine focuses on its fresh, red fruit, earth and tobacco charms in an open style. 87-89 Pts

1,680 Views

Tasted

Apr 19, 2019

2017
Château Larose-Trintaudon (Haut-Médoc)

Fruity, forward and fresh, this medium-bodied, red pit fruit-filled wine is ready to go for near term, soft textured, easy-drinking pleasure. 87 Points.

1,385 Views

Tasted

Aug 12, 2020

2016
Château Larose-Trintaudon (Haut-Médoc)

Medium-bodied and forward, this easy-drinking, fun wine delivers a round, fruity charm and is effortlessly void of complications. 88 Points.

2,750 Views

Tasted

Apr 29, 2017

2015
Château Larose-Trintaudon (Haut-Médoc)

Medium bodied, easy drinking, fun, correct wine with a red berry note in the bright finish for uncomplicated quaffing 86 - 88 Pts

2,741 Views

Tasted

Apr 26, 2016

2014
Château Larose-Trintaudon (Haut-Médoc)

Medium-bodied and forward, the wine is charming, easy to like and drink, with soft textured, ripe, dark red fruits, complicated by a hint of tobacco and earth. 88 Points.

2,533 Views

Tasted

May 1, 2017

2012
Château Larose-Trintaudon (Haut-Médoc)

Simple, easy drinking, uncomplicated quaffer, medium bodied with a fresh, soft, red berry center of fruit, with a hint of espresso. 87 Points.

2,468 Views

Tasted

Oct 24, 2016

2010
Château Larose-Trintaudon (Haut-Médoc)

Medium bodied, clean, ripe and drinkable, there are some nice dark red fruits and espresso notes in the nose, that ends with a soft finish. Not bad for an inexpensive quaffer. 87 Points.

3,599 Views

Tasted

Mar 10, 2015

2009
Château Larose-Trintaudon (Haut-Médoc)

Better than you might think. From a blend of 60% Cabernet Sauvignon and 40% Merlot, this is already serving up its round, blackberry, cherry and earthy personality, with a soft, fresh, fruit driven finish. 88 Points.

3,895 Views

Tasted

Apr 26, 2015