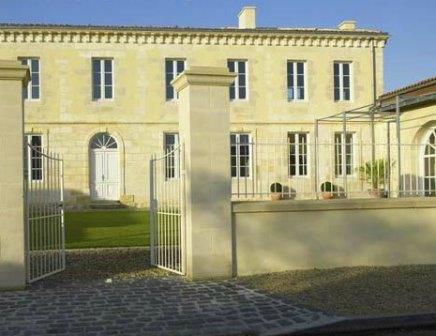 Learn everything about Chateau Branas Grand-Poujeaux Haut Medoc, with wine tasting notes and wine with food pairing tips. Learn the best vintages, a history of the property, information on the vineyards and winemaking. If you want to read about other important, Bordeaux Chateaux: Links to all Bordeaux Wine Producer Profiles
Chateau Branas Grand-Poujeaux History, Overview
The modern age for Chateau Branas Grand-Poujeaux starts in 2002 when Justin Onclin and Carmen Onclin-Paqueron purchased the estate from Jacques Pourquery. The Pourquery family had owned the vineyard since they bought it back in 1963.
Chateau Branas Grand-Poujeaux shares the name of Poujeaux with 6 other chateaux placed in the appellation of Moulis. The chateaux all use a similar name, due to their location in the area not far from the Grand Poujeaux vineyard.
At the time of the purchase, the estate and its vineyards were in poor condition, requiring complete renovations and modernizations in the cellar and chateau along with extensive replantings in the vineyards.
In 2006, one of the first decisions made by Justin Onclin was to replace Michel Rolland with the team of Stephane Derenoncourt. This changed in 2012 when they brought in Hubert de Bouard. In 2020, Hindrik Gommer purchased a major portion of Chateau Branas Grand Poujeaux.
Today they are a modern, completely gravity-based cellar. In the Right Bank, Justin Onclin also owns Chateau Villemaurine in the St. Emilion appellation.
Chateau Branas Grand Poujeaux Vineyard, Terroir, Grapes, Winemaking
The vineyard of Branas Grand Poujeaux is planted to 50% Merlot, 45% Cabernet Sauvignon and 5% Petit Verdot. With 12 hectares of vines, the Left Bank vineyard of Chateau Branas Grand Poujeaux is perhaps one of the smaller estates in the Moulis appellation.
The vineyard has a terroir of gravel with clay soils. Their best terroir is on the Grand Poujeaux plateau. The vineyard is planted to a vine density ranging from 6,500 vines per hectare to 9,000 vines per hectare. The newer plantings are at an increased level of density.
On average, the vines are about 25 years of age, give or take. Branas Grand-Poujeaux has good neighbors, as they are situated close to both Chateau Chasse Spleen and Chateau Poujeaux in the north, east portion of the Moulis appellation.
To produce the wine of Chateau Branas Grand Poujeaux, the grapes are whole berry fermented. This is to retard the oxygenation of the grapes and to retain as much freshness as possible.
Vinification takes place in a combination of large, conical-shaped oak vats and stainless steel tanks. The fermentation vats are divided as followed. There are six, 60 liter, large oak vats and one, 30-liter oak vat. In addition, there are three, 30-liter, temperature-controlled, stainless steel tanks. Malolactic fermentation takes place in barrels. The wines are aged in 80% new, French oak barrels for close to 18 months before bottling.
There is a second wine, Les Eclats de Branas. On average, at Chateau Branas Grand-Poujeaux they produce about 4,000 cases of wine per vintage of Chateau Branas Grand-Poujeaux.
The best vintages of Chateau Branas Grand-Poujeaux are: 2022, 2021, 2020, 2019, 2018, 2017, 2016, 2015, 2010 and 2009. Older vintages are riskier.
When to Drink Chateau Branas Grand-Poujeaux, Anticipated Maturity, Decanting Time
Chateau Branas Grand-Poujeaux needs some time before it can be enjoyed. Young vintages can be decanted for 1-2 hours. This allows the wine to soften and open its perfume.
Older vintages might need very little decanting, just enough to remove the sediment. Chateau Branas Grand-Poujeaux is usually better with at least 5-8 years of bottle age. Of course, that can vary slightly, depending on the vintage character. Chateau Branas Grand-Poujeaux offers its best drinking and should reach peak maturity between 7-15 years of age after the vintage.
Serving and Decanting Chateau Branas Grand Poujeaux with Wine, Food, Pairing Tips
Chateau Branas Grand Poujeaux is best served at 15.5 degrees Celsius, 60 degrees Fahrenheit. The cool, almost cellar temperature gives the wine more freshness and lift. The wine of Chateau Branas Grand Poujeaux is best served with all types of classic meat dishes, veal, pork, beef, lamb, duck, game, roast chicken, roasted braised, and grilled dishes.
Chateau Branas Grand Poujeaux is a perfect match with Asian dishes, hearty fish courses like tuna, mushrooms, and pasta as well as a wide array of both hard and soft cheese.
Chateau Branas Grand-Poujeaux is a great example of a character-driven, Bordeaux value wine from the Medoc, with true quality and personality that can be purchased for very friendly, consumer prices.
Château Branas Grand-Poujeaux Wine Tasting Notes
13 Vintages 39,712 Views Sort by Vintage-Rating
2022
Château Branas Grand-Poujeaux (Moulis en Médoc)

Supple, creamy-textured wine with a core of espresso, dark berry and cocoa nuances, the wine is medium-bodied, round in texture, with a cocoa and espresso edge to the fruits, finishing with refreshing herbs on the backend. Drink from 2025-2037. 90-92 Pts.

1,213 Views

Tasted

May 8, 2023

2021
Château Branas Grand-Poujeaux (Moulis en Médoc)

A touch of cocoa, licorice, flowers, and red fruits show up easily on the nose and in the soft, forward, medium-bodied, fleshy, polished palate. Drink from 2023-2030. 88-90

972 Views

Tasted

May 20, 2022

2020
Château Branas Grand-Poujeaux (Moulis en Médoc)

Scoring at the top of the range, due to all of the freshness and vibrance in the sweet, plums and cherries, the tannins are soft, polished and elegant, giving you the opportunity to enjoy all the chocolate, plums and sweet, spicy, earthy, ripe fruits in the finish. Drink from 2023-2040.

505 Views

Tasted

Mar 21, 2023

With notes of tobacco, espresso, dark red fruits, herbs and cocoa, the wine is soft, round, polished, fruity and fresh. With a nice sweetness to the fruits and soft ripe tannins on the palate, the ripe berries taste and feel great in the finish. This is one of the top wines from Listrac and it sells for a song. 91-93 Pts

1,758 Views

Tasted

May 20, 2021

2019
Château Branas Grand-Poujeaux (Moulis en Médoc)

Lusciously textured fruits come through with ease on the palate, along with its layers of savory blackberries, touch of dark cocoa, smoke, thyme and black cherries. The finish is even better due to its layers of soft, polished, ripe dark fruits. Give this a few years of age and its going to be great for almost 2 decades. Drink from 2024-2039.

1,503 Views

Tasted

Mar 29, 2022

Luxuriously textured, ripe, fresh, sweet, juicy fruit with character is what you will find here. The finish, with its round, polished tannins and deep red fruits hits the mark in this vintage. 91-93 Pts

4,034 Views

Tasted

Jun 8, 2020

2018
Château Branas Grand-Poujeaux (Moulis en Médoc)

Aromatically the wine shoots right out of the glass with flowers, licorice, smoke, tobacco leaf, herbs and dark red fruits. And it gets even better on the palate with all its fresh, exuberant, ripe, licorice-covered red fruits, espresso and bitter chocolate. This is a top value from the Left Bank, so savvy consumers take notice.

2,001 Views

Tasted

Mar 9, 2021

Filled to the brim with licorice, espresso, plum and black currant, the wine is soft, polished, sweet, fresh and juicy. The fruity finish comes with espresso, licorice and wet earth as well as a mouthful of dark red fruits. 92-94 Pts

3,399 Views

Tasted

Apr 19, 2019

2017
Château Branas Grand-Poujeaux (Moulis en Médoc)

Crisp, bright and juicy, the wine offers licorice and earthy accents to the dynamic cassis, which permeates the nose and the palate.

2,156 Views

Tasted

Apr 26, 2018

2016
Château Branas Grand-Poujeaux (Moulis en Médoc)

Smoke, earth, tobacco, cedar, cherry and floral characteristics are strong here. On the palate the wine displays ripe, juicy red fruits, soft, crisp tannins and ripe red plum and cherry in the finish.

3,190 Views

Tasted

Sep 21, 2019

With good color, it's easy to find the cassis, licorice, smoke, and cherries here. The wine has a softness to the tannins and sweet fruit in the finish.

2,206 Views

Tasted

Apr 29, 2017

2015
Château Branas Grand-Poujeaux (Moulis en Médoc)

Sporting good color, licorice, smoke, black cherry and earthy scents are right there. Round, with sweet, ripe plums in the endnote, give it a few years to come around. 88 - 90 Pts

2,701 Views

Tasted

Apr 26, 2016

2014
Château Branas Grand-Poujeaux (Moulis en Médoc)

Lively, soft textured wine, with round tannins, fresh, dark red berries, hints of licorice, smoke and cocoa, and a blast of black cherry in the finish. And it sells for a song.

2,221 Views

Tasted

Apr 1, 2017

2012
Château Branas Grand-Poujeaux (Moulis en Médoc)

Medium bodied, firm, classically styled, crisp wine, with strong tannins and a bright cassis, smoke and espresso bean finish. Time could add more character and softness to the wine. But the vintage was a difficult year for many estates in the Haut Medoc.

2,109 Views

Tasted

Sep 22, 2016

2011
Château Branas Grand-Poujeaux (Moulis en Médoc)

Light, crisp red fruits with a strong touch of pyrazines and tobacco leaf on the nose and soft, dusty, red berry palate. This is not going to make old bones. I'd opt for drinking this sooner than later.

1,615 Views

Tasted

Dec 14, 2021

2010
Château Branas Grand-Poujeaux (Moulis en Médoc)

Soft textures, round tannins and a blast of licorice, smoke, espresso bean and black cherries carry through from start to finish. An hour or so in the decanter helps. Still young, this will be better in a few years. One of the better wines from Moulis and it sells for fair price too! The wine was made from blending 50% Merlot, 45% Cabernet Sauvignon, and 5% Petit Verdot.

5,241 Views

Tasted

May 19, 2015

2009
Château Branas Grand-Poujeaux (Moulis en Médoc)

Just starting to open and show nicely, with its soft, medium bodied, round textures, coupled with its smoky, black cherry, licorice, earth and mocha infused profile. The wine was made from a blend of 50% Merlot, 45% Cabernet Sauvignon and 5% Petit Verdot.

2,888 Views

Tasted

Nov 1, 2015