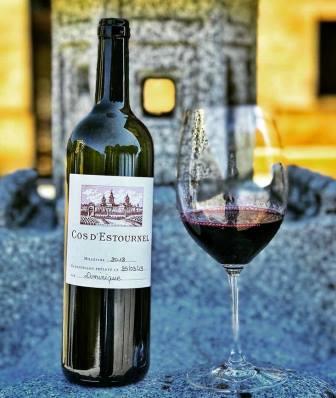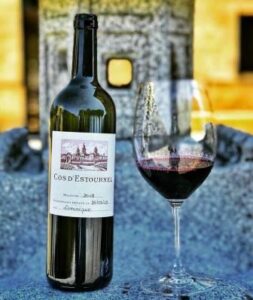 Simply put, 2018 St. Estephe wines offer everything you could want in your glass. They are stylish, bold, powerful, concentrated and opulent. They are deep in color, ripe, fleshy and in many cases alcoholic. But they wear it well.
Even with wines reaching over 14.5% alcohol, there was no touch of heat, sensation of jam or over ripe flavors. Due to the equally high levels of acidity, the wines remain energetic! That's a difficult combination to achieve for most Bordeaux wine.
Great wines are not about the numbers. They are about style, personality and balance, which is what you find here from top to bottom. It's not just the stars of the appellation. The Cru Bourgeois and even lesser wines in some cases made the best wines in the history of the estate!
2018 was made for Saint Estephe. Following the torrential rains of the winter, spring and early summer, the vineyards dried out. From there, the summer was perfect with its hot, dry, sunny conditions.
The vineyards with gravel and clay terroirs placed within sight of the Gironde estuary produced wines of prodigious quality! If you want to read details on the 2018 Bordeaux vintage 2018 Harvest Report
With close to 600 wines tasted, you can expect more 2018 Bordeaux reports for every major appellation to be published daily. Monday, April 22, we'll finish our look at the Left Bank with a complete report on the Margaux appellation followed by the red and white Bordeaux of Pessac Leognan.
The following wines were tasted between late March and early April 2019 in non-blind conditions. Several wines were tasted more than once, with consistent results.
2018 Beau-Site – Forward, fresh, fruity with an early-drinking charm, enjoy this wine for its round, open, earthy character. 88 – 90 Pts
2018 Bernard Magrez – This is the debut vintage for the newly re-named estate. Forward, rich, fruity and already easy to drink, this wine offers an accessible blast of sweet, chewy, dark red fruits. You can drink this on release or with a few years of age. 88 – 90 Pts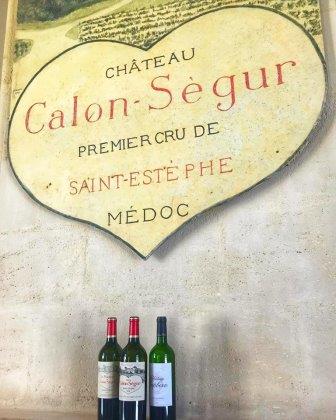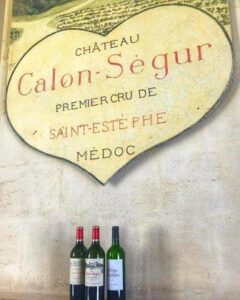 2018 Calon Segur – Dark, inky with deep purple accents, the wine is dense, concentrated, full bodied, fleshy and powerful. The fruit shows lift, sweetness and purity. Even though the wine is quite high in alcohol, you never sense it. There is no heat or jammy aromatics. Instead your palate is ensconced in waves of ripe, intensely pure, spicy, red pit fruits. The wine was produced from 65% Cabernet Sauvignon, 17% Merlot, 15% Cabernet Franc and 3% Petit Verdot, reaching 14.9% alcohol with a pH of 3.75. The harvest took place September 19-October 8. The Grand Vin was made from 40% of the harvest. 97 – 99 Pts
2018 Le Marquis de Calon Segur – With a spicy, leafy, ripe, juicy, fresh, medium-bodied character, this blend of 53% Merlot and 47% Cabernet Sauvignon is a delicious, early drinking, cherry-filled gem of a wine. Drink this young, while waiting for its big brother to develop. 90 – 92 Pts
2018 Capbern – Ripe, medium-bodied, juicy, forward and already delicious, this is a fabulous vintage for Capbern that will be easy to drink on release. You'll find a nice depth of fruit and flavor here on the palate and in the finish. The wine was made from 62% Cabernet Sauvignon, 37% Merlot and 1% Petit Verdot. 91 – 93 Pts
2018 Cos dEstournel – With its telltale Asian spice perfume, the color is impossible to see through. Full-bodied, dense, rich and fleshy, the wine coats your palate with a display of red and black fruits, spice, smoke, earth and licorice. The tannins are polished. The fruit, even with this much weight and flesh, remains fresh and balanced. The finish keeps on going long after the wine has left its glass and gone to where it was intended to go. I timed it, and it surpassed the 60 second mark! This is positively stunning and if you're a lover of COS, as this is one of the best vintages produced in the long history of the estate, this belongs in your cellar. The wine was made from blending 74% Cabernet Sauvignon, 23% Merlot, 2% Cabernet Franc and 1% Petit Verdot, reaching 14.6% alcohol with a pH of 3.7. The harvest took place September 19 to October 6. The Grand Vin was made from only 65% of the harvest. 98 – 100 Pts
2018 Les Pagodes de Cos – With its powerful display of ripe, dark fruits, the wine is packed with sweet, lush, juicy blackberry, espresso, oak and spice-box notes. The texture, complexity and length is there as well. This is one of the top second wines in Bordeaux today. Drink this young while waiting for the Grand Vin to develop. 93 – 95 Pts
2018 Cos d'Estournel Blanc – Youthful and crisp, with little effort, the spark of honeysuckle, orange, grapefruit, vanilla and lemon hits the perfume. On the palate this wine is drenched in brightness, yellow citrus and a hint of honey, providing a fresh, refreshing, invigorating experience. 94 Pts
2018 Cos Labory – Medium-bodied, round, forward and with a nice level of ripeness to the fruit and accompanied by spice and tobacco leaf, the wine really works well with this vintage. 90 – 92 Pts
2018 Haut Marbuzet – Dark in color, the wine shows espresso, smoke, earth, thyme, smoke and black cherry with leafy aromatic qualities. This is a super vintage for Haut Marbuzet. The wine is medium bodied with round, juicy, sweet, deep red fruits and a forward style. 91 – 93 Pts
2018 Le Boscq St. Estephe – Deep in color, the tobacco, cigar box, dark red fruit, vanilla and licorice aromas tell the story. With ample levels of ripe, lush, soft, polished textures and a juicy finish, this is a top vintage for Chateau Le Boscq and will age quite nicely. 91 – 93 Pts
2018 Le Crock – Earthy black cherries, clay, smoke and licorice sensations for the aromatic character. On the palate the wine is round, soft, sweet and juicy. The fruit is easy to like, due to its perfect ripeness. In the finish, spice, licorice and blackberry kick in and stay there. Give this just a year or two and enjoy it over the next 12-15 years. The wine was produced from 45% Merlot, 40% Cabernet Sauvignon, 10% Cabernet Franc and 5% Petit Verdot. Value seekers should be all over this one. 91 – 93 Pts
2018 Lilian Ladouys – Definitely the best vintage of Lilian Ladouys to date. The wine is loaded with licorice, black fruits, smoke and wet earth. Medium/full-bodied with a round, juicy, lush-mouth feel, there is a nice spicy character in the finish due to the increase of Cabernet Sauvignon in the vineyard and the blend. The wine was produced using 59% Cabernet Sauvignon, 37% Merlot and 4% Petit Verdot, reaching 14.4% alcohol. 92 – 94 Pts
2018 Meyney – Clearly a contender for the best vintage of Meyney ever produced, this wine has a fabulous depth of flavor, concentration, silky soft tannins, perfectly ripe dark, spicy, fresh fruits, length and an expansive finish. The wine was made from blending 42% Cabernet Sauvignon, 40% Merlot and 18% Petit Verdot. 93 – 95 Pts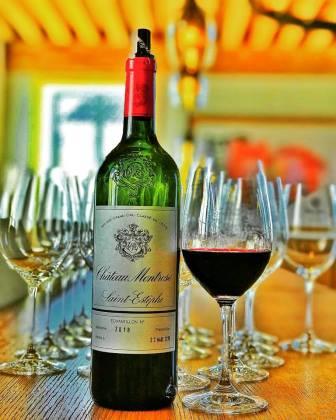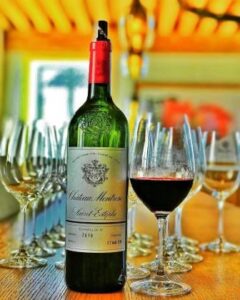 2018 Montrose – When you taste a barrel sample and the first thought that comes to mind is 'I want this in my cellar' you know you're tasting a rock star! The color of a pitch-black night, this beauty is completely opaque. The wine is powerful, concentrated and palate staining. The fruits vary from black to dark red. The tannins are incredibly soft and sweet plus there is a polish that feels fantastic in your mouth. As the wine coats your palate, teeth and gums, you experience a beautiful purity of fruit, intensity and volume with lift and a finish that crosses the 60 second mark. Like all the top vintages of Montrose, you will need to allow it time in the cellar, at least 10 to 15 years or if you're have patience 20. It is hard to fathom that Montrose has been able to put together an unequaled run of vintages at this high-level of quality. A vertical of 2014, 2015, 2016 and 2018 is going to be fascinating to experience. The wine was made from blending 72% Cabernet Sauvignon, 20% Merlot, 6% Cabernet Franc and 2% Petit Verdot, reaching 14.8% alcohol with a pH of 3.7. The Grand Vin was made from 52% of the harvest, which took place September 17 to October 5. The yields were quite low here due to issues with mildew, so the estate only realized 26 hectoliters per hectare. 98 – 100 Pts
2018 La-Dame-deMontrose – Classified Growth in quality, it is hard to believe this is a second wine. Full-bodied, juicy and ripe, this is a serious mouthful of sweet Cabernet Sauvignon with pop, length and complexity. Give this 4-5 years in the cellar. The wine was produced from blending 52% Merlot, 30% Cabernet Sauvignon, 5% Petit Verdot and 4% Cabernet Franc. 92 – 94 Pts
2018 Les-Ormes-de-Pez – Spicy blackberries, gravel, tree-leaf and cedar are on the nose. From there, just one sip and you know this is the finest Ormes de Pez ever produced. There is volume, sweetness to the fruits, persistence and energy in the fruity finish. The wine was made from 50% Merlot, 41% Cabernet Sauvignon, 7% Cabernet Franc, and 2% Petit Verdot, reaching 14.6% alcohol. 92-94 Pts
2018 Petit-Bocq – Deep in color, this wine is equally dark in fruit. With round textures, a medium/full-body, there is espresso, black cherry, licorice and herbs from start to finish. 90 – 92 Pts
2018 de Pez – The darkest color ever seen at de Pez! From there it takes just a single sip to know this is a special wine. The fruits are just as dark as the hue which produces a generous, fleshy, ripe, full-bodied wine. The black cherries come in sprays before the spice, cocoa, espresso, licorice and vibrancy kicks in. Energy and elegance is here in spades. The wine blends 49% Cabernet Sauvignon, 49% Merlot, 1% Cabernet Franc and 1% Petit Verdot. 92 – 94 Pts
2018 Phelan Segur – The tobacco, spice, cigar box, smoke and cedar aromas along with a basket filled with fresh berries lets you know this is a loveliness in a glass. The wine is round, soft, polished, ripe, clean and juicy, leaving you with a bolt of black currant, licorice and espresso in the finish. 93 – 95 Pts
2018 Tronquoy Lalande – With a gorgeous nose of dark cocoa, blackberry, bitter chocolate, thyme and ripe, red fruits, this is a stunner. The wine has body, depth and freshness with a dark roast espresso and blackberry pop in the finish. This is the strongest vintage for Tronquoy Lalande produced yet! Blended from 51% Merlot, 44% Cabernet Sauvignon, 3% Petit Verdot and 2% Cabernet Franc, the harvest took place September 18 to October 4. 92 – 94 Pts