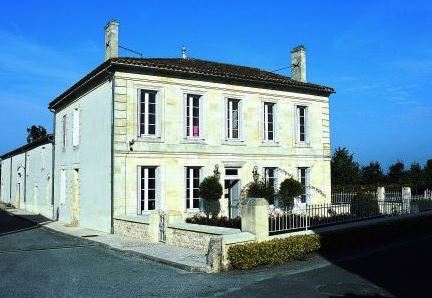 Learn everything about Chateau Petit Bocq St. Estephe with wine tasting notes and wine and food pairing tips. Learn the best vintages, a history of the property, information on vineyards and winemaking. If you want to read about other important, Bordeaux Chateaux: Links to all Bordeaux Wine Producer Profiles
Chateau Petit Bocq History, Overview
Chateau Petit Bocq is one of the new estates in the Medoc as it has only been around since 1971 when it was created by the Souquet family from a 2-hectare parcel of vines. The winery made its official debut with the extremely difficult 1972 vintage.
The Souquet family, headed by Francis Souquet, who was also working as the cellar master at Ducru Beaucaillou at the time, eventually sold the property to its current owner, Dr. Gaetan Lagneaux in 1993.
Gaetan Lagneaux continued to expand the vineyards. He also created a new winery and cellars over the next several years. Until Petit Bocq purchased their own cellars, the wines were made at the neighboring estate of Chateau de Pez. In fact, it was the cellars of Chateau de Pez that the owner eventually purchased to vinify the wines of Chateau Petit Bocq.
Chateau Petit Bocq Vineyard, Terroir, Grapes, Winemaking
The 19 hectare Left Bank vineyard of Chateau Petit Bocq is planted to 50% Merlot, 48% Cabernet Sauvignon and 2%Petit Verdot. This represents a change in the vineyards, showing a reduction in Merlot, along with an increase in Cabernet Sauvignon, and the removal of Cabernet Franc.
The terroir is a mix of gravel, clay, and sand soil. On average, the vines are 38 years of age. The vineyard is planted to a vine density that ranges from 8,500 to 10,000 vines per hectare. The higher levels of vine density are for the newer plantings.
To produce the wine of Chateau Petit Bocq, vinification takes place in temperature-controlled, stainless steel vats that range in size from 25 hectoliters up to 102 hectoliters. Malolactic fermentation occurs in tank. The wine is aged in an average of 40% new, French oak barrels for 12 months. On average, the production is close to 10,000 cases of Chateau Petit Bocq per vintage.
The best vintages of Chateau Petit Bocq are: 2022, 2021, 2020, 2019, 2018, 2017, 2016, 2015, 2014, 2012, 2010 and 2009.
When to Drink Chateau Petit Bocq, Anticipated Maturity, Decanting Time
Chateau Petit Bocq can be enjoyed somewhat early. However, the wine is often better with at least a few years of bottle age. Of course, that can vary slightly, depending on the vintage.
Chateau Petit Bocq is usually best enjoyed in the first 10-18 years of life. Young vintages can be decanted for 1-2 hours. This allows the wine to soften and open its perfume. Older vintages might need very little decanting, just enough to remove the sediment
Serving Chateau Petit Bocq with the Best Wine, Food, Pairing Tips
Chateau Petit Bocq is best served at 15.5 degrees Celsius, 60 degrees Fahrenheit. The cool, almost cellar temperature gives the wine more freshness and lift.
Chateau Petit Bocq is best served with all types of classic meat dishes, veal, pork, beef, lamb, duck, game, roast chicken, roasted, braised, stewed, and grilled dishes.
Château Petit Bocq Wine Tasting Notes
15 Vintages 42,264 Views Sort by Vintage-Rating
2022
Château Petit Bocq (St. Estèphe)

Black currants, savory herbs, cedar, and tobacco form the nose. On the palate, the wine is medium-bodied, soft, fresh, and almost creamy with fresh, spicy black fruits in the mid-palate and in the finish. Drink from 2026-2040. 91-93 Pts.

795 Views

Tasted

May 8, 2023

2021
Château Petit Bocq (St. Estèphe)

Leafy red fruits, tobacco wrapper, spice and red currants pop effortlessly into the nose and crisp, crunchy palate. The savory finish is bright and chewy. Drink 2024-2036. 89-91

1,529 Views

Tasted

May 20, 2022

2020
Château Petit Bocq (St. Estèphe)

Cedar, herbs, currants and cigar wrapper create the core the wine. There is ample red fruits, round-textures and a sweet, blackberry and chewy currant finish with a savory edge that will be even better with a year or two of aging. Drink from 2024-2040.

839 Views

Tasted

Mar 21, 2023

Round, fruity and polished with a soft core of dark red fruits, breakfast tea, wet earth, and ripe, spicy, black currants in the endnote. 89-91 Pts

1,583 Views

Tasted

May 20, 2021

2019
Château Petit Bocq (St. Estèphe)

Blackberries, currants and a touch of chocolate along with 5 spice get the wine going. Medium-bodied, packed with layers of ripe, chewy, red fruits and spice, the wine is energetic in the fruit filled finish. Give it a few years in the cellar and it should fill out quite nicely. Drink from 2024-2037.

766 Views

Tasted

Mar 29, 2022

Sweet and juicy, the ripe fruits, soft, round tannins, earth tobacco and oak all work together well here. Give it a few years in the cellar and it should fill out quite nicely. 89-91 Pts

3,026 Views

Tasted

Jun 8, 2020

2018
Château Petit Bocq (St. Estèphe)

With a peppery accent to the red fruited nose, the wine is medium/full-bodied, round, and with a gorgeous sweetness to the red fruits, hints of herbs, tobacco leaf, cigar box and cedar in the finish. Give it 3-5 years in the cellar and enjoy it over the following 15 or more years with ease.

2,090 Views

Tasted

Mar 9, 2021

Deep in color, this wine is equally dark in fruit. With round textures, a medium/full-body, there is espresso, black cherry, licorice and herbs from start to finish. 90-92 Pts

2,807 Views

Tasted

Apr 19, 2019

2017
Château Petit Bocq (St. Estèphe)

Light in color and in fruit, this early drinking, medium-bodied wine is on the bright, red fruit side. There are soft tannins along with crisp cherry and cranberry notes in the finish.

2,284 Views

Tasted

Apr 26, 2018

2016
Château Petit Bocq (St. Estèphe)

Medium-bodied, fresh, ripe, sweet, dark, red berries with accents of forest floor, flowers, espresso, smoke, and tobacco leaf come through easily on the round, fruity palate. Drink from 2022-2031.

2,132 Views

Tasted

Aug 23, 2022

Dark red fruits are polished and blessed with length and voluptuous texture; this wine woos you with a finish of even deeper, earthier berries. A few years in the cellar will make this all the better -- a smart value play from St. Estephe.

2,902 Views

Tasted

Apr 29, 2017

2015
Château Petit Bocq (St. Estèphe)

Easy drinking in style, with fresh, sweet and tart red fruits and cocoa in the finish. 85 - 87 Pts

2,345 Views

Tasted

Apr 19, 2016

2014
Château Petit Bocq (St. Estèphe)

Smoke, licorice, oak and dark red berries, this wine is a medium-bodied, easy-drinking charmer. 87-88 Pts

1,975 Views

Tasted

Apr 13, 2015

2012
Château Petit Bocq (St. Estèphe)

More interesting on the spicy, peppery, bright, red berry and tobacco leaf nose, than on the slightly rustic, fresh, red fruit palate. Perhaps a few more years will add a bit of softness to the texture here.

1,260 Views

Tasted

Feb 9, 2019

2010
Château Petit Bocq (St. Estèphe)

Le Petit Bocq Situated on gravel based soils not far from Calon Segur, this blend of 58% Merlot, 29% Cabernet Sauvignon, 10% Petit Verdot and the remainder Cabernet Franc is a powerful Cru Bourgeois that offers a chewy bite of black fruit, cassis and tannins. 88-90 Pts

5,835 Views

Tasted

Apr 22, 2011

2009
Château Petit Bocq (St. Estèphe)

Fun, forward, open, easy to drink, medium bodied, licorice and black cherry filled blend of 50% Cabernet Sauvignon and 50% Merlot.

3,948 Views

Tasted

Jan 2, 2015

2008
Château Petit Bocq (St. Estèphe)

Better on the earthy, smoky, spicy, red berry and tobacco nose, than on the slightly firm, rustic, cherry palate, this is fully developed and should be drunk up over the next few years.

1,619 Views

Tasted

Feb 10, 2019

2006
Château Petit Bocq (St. Estèphe)

Fully mature, medium-bodied and rustic in nature, the wine is more interesting on the tobacco, spice, wet earth, smoke and bright red berry nose than on the austere, earthy, cedar filled palate.

1,408 Views

Tasted

Aug 13, 2020

2005
Château Petit Bocq (St. Estèphe)

Probably drinking at its peak now. The nose, with its truffle, tobacco, blackberry and earthy scents are a little more interesting than the medium bodied, slightly rustic, finish.

3,121 Views

Tasted

Feb 23, 2015