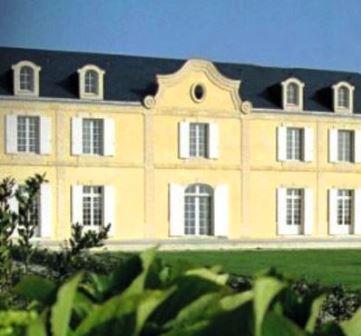 Learn everything about Chateau Beau-Site St. Estephe with wine tasting notes and wine with food pairing tips. Learn about the best vintages, a history of the property, information on the vineyards and winemaking. If you want to read about other Bordeaux wine producers: Links to all Bordeaux Wine Producer Profiles
Chateau Beau-Site, History, Overview
Chateau Beau-Site dates all the way back to the 18th century. The Medoc estate takes its name from its location, as Beau Site can be translated to a beautiful site. Part of its beauty comes from its stellar views of the Gironde estuary. Since 1955, the vineyard had been owned by the well-known, popular, and powerful Casteja family.
The Casteja family owns one of the most dominant negociant bouses, Borie-Manoux. Chateau Beau-Site is not the only vineyard in the hands of the Casteja family. In fact, they also control Chateau Batailley and Chateau Lynch-Moussas in Pauillac, Domaine-de-LEglise in Pomerol, Chateau Trotte Vieille in St. Emilion, and several other properties in Bordeaux. Today, Chateau Beau-Site is managed by Philippe Casteja with the help of his son, Frederic Casteja.
Chateau Beau-Site Vineyards, Grapes, Terroir, Winemaking
The 40-hectare Left Bank vineyard of Chateau Beau-Site is planted to 70% Cabernet Sauvignon, 24% Merlot, 4% Cabernet Franc and 2% Petit Verdot. This shows an increase in the Cabernet planted in the vineyard. Here you find nice slopes with peak elevations of 20 meters.
The terroir has gravel, stones, clay, and sand soils. The vines are situated in the far north of the appellation not far from Chateau Calon Segur. On average the vines are maintained at 35 years of age.
The wine is vinified in traditional, rectangular-shaped, cement tanks. Malolactic fermentation takes place in vat. The wine is then aged in an average of 50% new, French oak barrels for 12-15 months before bottling. There is a second wine, Chateau Haut-Vignoble Seguin. Close to 18,000 cases of wine are produced here each year.
The best vintages of Chateau Beau-Site are: 2022, 2021, 2020, 2019, 2018, 2017, 2016, 2015, 2014, 2010, 2009 and 2005.
When to Drink Chateau Beau-Site, Anticipated Maturity, Decanting Time
Chateau Beau-Site can be enjoyed on the young side with 1 hour or so of air. However, the wine is usually better at 3-6 years of bottle age. Of course, that can vary slightly, depending on the vintage character.
The wine will be at its best between 5-12 years of age after the vintage. Young vintages can be decanted for an average of about one hour, give or take. This will allow the wine to soften in texture and open its perfume. Older vintages might need very little decanting, just enough to remove the sediment.
Serving Chateau Beau-Site with the Best Wine, Food, Pairing Tips
Chateau Beau-Site is best served at 15.5 degrees Celsius, 60 degrees Fahrenheit. The cool, almost cellar temperature gives the wine more freshness and lift.
Chateau Beau-Site is best served with all types of classic meat dishes, veal, pork, beef, lamb, duck, game, roast chicken, roasted, braised, stewed, and grilled dishes. Chateau Beau-Site is also good when served with Asian dishes, hearty seafood, or fish like tuna, mushrooms, pasta, and a myriad of different cheeses.
Château Beau-Site Wine Tasting Notes
12 Vintages 33,782 Views Sort by Vintage-Rating
2022
Château Beau-Site (St. Estèphe)

Uncommonly rich for Beau-Site, the wine is packed with ripe, dark fruits, spice, licorice, and flowers. Round, fresh, and filled with chewy, sweet fruits, the finish is fresh, and fruity, offering nuances of licorice, and dark cocoa on the back end. The wine blends 74% Cabernet Sauvignon, 23% Merlot and 3% Petit Verdot. Drink from 2025-2037. 91-93 Pts.

1,012 Views

Tasted

May 8, 2023

2021
Château Beau-Site (St. Estèphe)

Peppery, with a spicy, leafy edge to the bright, crisp, chewy, floral red fruits. The wine is medium-bodied, forward, fresh and loaded with sweet, chalky, spicy, juicy, red currants. Drink from 2024-2037. 89-91

1,098 Views

Tasted

May 20, 2022

2020
Château Beau-Site (St. Estèphe)

March 21, 2023 - Black and red currants, coffee bean, licorice, and smoke create the nose. Medium-bodied, creamy, and fresh, with soft-textures, and chalky red fruits with a background note of chocolate on the mid-palate, and in the finish, this is going to be delicious in its youth, and age for over a decade. Drink from 2023-2038.

186 Views

Tasted

Sep 30, 2023

Medium-bodied, savory, earthy and spicy, with a core of crunchy fresh red berries finishing with touches of cedar, tobacco leaf, pepppery spice and red currants. You can enjoy this classicly styled wine with just a few years of age. 89-91 Pts

1,191 Views

Tasted

May 20, 2021

2019
Château Beau-Site (St. Estèphe)

Spicy with fresh herbs, forest leaf and Asian spices that accompany all the sweet, ripe, cassis and blackberry. There is ample freshness to all the ripe fruits, concentration and a nice touch of cocoa along with a firm tannic edge allowing the wine to age and evolve. This is clearly the finest vintage of Beau-Site ever produced! Drink from 2024-2039.

823 Views

Tasted

Mar 29, 2022

Clearly the best vintage of Beau-Site ever produced! The wine pops with loads of fresh, ripe, sweet, elegant spicy cherries, flowers, Asian spices, cassis and blackberry. Fresh, concentrated, long and clean, with a beautiful purity of fruit, espresso, earth, spice and cocoa in the finish. This is going to age and evolve for at least 20 years or more. 91-93 Pts

2,183 Views

Tasted

Jun 8, 2020

2018
Château Beau-Site (St. Estèphe)

The ripeness in the fruits is apparent on the nose with its dark red pit fruit, currant, blackberry and spice filled notes. Earthy, fresh, sweet, round and fruity, with an inkling of dark chocolate in the end note, this has a lot generosity along with the right softness in the tannins. This is the best Beau-Site produced yet. Give it a few years in the cellar and it is going to be even better as it fills out, softens and loses its baby fat.

954 Views

Tasted

Mar 9, 2021

Forward, fresh, fruity with an early-drinking charm, enjoy this wine for its round, open, earthy character. 88-90 Pts

1,753 Views

Tasted

Apr 19, 2019

2017
Château Beau-Site (St. Estèphe)

Forward and already easy to drink this wine is all about polished tannins and ripe, red fruits sifted in herbs and cedar with ruby-colored berries and cocoa in the finish.

1,636 Views

Tasted

Apr 26, 2018

2016
Château Beau-Site (St. Estèphe)

Medium-bodied, crisp, bright, and fresh, with a core of red currants, tobacco leaf, and cedar and a crunchy finish. Drink from 2022-2034.

3,167 Views

Tasted

Aug 23, 2022

Fresh, black raspberries conspire to create a crowd-pleasing, forward-styled wine, assuredly great on release.

2,555 Views

Tasted

Apr 29, 2017

2015
Château Beau-Site (St. Estèphe)

Medium bodied, forward, easy drinking wine with a strong, olive, cedar and tobacco overtones that on top of the red fruits.

3,109 Views

Tasted

May 21, 2018

Forward, light weight wine, with an herbal, lean, cherry, early drinking, personality. 83 - 85 Pts

3,520 Views

Tasted

Apr 19, 2016

2014
Château Beau-Site (St. Estèphe)

Forward, earthy, medium bodied, tobacco and cherry tinged wine. Semi strict in style, with loads crunchy, spicy berries in the once again, semi-strict finish. Quite classic in nature.

1,797 Views

Tasted

Jun 25, 2017

2012
Château Beau-Site (St. Estèphe)

Crunchy, bright, fresh, crisp red fruits, cedar, and peppery, leafy notes are there from start to finish in this medium-bodied wine.

2,368 Views

Tasted

Feb 9, 2019

2010
Château Beau-Site (St. Estèphe)

Firm, spicy, bright and crisp, with a classically leaning profile, the cassis is ripe and fresh, but the tannins and a bit tough. Give this time, and things could soften here.

4,003 Views

Tasted

Aug 26, 2017

2009
Château Beau-Site (St. Estèphe)

Ready to go, medium-bodied, soft, round and focused on its display of spicy, earthy, red fruits, cedar, forest floor and tobacco profile.

2,427 Views

Tasted

Aug 15, 2020