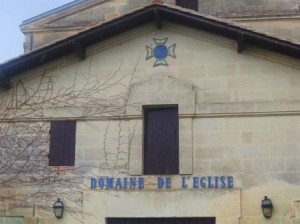 Learn everything about Domaine de l'Eglise Pomerol wine tasting notes and wine with food pairing tips. Learn about the best vintages, the history of the property, information on the vineyards, and winemaking. If you want to read about other important, Bordeaux Chateaux: Links to all Bordeaux Wine Producer Profiles
Domaine de l' Eglise History, Overview
Domaine de l'Eglise is one of several Pomerol producers using L'Eglise as part of their name. Domaine de l'Eglise could be the oldest vineyard in the entire Pomerol appellation.
It is thought that the estate was founded in the 16th century. There are records dating the estate back to 1589. Although at its inception, the property was probably used as a hospital or even a hospice for lepers.
Jumping ahead to more modern times, like many estates, the vineyards of Domaine de l'Eglise were devastated in the 1956 frost. The vineyard needed to be completely replanted. At some point, after the replanting took place, the owner of the estate made a management and sales agreement with Borie Manou.
In 1972 a deal was struck when the Landard family, who had owned the vineyard since 1793, sold Domaine de l'Eglise to the well-known Casteja family and Borie Manou.
After the purchase in 1972, Philippe Casteja was placed in charge of managing the Pomerol estate. It took several years before the estate began producing strong wines. Starting with the 2009 vintage, the quality of wine being produced at Domaine de l'Eglise took a turn for better, which is easy to see, once you've tasted the wines.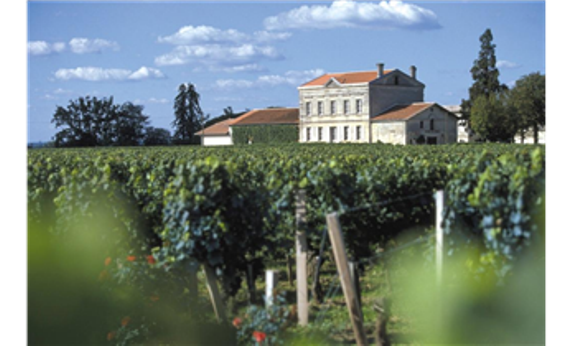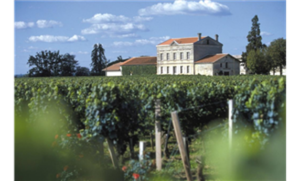 Domaine de l'Eglise Vineyards, Terroir, Grapes, Winemaking
The 7-hectare Pomerol vineyard of Domaine de l'Eglise is planted to 95% Merlot and 5% Cabernet Franc. The vineyard is located not far from several famous neighbors including Chateau LEvangile, Chateau Clinet, and Chateau LEglise Clinet. While they have parcels in various locations on the plateau, their best parcels are planted close to the church, not far from their old, stone chateau.
On average, the vines are an impressive 40 years of age at Domaine de l'Eglise Pomerol. The vineyard is planted to a vine density of 7,200 vines per hectare. The terroir is mostly gravel and sand with clay soil.
To produce the wine of Domaine de l'Eglise, vinification takes place in four, short, 100 hectoliter, temperature-controlled, stainless vats. The wine is then aged in an average of 40% new, French oak barrels for between 16 and 18 months, depending on the character and style of the vintage, before bottling.
On average, the annual production hovers close to 2,500 cases of Pomerol wine per vintage at Domaine de l'Eglise.
The best vintages of Domaiane de l'Eglise are: 2022, 2021, 2020, 2019, 2018, 2017, 2016, 2015, 2012, 2010, 2009, 2008, 2006, 2005, 2001 and 2000. Although you really see improvements in the wine starting with 2015, 2019 remains the best vintage ever produced at the property.
The Casteja family, along with their negociant arm owns several other Bordeaux vineyards including Chateau Trotte Vieille in St. Emilion, Chateau Batailley in Pauillac, and another value-priced Pomerol estate, Chateau La Croix du Casse.
When to Drink Domaine de l'Eglise, Anticipated Maturity, Decanting Time
Domaine de l'Eglise can be enjoyed on the young side with decanting. Young vintages can be decanted for an average of 1 hour or so. This allows the wine to soften and open its perfume. Older vintages might need very little decanting, just enough to remove the sediment.
Domaine de l'Eglise is usually better with at least 3-5 years of bottle age. Of course, that can vary slightly, depending on the vintage character. Domaine de l'Eglise offers its best drinking and should reach peak maturity between 4-15 years of age after the vintage.
Serving Domaine de l'Eglise with Wine, Food, Pairing Tips
Domaine de l'Eglise is best served at 15.5 degrees Celsius, 60 degrees Fahrenheit. The cool, almost cellar temperature gives the wine more freshness and lift.
Domaine de l'Eglise is best served with all types of classic meat dishes, veal, pork, beef, lamb, duck, game, roast chicken, roasted, braised, and grilled dishes. Domaine de l'Eglise is also good with Asian dishes, hearty fish courses like tuna, mushrooms, and pasta.
Château du Domaine de l'Eglise Wine Tasting Notes
18 Vintages 63,527 Views Sort by Vintage-Rating
2022
Château du Domaine de L'Eglise (Pomerol)

Black cherry liqueur, plums, blue fruits, chocolate and violets show in the nose. On the palate, the wine is refined, silky, fresh, lively, lush and long. The silky chocolate-coated-plums, are elegant, fresh and earthy. The end notes combine freshness and finesse in the long finish. The wine blends 98% Merlot with 2% Cabernet Franc. 14.5% ABV. Drink from 2025-2045. 93-95 Pts.

1,408 Views

Tasted

May 8, 2023

2021
Château du Domaine de L'Eglise (Pomerol)

Plums, cocoa, black cherry, chocolate, flowers and wet earth notes crowd into the perfume. Medium-bodied, soft, vibrant, silky and fresh, the supple-textured, refined finish leaves you with chocolate-coated plums and a touch of espresso bean on the backend. Drink from 2023-2038. 92-94

1,778 Views

Tasted

May 20, 2022

2020
Château du Domaine de L'Eglise (Pomerol)

Silky, creamy, fresh, luscious dark plums, chocolate, licorice with flowers, and just a hint of espresso in every gorgeous, sensuous sip, and sniff. This is a fabulous Pomerol and one of the best deals for a high-quality wine from this ever-increasingly expensive appellation. Drink from 2025-2045.

1,275 Views

Tasted

Mar 21, 2023

Licorice, black plums, flowers, dark chocolate, smoke, espresso and wet earth create the attention seeking perfume. The wine is concentrated, full-bodied and intense. The fruit is sensuous, velvety and flamboyant, finishing with layers of opulent, silky, perfectly ripe plums, blackberries and cherries, Asian spice and dark chocolate that expands as it lingers for at least 50 seconds. This could be the best deal for high-quality Pomerol today. Give it at least 7-8 years in the cellar and enjoy it for 2 decades after that. 95-97 Pts

3,811 Views

Tasted

May 20, 2021

2019
Château du Domaine de L'Eglise (Pomerol)

Not quite as opulent or as concentrated as it was in barrel, but there is still a lot to love here. Rich, dark, deep, black plums and chocolate, with a side of licorice, truffle, flowers and espresso, the wine is fresh, polished, silky and sensuous. For a Pomerol at this level of quality, the wine sells for a song. Drink from 2024-2042.

2,888 Views

Tasted

Mar 29, 2022

The color is so dark it tells you that you're not in Kansas anymore. Flowers, licorice, truffle, spice, wet earth, smoke and plum liqueur aromatics get noticed easily. In the mouth, this rockstar wine coats your palate with fruit that does not quit. Opulence bordering on decadence in texture, the fruit feels like polished velvet. Rich and nuanced, concentrated and fresh, the fruit, earth and bitter chocolate endnote sticks with you for over 50 seconds. Produced from a blend of 97% Merlot and 3%, this is so good, I want some for my cellar. This is the finest wine ever produced here in the history of the estate and should age effortlessly for 3 decades. 96-98 Pts

7,833 Views

Tasted

Jun 8, 2020

2018
Château du Domaine de L'Eglise (Pomerol)

Chocolate fudge, smoke, licorice, espresso and plums are all over the place. The wine is medium-bodied, soft, silky and rich with a fabulous, velvety, chocolate covered, black cherry finish. The wine was made from 95% Merlot and 5% Cabernet Franc.

1,356 Views

Tasted

Mar 9, 2021

Medium-bodied, elegant and fresh, you'll find plum, vanilla and floral notes on the nose. This wine is focused on its silky, soft textures and sweetness in the ripe earthy plums. The wine was made from 95% Merlot and 5% Cabernet Franc. 91-93 Pts

2,398 Views

Tasted

Apr 19, 2019

2017
Château du Domaine de L'Eglise (Pomerol)

Dominated by Merlot with a bend of 97% Merlot and 3% Cabernet Franc, the wine opens with flowers, chocolate and plums. Medium/full bodied with soft, silky tannins and more chocolate covered plums in the finish, the wine has freshness and should age reasonably too.

1,760 Views

Tasted

Apr 26, 2018

2016
Château du Domaine de L'Eglise (Pomerol)

With a little bit of truffle poking through the fruit, the wine is starting to tighten up. Still, with a little effort you can find the sweetness of the fruit that are only made by better by the silkiness in the tannins. But you need to wait at least 3-4 years before this starts to reopen. The wine was made from a blend of 96% Merlot and 4% Cabernet Franc.

1,653 Views

Tasted

Sep 21, 2019

Black raspberries dripping with juices, budding floras, anisette and earthy scents take no effort to discover. Medium bodied, succulent, honed and high-toned with spicy plums and soft tannins in the finish. The wine was made from a blend of 96% Merlot and 4% Cabernet Franc.

2,095 Views

Tasted

Apr 29, 2017

2015
Château du Domaine de L'Eglise (Pomerol)

Black raspberries, night blooming blossoms, cocoa, a smattering of fennel and a touch of mint on the nose. Medium-bodied, silky tannins, soft in texture with a cocoa-dusted, earthy flair and fresh, black cherries in the finish. Unfortunately, there is a hint of bitterness in the finish that prohibits this wine from scoring higher. The wine was made from a blend of 94% Merlot and 6% Cabernet Franc. 89 - 91 Pts

3,514 Views

Tasted

Apr 27, 2016

2014
Château du Domaine de L'Eglise (Pomerol)

Dominated by Merlot, the wine is medium bodied, soft, forward and approachable, for its sweet, earthy, plum and herb notes. You can and should drink this young.

2,023 Views

Tasted

Mar 28, 2017

2012
Château du Domaine de L'Eglise (Pomerol)

89% Merlot with 11% Cabernet Franc created a wine with a spicy black raspberry personality and drying tannins. 86-88 Pts

2,930 Views

Tasted

Apr 26, 2013

2011
Château du Domaine de L'Eglise (Pomerol)

Fully-developed and ready to go, this medium-bodied, plummy, earthy, cocoa accented, soft-textured wine is in its prime-time window.

2,107 Views

Tasted

Aug 25, 2021

2010
Château du Domaine de L'Eglise (Pomerol)

Medium bodied, developing nicely, there is an enjoyable display of ripe, plums, coffee bean, licorice, earth and black cherries. Soft, with tannins remaining to resolve, this blend of 93% Merlot and 7% Cabernet Franc could be even better with a few more years of age.

5,127 Views

Tasted

Nov 5, 2014

2009
Château du Domaine de L'Eglise (Pomerol)

Truffle, licorice, smoke and roasted plums come together on the nose and ripe, sweet, spicy, soft textured, plums come together on the palate. This is fully mature and will best of the next 4-6 years. The wine was made from a blend of 96% Merlot and 4% Cabernet Franc.

2,534 Views

Tasted

Sep 20, 2019

Medium bodied, with a coffee, plum and earthy scented perfume. Not all that concentrated, but the fruit is sweet and good freshness, the texture is plush and the tannins are round. From a blend of 96% Merlot and 4% Cabernet Franc, this is a fairly priced, chaming Pomerol.

3,500 Views

Tasted

May 29, 2013

2008
Château du Domaine de L'Eglise (Pomerol)

Ready to drink, this medium bodied wine kicks off with wet earth, thyme and cherry scents. Soft and easy to drink, the wine lacks some depth and character. Subsequent vintages are much better.

3,247 Views

Tasted

Aug 27, 2015

2005
Château du Domaine de L'Eglise (Pomerol)

Licorice, coffee and chocolate covered plums open to a round, soft, spicy, cocoa and plum filled, supple, round, Pomerol that is already starting to drink well.

3,983 Views

Tasted

Sep 20, 2011

2004
Château du Domaine de L'Eglise (Pomerol)

Not the most delicate Pomerol, but the plummy fruits, cherries and earthy characteristics work nicely here. Medium bodied, and on its way to round, the finish delivers bright, fresh, red berries.

2,040 Views

Tasted

Dec 13, 2017

2001
Château du Domaine de L'Eglise (Pomerol)

Fully mature, medium bodied, soft in texture, with fresh, red cherry and plum tones, mocha, earth and licorice. There is no reason to age this any longer. It is fully ready to go.

2,529 Views

Tasted

Oct 25, 2016

1953
Château du Domaine de L'Eglise (Pomerol)

For a wine not known for aging, this was a revelation. The aromatics offered sherry, tobacco leaf, thyme and bright red fruits. The medium-bodied palate was still going, leaving you with orange, citrus and bright, cherries.

1,738 Views

Tasted

Oct 16, 2018