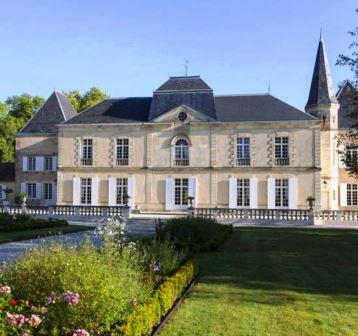 Learn everything about Chateau Lynch Moussas, Pauillac, Fifth Growth, with wine tasting notes and wine with food pairing tips. Learn the best vintages, a history of the property, information on the vineyards and winemaking. If you want to read about other important, Bordeaux Chateaux: Links to all Bordeaux Wine Producer Profiles
Chateau Lynch Moussas History, Overview
What we know as Chateau Lynch Moussas was originally owned by Count Jean-Baptiste Lynch of Ireland in the 18th century. At the time, the estate was much larger than it is today. In fact, the Left Bank estate was so large in those days, it was eventually divided into two parts. Half of the estate gave birth to Chateau Lynch Bages. The remaining portion became Chateau Lynch Moussas.
The classically designed chateau was constructed in 1850. In 1919, Chateau Lynch Moussas was purchased by the Casteja family and its negociant arm, Borie Manoux, which owns numerous other Bordeaux estates in the Medoc and the Right Bank including Chateau Batailley and Chateau Trotte Vieille. At the time of the purchase, they also owned Chateau Duhart-Milon.
Starting in 1970, Emile Casteja began managing Lynch Moussas. However, it was a difficult task in those days as the Pauillac vineyards and estate had become completely dilapidated by that point in time. Less than 10 hectares remained under vine. In 1970, Chateau Lynch Moussas received a complete overhaul of the Medoc vineyards and winemaking facilities.
Chateau Lynch Moussas Vineyards, Terroir, Grapes, Winemaking
The 60 hectare Left Bank vineyard of Lynch Moussas is planted to 70% Cabernet Sauvignon and 30% Merlot. This shows an increase in Cabernet Sauvignon vines over the years. Lynch Moussas is one of the few, Classified Left Bank vineyards planted with only two grape varietals.
The vineyard, like many estates in Bordeaux, has vines in various different communes in the appellation. Lynch Moussas has vines planted not far from Pichon Lalande, Grand Puy Lacoste and Batailley. But their best parcels are placed close to the chateau.
On average, the vines are 25 years of age. The vineyard is planted to a vine density of 8,300 vines per hectare. The terroir of Chateau Lynch Moussas is mostly gravel, clay, sand, and limestone-based soils.
Lynch Moussas is a massive estate. Much of their property is not cultivated with vines. In fact, close to 140 hectares of land are devoted to greenery, forest, and parklands.
To produce the wine of Chateau Lynch-Moussas, vinification takes place in temperature-controlled, stainless steel vats. Malolactic fermentation takes place in vat. Yields are slightly high by today's standards at close to 55 hectoliters per hectare.
The wine of Lynch Moussas is aged in 60% new, French oak barrels for an average of 18 months. There is a second wine, Les Hauts de Lynch-Moussas, which made its debut in 2001. On average, Chateau Lynch Moussas produces close to 20,000 cases of wine per vintage.
The best vintages of Chateau Lynch Moussas are: 2022, 2021, 2020, 2019, 2018, 2017, 2016, 2015, 2014, 2010, 2009 and 2005. It is important to note that Lynch Moussas began investing a lot more time and money starting with the 2010 vintage. The wines have never been better here. You can easily taste the difference in the wines produced at the property today. However, 2019 is the finest vintage of Lynch Moussas in the history of the estate!
When to Drink Chateau Lynch Moussas, Anticipated Maturity, Decanting Time
Chateau Lynch Moussas can be enjoyed on the young side with decanting. Young vintages can be decanted for an average of 1-3 hours, give or take. This allows the wine to soften and open its perfume. Older vintages might need very little decanting, just enough to remove the sediment.
Chateau Lynch Moussas is usually better with at least 7-9 years of bottle age. Of course, that can vary slightly, depending on the vintage character. Chateau Lynch Moussas offers its best drinking and should reach peak maturity between 10-20 years of age after the vintage.
Serving Chateau Lynch Moussas with Wine, Food, Pairing Tips
Chateau Lynch Moussas is best served at 15.5 degrees Celsius, 60 degrees Fahrenheit. The cool, almost cellar temperature gives the wine more freshness and lift.
Chateau Lynch Moussas is best served with all types of classic meat dishes, veal, pork, beef, lamb, duck, game, roast chicken, roasted, braised, and grilled dishes. Chateau Lynch Moussas is also good with Asian dishes, hearty fish courses like tuna, mushrooms, and pasta.
Château Lynch-Moussas Wine Tasting Notes
24 Vintages 108,694 Views Sort by Vintage-Rating
2021
Château Lynch-Moussas (Pauillac)

Cigar box, herbs, tobacco leaf, cedar, and red currants are already on display on the nose. Medium-bodied, fresh, soft and polished, with a sweet edge to the juicy currants on the mid-palate and in the spicy, espresso-tinted, red berry finish. Give it a few years in the cellar before pulling a cork. The wine blends 72% Cabernet Sauvignon with 28% Merlot. 14% ABV. Drink from 2026-2045. 91-93

1,564 Views

Tasted

May 20, 2022

2020
Château Lynch-Moussas (Pauillac)

Classic, firm and fresh with a solid core of sweet, chewy, dark cassis, tobacco, cedar, and a touch of spearmint which adds more freshness. The fruits are refined, crisp and juicy, with a firm, bite of Cabernet Sauvignon and tobacco leaf n the palate and in the finish. Drink from 2026-2050.

327 Views

Tasted

Mar 21, 2023

Tobacco leaf, cedar, spice, cigar box and red berries are just great on the nose. Medium/full-bodied, refined, crisp and juicy, with round tannins, concentration and a firm, fresh, bite of Cabernet Sauvignon and tobacco leaf on the palate that stays with you through the savory finish. Give this 7-8 years in the cellar and enjoy it over the following 2 decades with pleasure. 92-94 Pts

2,227 Views

Tasted

May 20, 2021

2020
Les Hauts de Lynch-Moussas (Haut-Médoc)

Flowers and red currants with a touch of spice is on the nose. Medium-bodied, bright, fresh, crisp and crunchy with a sweet, creme de cassis character on the palate and in the finish makes this easy to enjoy while waiting for the Grand Vin to mature. 87-89 Pts

2,560 Views

Tasted

Jul 16, 2021

2019
Château Lynch-Moussas (Pauillac)

2019 is a powerful, concentrated, tannic, backward, crisp, chewy, almost austere, classic Pauillac. Once past the tannic backdrop, you find a big, juicy blast of peppery, tobacco-stained cassis and blackberries. Long, structured and firm, with a savory edge to the spicy, earthy, red currant and cranberry finish, it is going to need cellaring before being fun to taste. The special label trumpets the Casteja family owning the property for 100 years. Drink from 2028-2050.

2,225 Views

Tasted

Mar 29, 2022

Celebrating 100 years of ownership by the Casteja family, the 2019 vintage for Lynch-Moussas hits all the right notes. Full-bodied, concentrated and with a big, juicy blast of peppery, tobacco-stained cassis and blackberry, the wine is firm, classic, structured long and intense. With a dynamic finish, this is the finest vintage of Lynch-Moussas I recall ever tasting. This will age, so let it rest for a decade before popping a bottle and enjoy it over the following 20-30 years, or longer. 92-94 Pts

5,308 Views

Tasted

Jun 8, 2020

2018
Château Lynch-Moussas (Pauillac)

Herbs, tobacco leaf, currants, cedar and spice aromas are the right place to start. On the palate, the fruit is fresh, lively and vibrant, with a chewy, crisp, tangy, juicy character that holds true to the finish. The wine blends 72% Cabernet Sauvignon and 28% Merlot.

2,145 Views

Tasted

Mar 9, 2021

The juicy, black currant, herb and tobacco leaf character really come through this year. The wine is medium/full-bodied with ripe tannins and ample freshness to the blackberry and cassis palate. This should be easy to drink within five years of release. The wine blends 72% Cabernet Sauvignon and 28% Merlot. 91-93 Pts

4,001 Views

Tasted

Apr 19, 2019

2017
Château Lynch-Moussas (Pauillac)

Medium-bodied, with a top note of tobacco, cedar, pepper and herbs that comes along with the fresh, bright, crisp, spicy red fruits. Classic in nature, give this at least 5 or more years and it could be an even better wine.

3,923 Views

Tasted

May 14, 2020

Dark cassis aroma is the first thing you notice. From there, the cedar, tobacco and leafy cigar wrapper notes kick in. The wine is full bodied with soft, ripe tannins and ample crispy freshness. This should be easy to drink within five years of release a

3,600 Views

Tasted

Apr 26, 2018

2017
Les Hauts de Lynch-Moussas (Haut-Médoc)

Medium bodied, lighter styled Pauillac with a forward, correct approach offering, an easy drinking, cassis filled wine with no hard edges.

2,159 Views

Tasted

Apr 26, 2018

2016
Château Lynch-Moussas (Pauillac)

Medium-bodied, with smoke, thyme, mint and bright red fruits on the nose, the wine is medium bodied, fresh, crisp and just a tiny bit herbal in the finish, giving you a classic Pauillac profile.

5,966 Views

Tasted

Sep 21, 2019

Cassis, tobacco, cedar and blackberry sensations offer freshness, sweet fruits and soft tannins. The wine is medium bodied and with a few years of age it will be ready to drink. This wine was produced from a blend of 62% Cabernet Sauvignon and 38% Merlot and is 13.5% alcohol.

3,906 Views

Tasted

Apr 29, 2017

2015
Château Lynch-Moussas (Pauillac)

Tobacco, cigar box, blackberry and cedar create the character. On the palate, the wine is almost easy to drink with its soft tannins. There is a strong, olive and cedar overtone. The wine was produced from a blend of 79% Cabernet Sauvignon and 21% Merlot.

4,546 Views

Tasted

May 21, 2018

Cassis and blackberry notes play at the forefront of this satisfying but not overly complex, easy-drinking Pauillac. This wine was produced from a blend of 79% Cabernet Sauvignon and 21% Merlot. 87 - 89 Pts

2,744 Views

Tasted

Apr 18, 2016

2015
Les Hauts de Lynch-Moussas (Haut-Médoc)

Early drinking quaffer with a tart cherry and herbal profile that will be best on release. 79 - 81 Pts

2,422 Views

Tasted

Apr 26, 2016

2014
Château Lynch-Moussas (Pauillac)

Forward, already open and showing its cedar, tobacco, spicy cassis character with not much effort. This is easy to drink, and will be even better with a few years of age.

3,550 Views

Tasted

May 28, 2017

Perhaps the best wine I've ever tasted from Lynch Moussas. A healthy dose of cassis, oak, tobacco and spice box create the nose. The wine is medium/full bodied, with ripe, dark red fruits, freshness and length. Clearly, this should be even better with age. The wine was produced from a blend of 79% Cabernet Sauvignon and 21% Merlot.

3,534 Views

Tasted

Feb 1, 2017

2013
Château Lynch-Moussas (Pauillac)

Light in color and fruit, with a peppery, olive, cranberry and cassis character that is best for early drinking.

2,481 Views

Tasted

Feb 10, 2016

Light, bright and crisp, the wine showcases crunchy red berries and a spicy cranberry finish. From a blend of 96% Cabernet Sauvignon and 4% Merlot, making it a contender for the highest percentage of Cabernet Sauvignon placed in the blend in the history of the estate, this wine will be best in its youth. 85-87 Pts

1,826 Views

Tasted

Apr 20, 2014

2012
Château Lynch-Moussas (Pauillac)

From a blend of 79% Cabernet Sauvignon and 21% Merlot, the wine is medium bodied, forward, focused on soft, bright leaning red fruits and easy to drink.

3,430 Views

Tasted

Mar 11, 2015

2011
Château Lynch-Moussas (Pauillac)

Medium bodied, with a bright, crips quality to the tart and sweet red fruits, the wine ends with a cassis and cranberry note. Perhaps time will add to this blend of 78% Cabernet Sauvignon and 22% Merlot.

2,568 Views

Tasted

Feb 16, 2014

2010
Château Lynch-Moussas (Pauillac)

Lots of blackberry, cassis and tobacco coupled with an equal amount of tannin that makes this a wine that needs at least 5 years in the cellar before it comes together. This is a good value wine for Pauillac. The wine was produced from a blend of 76% Cabernet Sauvignon and 24% Merlot.

4,557 Views

Tasted

Jul 22, 2013

2009
Château Lynch-Moussas (Pauillac)

Starting to show its secondary side with all the tobacco and cedar notes, the wine is medium bodied, earth, leafy, minty and bright. The wine is clearly ready for prime time drinking.

3,256 Views

Tasted

Sep 20, 2019

Produced from a blend of 72% Cabernet Sauvignon and 28% Merlot, this medium bodied wine already displays some tobacco, cassis, blackberry and earthy characteristics. Not mature, but accessible, you can drink this now, or age it for up to a decade.

3,140 Views

Tasted

Aug 18, 2014

2008
Château Lynch-Moussas (Pauillac)

Bright, red, crisp, crunchy red berries make up the core of this wine. Fresh, medium-bodied and old school, this classic luncheon claret leaves you with a bite of cranberry, cassis, green olive, herb, pepper and tobacco in the finish.

3,210 Views

Tasted

Apr 28, 2020

2007
Château Lynch-Moussas (Pauillac)

Medium bodied, almost light actually, the wine is short, with a red berry and leafy, herbal, cigar wrapper character that requires drinking sooner than later.

3,525 Views

Tasted

Sep 2, 2017

2006
Château Lynch-Moussas (Pauillac)

Medium bodied, stern, crisp, bright red berry styled wine, with an austere, dusty, sweet and tart, cassis and cranberry filled finish. The wine was made from a blend of 72% Cabernet Sauvignon and 28% Merlot.

4,506 Views

Tasted

May 25, 2016

2005
Château Lynch-Moussas (Pauillac)

Medium bodied, lighter style of early drinking Pauillac with tobacco, cedar, cassis and cranberry.

5,472 Views

Tasted

May 23, 2012

2003
Château Lynch-Moussas (Pauillac)

Fully mature, medium bodied, with more going on in the nose, with its tobacco, leaf, cedar, cassis and cranberry notes, than on the palate. Strict in style for 2003, there is no reason to age this any longer.

3,207 Views

Tasted

Oct 31, 2016

2000
Château Lynch-Moussas (Pauillac)

Fully mature, medium bodied, correct Pauillac, with ample cedar, tobacco, cigar box, herbs and bright, crisp, red fruit. A little austere, but fun, this is probably at peak today.

4,630 Views

Tasted

Sep 17, 2017

1996
Château Lynch-Moussas (Pauillac)

Fully mature, medium bodied, lighter styled Pauillac, with a crisp, cranberry, cassis, earth, cedar and tobacco character. There is some rusticity in the sharp, peppery finish. I like the wine more on the nose, than on the palate.

3,588 Views

Tasted

Feb 7, 2018

1995
Château Lynch-Moussas (Pauillac)

Medium-bodied, firm, rustic, lean, tannic styled wine with a strong, cedar, pepper, leafy, tobacco filled character that accompanies the bright, sharp, crisp, red fruit. This is probably just slightly past full maturity and is already gently declining. It should be noted however that the wines coming from Lynch Moussas today and dramatically better.

2,591 Views

Tasted

Aug 19, 2021