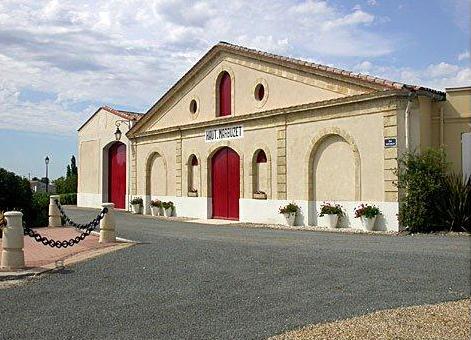 Learn everything about Chateau Haut Marbuzet St. Estephe with wine tasting notes and wine with food pairing tips. Learn the best vintages, a history of the property and information on the vineyards and winemaking. If you want to read about other Bordeaux wine producers: Links to all Bordeaux Wine Producer Profiles
Chateau Haut Marbuzet History, Overview
Chateau Haut Marbuzet was founded in the 18th century, taking its name from Marbuzet, the sector where the property resides. Chateau Haut Marbuzet was established by Alexander de Segur, who owned a myriad of Bordeaux properties including another, much better known St. Estephe vineyard, Calon Segur.
At his death, the land was divided and sold. In fact, a portion of the vineyards became a part of Le Crock. In 1825, the land was purchased by the MacCarthy family, who officially established what became Haut Marbuzet.
The interesting Duboscq family owns Chateau Haut Marbuzet today. Herve Duboscq may have been illiterate until he was at least nine years old. But he was shrewd.
He built the vineyards of Chateau Haut Marbuzet from 7 hectares up to 58 hectares over time! In 1962 Herve Duboscq was joined by his son Henri Duboscq, who now manages Haut Marbuzet today with his two sons. It was said that the elder Herve Duboscq at times described Bordeaux wines by comparing them to different female body parts. He was quite the character!
Chateau Haut Marbuzet Vineyard, Terroir, Grapes, Winemaking
The 65 hectare Left Bank vineyard of Haut Marbuzet is planted to 50% Cabernet Sauvignon, 40% Merlot, 5% Petit Verdot, and 5% Cabernet Franc. This shows a marked increase of Cabernet Sauvignon planted, along with a decrease in the amount of Merlot in the vineyards.
The terroir is gravel, clay, and limestone soils. Parts of the vineyard are of very good quality with views of the Gironde, not that far from Chateau Montrose. On average, the vines are close to 30 years of age. The vineyard of Chateau Haut Marbuzet is planted to a vine density of 9,000 vines per hectare.
To produce the wine of Chateau Haut Marbuzet, vinification takes place in large oak vats. Malolactic fermentation takes place in vat. The wine is then aged in 100% new, French oak barrels for close to 18 months before bottling. On average, the estate produces about 30,000 cases of Haut Marbuzet per year.
There is a second wine, MacCarthy, which takes its name from a previous owner of the estate. The Duboscq family also owns two other Bordeaux estates in the Saint Estephe, appellation, Chateau Chambert Marbuzet and Tour de Marbuzet.
Chateau Haut Marbuzet Wine Style and Character
From 1982 to 1990, Chateau Haut Marbuzet was on top of their game as they produced outstanding Saint Estephe wine. The wines which showed well young were opulent, lush, oaky, and filled with soft, ripe fruit.
The Best Vintages of Chateau Haut Marbuzet are: 2022, 2021, 2020, 2019, 2018, 2017, 2016, 2015, 2014, 2010, 2009, 2005 and 2003.
While still well priced, the quality seems to have slipped since the 1990 vintage. The wine can be oaky when young, so this is not a wine for the oak averse.
When to Drink Chateau Haut Marbuzet, Anticipated Maturity, Decanting Time
Chateau Haut Marbuzet can be enjoyed early. However, the wine is often better with at least a few years of bottle age. Of course, that can vary slightly, depending on the vintage. Haut Marbuzet is usually best in the first 10-20 years after the vintage.
Young vintages can be decanted for 1-2 hours. This allows the wine to soften and open its perfume. Older vintages might need very little decanting, just enough to remove the sediment.
Serving Chateau Haut Marbuzet with Wine and Food Pairing Tips
Chateau Haut Marbuzet is best served at 15.5 degrees Celsius, 60 degrees Fahrenheit. The cool, almost cellar temperature gives the wine more freshness and lift.
Chateau Haut Marbuzet is best served with all types of classic meat dishes, veal, pork, beef, lamb, duck, game, roast chicken, roasted, braised, and grilled dishes. Haut Marbuzet is also good with Asian dishes, hearty fish courses like tuna, mushrooms, and pasta.
Château Haut-Marbuzet Wine Tasting Notes
21 Vintages 102,689 Views Sort by Vintage-Rating
2022
Château Haut-Marbuzet (St. Estèphe)

A gem of a wine with its blend of ripe, fleshy, blackberries, espresso, smoke, dark chocolate, and spice. The wine is expressive, showy, and packed with layers of polished, sweet, lush fruits with length, vibrancy, and character. It is nice to see a return to a high-level of quality for this estate. Drink from 2026-2045. 94-96 Pts.

1,806 Views

Tasted

May 8, 2023

2021
Château Haut-Marbuzet (St. Estèphe)

Round, polished, fruity and forward, the soft, smoky, dark red fruits with their espresso tinted accent are going to be easy to enjoy on release and over the next decade or so. Drink from 2023-2034. 90-92

1,278 Views

Tasted

May 20, 2022

2020
Château Haut-Marbuzet (St. Estèphe)

Deeply colored, the wine pops with its showy nose of espresso, truffle, smoke, licorice, cocoa, blackberry and black cherries. Medium/full-bodied, with soft, silky, polished textures, lift and multiple layers of ripe, sweet, polished, lusciously-textured fruits that linger. This scored much higher in bottle than it did in barrel as the is close to fully integrated. This is clearly the best vintage ever produced at Haut Marbuzet! Give it a few more years in the cellar and you are going to have a gem in your cellar. Drink from 2025-2045.

1,160 Views

Tasted

Mar 21, 2023

Dark in color, the wine offers notes of coffee bean, cherries, smoke, spice and peppery herbs. Medium/full-bodied, with a strong oak presence that accompanies the round textures and all the herbs, spices and fruits. The wine ends with a savory character on top of the espresso tinged finish. The oak is still quite present, so give it time to come around. If it integrates, this will be a better wine. 91-93 Pts

2,091 Views

Tasted

May 20, 2021

2019
Château Haut-Marbuzet (St. Estèphe)

There is a strong oaky note on the nose, which is the first thing you notice until you begin to dig into all of its spicy, savory-tinged, red fruits, citrus and wet earthy nuances. Lush, round and richly textured, the medium-bodied wine shows a plush, polished, fresh, sweet, vibrant cherry character that shines brightly on the mid-palate and in the finish. Drink from 2025-2037.

2,040 Views

Tasted

Mar 29, 2022

With a nice dark color, the wine is lush, round and generous. The espresso bean, dark red berry and earthy character shows well here. The oak is still quite present, so give it time to come around and if it integrates, this will be a better wine. 91-93 Pts

4,748 Views

Tasted

Jun 16, 2020

2018
Château Haut-Marbuzet (St. Estèphe)

Flowers, espresso, smoke, tobacco leaf, barbecue and black cherries create the aromatic qualities. The wine is rich, round, supple and fruity, with hints of vanilla overtones that ride along perfectly with all the ripe, red berries. This is the best vintage of Haut Marbuzet I have tasted in years.

2,260 Views

Tasted

Mar 9, 2021

Dark in color, the wine shows espresso, smoke, earth, thyme, smoke and black cherry with leafy aromatic qualities. This is a super vintage for Haut Marbuzet. The wine is medium bodied with round, juicy, sweet, deep red fruits and a forward style. 91-93 Pts

3,788 Views

Tasted

Apr 19, 2019

2017
Château Haut-Marbuzet (St. Estèphe)

Medium-bodied, fresh, bright, and aromatic, with a lean to its floral, tobacco, espresso, and currant personality, you can enjoy this now and for at least another 15 years with ease. Drink from 2022-2037.

1,858 Views

Tasted

Aug 23, 2022

Espresso, earth, tobacco haze and blackberries on the nose, this is medium bodied, bright, fresh and soft. You may enjoy this wine early, as the tannins and fruits are extremely tender.

3,060 Views

Tasted

Apr 26, 2018

2016
Château Haut-Marbuzet (St. Estèphe)

Smoky, espresso, red plum, cedar and tobacco notes on the nose are paired with the round, forward, sweet, and toasted palate. Early drinking with an open character, this should evolve for 15-20 years with ease.

3,217 Views

Tasted

Sep 21, 2019

Round, plush textures, dark, juicy, fat plums, blackberries and happy tannins climax in a smoky, oaky, tasty finish. Best wine here in years!

3,597 Views

Tasted

Apr 29, 2017

2015
Château Haut-Marbuzet (St. Estèphe)

It's oaky, but there is ample dark, red earthy berries that work with it. Smoky with a strong espresso note, the wine is round, lush, forward and tasty, with a blackberry and bitter cocoa note in the finish. The wine is better in bottle than it showed in barrel, which is always a good sign.

4,915 Views

Tasted

Sep 29, 2019

Espresso, earth, blackberry and coconut aromatics move you to a round, forward, easy-to-taste, dark, red fruit-focused wine with an oaky presence. 88 - 90 Pts

5,453 Views

Tasted

Apr 19, 2016

2014
Château Haut-Marbuzet (St. Estèphe)

A pleasing depth of color, a nose of espresso, earth, blackberry and a sniff of the old cigar box, this wine finishes with a blast of plush, full basket of blackberries and cocoa. 89-91 Pts

6,158 Views

Tasted

Apr 13, 2015

2013
Château Haut-Marbuzet (St. Estèphe)

Forward, medium bodied, and a bit too much on the bright red, berry side, with an oaky edge to the overly fresh, red fruits.

2,803 Views

Tasted

Feb 6, 2018

2012
Château Haut-Marbuzet (St. Estèphe)

With cedar wood, earth and dark berries, this soft, round-textured, medium-bodied wine is forward in style and finishes with soft ripe cherries. 87-89 Pts

5,123 Views

Tasted

Apr 23, 2013

2011
Château Haut-Marbuzet (St. Estèphe)

Blending 50% Merlot, 40% Cabernet Sauvignon, 5% Cabernet Franc and 5% Petit Verdot, the wine reached 13.4% ABV. Aged in 100% new oak for 12 months before being moved to one year-old barrels to finish the aging. Only a small percentage of the vines were damaged by the September hail storms. They were forced to pick some of their Cabernet Sauvignon vines a little earlier than they would have liked for fear of rot. Ruby in color with oak, clay, earth and wood in the nose. Round, sweet dark berries in the mouth, but there is a woody dry sensation in the finish. This is the 50th vintage for the owner. 85-88 Pts

4,328 Views

Tasted

Apr 8, 2012

2010
Château Haut-Marbuzet (St. Estèphe)

Haut Maubuzet - Medium boded, cassis filled, correctly made, beefy wine that should drink well shortly after release. 87-89 Pts

8,150 Views

Tasted

Apr 19, 2011

2009
Château Haut-Marbuzet (St. Estèphe)

Vanilla, herbs, cedar wood, blackberry, smoke and pepper in the nose, round and opulent in texture, the wine ends with sweet, ripe blackberries and toast. Haut Marbuzet is a wine that always drinks well on the young side due to its lavish oak treatment

5,843 Views

Tasted

May 3, 2012

2008
Château Haut-Marbuzet (St. Estèphe)

Already fun to drink, the wine offers blackberries, earth, smoke and coffee bean aromas, soft tannins with a slightly, oaky finish.

4,444 Views

Tasted

Jul 17, 2013

2006
Château Haut-Marbuzet (St. Estèphe)

Oaky, round, lush and ready to drink, with its medium/full bodied, licorice, smoke, espresso, blackberry, plum and tobacco filled charm.

4,287 Views

Tasted

May 25, 2016

2005
Château Haut-Marbuzet (St. Estèphe)

Medium/full bodied withsoft, round textures and a perfume filled with coffee bean, black raspberry, wild strawberry, plum and spice, the wine is already drinking well. This will probably be at its best over the next decade as it does not seem to have the stuffing to make it to old age.

5,768 Views

Tasted

May 15, 2012

2003
Château Haut-Marbuzet (St. Estèphe)

Lush, round and soft in texture, medium bodied and ready to go, the dark red, earthy fruits are silky and seductive. The wine still shows a bit of oak, but the wealth of fruit and opulent textures more than grabs your interest.

3,854 Views

Tasted

Aug 23, 2015

2000
Château Haut-Marbuzet (St. Estèphe)

I was surprised by how hard and firm this bottle showed. The wine is much better on the nose than the palate. Usually, the wine is round, voluptuous and fun, but not in this vintage. Did they miss the boat in 2000? Such is life...

3,518 Views

Tasted

Oct 8, 2016

1990
Château Haut-Marbuzet (St. Estèphe)

Tobacco, smoke, earth, forest floor, cassis, wood and red plums, medium/full bodied with plush, soft textures. The wine offers more on the nose than the palte. After giving pleasure since the day it was bottled, this St. Estephe wine has started to gently decline. My last bottle of a case purchase. Drink up as it's going to continue losing fruit.

3,594 Views

Tasted

Oct 24, 2011

1982
Château Haut-Marbuzet (St. Estèphe)

Not quite the voluptuous beauty I remember this tasting like several years ago. But there is still a lot to like here. The earthy, tobacco, cassis, thyme and cherry pipe nose hits the spot. Soft, round and requiring no decanting time, this is slightly more than fully mature. So if you are sitting on any remaining bottles, drink up.

3,548 Views

Tasted

Oct 8, 2016