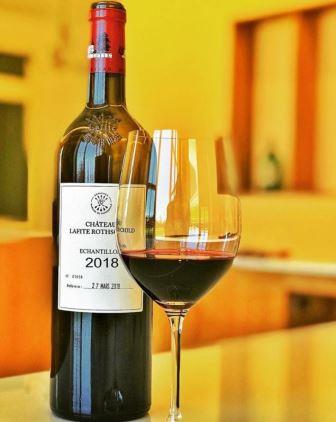 2018 Pauillac wines range from good to very good and at their best, they are extraordinary! The wines offer uniformly dark colors. They feature incredible levels of depth. They provide opulence, elegant, silky tannins, mouth filling levels of concentrated, perfectly ripe fruits and length that approaches 60 seconds!
To get an idea about what to expect, imagine a better version of 2009, with all its best attributes, except with more freshness, silkier tannins and a bit more concentration. Of course not all 2018 Pauillac wines were created equal.
The best wines were able to handle the water stress from the dry, summer months. The vineyards with old vines, access to water, deep gravel soils that allowed from the roots to reach water, or vineyards with more clay in the soil performed best. If you want to read details on the 2018 Bordeaux vintage 2018 Harvest Report
2018 Pauillac wines are not perfect. At least not all of them. But there are wines from this appellation in this vintage that grab you and keep you enthralled. Great wine is about character and a uniqueness of style, which is what you find in 2018 Pauillac.
With close to 600 wines tasted, you can expect more 2018 Bordeaux reports for every major appellation to be published on a daily basis. 2018 St. Julien will be published Thursday, April 18.
The following wines were tasted between late March and early April 2019 in non-blind conditions. Several wines were tasted more than once, with consistent results.
2018 Pauillac Tasting Notes, Reviews, Scores, Ratings
2018 dArmailhac – Richly textured, this is the darkest d'Armailhac I have ever seen and the fruits are equally dark. The blackberries display a floral charm along with a touch of smoke black currant. On the palate, the wine is medium-full bodied, with good concentration of its dark, crème de cassis, a touch of cocoa and tobacco. The tannins are soft add the perfect backdrop to all the round juicy, deep fruits. The wine is a blend of 55% Cabernet Sauvignon, 30% Merlot, 10% Cabernet Franc and 5% Petit Verdot. The harvest took place from September 12 to September 3. 92-94 Pts
2018 Batailley – The crème de cassis is strong here and it's the perfect match for the full-bodied, ripe, round, dark, fresh, spicy red berry palate. The tannins are powerful, yet refined, which is perfect for all that juicy, peppery fruit in the finish. If you can wait and give this wine 7-9 years or more before popping a cork, you will experience all of its true Pauillac character. The wine was made from blending 74% Cabernet Sauvignon, 23% Merlot and 3% Petit Verdot, reaching 13.5% alcohol. 92-94 Pts
2018 Clerc Milon – A beautiful dark, inky cranberry color with purple edges, the wine is silky and deep with licorice, crushed rock, flowers and perfectly ripe crème de cassis. The wine is supple, structured and fresh, representing the sophisticated, refined side of Pauillac. The wine was made from a blend of 60% Cabernet Sauvignon, 27% Merlot, 9% Cabernet Franc, 3% Petit Verdot and 1% old vine Carmenere, reaching 14.15% alcohol. The harvest took place September 17 to October 10. 60% of the harvest was placed into the Grand Vin. There is so much going on with the 2018, you will want to age this wine for at least 8 years before popping a cork. Clearly, this is the best vintage ever produced at Clerc Milon! 94-96 Pts
2018 Pastourelle de Clerc Milon – Medium-bodied with a black raspberry, floral edge to the elegant, fresh, soft textured style, you can drink this charmer on release with pleasure. 89-91 Pts
2018 Duhart-Milon – With a nice depth of color, the wine is medium-bodied, elegant, black currant filled wine with a touch of olive, tobacco and plum. Refined, forward, fresh and clean and already showing purity, silky textures and spicy, red pit fruits from start to finish, this is a solid wine, with real character, made from blending 65% Cabernet Sauvignon and 35% Merlot. The harvest took place September 17 to October 4. 94-96 Pts
2018 Duhart-Milon Moulin de Duhart – A medium-bodied, forward, easy drinking expression of Pauillac with a soft textures and fresh red fruits. 87-89 Pts
2018 Fonbadet – Full-bodied and loaded with dark, red berries, wet earth, forest leaf and crème de cassis, this wine has body, Pauillac character, freshness and a round finish exploding with juicy, peppery, sweet red fruits. 91-93 Pts
2018 Grand Puy Ducasse – Dark in color the wine is concentrated and loaded with ripe black currants. The palate feel is full, lush and round, leaving you with dark red fruits, soft tannins and loads of red berries, licorice, tobacco, smoke, cedar and cocoa in the finish. This is a wine to lay down for at least 7-8 years to insure an even better experience. The wine is made from blending 52% Cabernet Sauvignon with 48% Merlot. 92-94 Pts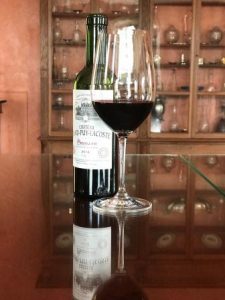 2018 Grand Puy Lacoste – Showing a beautiful depth in the color, the array of flowers, tobacco leaf, cedar, spice, cigar box and crème de cassis hits the right spot. Full-bodied, dense, tannic, and piquant, this is a perfect amount of crunch and firmness complimenting the juicy Cabernet from start to finish. This is quite classic and firm in style, so be prepared to allow this gem at least 10-12 years or more before opening. The wine is a blend of 78% Cabernet Sauvignon and 22% Merlot and the harvest took place September 21 to October 5. 93-95 Pts
2018 Haut Batailley – Dark garnet and almost opaque in color, from the initial sniff and sip, you know this is not your grandfather's Haut Batailley. The wine is deep, titillating and fresh. There is density, weight and lift with soft, luxurious, almost cultured tannins. The full-bodied finish combines olives, tobacco leaf and earthy, dark red fruits. The wine was made from blending 59% Cabernet Sauvignon and 41% Merlot, reaching 14.3% alcohol. 93-95 Pts
2018 Lacoste Borie – With a floral edge to the red berries, the wine is medium-bodied, edgy, juicy and bright with a focus on all the sweet, crisp, ripe cassis. Enjoy this while waiting for its big brother to develop. 87-89 Pts
2018 Lafite Rothschild – The color matches a long obscured ruby jewel. The initial sip shows its sophistication, grace and refinement and there is an extraordinary purity in the fruit. Before taking a second sip for confirmation, you'll find tobacco, lead pencil, cedar, flowers, cherry pipe tobacco and if you dig really deep, you'll discover a subtle essence of orange in the background. On the palate, the wine is supple, silky, long and focused. Precision is an often misunderstood term used by wine writers. 2018 Lafite Rothschild is the poster child for precision in a wine. Never the most powerful of the First Growths, instead here, you find a wine of perfect balance, elegance and harmony with a unified, seemingly endless finish. Produced from a blend of 91% Cabernet Sauvignon, 8.5% Merlot and .5% Petit Verdot, the wine reached 13.3% alcohol with a pH of 3.73. The Grand Vin represents 40% of the harvest, which took place September 17 to September October 4. 98-100 Pts
2018 Carruades de Lafite – A medium-bodied, elegant, black currant-filled wine that is refined, forward, fresh and clean. Silky textures and spicy, red pit fruits in the finish, the wine was made from blending 56.5% Cabernet Sauvignon, 38% Merlot and 5.5% Cabernet Franc. 92-94 Pts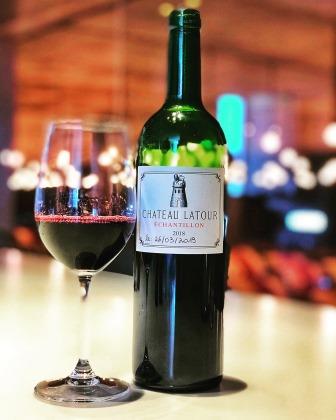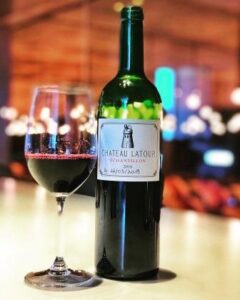 2018 Latour – Inky in color, one look at this wine begins the love story. The level of intensity is almost off the hook. The wine is rich, powerful, mouth-filling, dense and electric. The wine coats your palate with layers of perfectly ripe, dark red fruits, a slab of rocks, salt and firm, polished tannins. The finish clocks in at over 60 seconds! This is a vintage that will age for decades. Clearly, this is a future legend in the making. The wine was made from a blend of 91% Cabernet Sauvignon and 9% Merlot, reaching 14.3% alcohol. The harvest took place September 17 to October 11. The Grand Vin was made from 37% of the harvest. Across the board, the yields were low at Latour at 24 hectoliters per hectare. 98-100 Pts
2018 Les Forts de Latour – With depth of color, this wine is loaded with layers of sweet, ripe, lush, intense, pure black currants and just a hint of citrus and cocoa. You'll also find tobacco and fresh, red pit fruits. The wine offers intensity, length and purity with a dark chocolate tone that pairs perfectly with the wave of rich fruits. If a reclassification ever took place, this would be clearly be included. The wine was produced from blending 65.6% Cabernet Sauvignon, 34% Merlot and .04% Petit Verdot. 93-95 Pts
2018 Pauillac de Latour – Dark in color, it takes no effort to find the cassis, black raspberry, spice, tobacco and earthy notes. In the mouth, you'll find soft but stern, fine tannins, clean, sweet, ripe fruits and polish in the finish. The wine was produced from blending 56.9% Cabernet Sauvignon, 30.8% Merlot, 12.3% Petit Verdot. 91-93 Pts
2018 Batailley Lions de – A medium-bodied, ripe, round, forward, soft, early drinker with ripe cassis, cherries and a bit of firmness in the finish. 87-89 Pts
2018 Lynch Bages – Blue-black with purple accents, the pure crème de cassis aromas stand out easily. This wine combines power with layers of ready, succulent, dark penetrating fruits. Even though this is probably the densest Lynch Bages I recall tasting, the unique vintage character keeps the wine light on its feet. All this strength and purity is wrapped up nicely with ripe tannins and a long finish. Clearly, 2018 is a contender for the best vintage of Lynch Bages ever produced — and with their string of hits, that's a real statement! Produced from 72% Cabernet Sauvignon, 19% Merlot, 6% Cabernet Franc and 3% Petit Verdot, the wine reached 14.1% alcohol. The picking took place September 18 to October 9 and 65% of the harvest was used to produce the Grand Vin. 96-98 Pts
2018 Blanc de Lynch Bages – Just picked honeysuckle, orange rind, Granny Smith apples and vanilla are a treat to smell. Packed with citrus on the palate, the lemon chiffon finish is perfect for current drinking. The wine is a blend of 59% Sauvignon Blanc, 21% Semillon, and 20% Muscadelle. 93 Pts
2018 Lynch-Moussas – The juicy, black currant, herb and tobacco leaf character really comes through this year. The wine is medium/full-bodied with ripe tannins and ample freshness to the blackberry and cassis palate. This should be easy to drink within five years of release. The wine blends 72% Cabernet Sauvignon and 28% Merlot. 91-93 Pts
2018 Mouton Rothschild – Opaque in color, the purple black hue is gorgeous. The perfume with its sea salt, lead pencil, blackberry liqueur, black currants, tobacco, spice and smoke is a knockout! That will keep you busy enough but it is on the palate where you'll really experience the wine as it hits and coats every nook and cranny in your mouth. The wine is lavish, dense, concentrated and showy. The naturally flamboyant nature of Mouton Rothschild comes though loud and clear. Even with all this voluptuousness, the wine is energetic and intense. The finish remains with you for well over 60 seconds. Clearly, the 2018 is going to be one of the great vintages of Mouton ever produced. The blend comes from 86% Cabernet Sauvignon, 12% Merlot and 2% Cabernet Franc and reached 13.8% alcohol. The harvest took place from September 10 to October 3, the Grand Vin representing 66% of the harvest with very low yields of only 28 hectoliters per hectare. 98-100 Pts
2018 Petit Mouton de Mouton Rothschild – Put your nose into a basket of freshly picked black and red berries and you'll get the idea of the perfume here. Dark in color, the perfectly ripe, sweet fruit is vibrant, juicy and polished. The wine is supple and disarmingly easy to taste but don't that let fool you, there is depth of flavor and the ability to age for at least two decades. The wine was fashioned from 56% Cabernet Sauvignon, 40% Merlot and 4% Cabernet Franc, reaching 14% alcool. This is so good it is hard to fathom that this only a second wine. With the exception of 1982 and 1986, this is better than any vintage of Mouton produced between 1962 and 1996! 94-96 Pts
2018 Mouton Rothschild Aile D'Argent Blanc – Honeysuckle, orange peel, pineapple, pears and vanilla shine with little effort. The balance between the yellow citrus, hints of tropical fruits and freshness on the palate brings it all together. The wine will be perfect when paired with all types of fresh seafood dishes. The wine was made from a blend of 55% Sauvignon Blanc and 45% Semillon. 94 Pts
2018 Chateau Pauillac – With a ready, Pauillac character, you'll find density, richness and flesh. The wine shows polish and concentration with a big blast of creamy cassis in the finish. 92-94 Pts
2018 Pedesclaux – Mint, tobacco, cassis, cocoa, currants and blackberries kick off the aromatics. From there it's the concentrated, fresh, lively, round, firm, spicy character on the palate and in the finish that matters. The wine blends 64% Cabernet Sauvignon, 27% Merlot, 5% Cabernet Franc and 4% Petit Verdot, reaching 13.96% alcohol. Slowly but surely they continue upping their game at Pedesclaux. 92-94 Pts
2018 Pibran – Flowers, spice and red fruits form the nose. The wine is medium bodied, forward, fresh and juicy with a hint of cocoa along with the fresh fruits. With less rusticity and more elegance than usual, this is a charming, well-priced Pauillac. 89-91 Pts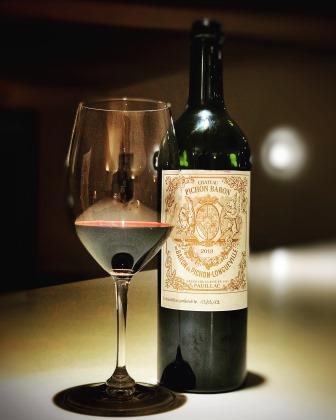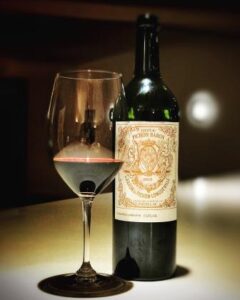 2018 Pichon Baron – The color is pure purple and on the nose the level of fruit is enormous. Blackberry, boysenberry, dark cherry, smoke, espresso, black currant and cigar wrappers are the first thing you'll notice. Powerful yet regal, rich, concentrated and multi-layered, the fruit comes at you with non-stop waves of flavor. But more importantly, the fruit is fresh, pure and quite dense. Although quite tannic, the ripe berries coat your palate, teeth and gums and stay with you. The tannins do not intrude. There is no touch of heat, jam or overripe sensations even though the wine reached 14.1% alcohol. This stunner will age and develop into one of the great vintages for Pichon Baron. To enjoy this at its best, you'll need to have some patience, at least 10-12 years are needed before popping a cork. The wine will age and evolve for 3-4 decades after that. The wine was made from blending 78% Cabernet Sauvignon and 22% Merlot. The Grand Vin was made from 50% of the harvest with the picking taking place September 24-25 for the Merlot and October 3-10 for the Cabernet Sauvignon. 97-99 Pts
2018 Les Griffons dePichon Baron – With a strong floral character, the wine needs a bit of coaxing to bring out its deep, dark red fruits. Graceful, agile and fresh with the tannic bite of the Cabernet Sauvignon and the roundness from the sweet Merlot, this wine was made from blending 52% Cabernet Sauvignon and 48% Merlot and will age in 60% new, French oak barrels. 92-94 Pts
2018 Les Tourelles de Longueville – Juicy, sweet and fresh, the wine is medium bodied, rich, supple, forward and already easy to drink with its blackberry and dark plum profile. The wine was made using 66% Merlot, 20% Cabernet Sauvignon, 8% Cabernet Franc and 6% Petit Verdot. 90-92 Pts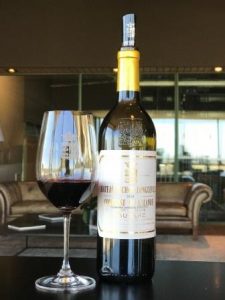 2018 Pichon Lalande – Full-bodied, rich, powerful, dense, opulent and frankly, incredibly sexy, as well as structured, stylistically it feels like a blend of 2009 and 2016 with the best attributes of each vintage. This wine is sensual with firm tannins, vitality, length, complexity and vibrancy in the finish. Yes, the wine is high in alcohol. But there is no heat, jam or lack of freshness. Everything here is in balance. Lay this down for a decade and pour sensuality right into your glass. The wine will age effortlessly for decades. Is it better than the perfect 100 Pt. 2016? Maybe, maybe not. But I cannot wait to taste those two vintages side by side in a blind tasting. The wine combines 71% Cabernet Sauvignon, 23% Merlot, 5% Cabernet Franc and 1% Petit Verdot reaching 14% alcohol with a pH of 3.85. The picking took place September 13-October 11 and 50% of the crop was placed into the Grand Vin. The yields were low here this year at only 35 hectoliters per hectare. 98-100 Pts
2018 Reserve de la Comtesse – Classified Growth in quality with layers of ripe, sweet, lush fruits, Pauillac character, espresso, spice and green olives along with the backbone to age. Buy this beauty and drink it while waiting for the Grand Vin to mature. 90-92 Pts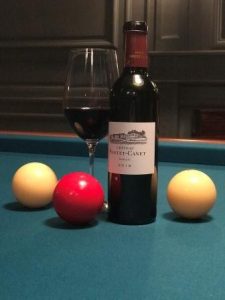 2018 Pontet Canet – A dusky magenta, the wine explodes from the glass with black fruit, tar, wet forest floor, currants and licorice. Full-bodied, intense and powerful, this wine is also graceful on your palate. There is an impressive amount of weight and yet the wine feels light. The fruit coats your mouth, teeth and gums for over 60 seconds, which is a good thing as you will not want this wine to end. Not much of this gem is going to be available due to climatic conditions keeping the yields under ten hectoliters per hectare and making it much harder to find than usual. 97-99 Pts