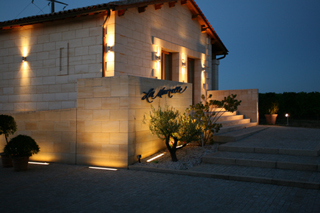 Learn everything about Chateau La Marzelle St. Emilion with wine tasting notes and wine-with-food pairing tips. Learn the best vintages, the history of the property, and information on the vineyards and winemaking. If you want to read about other important, Bordeaux Chateaux: Links to all Bordeaux Wine Producer Profiles
Chateau La Marzelle History, Overview
Chateau La Marzelle dates back to at least 1821 in the St. Emilion appellation. The estate takes its name from one of its early owners, Edouard de La Marzelle.
The modern era of Chateau La Marzelle begins in 1956. That is because prior to that date, what we know of as Chateau La Marzelle was a part of two different vineyards, Grand Barrail and Chateau La Marzelle Figeac.
In 1956, Grand Barrail was detached from Chateau La Marzelle. In 1972 Grand Barrial was turned into a combination hotel and vineyard and by that time, Chateau La Marzelle was a stand-alone vineyard once again.
In 1998, Chateau La Marzelle was purchased by Jean Jacques and Jacqueline Sioen who invested time and money in rebuilding and renovating the estate. They were also busy increasing the size of their vineyards. At the time of their purchase, the vineyard had 13 hectares of vines.
The vineyard, wine-making facilities, cellars, and chateau were all in need of restoration at the time of the purchase. Since that time, Chateau La Marzelle has been completely renovated in the chateau, cellars, and wine-making facilities, changing out their remaining oak fermenters for stainless steel vats.
Chateau La Marzelle was one of the four, St. Emilion chateaux to formally sue and contest the results of the 2006 St. Emilion Classification as they were demoted. They were returned to the classification of Grand Cru Classe in the 2012 St. Emilion Classification. In 2008, they switched to 100% organic farming.
Chateau La Marzelle Vineyards, Terroir, Grapes, Winemaking
The 21-hectare Right Bank estate has 17 hectares planted with vines. is planted to 75% Merlot and 17% Cabernet Franc and 8% Cabernet Sauvignon, which shows a moderate change in the vineyard, with less Merlot and more Cabernet. Located next to the famous Saint Emilion hotel, Grand Barrail, the terroir is a blend of gravel, sand, and clay soils.
However, the terroir varies as the vines are dispersed among different parcels, although the vineyard is mostly in one large block of contiguous vines. They have vines planted closer to Chateau Figeac with more gravel, while other plots have more clay. The vineyard is planted to a density of 5,600 vines per hectare for the older vines, while newer plantings are taking place and 7,150 vines per hectare. Chateau La Marzelle was certified biodynamic in 2018.
To produce the wine of Chateau La Marzelle, vinification takes place in truncated, stainless steel vats that range in size from 80 to 100 hectoliters. However, a small portion of the harvest is micro-vinified in 500-liter French oak barrels. Malolactic fermentation takes place in barrels. The wine is aged in 60% new, French oak barrels for 18 months.
The best vintages of Chateau La Marzalle are: 2022, 2021, 2020, 2019, 2018, 2017, 2016, 2015, 2014, 2012, 2010, 2009, and 2005. It should be noted that starting with the 2015 vintage, the wines here are markedly better.
There is a second wine which is made from 4 hectares of declassified vines that are sold under the name of Prieure La Marzelle. There is also a third wine, Elle de La Marzelle. On average, slightly less than 5,000 cases of wine are produced in each vintage.
When to Drink Chateau La Marzelle, Anticipated Maturity, Decanting Time
Chateau La Marzelle needs some time before it can be enjoyed. Young vintages can be decanted for an average of 1-2 hours. This allows the wine to soften and open its perfume. Older vintages might need very little decanting, just enough to remove the sediment.
Chateau La Marzelle is usually better with at least 4-6 years of bottle age. Of course, that can vary slightly, depending on the vintage character. Chateau La Marzelle offers its best drinking and should reach peak maturity between 4-15 years of age after the vintage.
Serving Chateau La Marzelle with Wine and Food Pairings
Chateau La Marzelle is best served at 15.5 degrees Celsius, 60 degrees Fahrenheit. The cool, almost cellar temperature gives the wine more freshness and lift.
Chateau La Marzelle is best paired with all types of classic meat dishes, veal, pork, beef, lamb, duck, game, roast chicken, roasted, braised, and grilled dishes. Chateau La Marzelle is also good when matched with Asian dishes, and rich fish courses like tuna, mushrooms, and pasta.
Prior to the 2014 vintage, the wines of La Marzelle had never been exciting. That all changed however when they brought in Jean Luc Thunevin as their consultant. It will be interesting to see how he and his team help to improve and develop Chateau La Marzelle over the next several vintages.
Château La Marzelle Wine Tasting Notes
13 Vintages 46,702 Views Sort by Vintage-Rating
2022
Château La Marzelle (St. Émilion Grand Cru)

With a strong floral essence, the wine is medium-bodied, supple, fresh, and energetic. The fruits are soft, refined, and edged with espresso, spice, and chocolate on the mid-palate, and in the soft, polished finish. Drink from 2025-2042. 94-95 Pts.

740 Views

Tasted

May 8, 2023

2021
Château La Marzelle (St. Émilion Grand Cru)

Silky, soft and supple, the wine is refined and loaded with ripe, sweet, polished, fresh, red fruits, licorice, cocoa and plums that are on display in the mid=palate though to the finish. Drink from 2023-2036. 89-91

1,174 Views

Tasted

May 20, 2022

2020
Château La Marzelle (St. Émilion Grand Cru)

Flowers, oak, spice and sweet red fruits dominate the perfume. On the palate, the wine is fresh, vibrant and silky, the round, supple finish leaves you with layers of espresso-tinted, silky, polished, soft, fresh, black and red fruits. La Marzelle continues to be an estate on the rise. Drink from 2023-2045.

611 Views

Tasted

Mar 21, 2023

Polished, soft, silky and fresh, the black and red fruits taste as good as they feel. Medium-bodied, silky, rich, ripe and fleshy, the fruits are fresh, round and polished. La Marzelle continues to be an estate on the rise. 92-94 Pts

1,407 Views

Tasted

May 20, 2021

2019
Château La Marzelle (St. Émilion Grand Cru)

Dark plums and even darker chocolate along with mushrooms, wet earth, licorice and smoke create the bouquet. The wine is rich, full, deep, fresh and ready to deliver its layers of ripe, rich, supple-textured black cherries, spice and dark chocolate on the palate and in the finish. Give this about 2 years in the cellar and it will be a treat for 15 or more ears after that. Drink from 2024-2039.

1,010 Views

Tasted

Mar 29, 2022

Deep, dense and intense, with non-stop waves of licorice, dark red fruits, cocoa and coffee bean. The wine is round, fleshy, fresh and the lift in all the sweet fruits on the palate make this all come together perfectly. The wine is a blend 75% Merlot, 20% Cabernet Franc and 5% Cabernet Sauvignon. 92-94 Pts

3,347 Views

Tasted

Jun 8, 2020

2018
Château La Marzelle (St. Émilion Grand Cru)

Licorice, chocolate, black cherry, smoke and vanilla are all over the place. Silky, soft and polished, this medium-bodied gem is forward, fresh, fruity and vibrant. La Marzelle is a hot property that keeps getting better and still sells for a fair price.

954 Views

Tasted

Mar 9, 2021

Inky and dense, the wine is lush, ripe, floral and loaded with dark cherries, espresso, smoke, licorice and round, silky textures. Vibrant and fruity with flesh on its bones, the finish is packed with dark black fruits. 92-94 Pts

1,744 Views

Tasted

Apr 19, 2019

2017
Château La Marzelle (St. Émilion Grand Cru)

Showing good color, the wine is ripe, fleshy, rich and sweet,. Loads of licorice and black cherry are all over the place. The wine is supple, fresh and will be ready to go early in its life. This is another hot property that keeps getting better and still sells for a fair price.

1,660 Views

Tasted

Apr 26, 2018

2016
Château La Marzelle (St. Émilion Grand Cru)

Showing a nice depth of color, the wine pops with black raspberries, licorice, smoke and spice box aromas. The wine is plush, rich, round and loaded to the gills with layers of black cherries, cocoa and licorice. There is density and lift, with luscious textures. This wine keeps getting better and better.

2,678 Views

Tasted

Sep 21, 2019

Flowers and black raspberry scents are no effort to find, the wine is lush, polished, sweet, ripe and loaded with dark juicy plums, licorice and chocolate.

1,869 Views

Tasted

Apr 29, 2017

2015
Château La Marzelle (St. Émilion Grand Cru)

After the ripe, sweet, black raspberries, plum and licorice, you find truffle notes in the background. The wine has density, silky tannins, freshness and a fruity finish that really works. This is already tasty, and it is going to age well too!

3,439 Views

Tasted

May 21, 2018

Here you find that elusive combination of a great, stylish wine, with good character selling for a fair price. The licorice coated, black cherries, dark chocolate and juicy plums are there from the initial sniff, through to the finial sip. This is already tasty, and it is going to age well too!

3,085 Views

Tasted

Mar 12, 2018

This is a winner! The texture, with its silky, plummy, concentrated, sweet fruits, blast of licorice and earth, with hints of cocoa and licorice is a pleasure to taste. Young, obviously, but this is going to get better with 5-8 years of age.

2,475 Views

Tasted

Nov 22, 2017

With good color, the wine opens with black licorice, earth and dark chocolate-covered berries. Silky, elegant and supple with weight and density, the fruits are ripe, fresh and polished. With Jean-Luc Thunevin helping, this wine has really kicked it up another notch in just a few years!

1,894 Views

Tasted

Apr 29, 2016

2014
Château La Marzelle (St. Émilion Grand Cru)

Showing better than it did during the April tastings, the wine is richer, fleshier and sweeter, with softer textures and additional complexities. With a high price to quality to ratio, this is a wine to keep track of as it continues to develop. 90-92 Pts

3,360 Views

Tasted

Jul 2, 2015

This is the best wine the property has ever made. Jean Luc Thunevin, who was recently brought in as the new consultant, has done an excellent turn for the estate. Revealing the deepest color ever for a La Marzelle wine, it is flush with licorice, plum, coffee bean, black cherries and fresh, forward, polished textures. The wine was made from a blend of 0% Merlot, 13% Cabernet Franc, and 7% Cabernet Sauvignon. 88-90 Pts

2,965 Views

Tasted

Apr 27, 2015

2013
Château La Marzelle (St. Émilion Grand Cru)

Sharp plum and bright red berry flavors end with a tangy, cherry finish. 83-85 Pts

3,142 Views

Tasted

Apr 28, 2014

2012
Château La Marzelle (St. Émilion Grand Cru)

Light in color, lacking in concentration, the wine ends with a short, red berry finish.

3,304 Views

Tasted

May 15, 2015

2010
Château La Marzelle (St. Émilion Grand Cru)

Medium-bodied, almost light, the wine is round, soft, and close to fully developed with a core of earthy, dark cherry and licorice notes. It should be noted that starting with the 2015 vintage, the wines here are markedly better.

1,861 Views

Tasted

Aug 30, 2021

2009
Château La Marzelle (St. Émilion Grand Cru)

From a blend of 70% Merlot, 20% Cabernet Franc and 10% Cabernet Sauvignon, the wine serves up fresh, sweet black cherries, earth and thyme on the nose. The wine is open, medium bodied and ends with a dusty, cherry and herb finish.

3,983 Views

Tasted

Jan 12, 2015