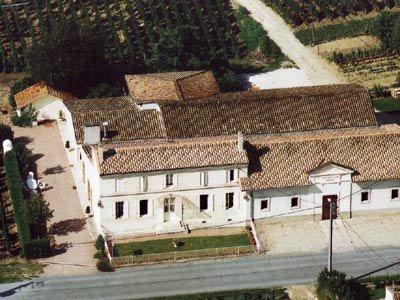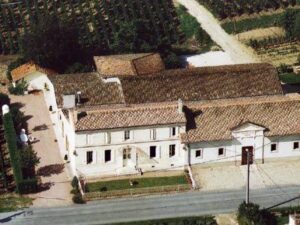 Learn everything about Chateau La Tour du Pin St. Emilion, Bordeaux with wine tasting notes, wine/food pairings, best vintages,a history of the property, information on the vineyards, and winemaking. If you want to read about other important, Bordeaux Chateaux: Links to all Bordeaux Wine Producer Profiles
Chateau La Tour du Pin Figeac History, Overview
The vineyard of Chateau La Tour du Pin was at one time, an important part of the massive, 200 hectares, St. Emilion estate, Chateau Figeac. For numerous reasons, Figeac divided and sold their land in multiple transactions in the late nineteenth century. Today, Figeac is 37 hectares, which is a lot less than the original vineyard size of 200 hectares.
In 1876 Figeac sold numerous parcels from their estate. A few years later, in 1879, once again more vines were sold. In the transaction of 1879, some of the lands were purchased by the Corbiere family. Those vineyards were used to create Chateau La TourFigeac.
In 1881, similar to what just took place at Figeac, Chateau La TourFigeac was split in two. Fifty percent continued to exist as La TourFigeac and the remaining 50% of the vineyard gave birth to Chateau La Tour du Pin Figeac.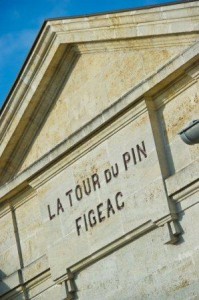 Skipping ahead to the modern era, Antoine Moueix, who was the uncle of Jean Pierre Moueix bought the St. Emilion estate in 1947. The property remained in the hands of the Moueix family until 2006 when it was sold to the owners of Chateau Cheval Blanc. Two years later, in 2008, the name was officially changed from La Tour du Pin Figeac to Chateau La Tour du Pin
The same technical team responsible for producing the wines of Cheval Blanc is now in charge of making the wines at La Tour du Pin. Chateau La Tour du Pin was not included as part of the 2012 St. Emilion Classification. The estate was not demoted as they did not ask to have it classified.
Instead, 1.3 hectares of the vineyards were added to Cheval Blanc, as the terroir was considered similar. The chateau did not request to be classified for their remaining terroir. Instead, Chateau La Tour du Pin withdrew from the classification system of St. Emilion just before the results for the 2012 St. Emilion were officially announced.
Chateau La Tour du Pin Vineyards, Terroir, Grapes, Winemaking
The 10 hectare Bordeaux vineyard of Chateau La Tour du Pin is planted to 75% Merlot and 25% Cabernet Franc with vines averaging 40 years of age. The vineyard when it was purchased, was planted to a vine density of 5,500 vines per hectare. Replanting took place at a higher density.
The wine is vinified in traditional cement vats and aged in 33%, new, French oak barrels for an average of 12 months. Close to 5,000 cases of finesse-styled, Saint Emilion wine are produced every year at Chateau La Tour du Pin every year.
It is interesting to note that after the purchase of the vineyards by Cheval Blanc, 2 hectares have been grafted to Sauvignon Blanc for the production of white Bordeaux wine.
Serving and Decanting Chateau La Tour du Pin with Wine, Food, Pairing Tips
Chateau La Tour du Pin is best served at 15.5 degrees Celsius, 60 degrees Fahrenheit. The cool, almost cellar temperature gives the wine more freshness and lift. Young vintages can be decanted for 1-2 hours. This allows the wine to soften and open its perfume.
Older vintages might need very little decanting, just enough to remove the sediment. Chateau La Tour du Pin is best paired with all types of classic meat dishes, veal, pork, beef, lamb, duck, game, roast chicken, roasted braised, and grilled dishes. Chateau La Tour du Pin is also good when matched with Asian dishes, hearty fish courses like tuna, mushrooms, and pasta.
Château La Tour du Pin Wine Tasting Notes
4 Vintages 17,304 Views Sort by Vintage-Rating
2011
Château La Tour du Pin (St. Émilion Grand Cru)

80% Merlot and 20% Cabernet Franc create the blend. This is an increase in Cabernet from last year, since the Merlot on sandy soil did not achieve the desired level of ripeness. Kirsch, stone and anise scents open to a soft, sweet, ripe black cherry-filled finish with gentle tannins. 90-92 Pts

2,310 Views

Tasted

Apr 24, 2012

2010
Château La Tour du Pin (St. Émilion Grand Cru)

La Tour du Pin 85% Merlot and 15% Cabernet Franc helped to produce a wine that hit 13.9% ABV. Floral, cherry blossom, anise and black cherry scents open this supple, fresh, sweet, ripe wine that finishes with spicy black raspberries in a finesse style. 91-93

4,608 Views

Tasted

Apr 22, 2011

2009
Château La Tour du Pin (St. Émilion Grand Cru)

2009 La Tour du Pin is now produced by the same team that makes Cheval Blanc. Made from 80% merlot and 20% cabernet franc, it offers dark berry, licorice and fresh herb scents. Round in texture, the wine finishes with soft kirsch flavors. 90-92 Pts

7,075 Views

Tasted

Jun 29, 2010

2008
Château La Tour du Pin (St. Émilion Grand Cru)

Light in color and style, with earthy red berries and kirsch, the debut vintage for the new owners is best consumed on the young side of life.

3,311 Views

Tasted

May 11, 2012