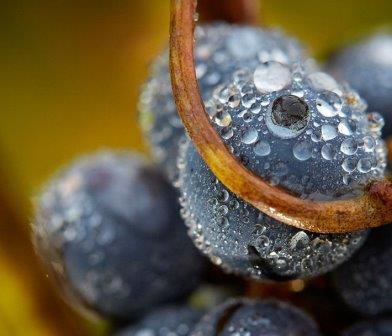 Learn everything about Chateau Lusseau St. Emilion with wine tasting notes wine and food pairing tips, best vintages, a history of the property, information on the vineyards, and winemaking. If you want to read about other important, Bordeaux Chateaux: Links to all Bordeaux Wine Producer Profiles
The entire holdings of Chateau Lusseau consist of 10 hectares of vines. But Chateau Lusseau is produced from the property's top 2 hectares of vines. The estate is owned by Laurent Lusseau, which as you probably guessed, is where the property takes its name from.
Laurent Lusseau is the estate manager and cellar master for all of the Gerard Perse-owned wineries, which include Chateau Pavie, Chateau Monbousquet, Chateau Pavie Decesse, Chateau Bellevue Mondotte, and other vineyards in the Cotes de Castillon appellation.
Chateau Lusseau Vineyards, Terroir, Grapes, Winemaking
Chateau Lusseau is planted to 70% Merlot, 20% Cabernet Franc and 10% Cabernet Sauvignon. The vines are an impressive 47 years of age. The terroir is mostly sand with gravel.
The vineyard is planted to a vine density of 5,500 vines per hectare. Michel Rolland consults the wine making at Chateau Lusseau.
The Chateau Lusseau vineyard is located close to Chateau Monbousquet in the St. Sulpice sector of Saint Emilion. In fact, it's just across the street, or perhaps it is more accurate to say across the small, dirt road that is often used by tractors and other farm vehicles kept busy in the Right Bank appellation.
To produce the wine of Chateau Lusseau, the vinification process starts with a seven-day, cold maceration. The wine of Chateau Lusseau is vinified in small, temperature-controlled, stainless steel vats. Malolactic fermentation takes place in French oak barrels.
The wine of Chateau Lusseau is aged in 60% new, French oak barrels for an average of 18 months before bottling. The amount of new oak and length of time in the barrel can vary, depending on the character and style of the vintage.
The best vintages of Chateau Lusseau are: 2022, 2021, 2020, 2019, 2018, 2017, 2016, 2015, 2014, 2012, 2010, 2009 and 2005.
Production of this well-priced Saint Emilion is small. On average, close to 600 cases per year are produced of Chateau Lusseau.
When to Drink Chateau Lusseau, Anticipated Maturity, Decanting Time
Chateau Lusseau needs some time before it can be enjoyed. Young vintages can be decanted for an average of 1 hour or more. This allows the wine to soften and open its perfume.
Older vintages might need very little decanting, just enough to remove the sediment. Chateau Lusseau is usually better with at least 2-4 years of bottle age. Of course, that can vary slightly, depending on the vintage character. Chateau Lusseau offers its best drinking and should reach peak maturity between 3-10 years of age after the vintage.
Serving Chateau Lusseau with Wine, Food, Pairing Tips
Chateau Lusseau is best served at 15.5 degrees Celsius, 60 degrees Fahrenheit. The cool, almost cellar temperature gives the wine more freshness and lift.
Chateau Lusseau, is best paired with all types of classic meat dishes, veal, pork, beef, lamb, duck, game, roast chicken, roasted, braised, and grilled dishes. Chateau Lusseau is also good when matched with Asian dishes, hearty fish courses like tuna, mushrooms, and pasta.
Château Lusseau Wine Tasting Notes
10 Vintages 21,238 Views Sort by Vintage-Rating
2018
Château Lusseau (St. Émilion Grand Cru)

Ripe black cherries and licorice are at the core of this medium-bodied, round, lush, soft, fruit-filled wine. 89-91 Pts

1,747 Views

Tasted

Apr 19, 2019

2016
Château Lusseau (St. Émilion Grand Cru)

Medium bodied and focused on its kirsch and floral side, the wine is ready to drink on release.

1,733 Views

Tasted

Apr 29, 2017

2015
Château Lusseau (St. Émilion Grand Cru)

Medium/full-bodied, sweet, soft, ripe, dark red fruits, smooth tannins and a fresh, cherry and licorice finish that sticks with you. This will show well young.

2,269 Views

Tasted

Apr 29, 2016

2014
Château Lusseau (St. Émilion Grand Cru)

Medium bodied, sweet red fruits, soft, light and bright with a licorice tint to the finish. 86-88 Pts

2,154 Views

Tasted

Apr 27, 2015

2013
Château Lusseau (St. Émilion Grand Cru)

From a blend of 70% Merlot, 20% Cabernet Franc and 10% Cabernet Sauvignon, the wine reached 13.2% alcohol and is aging in 50% new French oak. Licorice, oak and red plum fade into a medium-bodied, early-drinking sweet, tart finish. 86-88 Pts

1,176 Views

Tasted

Apr 28, 2014

2012
Château Lusseau (St. Émilion Grand Cru)

Light ruby with smoky red berries and spice, the wine is filled with sweet, jammy red berries and should be fun to drink on release. 87-89 Pts

1,486 Views

Tasted

Apr 26, 2013

2011
Château Lusseau (St. Émilion Grand Cru)

Medium bodied, forward and open, this fresh, soft, likable, black raspberry filled wine will drink just fine on release.

1,242 Views

Tasted

May 20, 2014

The owner Laurent Lusseau, who is also the winemaker at Chateau Pavie, put together a blend of 80% Merlot and 20% Cabernet Franc to produce a wine with coffee bean, black cherry and plum scents, medium body and a sweet, oaky, plum finish. 87-89 Pts

1,105 Views

Tasted

Apr 20, 2012

2010
Château Lusseau (St. Émilion Grand Cru)

Lusseau 75% Merlot 25% Cabernet Franc produce a wine filled with licorice, oak and jammy dark berries that ends with a medium bodied, ripe, fennel infused, cherry finish. 89-91 Pts

2,597 Views

Tasted

Apr 22, 2011

2009
Château Lusseau (St. Émilion Grand Cru)

From a small 5 hectare vineyard owned by Laurent Lusseau, the wine maker at Chateau Pavie, this supple, round, open, St. Emilion wine is filled with licorice, black cherry jam and earth. Forward in style, from a blend of 75% Merlot and 25% Cabernet Franc, drink this fun wine on the young side of life.

3,108 Views

Tasted

May 3, 2012

2005
Château Lusseau (St. Émilion Grand Cru)

Ready to drink now. it's licorice, coffee bean, black cherry and leafy personality is open, fresh, sweet and plush. This crowd pleasing style of wine is quite charming, easy to drink and like.

2,621 Views

Tasted

Jan 23, 2013