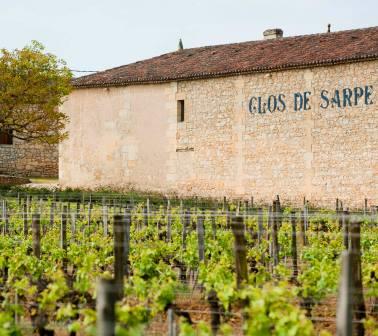 Learn everything about Clos de Sarpe St. Emilion with wine tasting notes and wine with food pairing tips. Learn all the best vintages, the history of the property, and information on the vineyards and winemaking. If you want to read about other important, Bordeaux Chateaux: Links to all Bordeaux Wine Producer Profiles
Clos de Sarpe History, Overview
Clos de Sarpe is an interesting wine that clearly represents its stony, limestone terroir. Prior to being in the hands of the Beyney family, Clos de Sarpe was owned by the Baron du Foussat de Bogeron, who let go of the estate in 1923 when it was purchased by Jean Beyney.
Since the property was purchased by the Beyney family, the estate has remained a family-owned vineyard. Chateau Clos de Sarpe has been passed down from generation to generation in the Beney family. Currently, the estate is managed by Christine Beyney and Jean-Guy Beyney.
Chateau Clos de Sarpe Vineyards, Terroir, Grapes, Winemaking
The small Clos de Sarpe 3.68-hectare vineyard is planted to 85% Merlot and 15% Cabernet Franc. The vineyard is situated in the heart of the Sarpe area, located just northeast of the village of St. Emilion. The terroir is thin clay over deep limestone and chalk soils with southeast exposure.
The vines are planted to a density of 5,500 vines per hectare. Clos de Sarpe has old vines. In fact, they have some of the oldest vines in St. Emilion. 70% of the vineyard averages 60 years of age. The remaining age of the vineyard is over years of age.
Yields are always low at Chateau Clos de Sarpe. On average, they are often close to 25 hectoliters per hectare. In some of the top vintages, for example, in 2010, the yields are only 15 hectoliters per hectare! All vineyard management techniques use biodynamic farming principles. However, they chose not to be certified.
To produce the wine of Chateau Clos de Sarpe, after a 5-day cold soak, vinification takes place in a combination of oak tanks and traditional, cement vats. Malolactic fermentation takes place in barrels.
Chateau Clos de Sarpe is aged in 100% new, French oak barrels for 16 to 18 months before bottling. For the first 6 months of the barrel aging process, the wine is aged on its lees.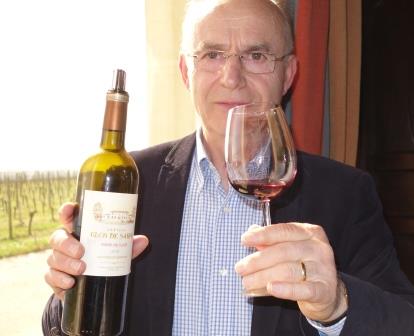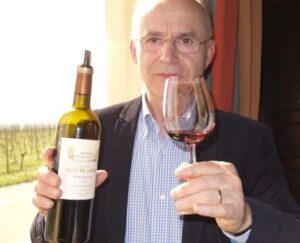 The best vintages of Chateau Clos de Sarpe are: 2022, 2021, 2020, 2019, 2018, 2017, 2016, 2015, 2010, 2009, 2005 and 2000.
Since Jean-Guy Beyney took over the management of Clos de Sarpe, the property has completely turned around. Previously, there was almost very little selection and no new French oak was used for barrel aging. Things are very different today at the Right Bank property. The differences clearly show in the wine. Chateau Clos de Sarpe is consulted by Michel Rolland.
On average, less than 1,000 cases of Clos de Sarpe are produced every year. There is a second wine, Charles de Sarpe, which made its debut with the 1997 vintage.
Character and Style of Clos de Sarpe
The wines of Clos de Sarpe are a backward, tannic, mineral-driven throwback to the ancient days of Bordeaux winemaking. The character of this Bordeaux wine is intense minerality, strong tannins, and serious levels of concentration and ripe fruit, with an old-vine intensity. It is a unique style of Saint Emilion wine that requires serious aging to soften and develop its aromatic complexities.
When to Drink Clos de Sarpe, Anticipated Maturity, Decanting Time
Clos de Sarpe is a very long-lived wine. On average, 15-20 years of age in the cellar is what the wine needs before starting to show its best. Of course, that can vary slightly, depending on the vintage. Clos de Sarpe is best enjoyed in the first 15-35 years of life.
Young vintages can be decanted for about 2-4 hours. This allows the wine to soften and open its perfume. Older vintages might need very little decanting, just enough to remove the sediment.
Serving Clos de Sarpe with Wine and Food Pairings
Clos de Sarpe is best served at 15.5 degrees Celsius, 60 degrees Fahrenheit. The cool, almost cellar temperature gives the wine more freshness and lift. Clos de Sarpe is best paired with all types of classic meat dishes, veal, pork, beef, lamb, duck, game, roast chicken, roasted, braised, and grilled dishes.
Clos de Sarpe is also good when matched with Asian dishes, rich fish courses like tuna, mushrooms, and pasta.
Château Clos de Sarpe Wine Tasting Notes
24 Vintages 127,257 Views Sort by Vintage-Rating
2022
Château Clos de Sarpe (St. Émilion Grand Cru)

Deeply colored, the wine is perfumed with flowers, crushed stones, peppery spices, black plums, black cherries and espresso. The wine is concentrated, powerful, and packed with dark red and black pit fruits, chocolate, and salty, crushed stone characteristics. Give it time to come together. It is worth the wait. Drink from 2027-2055. 94-96 Pts.

486 Views

Tasted

May 8, 2023

2021
Château Clos de Sarpe (St. Émilion Grand Cru)

Flowers, dark cherries, black plums, espresso, chocolate and flowers come through with a strong touch of minerality in the nose and on the salty, rock and stone infused, fresh, bright, juicy, crisp palate. The cut stone elements here make this one of the more individualistic wines of the vintage. The harvest took place October 7 - October 17. Drink from 2026-2050. 92-94

923 Views

Tasted

May 20, 2022

2020
Château Clos de Sarpe (St. Émilion Grand Cru)

Quite floral in nature, the wine picks up steam with the addition of oceanic nuances, licorice, smoke and red fruits. On the palate, there is length, purity and a vibrancy to the red fruits that linger. The salty energy in the finish from all of its stony minerality really stands out, adding a lot of complexity and character to the wealth of fruit on the palate and in the finish. Drink from 2025-2050.

455 Views

Tasted

Mar 21, 2023

With a strong mineral essence, flowers, licorice, crushed rocks, red fruits and cocoa, the wine is concentrated, fresh, bright, focused, stony, polished and long. The salty energy in the finish from all its stony minerality really stands out here. 92-94 Pts

1,858 Views

Tasted

May 20, 2021

2019
Château Clos de Sarpe (St. Émilion Grand Cru)

Espresso, wet earth, chalk, smoke, licorice and dried flowers add complexity to the red fruits. Fresh, vibrant, polished and complex, the intense mineral influence shines through the layers of ripe berries like a surgeons scalpel. If you want to understand minerality in a wine, this is the one to teach you. The salt tinged finish comes with provides a minty accent and copious amounts of ripe, red fruits and berries. Drink from 2028-2050.

1,916 Views

Tasted

Mar 29, 2022

If you want to understand minerality in a wine, this is the one to teach you. Inky in color, the wine tastes of crushed rocks and stone. The range of black and blue fruit paired with licorice and smoke works and keeps on working. Big, powerful and stony, you will need patience with this gem. Give it 15 or more years before pulling a cork. You will be happy you waited. The wine is made from blending 85% Merlot and 15% Cabernet Franc. 93-95 Pts

4,010 Views

Tasted

Jun 8, 2020

2018
Château Clos de Sarpe (St. Émilion Grand Cru)

Crushed berries over rocks and stones says it all. Full-bodied, concentrated, dense and intense, the wine expresses a strong mineral component along with its core of ripe, round, rich, deep, gushing dark red fruits .You also encounter floral, thyme and spice overtones along with all crushed rocks in the fruit filled finish. The wine blends 85% Merlot and 15% Cabernet Franc. This could be the finest vintage produced here yet. Give this 10-12 years in the cellar and it will probably score even higher.

1,143 Views

Tasted

Mar 9, 2021

Fresh and stony with a sweet edge to the plums, cherries and licorice, this wine offers a distinctive crushed rock and floral character to the fruit on the nose and on the rotundly lavish palate. From a blend of 85% Merlot and 15% Cabernet Franc, the wine reached 15% ABV. 93-95 Pts

2,270 Views

Tasted

Apr 19, 2019

2017
Château Clos de Sarpe (St. Émilion Grand Cru)

Crushed rocks is the first thing you notice, followed by toasty oak, dark cherry, licorice, flowers and smoke. The wine is full bodied and delivers ample fresh red fruits, salty ripe tannins and a strong rocky essence through to the finish.

2,046 Views

Tasted

Apr 26, 2018

2016
Château Clos de Sarpe (St. Émilion Grand Cru)

Concentrated, dense, stony and fresh, with a deep core of ripe, salty plums. The fruit has a spicy quality, with polished tannins and the structure to age, But this is not a user-friendly wine for early drinking. You will need to give it at least 12 years for everything to come together, but it is going to be worth the wait. The wine was made from a blend of 85% Merlot and 15% Cabernet Franc.

2,245 Views

Tasted

Sep 21, 2019

Deeply colored, this powerful, dense, rich and intense wine combines concentration and mouth-coating levels of fruit and acidity with ripe, dark red fruits and citrus in the endnote. The wine was made from a blend of 85% Merlot and 15% Cabernet Franc, reaching 15.5% with a pH of 3.3. Currently aging in 60% new French oak barrels, this is a change in the maturation process, as the previous vintages were aged in 100% new oak.

2,248 Views

Tasted

Apr 29, 2017

2015
Château Clos de Sarpe (St. Émilion Grand Cru)

Deep ruby in color, the wine resembles eating ripe plums with rocks, and that's what is so great about it. There is weight, density, length and complexity. The finish is long, leaving a trail of sweet, perfectly ripe, red fruits and freshness.

3,660 Views

Tasted

May 21, 2018

Inky in color, this is clearly the softest fruit produced at Clos de Sarpe. Liquid minerality, blended with plum liqueur is the best way I can this concentrated, intense, deep, rich wine.

3,024 Views

Tasted

Mar 19, 2017

Powerful, full-bodied, concentrated and filled with fresh plums and sweet, ripe, black cherries, thyme, crushed rocks and flowers, this wine is deep, fresh and long -- a grande dame who will age with grace and dignity.

3,289 Views

Tasted

Apr 29, 2016

2014
Château Clos de Sarpe (St. Émilion Grand Cru)

Earthy in character, with plums, licorice and spice, this is the first vintage where Clos de Sarpe began micro-vinifying15% of their wine in 600 liter barrels. Concentrated for the vintage, the microvinification has added additional softness to the wine, as well as rounding the tannins. That does not mean you don't have to give this time, as you do, but the plummy fruit has more softness in the texture.

1,652 Views

Tasted

May 19, 2017

Crushed stone, flowers and smoky, red fruits are coupled with a tannic, full bodied, fresh, red berry-packed style. This wine will enjoy one of the longest lives of the vintage. 92-94 Pts

2,313 Views

Tasted

Apr 27, 2015

2013
Château Clos de Sarpe (St. Émilion Grand Cru)

Few wines show this much color in 2013. The blend of fruit, herbs, tannins, spice and stone are slowly coming together. There is perhaps too much tannin for the fruit here, but time will tell.

1,394 Views

Tasted

Mar 19, 2017

Crushed rocks, flowers, licorice and kirsch liqueur aromas get you going. Intensive mineral sensations with fresh, juicy plums leave a long, rich impression on our palate. This would be a success in any vintage, but it's a real accomplishment in this difficult vintage. From yields of only 8 hectoliters per hectare, this blend of 85% Merlot and 15% Cabernet Franc reached almost 15% ABV. If prices are fair, this is worth taking a look at, especially on release. 92-94 Pts

1,990 Views

Tasted

Apr 28, 2014

2012
Château Clos de Sarpe (St. Émilion Grand Cru)

Concentrated with layers of black plums, and assorted dark red pit fruits, this is packed with a combination of fruit and a wall of tannin, coated with crushed rocks and spice. Primary, and in need of aging, this will develop nicely if you are patient and have a few decades to spare.

2,463 Views

Tasted

Mar 19, 2017

With a complex nose of crushed rocks, coffee bean, smoke, black cherries and plums, the wine is full bodied, tannic, rich and long. There is good depth of flavor and concentration. One of the few vintages of Clos de Sarpe that is shaping up to show well early, the wine was made from a blend of 85% Merlot and 15% Cabernet Franc.

2,914 Views

Tasted

Nov 8, 2015

With smoke, stone, plum and coffee notes, the wine offers a structured, powerful, mineral-driven and tannic finish. This is one of the more structured wines of the vintage. 89-92 Pts

3,009 Views

Tasted

Apr 26, 2013

2011
Château Clos de Sarpe (St. Émilion Grand Cru)

Forward in style, if one can say that about Clos de Sarpe, this is one of most dense wines of the vintage. Stony and tannic, with some oak that still needs to integrate, this concentrated, full bodied wine is loaded with truffle, and dark, red fruits.

2,211 Views

Tasted

May 19, 2017

Normally Clos de Sarpe requires years, if not decades in the cellar before its ready to drink. But that is not the case with this vintage. Notes of stone, licorice, oak and dark red berries open up the wine. The wine is polished and round, with an approachable, fresh, black cherry filled finish. This haas really filled and improved since it was tasted in barrel.

2,984 Views

Tasted

Nov 17, 2013

Smoke, black raspberry and stone notes lead to a powerful, dense, tannic, stone-filled, severe wine that will take a long, long time to soften. 88-90 Pts

3,076 Views

Tasted

Apr 24, 2012

2010
Château Clos de Sarpe (St. Émilion Grand Cru)

Deep in color, almost opaque, this is still close to a barrel sample, even now. Tight today, the wine has a lot going on here. There is a fatness to the fruit, lushness to tannins, concentration, intensity and length. Structured to age, this should take 20 years to show its true self. It's going to be worth the wait.

4,647 Views

Tasted

May 19, 2017

Clos de Sarpe An assemblage of 85% Merlot and 15% Cabernet Franc from very old vines situated on stony soils produced a massive wall of dark fruit, rocks and tannin, with a ripe black plum finish. 92-94 Pts

7,854 Views

Tasted

Apr 22, 2011

2009
Château Clos de Sarpe (St. Émilion Grand Cru)

Perhaps the most elegant vintage of Clos de Sarpe, the wine is powerful, tannic, fresh and stony. The fruit is clean and fresh, but the tannins are there, letting you know, this requires more time than most wines from the often, forward 2009 vintage.

2,171 Views

Tasted

May 19, 2017

2008
Château Clos de Sarpe (St. Émilion Grand Cru)

It takes effort to bring out the truffle, fresh herbs and just picked plums. Once you find them, they stock with you, along with a strong, tannic backdrop that frames the fruit. Long, concentrated, fresh and stony, this needs time in the cellar.

3,584 Views

Tasted

Mar 19, 2017

08 Château Clos de Sarpe is a huge wine, tannic, structured, and balanced. From grapes grown mostly in limestone soils with little clay, this unique wine offers intense minerality. It smells like a massive pile of broken rocks. Add liberal doses of black fruit and dark berry liquor, and you have the start of their tell tale perfume. This full bodied wine has ripe tannins and a big jolt of black fruit in the finish. Some plots reached close to 15% natural ABV, requiring 3 additional months of malolactic fermentation. Only 500 cases were produced. 91-94 Pts

4,984 Views

Tasted

Aug 1, 2009

2007
Château Clos de Sarpe (St. Émilion Grand Cru)

At 10, this is ready to show its unique combination of flowers, crushed rocks, ripe red fruits and espresso. Medium-bodied, fresh and with a strong sense of minerality interspersed with its red fruits and leafy herb characteristics.

2,206 Views

Tasted

May 19, 2017

2006
Château Clos de Sarpe (St. Émilion Grand Cru)

Talk about hot off the press... This was just bottled yesterday! Deep ruby color, black jammy raspberries, crushed stone and a powerful mouth presence announce this wine. Large scaled, dense and concentrated, it's also massively tannic with a long, mineral, earthy, licorice, black fruit filled finish. This wine demands aging

3,585 Views

Tasted

Jun 9, 2008

2005
Château Clos de Sarpe (St. Émilion Grand Cru)

Powerful, full-bodied, concentrated and showing saline character from all its stony qualities, herbs, tobacco, ripe, tannic black raspberries, plums and a hint of florality. This is quite young and fresh, it will take at least another decade to soften and pull all its qualities together.

5,975 Views

Tasted

Mar 19, 2017

Massive in layers of concentrated fruit, huge tannins and minerality. Not a lot of fun to taste today, but interesting to check in on it. Licorice, plum, earth, black cherry, spice, herbs and crushed rocks. The wine clearly fills your mouth and coats your palate with intensity and purity. If you can wait another decade, wait. If not, leave it in the decanter for a few hours. This is a unique, mineral driven expression of St Emilion.

5,757 Views

Tasted

Sep 25, 2012

2004
Château Clos de Sarpe (St. Émilion Grand Cru)

Tannic, firm and mineral driven, this needs more time for the fruit to shine through and for the wine to come together.

2,644 Views

Tasted

Nov 30, 2014

2003
Château Clos de Sarpe (St. Émilion Grand Cru)

There is definite intensity here, which comes from old vines and very low yields. You also find ripe, very ripe and over ripe, plums, cherries, figs, chocolate and hints of jam. The opulent texture and crushed rock sensations makes it fun, but the low acid profile is not for everyone. This blend of 85% Merlot and 15% Cabernet Franc is on the unique side, which some will like, and others are not going to dig it.

3,651 Views

Tasted

Dec 27, 2017

2001
Château Clos de Sarpe (St. Émilion Grand Cru)

Very concentrated, but with all the right stuff! This powerful, mineral, infused wine is packed and stacked with gobs of ripe fruit. Almost dense, this wine packs a lot of flavor and character into the bottle. I'd love to watch a bottle evolve over a day and chart its progress.

3,094 Views

Tasted

Jul 12, 2008

2000
Château Clos de Sarpe (St. Émilion Grand Cru)

Salty, stony, pure, and intense, the wine has power, a ripe, wall of tannin and layers of seemingly, rock-infused, red fruits. Another 7 or more years are needed here before this is fun to drink.

3,978 Views

Tasted

Feb 9, 2019

Crushed rocks, truffle, dark red fruits come to the surface. On the palate, the wine is dense, fresh, young and tannic. The feeling combines freshness with serious concentration and minerality. Give it another decade of rest.

3,871 Views

Tasted

Mar 19, 2017

This huge, massive, incredibly concentrated wine has a lot to offer. Stuffed with ripe dark fruit, minerality and spice, coupled with ample, but ripe tannins, this will age for decades.

4,053 Views

Tasted

Nov 25, 2007

1998
Château Clos de Sarpe (St. Émilion Grand Cru)

Stone, pepper, fresh herbs, spicy red and black plums with tobacco make up the perfume. Tanninc, fresh and bright, this is not a charming style of St. Emilion. The wine need another 5-10 years for the tannins to soften. But it will never be round or soft.

5,128 Views

Tasted

Sep 9, 2014

With its chocolate covered licorice and blackberry perfume was a pleasure to smell. But the wall of tannin will not afford the wine much pleasure if drunk young. This wine needs several years before possibly developing into a bottle that's fun to drink

2,159 Views

Tasted

Oct 13, 2012

A weak sister to the more potent, modern vintages. Still, it was a very stylish wine with chocolate, covered licorice and blackberry flavor scents accompanied by a large mouthful of young Merlot. Ripe and tannic.

2,199 Views

Tasted

Jul 12, 2008

1989
Château Clos de Sarpe (St. Émilion Grand Cru)

This was produced in a way completely different from the one the Chateau employs today. The `89 saw no oak and was subject to little selection. The wine was aged entirely in tank. Light licorice tones and earth notes are in the perfume. In the mouth, little enough fruit remains: it's probably been drying out for the past several years.

2,138 Views

Tasted

Jun 19, 2009