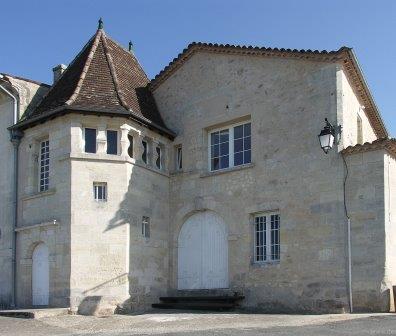 Learn everything about Lynsolence, St. Emilion with wine tasting notes, and wine with food pairing tips. Learn the best vintages, the history of the property, and information on the vineyards and winemaking. If you want to read about other important, Bordeaux Chateaux: Links to all Bordeaux Wine Producer Profiles
Lynsolence takes its name from the daughter of the owner, Denis Barraud. The wine made its debut with the 1998 vintage. However, the estate has a much longer track record in the Right Bank. In fact, the vineyard was first cultivated at the end of the 1800s by Pierre-Henri Descrambe.
Denis Barraud has been managing Lynsolence since 1971. While the Barraud family owns 36 hectares of vines located in Saint Emilion, Lynsolence is produced from a selection of the best parcels of vines, which total only 2.5 hectares.
Sadly, at far too young of an age, after a long illness, Denis Barraud passed away, on February 3, 2023. He was a nice man and an enthusiastic owner who will be missed.
Lynsolence Vineyards, Terroir, Grapes, Winemaking
The small, 2.5-hectare, Right Bank vineyard of Lynsolence is planted with 100% old vine, Merlot. The vineyards are situated in two areas in St. Emilion. They have vines that are placed not from Chateau Monbousquet where the terroir is gravel and sand with deposits of iron.
However, their best terroir is further east, near Valandraud, with gravel, rock, clay, and alluvial sands with crasse de fer. The vines are old, with an average age of close to 55 years.
The vines are planted to a vine density of 5,600 vines per hectare. Yields are purposely kept low, ranging from 19 to 25 hectoliters per hectare.
To produce the wine of Lynsolence, following a cold soak for between 6 to 10 days, vinification takes place in a combination of temperature-controlled, 50-hectoliter oak vats and 400-liter, French, oak barrels. Malolactic fermentation is conducted in new, French oak barrels.
The wine of Lynsolence is aged in 100% new, French, oak barrels for an average of 18 months before bottling.
The best vintages of Lynsolence are: 2022, 2021, 2020, 2019, 2018, 2017, 2016, 2015, 2014, 2012, 2010, 2009 and 2005. Fans of the estate should know that starting with 2018, Lynsolence has been on top of things, making the best wine in the history of the estate.
The production of Lynsolence is small. On average, only 850 cases of wine are produced here in each vintage. Jean Luc Thunevin of Valandraud acts as their consultant.
When to Drink Lynsolence, Anticipated Maturity, Decanting Time
Lynsolence needs at least some time before it can be enjoyed. Young vintages can be decanted for an average of 1 hour to 90 minutes. This allows the wine to soften and open its perfume. Older vintages might need very little decanting, just enough to remove the sediment.
Lynsolence is usually better with at least 4-6 years of bottle age. Of course, that can vary slightly, depending on the vintage character. Lynsolence offers its best drinking and should reach peak maturity between 5-15 years of age after the vintage.
Serving Lynsolence with Wine, Food, Pairing Tips
Lynsolence is best served at 15.5 degrees Celsius, 60 degrees Fahrenheit. The cool, almost cellar temperature gives the wine more freshness and lift.
Lynsolence is best paired with all types of classic meat dishes, veal, pork, beef, lamb, duck, game, roast chicken, roasted, braised, and grilled dishes. Lynsolence is also good when matched with Asian dishes, and hearty fish courses like tuna, mushrooms, and pasta.
Denis Barraud produces two other Saint Emilion wines using 100% Merlot, Chateau Les Gravieres and Haut Renaissance. The Barraud family also produces other Merlot-dominated, Bordeaux value wines, Chateau de La Cour d'Argent, Merlot De Lyne, and Emotion.
Lynsolence Wine Tasting Notes
18 Vintages 51,611 Views Sort by Vintage-Rating
2022
Lynsolence (St. Émilion Grand Cru)

Black cherries, licorice, espresso, dark chocolate, and flowers open the wine in the nose. On the palate, the wine has depth of flavor, richness, elegance, and vibrancy. There is a chalky edge to all the ripe, fresh fruits in the finish. 2022 was the last vintage for the owner, Denis Barraud who passed away after the wine was made. He will be missed. His 2022 will be a tribute to him. Drink from 2026-2042. 94-96 Pts.

2,626 Views

Tasted

May 8, 2023

2021
Lynsolence (St. Émilion Grand Cru)

With a nice, depth of color, the wine opens with licorice, blackberry, coffee bean and chocolate mint. On the palate, the wine is round, fresh, sweet, and soft, with a black cherry and espresso packed finish. The wine is made from 100% Merlot. Drink from 2023-2035. 89-91

2,021 Views

Tasted

May 20, 2022

2020
Lynsolence (St. Émilion Grand Cru)

Produced from 100% old vine Merlot, from vines more than 50 years of age is what makes this special. Deep in color, with black cherry liqueur, licorice, chocolate and flower notes are found in the perfume. On the palate, the wine is lush, supple and deep, with silky, polished tannins and a blast of chocolate covered black cherries, plums and a touch of salt in the long finish. Give it a year or two in the cellar for the oak to become better integrated and it should drink well for up to two decades. It was a sad day when this was tasted as earlier that afternoon, I learned that the passionate owner, Denis Barraud, one of the nicest people in St. Emilion had just passed away. 2020 is his final vintage where he saw it all the way through. Drink from 2024-2042.

1,567 Views

Tasted

Mar 21, 2023

Deeply colored, the wine offers up its bouquet of flowers, licorice, chocolate-covered plums and cherries with ease. Lusciously-textured, with good concentration, silky tannins, freshness and elegance to its array of fruits, the seductive finish is created by layers of sweet, juicy, vibrant cherries with a touch of exotic spices. 93-95 Pts

3,363 Views

Tasted

May 20, 2021

2019
Lynsolence (St. Émilion Grand Cru)

Flowers, licorice, spice and cocoa covered cherries are all over the place here on the nose and palate. The wine is lush, round, opulent, fresh and sweet, with hints of chocolate and spice that come along with all those ripe, red fruits on the mid-palate and in the finish. Drink from 2023-2035.

931 Views

Tasted

Mar 29, 2022

Dark garnet in color, the wine is floral in nature with blackberry, plum, black cherry, cocoa and licorice on the nose. Lush, round, ripe and juicy, with loads of sweet, dark red fruits bursting with flavor and freshness, the finish keeps on going with a nice touch of minerality in the endnote. 92-94 Pts

3,632 Views

Tasted

Jun 8, 2020

2018
Lynsolence (St. Émilion Grand Cru)

Supple textured with silky tannins and layers of ripe black cherries, dark chocolate, licorice and spice, the wine offers depth, opulence and layers of mineral driven fruits that build and expand on the palate and in the finish. This is in competition for the finest vintage of Lynsolence ever produced. The wine is made from 100% Merlot.

1,811 Views

Tasted

Mar 9, 2021

Medium bodied, juicy and fresh, the fruits are red, ripe and bright with a floral, cocoa and fennel accent in the finish. The wine is produced from 100% Merlot. 91-93 Pts

2,372 Views

Tasted

Apr 19, 2019

2017
Lynsolence (St. Émilion Grand Cru)

This intrepid estate was heavily ravaged by frost, losing 30% of their crop, yet they managed to produce a deeply colored, medium-bodied wine with sweetness, chocolate, licorice and fresh black cherries. It's 100% Merlot.

1,345 Views

Tasted

Apr 26, 2018

2016
Lynsolence (St. Émilion Grand Cru)

Round, fleshy, ripe and fresh, the sweet black cherries are soft, lively and already show earthy nuances from start to finish. Deep in color, this is the best vintage yet for Lynsolence and will age nicely. Give it a few years and it will be delicious.

2,786 Views

Tasted

Sep 21, 2019

Deep and dark in color, fleshy, rich, juicy, sweet and lush, there is freshness, ripe fruits and length. This is the best wine yet for Lynsolence and should age nicely.

1,954 Views

Tasted

Apr 29, 2017

2015
Lynsolence (St. Émilion Grand Cru)

Fleshy, forward, juicy, sweet and fruity, the wine is already rocking. The fruit is out in front, with its soft, silky textures and the finish leaves you with dark chocolate and burnt espresso in the finish.

2,042 Views

Tasted

May 21, 2018

Oaky but with loads of sweet, plump, juicy, dark berries, licorice and espresso. The fat textures are perfect for the ripe, stony fruits.

1,516 Views

Tasted

Apr 29, 2016

2014
Lynsolence (St. Émilion Grand Cru)

A medium-bodied wine with a soft, dark chocolate and red plum note that is evident from start to finish. 88-90 Pts

1,587 Views

Tasted

Apr 27, 2015

2013
Lynsolence (St. Émilion Grand Cru)

This 100% Merlot wine delivers truffle, licorice, espresso and blackberry aromas, medium body, a soft entry and a dusty, black raspberry finish. The wine is aging in 100% new French oak. 88-89 Pts

1,393 Views

Tasted

Apr 28, 2014

2012
Lynsolence (St. Émilion Grand Cru)

Black cherry, spice, licorice, lush textures and a nice, chocolate-covered black berry finish are the hallmarks of this wine. 90-92 Pts

3,954 Views

Tasted

Apr 26, 2013

2011
Lynsolence (St. Émilion Grand Cru)

This fleshy, sweet, ripe wine features jammy black cherry, fennel and chocolate. It's medium bodied with round textures and a plummy finish. 88-90 Pts

1,494 Views

Tasted

Apr 24, 2012

2010
Lynsolence (St. Émilion Grand Cru)

Packed with layers of fat, ripe, juicy, sweet, blackberries, black cherry liqueur, fennel and espresso bean. The wine is round, supple and plush on the palate, with good concentration of fruit and flavor.

2,075 Views

Tasted

Jul 22, 2013

2009
Lynsolence (St. Émilion Grand Cru)

From 100% Merlot, this lush, fat, rich, round wine packs your palate with licorice, black cherry liqueur, earth, smoke and chocolate. There is a wealth of good material in the wine, with no sensation of heat in the 14.9% ABV finish.

3,623 Views

Tasted

Jul 22, 2013

2008
Lynsolence (St. Émilion Grand Cru)

A nice wine here, with good depth of flavor, it's already quite accessible with its licorice, black raspberry, cherry and earthy character.

1,500 Views

Tasted

Jul 22, 2013

2006
Lynsolence (St. Émilion Grand Cru)

Soft, floral, fruity, sweet, round and ready to go, so it takes no effort to find all the ripe cherry, dark cocoa, black plum and thyme on the nose and medium-bodied palate.

1,846 Views

Tasted

Aug 30, 2021

2005
Lynsolence (St. Émilion Grand Cru)

Really solid wine that is drinking well today. Produced from 100% Merlot. the wine is medium bodied, yet supple, round and fruity, with a licorice, black cherry and an earthy, dark chocolate character. Popped and poured, the wine opened up in the glass.

3,069 Views

Tasted

Nov 15, 2016

2000
Lynsolence (St. Émilion Grand Cru)

From 100% Merlot, this has entered its downhill slide. Soft and polished, the fruit is fading, and you find more secondary notes of earth, tobacco, coffee, smoke and thyme. This requires consumption.

3,104 Views

Tasted

Dec 13, 2017